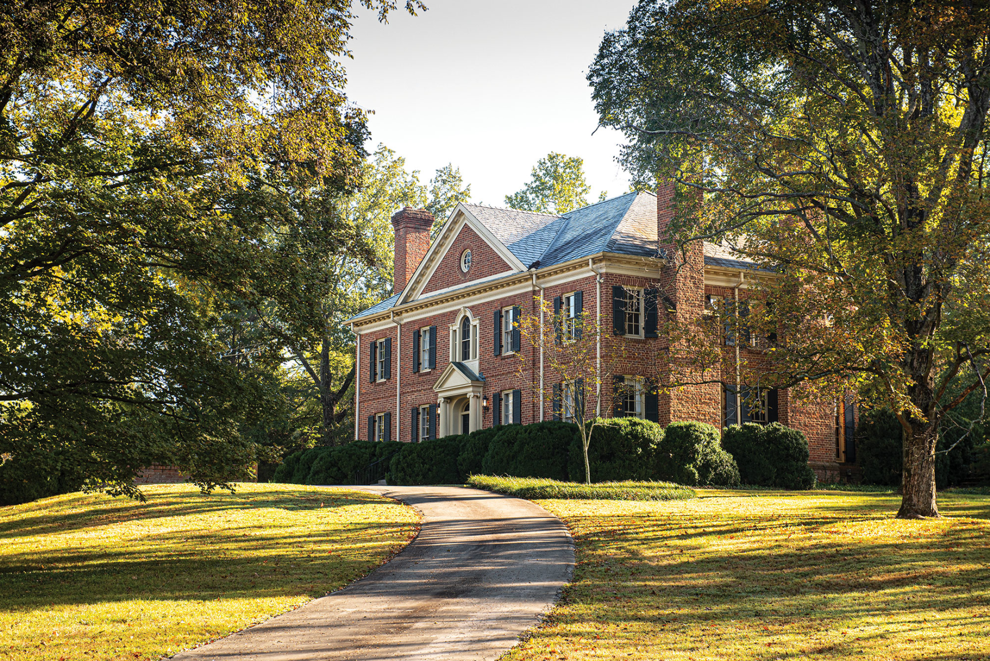 As the blistering real estate market continues apace, it seems the top listing will always exceed $4 million for the foreseeable future. That's the case with this month's headliner, an expansive rural Williamson County horse farm.
And whereas it was standard for the back end of the list to dip down toward six figures, now most everything down there hovers around $2 million. Another recent trend is the relative regularity of historic homes swapping hands.
Among the buyers and sellers this month: two mysterious LLCs, an extremely smart doctor and Reba's ex. 
1. 8440 Crockett Lane, College Grove
Buyers: Shane and Renee Cassidy
Sale price: $4.75 million
Seller: Michael Daniels
Seller's agents: Jackie Brown and Charlie Neese, Zeitlin Sotheby's International Realty
Buyers' agent: Angela C. Waller, Home and Country Realty
Truly a grand horse estate, this 286-acre property in rural Williamson County is "half open pasture, half wooded," per the listing. The main house is a five-bedroom, 9,500-square-footer, but the expansive property also includes four separate apartments throughout the grounds, all between 1,100 and 1,500 square feet themselves.
There's a 10-stall barn, a large equipment shed, four ponds and nearly seven miles of trails cleared for horseback riding, ATV-ing or just, you know, walking. It's not all rural pleasure, of course, because the home provides modern amenities like an infinity pool and hot tub. The home is trimmed in hardwoods and marble throughout, and the children's bedroom includes a pretty rad loft, to boot. 
It's easy to look askance at big buys on the penumbra of development and wonder if the open land is just predestined to become another massive subdivision, but not to fret. A previous owner — in this case health care entrepreneur and real estate investor H. Preston Ingram — put this property in a land trust to prevent its development.
2. 27 Bancroft Place, Forest Hills
Buyers: John R. and Leigh Montgomery
Sale price: $3.2 million
Seller: Jake Leduc LLC
Seller's agent: Ryan Miller, Parks
Buyers' agent: Tommy Patterson, Fridrich & Clark
Oh, Jake Leduc LLC, how we've missed you.
The mysterious LLC pops up in Headline Homes a couple of times every year, and we wonder if this will be the time we finally figure out who or what it is. But the LLC is just as much a mystery now as it was all the other times. The address for the LLC matches that of Adeptus (an Ocean City, N.J., accounting firm), and its registered agent is Nashville-based National Corporate Research. As for "Jake Leduc," there are a handful of them out there, but none appear to have any connection to Middle Tennessee.
Whoever or whatever it is, the LLC no longer owns this Bancroft Place home on 2.5 acres (which was vacant when it went on the market in early June). Built in 1999, the 9,470-square-footer was updated throughout before its latest listing.
3. 4737 Post Road, 37205
Buyer: Preston Trust, John P. Fayard, trustee
Sale price: $2.655 million
Sellers: Kathleen Jackson Estes and Frances J. Ambrose
Sellers' agents: Jamie Granberry and Shannon Barton, Pilkerton Realtors
Buyer's agents: Dana Griscom and Karen Pilkerton, Pilkerton Realtors
The listing for this classic Post Road home built in 1966 assured potential buyers it was a one-owner property, which is probably true in the spirit, if not the letter. (Though Estes and Ambrose both owned significant percentages of interest in the property, there were also portions held by trusts with the aforementioned as trustees).
The 6,286-square-foot home has a slate roof, "high ceilings" and an astounding five fireplaces.
4. 1747 Old Natchez Trace, Franklin
Buyer: Oakwood Natchez LLC
Sale price: $2.65 million
Seller: Thomas Powell Hedley
Seller's agent: Beth Molteni, Fridrich & Clark
Buyer's agent: Lauren Bonavenia, Exit Realty Music City
"Midcentury modern meets rustic farmhouse" in this house built in the very non-midcentury and non-rustic year of 2017. After the house spent more than five months on the market, it was snatched up by the mysterious Oakwood Natchez LLC — which the listing describes as a "Tennessee limited liability company," though there's no record of same, and its mailing address is the home itself. The house is on nearly 10 acres on Old Natchez Trace.
Country music publicist T. Powell Hedley is the seller. In addition to his publicist work, he's known to regular Headline Homes readers as the man who bought the "Juliette Barnes House" from Nashville.
5. 3501 Trimble Road, 37215
Buyers: Brian and Joy Heinrichs
Sale price: $2.2 million
Seller: Hauco LLC
Seller's agent: Alex Helton, Keller Williams
Buyers' agent: Steve G. Fridrich, Fridrich & Clark
Finished in July, this new build in the heart of Green Hills checks in with five bedrooms, five-and-a-half bathrooms and 6,766 square feet. The first floor includes the master suite and a study that could convert into a sixth bedroom should the Heinrichses and their heirs, successors and assigns so desire.
Tennessee Bank & Trust — conveniently based in Green Hills — named Brian Heinrichs as president and chief banking officer in June, a role that sets him up to succeed TBT CEO Dan Andrews. 
6. 9279 Wardley Park Lane, Brentwood
Buyers: Robert C. Jones and Carlyn H. Robb 
Sale price: $2,199,900
Seller: Martin C. Walker
Seller's agent: Lisa Culp Taylor, Parks
Buyers' agent: Megan Jones, Parks
This month's top Annandale entry sells to cardiac electrophysiology doctor Robert Jones, whose biography from Centennial Heart notes that he graduated from the University of Tennessee summa cum laude with bachelor's and master's degrees in nuclear engineering. And then he went to Vanderbilt for med school. Yowzer.
The home has the usual Annandale features — high ceilings, stacked stone walls and so on.
7. 1150 Travelers Ridge Road, 37220
Buyers: James and Niki Reese
Sale price: $2.189 million
Seller: Narvel W. Blackstock
Seller's agents: Laura Stroud and Lisa Fernandez-Wilson, French King Fine Properties
Buyers' agent: Alex Helton, Keller Williams
Like many high-end homes up on the ridges south of the city, this one promises the "best downtown view in Nashville!" Of course, all of them can't be the best, but this one does present a stunning panorama with the north-facing walls glassed nearly roofline to foundation. The 20-year-old home, designed by Robert Anderson, was recently renovated.
Seller Narvel Blackstock is the ex-husband of Reba McEntire.
8. 1013 Holly Tree Gap Road, Brentwood
Buyers: Martin and Jennifer V. Smith
Sale price: $1.99 million
Sellers: William and Glyna Dickerson
Sellers' agent: Tim Thompson, Tim Thompson Premier Realtors
Buyers' agent: Jennifer Smith Stadler, Fridrich & Clark
It's nigh on impossible to find 10 undivided acres in Brentwood, but Martin and Jennifer Smith did just that with this purchase. The house is a quaint farmhouse-style home with a gunite pool in the backyard along with a barn. It spent several months listed north of $2 million before a reduction moved it off the market in less than two weeks (and at $3,000 more than the revised asking price).
9. 2017 Legends Ridge Drive, Franklin
Buyer: Mazzuca Family Revocable Living Trust
Sale price: $1,977,500
Sellers: Thomas and Michele Bertorello
Sellers' agent: Jen Bua-Spoletini, Benchmark Realty
Buyer's agent: Corbi Parker, Corbi and Co.
Thomas and Michele Bertorello offered a deal on this Legends Ridge home, pricing it below the property appraisal. The Mazzucas benefited, picking up a rare lakeside property in the tony subdivision.
In addition to the waterfront views, the home offers "extra space at every turn."
10. 903 W. Main St., Franklin
Buyers: Jennifer H. and John Michael Haarbauer III
Sale price: $1.85 million
Seller: Dustin Diez
Seller and buyers' agent: Loy Hardcastle, Parks
Built in 1850, this downtown Franklin home sits on a relatively spacious three-quarters of an acre. The listing says the interior has been completely renovated but also promises original floors, trim, staircase and bannister.