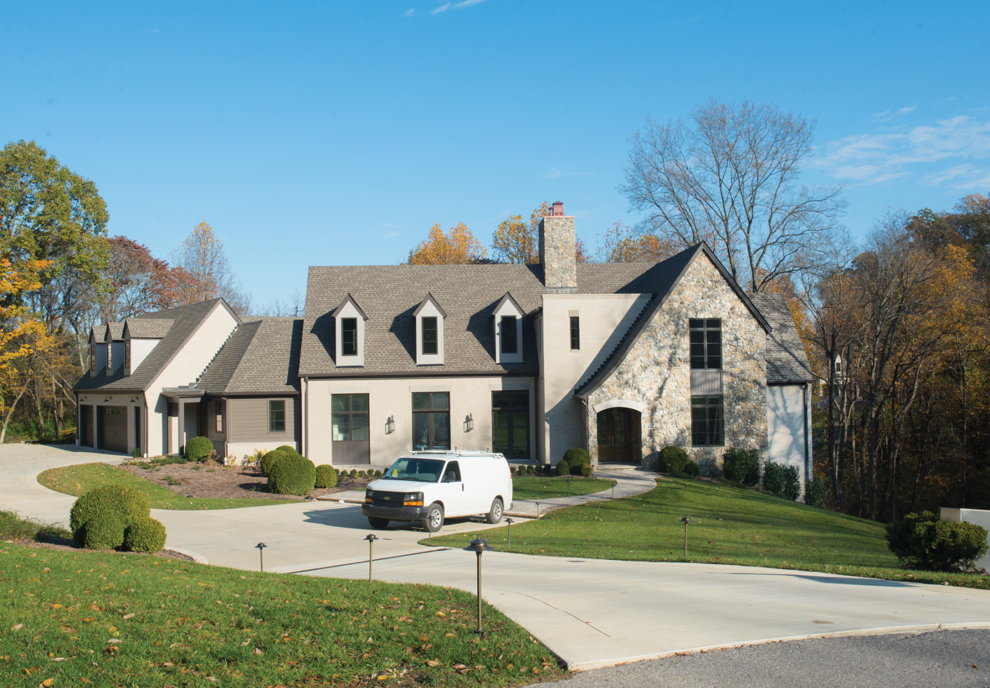 October provided the chance for Headline Homes watchers to add another two counties to the list of luxury home locales. With the sale of 1,000 acres northeast of Nashville, the counties of Pickett and Fentress have joined the esteemed list of counties with high-dollar real estate sales. 
Also on this month's list: a purchase that probably wasn't made by Russian spies; the top guy at Sony Nashville; and a Christian-music superstar. Below are the top 10 homes sold in Nashville and surrounding counties in October, ranked by price.
1. 1019 Stonewall Drive, Oak Hill
Buyers: Shannon B. and Falon H. Terry
Sale price: $3.81 million
Seller: The Dogwood Trust
Seller's agent: Jane McCracken, Keller Williams
Buyers' agent: Richard B. French, French King Fine Properties
Shannon Terry, founder of — among other things — 247sports.com, and his wife are the owners of 1019 Stonewall Drive. Again.
The Terrys sold the home to The Dogwood Trust in 2014 for $3.3 million or so (after buying the property for $540,000 in 2011) and buy it back four years later. The main house checks in at nearly 11,000 square feet and includes seven bedrooms, five fireplaces and a humidor. There's a two-bedroom, 2,500-square-foot guest house alongside the Gunite pool with an infinity-edge hot tub.
2. (Tie) 15 Inveraray, 37215
Buyers: Mark and Tina Piper
Sale price: $3 million
Seller: Joanne Cato
Seller's agent: Cathie Cato Renken, French King Fine Properties
Buyers' agent: Ashley Bosshart, Benchmark Realty
Three bedrooms and 5,300 square feet are relatively paltry measurables for Headline Homes. But it's always location, location, location in real estate, and a home atop a secluded hill in the gated Northumberland development checks all three boxes.
The home, built in 1990, is flush with amenities: mahogany doors, walnut paneling, two offices, and of course those panoramic views.
2. (Tie) 1260 Saxon Court, Forest Hills
Buyer: Saxon Court 2018 Trust; Jud Nave, trustee
Sale price: $3 million
Sellers: James F. and Diane L. Kerrigan
Sellers' agents: Lacey Newman and Jonathan Heard, Parks
Buyer's agent: Linda Chancey, Pilkerton
Sometimes a trustee's identity gives a clue as to the secret buyer, and sometimes, as in this case, the trustee is a Lebanon insurance man, just raising more questions.
Custom-built in 2017 for the Kerrigans, the 8,172-square-foot home on more than three acres includes seven bedrooms and a four-season porch that, through the magic of pocket doors, can combine with the great room into an even greater room. The home also includes four fireplaces, and the office has floor-to-ceiling windows.
4. 36 Governors Way, Brentwood
Buyer: SVR Revocable Residence Trust
Sale price: $2,625,500 
Seller: Stephen Williams
Seller's agents: Paula Hinegardner and Gabrielle C. Dodson, Keller Williams
Buyer's agent: Jeanette Angell, EXP Realty
"SVR" is the common abbreviation for Sluzhba Vneshney Razvedki, the Russian foreign intelligence service and the successor to the KGB. Of course, if Putin's pals were buying a home in Brentwood, they'd probably not use so obvious a name. Unless that's what they want us to think. The truth is out there.
Whoever SVR is, they got a furnished home at a $200,000 discount in The Governor's Club, which is no easy task. The 9-year-old, 11,000-square-foot home has 30-foot ceilings, a billiards room, a "professional gym," a theater room, a wine cellar and the promise that some unfinished space could be used for a recording studio.
5. 3534 Lizzie Sharpe Road, Jamestown
Buyer: SI Field LLC
Sale price: $2.6 million
Sellers: Tally and Kay Burton
Sellers and buyer's agent: Walker Hoye, McEwen Group
This month's far-afield entry comes from Pickett County, as 1,000 acres — which in fact cross into Kentucky and the Daniel Boone National Forest — sell to a Buda, Texas-based LLC.
The listing for the property says the log cabin on the property was once occupied by members of President Harry S Truman's family, though it doesn't say which ones or when. In addition, there's a large main house, a guest house and all the nature one would expect. In fact, a portion of the property was owned by the state for a time in the 1970s.
6 (Tie) 1154 Travelers Ridge Drive, 37220
Buyers: Thomas R. and Jennifer Goodman
Sale price: $2.3 million
Seller: Sherry Winn Howell
Seller's agent: Richard B. French, French King Fine Properties
Buyers' agent: Stephanie Tipton Soper, Christianson, Patterson, Courtney & Associates
Buyer Thomas Goodman is better known by his middle name, Randy, and is the top dog at Sony Music Nashville. His new home sits atop a bluff south of downtown, offering stellar views of the city.
Decked out sleekly in glass and stone, the house at the exclusive Inns of Granny White looks more penthouse than standalone home. 
6. (Tie) 394 Lady of the Lake Lane, Franklin
Buyers: John and Natalia Sanzo
Sale price: $2.3 million
Sellers: Gary and Shirley Loebsack
Sellers' agent: David Guilbert, SilverPointe Properties
Buyers' agent: Beth Brown, Reliant
Homebuilder Gary Loebsack is the seller of record for this newly completed custom build, which checks in at more than 10,000 square feet.
In addition to all the usual luxury-home bells, whistles and Sub-Zero kitchen appliances, the home includes a seven-car garage, which could come in handy for buyer John Sanzo, who runs SAC, a local air charter. Maybe seven cars is equivalent to one plane.
8. 1143 Dora Whitley Road, Franklin 
Buyers: Marco and Sabrina Hellman
Sale price: $2.25 million
Sellers: Michael and Susan Card
Sellers' agents: Cindy Garvey and Greg Musgrave, United Country Real Estate
Buyers' agent: David Legg, Re/Max
On 92 secluded acres between Franklin proper and Leiper's Fork sits the new home of HMI Capital founder and managing partner Marco Hellman and his wife Sabrina. Seller Michael Card is a well-known contemporary Christian singer-songwriter who also is the author of nearly two dozen books and previously hosted a radio show.
The four-bedroom main house has "extensive woodwork," and the smaller guest house could be used "as a rental" or a "recording studio," per the listing.
9. 9530 Sanctuary Place, Brentwood
Buyer: Jill Williams
Sale price: $2.2 million
Sellers: James and Crystalina Hyatt
Sellers' agent: LeAnn Wood, Keller Williams
Buyer's agent: Tammie Teal Ross, Re/Max
Tucked into the $2.2 million purchase price: the window treatments at this 12,316-square-foot, six-bedroom home in Brentwood's exclusive Hampton Reserve.
In addition to what are surely gorgeous curtains, Jill Williams gets a 19-seat theater, three laundry rooms, a five-car garage and a master suite that includes two kinds of closets: dream and water.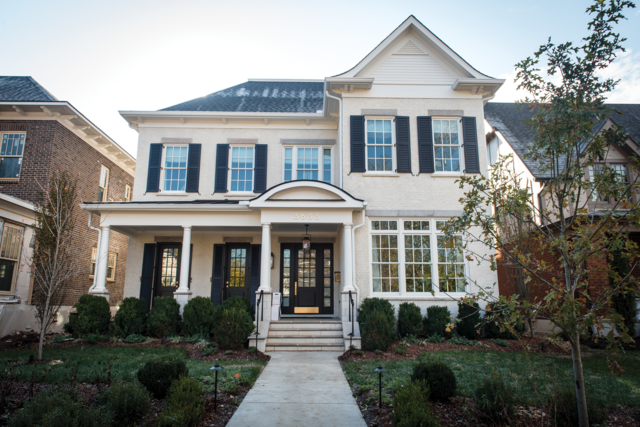 3633 Richland Ave.Photo: Eric England
10. 3633 Richland Ave., 37205
Buyer: Lisa Kranc
Sale price: $2,140,441
Seller: Mike Ford Custom Builders
Seller's agent: Mary Kucina, Fridrich & Clark
Buyer's agent: Katherine McGill, Home Buyers Marketing
The latest newly finished home on the land that was once the campus of Welch College is this 5,600-square-footer that, like its subdivision-mates, is a faithful representation of the architecture for which the Richland neighborhood is known.
Lisa Kranc, retired senior vice president at AutoZone and now general do-gooder and charity fixture, is the new owner. Per the listing, she was able to choose her own paint scheme.