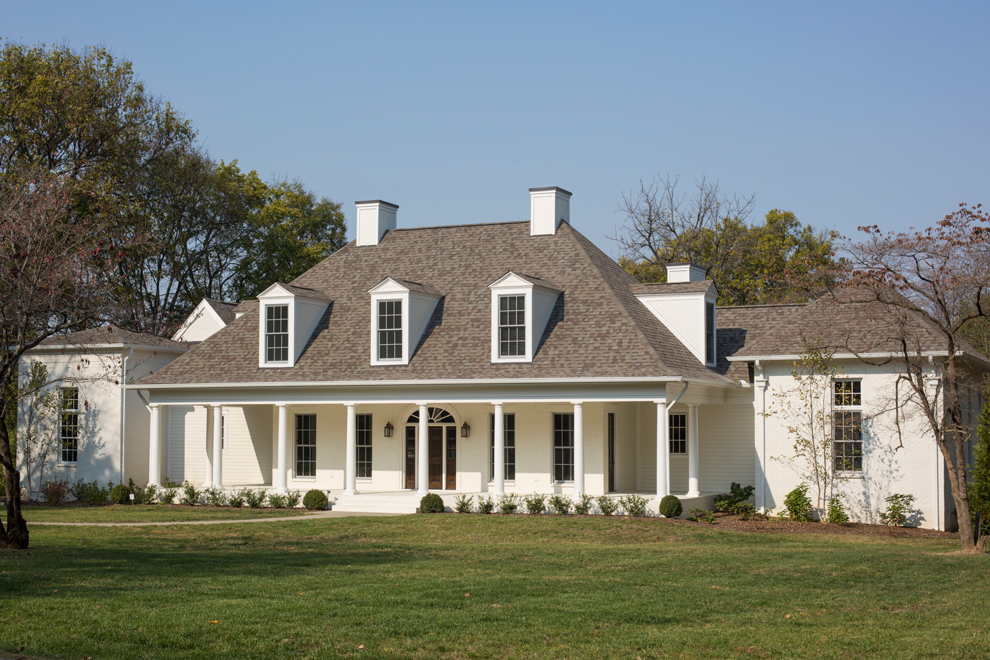 This month's list of top Nashville-area home sales includes a purchase by bluegrass legend Earl Scruggs' grandson Jesse Earl Scruggs, who is a cardiovascular anesthesiologist at Saint Thomas Health, a sale by an actor on TV's Nashville and a new home for the family who lost their home to a hoverboard incident in January. October also saw the second-most expensive home in the Headline Homes roster in 2016 — a $4.7 million barn-style house in Cheatham County, which was second only to a $5 million-plus abode sold in January.
Below are October's top 10 homes sales in Nashville and surrounding counties, ranked by sale price.
1. 1235 CC Road, Kingston Springs 37082
Buyer: Duane Clark
Sale price: $4.7 million
Seller: Michael D. Sontag, trustee
Seller's agent: Betty Finucane, Fridrich & Clark Realty
Buyer's agent: Drew Gaw, Victory Realty LLC
This 2,000-square-foot house — 3,000 if you count the 1,000-square-foot guest cottage — is small in the realm of most Headline Homes, but it sits on 126 acres just about 30 miles outside of Nashville. The main living quarters is a barn-style home designed by famed architect Bobby McAlpine. It includes an open-air loft that "showcases the incredible panoramic views of the Tennessee hills." The property also includes a croquet lawn, skeet shooting range, hot tub, stocked pond and more than three miles of trails to hike and ride horses or ATVs on. The home was originally listed for $6.5 million. 
2. 299 Jones Parkway, Brentwood 37027
Buyer: Matthew Lichtenberg, trustee
Sale price: $3,075,000
Sellers: Bennie R. and Michele L. Sharp
Sellers' agent: Donna Tisdale, The Lipman Group Sotheby's International Realty
Buyer's agent: Dennis Johnson, Worth Properties LLC
This nearly 10,000-square-foot colonial home was a 2006 Parade of Homes winner. It includes an elevator, pub-style bar, pool room, outdoor kitchen, "lush year-round green landscaping" and a stone paver circular driveway with automatic LED lighting at its edges. This "FABULOUS home!" with a 1,365-square-foot in-law suite and four-car garage was sold by Bennie R. and Michele L. Sharp, who bought the home just four years ago for $2.7 million. 
3. 514 Park Center Ave., Nashville 37205
Buyers: Charles B. and Megan M. Fox
Sale price: $2.5 million
Seller: Henry Preston Ingram 
Seller's agent: Melissa R Clough, Keller Williams Realty
Buyers' agent: Caroline Cook, Worth Properties LLC
Purchased by Charles B. and Megan M. Fox, whose previous home suffered severe damage in a hoverboard incident that caught the house on fire in January, this home is a bit of an upgrade for the family. The family is currently suing Amazon for $30 million over the incident that destroyed the $1 million home and caused minor injuries to three members of the Fox family. The family's new, nearly 8,000-square-foot home in a Belle Meade cul de sac includes an elevator, in-ground pool and no known history of hoverboard mishaps. 
4. 222 Poydras St., Franklin 37069
Buyers: Carey Ann Cyr and Wade Harold Hendricks
Sale price: $2,375,000
Sellers: Lindsay T. and Jennifer R. Butler
Sellers and buyers' agent: John Spoon, PARKS
While this home was up for sale, a "friendly dog named 'Jake' " stayed on the property to show it, which may be why it took only a little more than a month for the place to sell. Dogs always make the sale. This "One of a Kind!" home with "beautiful attention to detail throughout" includes a media room, safe room and an outdoor pool with a pool house. 
5. 1512 Chickering Road, Nashville 37215
Buyer: Michael D. Sontag, trustee
Sale price: $2,250,000
Sellers: Corinne Howell Dale and Joseph Michael Redding
Sellers' agent: Dana Griscom, Pilkerton Realtors
Buyer's agent: Betty Finucane, Fridrich & Clark Realty
This home has an "amazing million-dollar Nashville view" on a private 6.63 acres across from Warner Park. With tall ceilings and a full wall of windows facing the woods, this home is an "architectural masterpiece." 
6. 3511 White Crane Lane, Franklin 37064
Buyers: Ash and Allison S. Newell
Sale price: $2,225,000
Seller: Gregory Scott Reeves
Seller's agent: Cindy Garvey, United Country Real Estate Leipers Fork
Buyers' agent: Richard Van Kluyve, Regal Realty Group
This farmhouse in Leipers Fork includes cross fencing, a chicken coop and "room for goats." The home, at more than 4,000 square feet, is "Country Living at it's best." Photographer Ash Newell and his wife Allison purchased the home from Gregory Scott Reeves, the country music singer and actor best known for roles on General Hospital, The Young and the Restless and Nashville.
7. 4032 Overbrook Court, Nashville 37204
Buyer: Jeffrey A. Riggs 
Sale price: $2,096,000
Seller: Thomas Bronson 
Seller and buyer's agent: Richard F. Bryan, Fridrich & Clark Realty
Sold by oral surgeon Jeffrey A. Riggs, this 6,000-square-foot home in "Prominent" Oak Hill is on a "One-of-a-kind, private 1.8 acre lot!" It features the "most beautiful kitchen you'll see," a walk-in pantry, two master suites and multiple wood-burning fireplaces. 
8. 1024 Grassland Lane, Nashville 37220
Buyers: Glen R. Garrel and Kelton R. Garrel 
Sale price: $2,077,500
Seller: Stephen Church, trustee
Seller's agent: Brent Morris, PARKS
Buyers' agent: Drew Shannon, Village Real Estate Services
This newly constructed 6,600-square-foot house in Oak Hill sits on 1.3 acres. It features a white brick exterior and formal den with built-in bookshelves. 
9. 508 Huckleberry Road, Nashville 37205
Buyers: Jesse Earl Scruggs and Susan Kay Garwood
Sale price: $1,919,500
Sellers: Paul Michael and Danielle Marie Gaustad, trustees
Sellers' agent: Sue Ray, PARKS 
Buyers' agent: Anna Margaret Brackman, PARKS 
The Tudor-style estate home near Hillwood Country Club has hardwood flooring throughout, extensive custom molding, a chef's kitchen with  marble countertops, his-and-hers master baths and something called a "teen suite." This "truly stunning home!" also includes a billiard room and a media room, a heated saltwater pool and a hot tub. Bought by Jesse Earl Scruggs — a cardiovascular anesthesiologist and grandson of famed banjo player Earl Scruggs — and pulmonologist Susan Kay Garwood, this massive home is almost 7,000 square feet.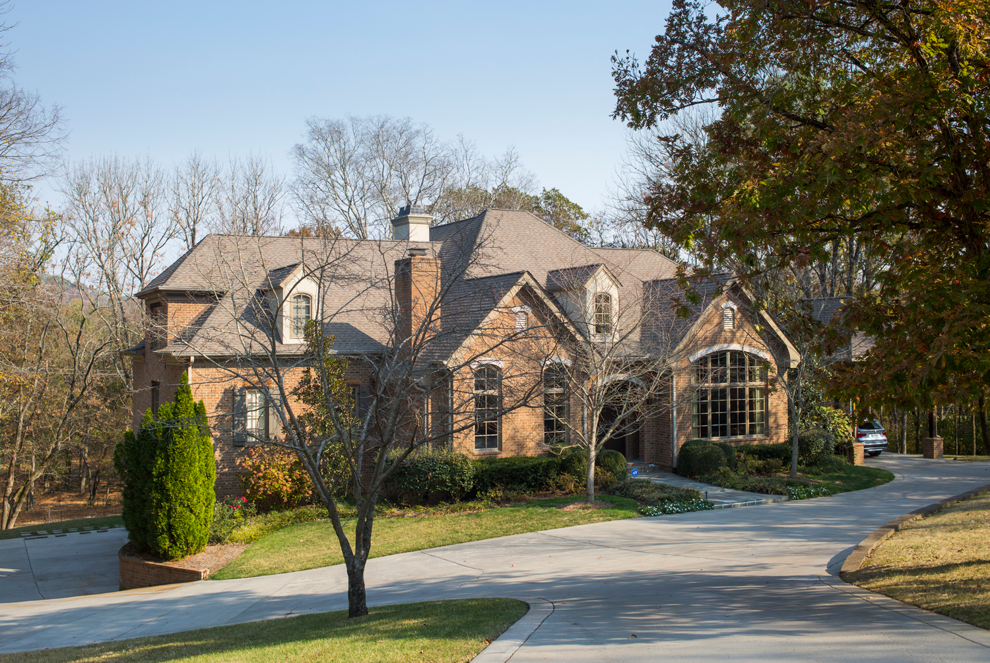 10. 1092 Lynnwood Blvd., Nashville 37215
Buyers: Robert B. Wallace and Deborah J. Lawson
Sale price: $1,917,000
Sellers: Tommy T. and Valarie D. Wammack 
Sellers' agent: Margaret H. Taylor, Fridrich & Clark Realty
Buyers' agent: Ben Gotte, Fridrich & Clark Realty
The "Kitchen is WOW!" in this nearly 8,000-square-foot abode. With exposed beams, vaulted ceilings and four fireplaces on the inside and a screened deck with "pastoral views" outside, this home was purchased two months after listing by Deborah J. Lawson, a former health care industry research analyst with Salomon Smith Barney in New York City, and Robert B. Wallace.