It's nearly a certainty that some famous personage bought the No. 1 home in this month's list, but they are shrouded in mystery and privacy — which might explain the 130 secluded acres they bought. Another entrant hid behind at least two layers of corporate protection for their purchase in Franklin.
Among the buyers we do know? A former bigwig for a certain mouse-themed amusement park. In addition, we go on a journey to 18th-century Europe, because it wouldn't be Headline Homes without the Pragmatic Sanction.
As always, what follows are the top 10 homes sold in November in Nashville and surrounding counties, ranked by price.
1. 5406 Leiper's Creek Road, Franklin
Buyer: The ACP Trust; Lou Taylor, trustee
Sale price: $4 million
Seller: Angela R. Williams
Seller's agent: Heidi Green, Synergy Real Estate Network
Buyer's agent: Jane Hunter Hicks, Jane and Kim Land and Home
Tucked away at the southern edge of Leiper's Fork and across the street from the riding trails of the Natchez Trace, this 3,340-square-foot home sits on 130 acres featuring two creeks, a four-stall barn, an equipment barn and a party barn — though if the new owners aren't into partying, the listing promises that said party barn can be converted to use for livestock. There are 22 acres of pasture, and the rear of the property is "a hunter's paradise."
The home has a new roof and windows, and there's an unfinished cabin on the hillside.
Trustee Taylor is a bigwig at Tristar Entertainment and represents a cavalcade of celebrities and athletes. 
2. 412 Jackson Blvd., Belle Meade
Buyers: William and Kaitlin J. Flynn
Sale price: $3.425 million
Seller: 412 Jackson Boulevard Trust
Seller's agent: Barbara Moutenot, Village
Buyers' agent: Jennie Garth Lovvorn, Fridrich & Clark
Built in 1930, this home is described as a Jacobean Tudor, ignoring the fact the Tudor period ended with the ascent of James I as king of England, thus beginning the Jacobean Era. Historical incongruities aside, the home was recently renovated and sits on a Belle Meade rarity — a completely level 1.5 acre lot.
3. 600 12th Ave. S., Apt. 1016, 37203
Buyer: Wendy A. Galgano, trustee
Sale price: $3.35 million
Seller: Earl Lee Development LLC
Seller's agent: Dave Haverkamp, Crye-Leike
Buyer's agent: Laura Stroud, French King Fine Properties
A 4,000-square-foot unit in the Icon in the Gulch comes in at No. 3 this month. The condo provides 270-degree views of downtown (one hopes the 90 degrees blocked from view aren't particularly stunning) and includes separate master and guest wings, the latter of which has its own master bedroom — which really should make it separate master and master wings. The apartment also features four HVAC units, and if that's not enough, a 5-foot black-quartz fireplace.
Galgano owns numerous luxury properties around the country, having recently purchased the Phoenix-area former home of retired former Kansas City Royal and New York Yankee designated hitter Billy "Country Breakfast" Butler.
4. 1371 Moran Road, Franklin
Buyer: 614 Series II LLC, care of Paracorp Inc.
Sale price: $2.75 million
Seller: The Estate of Frank Chalfont 
Seller's agent: Elizabeth Walls, Fridrich & Clark
Buyer's agent: Eric Elmquist, Covalent Properties
Paracorp is a company that serves as a registered agent for other companies and, naturally, is based in Delaware. Whoever is the buyer of this 53-year-old home went the extra mile to disguise their identity.
In any event, the home is a one-level, 5,769-square-footer with four bedrooms in the main house. An outbuilding includes a "party room" and a guest cottage. The 18 acres include a two-stall barn and two ponds.
Frank Chalfont was a successful McDonald's franchisee and owner of Colorburst Landscaping. He died in January.
5. 50 Governors Way, Brentwood
Buyers: Jose and Paula Rios
Sale price: $2.5 million
Seller: John B. Zelenak
Seller's agents: Darin Cunningham and Christina Cunningham, Compass Tennessee
Buyers' agent: Timothy King, French King Fine Properties
This month's obligatory Governors Club entry has it all, and all within a functional layout, its listing promises. It certainly does have a lot of fun amenities: a poker room, an indoor basketball court and an AstroTurf indoor sports training area. If poker, basketball and … sports training? … aren't enough, the home sits just off the 18th tee.
The property also includes a gunite pool and whirlpool spa, and every bedroom has its own full-size bathroom.
6. 1300 Forrest Park Drive, 37205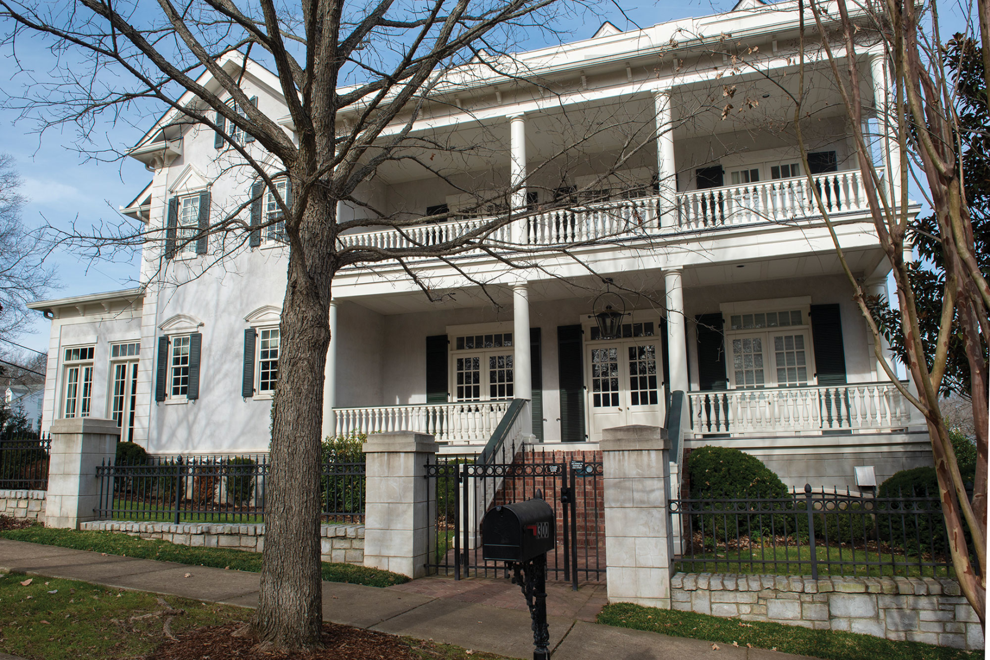 Buyers: Rich and Meg Crofton 
Sale price: $2.35 million
Seller: Thomas Lynn Black
Seller and buyers' agents: Gabriela Lira Sjögren and Patricia Straus, RE/MAX Masters
"Charleston charm meets Nashville nobility." In this case, that's not a description of Martha Ingram — it's the opening line to the listing for this home overlooking Percy Warner Park. Checking in at 9,096 square feet, the Belle Park property features massive porches and a 20,000-bottle (yes, that's right) wine cellar.
Buyer Meg Crofton is a newly minted independent director on the board of HCA. Until her 2015 retirement, she was the president of Disney's parks and resorts operations. Before that she was the president of Walt Disney World, which frankly sounds pretty awesome.
Seller Tom Black is a motivational speaker and author who — befitting the home's massive wine cellar — is an acclaimed collector of wine.
7. 8150 Heirloom Blvd., College Grove
Buyers: Jesse and Amy Seery
Sale price: $2,319,680
Seller: Stonegate Homes LLC
Seller's agents: Ben Jenkins and Robert Shiels, Grove Realty  
Buyers' agent: Ben Jenkins
Jesse and Amy Seery are the new owners of this former Parade of Homes entrant in The Grove luxury development. The "plantation-style farmhouse" — there is no farm, by the way — has French doors lining both its upper and lower porches, a black-and-white checkered tile entry and a laundry room with a craft table. The listing implores "don't miss" the upstairs game room.
8. 1044 Vaughn Crest Drive, Franklin
Buyers: Terry and Eloise Correll 
Sale price: $2.3 million
Seller: Emily T. Warthen, trustee
Seller's agents: Nancy Torrans, Fridrich & Clark 
Buyers' agent: Rich Kelly, Compass Real Estate
This Laurelbrooke home is, apparently, "reminiscent of Chateau du Marechal de Saxe." That would be the castle of the marshal of Saxony. Maurice of Saxony — who was actually German, but served in the French Army, rising to the post of marshal of France during the War of the Austrian Succession — owned several chateaux in his life, including the famous Chateau Chambord, which was given to him by King Louis XV after his cool leadership won the day at the Battle of Fontenoy.
This house, however, is styled on another chateau — one the marshal bought for himself later in his life in Yerres, a suburb of Paris. It's unlikely Maurice would have had need for the four-car garage at 1044 Vaughn Crest, what with him dying in 1750 and everything. But he might have enjoyed the billiards room.
9. 8146 Heirloom Blvd., College Grove
Buyers: Brian and Heather Williams
Sale price: $2,293,400
Seller: Legend Homes LLC
Seller's agents: Ben Jenkins and Robert Shiels, Grove Realty
Buyers' agent: Ben Jenkins, Grove Realty
Just down the street from No. 7, this is another Parade of Homes entry. The 5,904-square-foot, five-bedroom home has groin-vaulted ceilings (whatever that is) and 19 covered loggia, because 18 isn't enough and 20 is way too many.
10. 3530 Richland Ave., 37205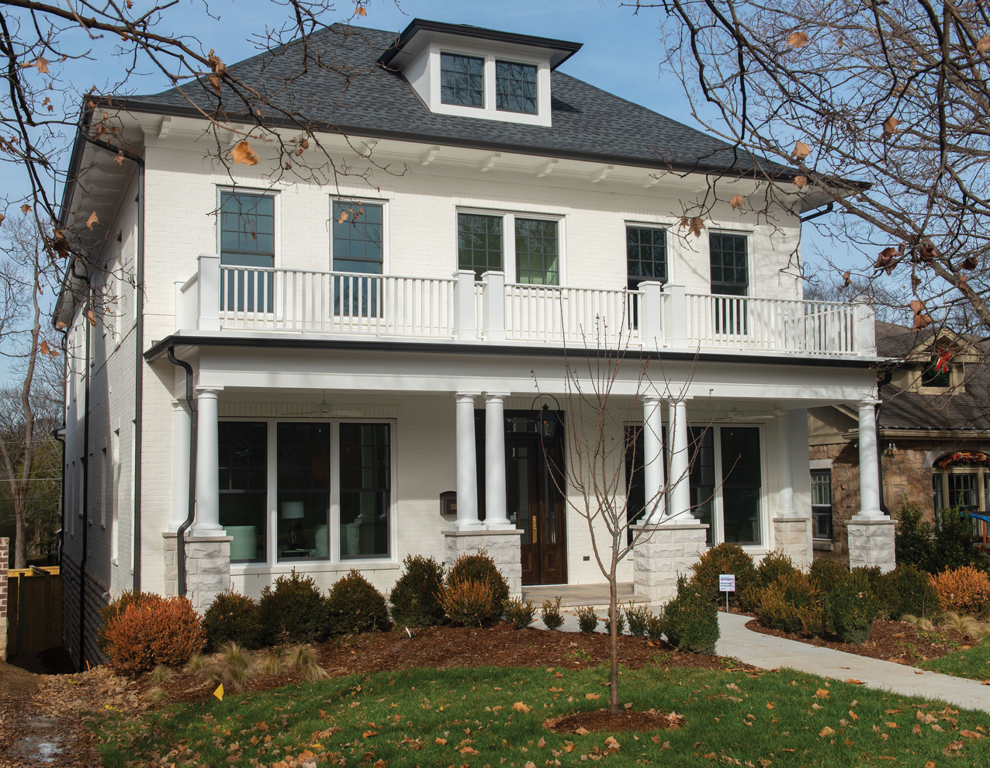 Buyer: Nathaniel Green
Sale price: $2,132,409
Seller: Mike Ford Custom Builders
Seller's and buyer's agent: Mary Kocina, Fridrich & Clark
Completed in late September, this 6,237-square-footer in the Richland Hall subdivision has ceilings so nice they're mentioned twice. The study and formal dining room have "beautiful ceiling detail," and the great room's ceiling is coffered. Now you know. 
Greene is the executive vice president and founder of the Nashville office of Colliers International.