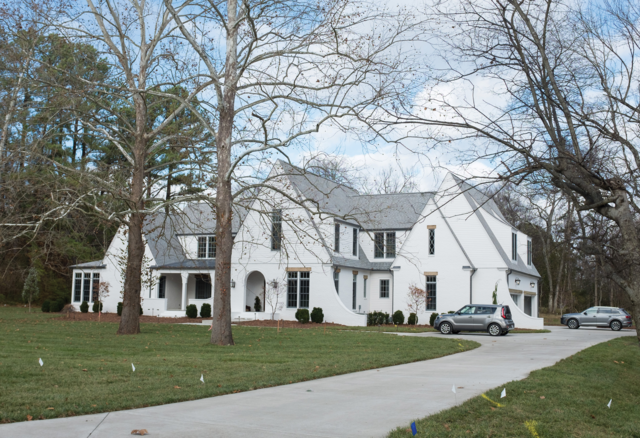 132 Hardingwoods PlacePhoto: Daniel Meigs
Much like our state government will be come January, November's Headline Homes list is Williamson County top-heavy. The entire top half of the list, and six of the 10 overall, come from That County to the South. In fact, tiny, unincorporated College Grove (population 4,206) put two homes on the list (including one with the coolest silo ever), while all of Davidson County had just three.
Among the buyers and sellers: a Trump-loving former Playmate of the Year, a golf-loving hockey legend and Nashville's favorite Down Under transplants.
As always, below you'll find the top 10 homes in Nashville and the surrounding counties sold last month, ranked by price.
1. 1049 Vaughn Crest Drive, Franklin
Buyers: Alexander and Svetlana Batsuk
Sale price: $3.337 million
Sellers: Lynn and David Gwin
Sellers' agents: Marsha Simoneaux and Tami Siedlecki, Fridrich & Clark
Buyers' agent: Nancy Torrans, Zeitlin Sotheby's International
This 11,000-square-foot "elegant Mediterranean estate" has some history for sellers' agent Marsha Simoneaux: She and her husband had the home custom built in 2004, selling it to the Gwins — David is HCA's treasurer and senior vice president — in 2015.
The six-bedroom house in Franklin's Laurelbrooke subdivision — a 2012 Home of Distinction — offers "panoramic views" and includes a "private backyard oasis" with pool and spa.
Buyer Alex Batsuk is managing director for Deloitte, one of the "Big Four" accounting firms.
2. 2032 Old Hillsboro Road, Franklin
Buyers: Craig L. and Jill A. Fordyce
Sale price: $2.7 million
Seller: Mary Ann McCready, trustee
Seller's agent: Richard B. French, French King Fine Properties
Buyers' agent: Heidi Green, Synergy Realty
Longtime Headline Homes readers know that when Flood, Blumstead, McCready & McCarthy co-founder and celebrity business manager extraordinaire Mary Ann McCready shows up on the list, it (usually) means country music real estate action. 
Indeed, the true sellers behind this McCready-fronted trust are Nashville's favorite antipodal transplants, Keith Urban and Nicole Kidman. In another case of history repeating, the couple bought this 35-acre spread in Leiper's Fork from the Fordyces in 2007, though that transaction probably has an interesting story to tell, as the sale went down just four days after the Fordyces purchased it themselves. In any event, it's theirs now (as of press time, they haven't sold it again). The gated property includes a brick farmhouse and guest cottage surrounded by acres of bucolic delight.
Craig Fordyce is executive vice president of commercial real estate giant Colliers; he is based out of Los Gatos, Calif.
3. 1984 Old Hillsboro Road, Franklin
Buyers: B. Joseph Rokus and Tari Frahm Rokus
Sale price: $2.6 million
Seller: Allentown Investment LLC
Seller's agents: Melissa and Andy Clough, Keller Williams
Buyers' agent: Linda Heflin Johnson, Pilkerton
About a mile southwest on Old Hillsboro from Keith and Nicole's old place is this new build, a 5,600-square-foot, four-bedroom "luxury farmhouse" on six acres.
Buyer Joe Rokus is a respected longtime executive with connections to numerous plastics concerns.
4. 8483 Taliaferro Road, College Grove
Buyers: Robert S. and Nancy A. McConlogue
Sale price: $2.56 million
Sellers: Seay Family Revocable Living Trust
Sellers' agents: Jane Hunter Hicks and Kim Brogli, Jane and Kim Land and Home
Buyers' agent: Katie Morrell, Village
There are plenty of reasons to decamp out to College Grove. There's peace and quiet and lots of room (this home, for example, sits on more than 20 acres). It's also far from the city lights, which is a plus when there's an observatory in the silo, as indeed there is at 8483 Taliaferro. In fact, the silo/observatory has a rotating dome and retractable roof.
In addition to the coolest silo in Middle Tennessee, the McConlogues will also enjoy a barn (with a heated half-bath!), a greenhouse and a guest house that has a separate apartment — presumably for when the guests have guests themselves. And with a silo-observatory, there should be no shortage of visitors.
5. 1002 Liberty Church Road, Brentwood
Buyer: John C. and Gail F. Sonia
Sale price: $2.255 million
Seller: John C. and Ellen Cate
Seller's agents: Sarah and Cole Kilgore, Pilkerton
Buyers' agent: Grant Sory, Fridrich & Clark
The Cates, the listing for this Brentwood Cape Cod says, needed to be out of this house by the beginning of December, as they were readying to take possession of a newly built home. The Sonias obliged with time to spare, inking the deal on Nov. 1.
The well-windowed, four-bedroom 4,900-square-footer sits on nearly three acres in Brentwood.
6. 132 Hardingwoods Place, 37205
Buyers: Nicholas and Julie Strane
Sale price: $2,197,840
Seller: Gregg & Rains Building Group LLC
Seller's agents: Brandon Knox and Pete Prosser, Keller Williams
Buyers' agent: Bobby Johnson, Zeitlin Sotheby's International
November's top-priced Davidson County purchase is a new build in West Meade coming in with five bedrooms and 5,600 square feet.
7. 2016 Earlington Drive, Forest Hills
Buyers: Keith and Gina Burnett
Sale price: $2,188,009
Seller: Jennifer Goodman
Seller's agent: Stephanie Tipton Soper, Christianson, Patterson, Courtney & Associates
Buyers' agent: Bonnie Heim, Berkshire Hathaway
This Forest Hills home exudes "casual elegance," the listing promises, with its three fireplaces, 10-foot ceilings, custom millwork and other "meticulous" updates since it was built in 2006. The main floor includes a "master wing," and all four upstairs bedrooms are en suite.
8 (tie). 7368 Harlow Road, College Grove 
Buyers: Brett and Darcie Hull
Sale price: $2.1 million
Seller: Tennessee Valley Homes
Seller's agents: McClain Holloway Franks, Battle Ground Realty; and Joy Smith, Benchmark Realty
Buyers' agent: McClain Holloway Franks, Battle Ground Realty
Hockey Hall of Famer Brett Hull is known to be a pretty decent golfer (insert joke about having plenty of time to hit the links during his 11 seasons with the St. Louis Blues); he was ranked by Golf Digest as the sixth-best golfer among athletes from other sports. Perhaps that explains his attraction to this just-finished home, which promises "world class golf course views."
In addition to its five bedrooms, the Golden Brett's new house includes two offices and a five-car garage, with a separate space for the golf cart.
8 (tie). 1467 Avellino Circle, Murfreesboro
Buyers: William and Jennifer Lange
Sale price: $2.1 million
Sellers: Bob and Marieann Parks
Sellers' agents: Rita Ash and Marie Parks, Parks
Buyers' agent: Pat Lane, Parks
For whatever reason, it's rare for Murfreesboro to put a home in the monthly top 10; luxury buyers wanting out of Davidson County are more likely to explore what's along I-65 rather than I-24.
This home — built in 2001 for Bob and Marieann Parks of Parks Realty — opens with a marble entrance and a split staircase leading to the library or a large formal dining room. There is, of course, a gourmet kitchen and a separate bar. Out back is a saltwater pool and pool house.
10. 2507 Hemingway Drive, 37205
Buyer: Dalene L. Kurhajian
Sale price: $1.895 million
Seller: Woodlawn Partners LLC
Seller's agent: Shauna W. Brooks, Christianson, Patterson, Courtney & Associates
Buyer's agent: Jennifer Turberfield, Benchmark
Ms. Kurhajian works professionally under the name Dalene Kurtis, and those readers who weren't in it just for the articles will remember her as 2002's Playboy Playmate of the Year. She now spends a lot of time retweeting James Woods, Antonio Sabato Jr. and other such shining lights of the MAGA-loving C-list.
Her new Baird Graham-built home, finished in June, includes copper gutters, brass pulls throughout and floor-to-ceiling marble in the master bath. The 5,000-square-footer sits on a rare-for-the-neighborhood flat acre.