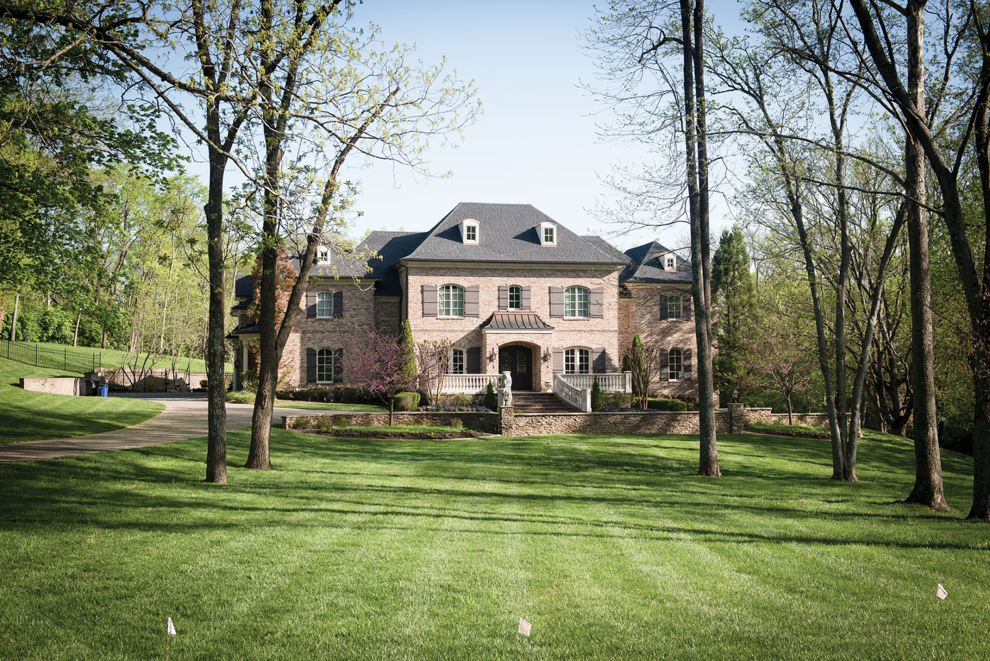 This month's edition of Headline Homes proves the ceiling on the housing market keeps rising. All 10 of the entries check in north of $2 million. The top three are all more than $4 million, and the leader — at $7.4 million — is the bettor's choice to finish as the year's top-priced home in the Midstate.
There's a bit of comedic feel to the list as well: Two buyers used allusions to comic moments when naming their front companies, and the purchaser of that highest-dollar home is the widower of an American comedy legend. Also on the list: Mr. Preds-ident and the state's finance man.
As always, below you'll find the top 10 homes in Nashville and the surrounding counties sold last month, ranked by price.
1. 1577 Moran Road, Franklin
Buyer: The S. Robert Levine Revocable Trust
Sale price: $7.4 million
Seller: John C. Spooner
Seller's agent: Richard B. French, French King Fine Properties
Buyer's agent: Lisa Peebles, Benchmark
Built in 1972, this nearly 11,000-square-foot home sitting on 46 lush acres in rural Williamson County tops the charts this month. At $7.4 million, it may very well end the year as 2019's top seller.
With architecture reminiscent of the Hamptons homes of the Gatsby set, the five-bedroom main house offers panoramic views of the surrounding countryside. The property includes facilities for equestrian activities, a stunning pool and a "bluff house" along 1,500 feet of Harpeth River shoreline.
Seller John C. Spooner is the CEO of senior-living development company Greystone Communities.
Buyer S. Robert Levine is a cardiologist and widower of the late television icon Mary Tyler Moore. Levine and Moore were married for 33 years before her death in 2017.
2. 4414 Chickering Lane, Belle Meade
Buyers: Shannon and Charles Martin
Sale price: $4.6 million
Sellers: Page and H. Rodes Hart Jr.
Sellers and buyers' agent: Steve Fridrich, Fridrich & Clark
Most months, $4.6 million would lead our top 10 going away, but after the big sale above, this 7,600-square-footer on three Belle Meade acres will have to be content with second place.
The listing for the 18-year-old, five-bedroom house promises "mostly one-level living" in a "not fussy family home." There's a saline pool out back in a "parklike setting" with a pool house doubling as a guest cottage.
Seller Rodes Hart Jr. is an executive vice president for Brookside Properties. The home's buyers, the Martins, are perhaps best-known for their ultimately failed attempt to rebrand the Country Boy Restaurant, a Leiper's Fork home-cooking staple, as upscale eatery Fly South. That effort flopped after less than a year, and the Country Boy was sold and reopened with its original name shortly thereafter.
3. 911 Overton Lea Road, Oak Hill
Buyer: Chandandler Bong Trust
Sale price: $4.25 million
Sellers: Stuart and Leigh Anne McWhorter
Sellers' agent: Richard B. French, French King Fine Properties
Buyer's agent: Unknown
There have been some fabulously named trusts in the history of Headline Homes, as the famous (or infamous) attempt to hide in the legal anonymity provided by such a creation. Sometimes there are little clues — perhaps a lyrical reference from a singer, or an anagram or initials. And sometimes, or at least one time, there is a relatively obscure reference to one of the better episodes of Friends.
In a Season 4 episode of the hit sitcom, Phoebe agrees to act as a surrogate for her brother and his wife; meanwhile, Joey and Chandler correctly guess the items in Monica's and Rachel's shopping bags, prompting an argument about who knew who better and leading to a bizarrely complicated quiz competition hosted by Ross. In the end, the men win the women's apartment, but in the meantime, viewers learned that the TV Guide is addressed to "Miss Chanandler Bong."
Notice that, for whatever reason, there's an incorrectly infixed "D" in the name of the trust, though it's safe to assume that's a mistake more than a clue. Anyway, the Bong Trust — which went the extra mile for identity protection by employing an out-of-town agent — picks up a six-bedroom, 13,375-square-foot, three-story home on three gated acres in Oak Hill.
The seller is Stuart McWhorter, currently Tennessee's Finance and Administration Commissioner, but perhaps better known as a Nashville business leader — most recently as chairman of Clayton Associates, the health care investment firm he took over after the death of his father, former HCA CEO Clayton McWhorter. In his younger days, Stuart McWhorter was also the man inside the suit of The Tiger, Clemson University's mascot most notable for its frenzied eyes.
4. 266 Ensworth Place, 37205
Buyer: 266 Ensworth Place Trust; William T. Chapman IV, trustee
Sale price: $3,322,023
Sellers: Jan B. and Joseph P. Bowen
Sellers' agent: Jane McCracken, Keller Williams
Buyer's agent: Whitney Musser, Fridrich & Clark
A more conventionally named trust — fronted by title-attorney-to-the-wealthy Chapman — is the owner of record of this renovated 1940s-built Tudor.
Luxurious garden walks lined with boxwoods and hydrangeas wind through the nearly two-acre property. Among the upgrades: Calcutta gold marble in the kitchen, along with high-end appliances, geothermal heating and cooling, and a heated saltwater pool.
Whoever is behind the trust — perhaps the rather bizarre sale price gives a hint? — does not get to keep the Bowens' televisions, however, according to the listing. Joseph Bowen is the COO of Franklin American Mortgage, and with the sale, he and his wife more than double their money after paying a mere $1.4 million for the home in 2013.
5. 6449 Penrose Drive, Brentwood
Buyers: Richard J. and Rhonda L. Albright
Sale price: $2.9 million
Seller: Hidden Valley Homes LLC
Seller's agent: Lauren Spangler, Re/Max Elite
Buyers' agent: Chip Kerr, Kerr & Co.
Completed at the New Year, this 9,100-square-footer on Brentwood's west side echoes "Texas Hill Country" architecture, per the listing.
Finished in natural stone, the home includes a chef's kitchen and a catering kitchen hidden behind a pantry. The covered porch, overlooking a place where a pool might go, has its own fireplace.
6. 2315 Woodmont Blvd., 37215
Buyer: Duke & Duke LLC
Sale price: $2.75 million
Sellers: Robert M. Wheatley and Sue J. Lee
Sellers' agent: Candie Worsham, Nashville Area Homes
Buyer's agents: Trudy Byrd and Rita Starling Puryear, Fridrich & Clark
Another high-end homebuyer uses a sly reference to the American comedy canon to disguise their identity, as Duke & Duke is the name of the brokerage firm in the John Landis-directed 1983 classic Trading Places.
It's unlikely Ralph Bellamy and Don Ameche — the eponymous Duke brothers in the film — went in together to buy this 10,000-square-foot Tudor, in large part because both men have been dead since the early 1990s. The property has its own saltwater pool and tennis courts, and the home itself includes five fireplaces, a wine cellar and an exercise room.
7. 1030 Overton Lea Road, Oak Hill
Buyers: Thomas S. and Nancy E. Pritchett
Sale price: $2.605 million
Sellers: Reba and Rodger McCalmon Sr.
Sellers' agent: Bill E. Henson, SilverPointe Properties
Buyers' agent: Melissa Freeman, Parks
In addition to all the common extras — exercise room, theater and game room — this 12-year-old Oak Hill home has an entire wing that appears to be ready to convert into just about anything. Among the suggestions in the listing: pool suite, entertaining space, in-law apartment and office.
Mr. Pritchett (he goes by "Stan" professionally) is a co-founder of trucking company Beacon Transport. Dr. Nancy E. Pritchett is an internist.  
8. 1046 Vaughn Crest Drive, Franklin
Buyers: Sean and Tracey Henry
Sale price: $2,222,897
Seller: Steven Bostelman
Seller's agent: Marsha Simoneaux, Fridrich & Clark
Buyers' agent: Tami Siedlecki, Fridrich & Clark
Nashville Predators president and CEO Sean Henry found a bit of a deal with his new purchase, as the asking price of this eight-bedroom Laurelbrooke 12,000-square-footer dropped nearly $350,000 after it spent almost six months on the market. The Henrys paid roughly $227,000 less than the ask.
The home has flex space on all three levels, a pool, a hot tub, bonus room(s) and in-law quarters. Though the property's apple tree goes with the former owner (Bostelman heads up an eponymous management firm that handles properties in the tier of counties south of Metro), there is an invisible fence just in case Preds team pup Smash stops by the boss's house for a visit.
9. 29 Governors Way, Brentwood
Buyers: Thomas Bender and Debra Osteen
Sale price: $2.097 million
Seller: Edward Morgan
Seller's agent: Chip Kerr, Kerr & Co.
Buyers' agent: Suzan Hindman, Berkshire Hathaway HomeServices/Woodmont Realty
You didn't think we'd get through a Headline Homes without a Governors Club entry, did you? While the house proper is certainly nothing to sneeze at, checking in at nearly 9,300 square feet, it's the outside that really sells the property. It includes "arguably the nicest custom pool you will ever see," a hot tub, a grotto, a waterfall, a slide and a tree rope swing, plus an outdoor projection system.
Osteen is the CEO of Franklin-based behavioral health services company Acadia. Bender is the founder and chief performance officer of Bender Performance, a sports training company.
10. 367 Jones Parkway, Brentwood
Buyers: Thomas and Darlene Klaritch
Sale price: $2.05 million
Seller: D'arezzo Family Trust
Seller's agent: Susan Gregory, Parks
Buyers' agent: Donnie Stanley, Pilkerton
This month's list wraps up with the Williamson County subdivision hat trick of Laurelbrooke, Governors Club and this Annandale home. 
This 9,000-square-footer is very proud of its ceilings, described as "soaring, coffered, barrel, domed." There's a gourmet kitchen, a theater, a game room and a wine cellar with an iron door.
Thomas Klaritch is the executive vice president, COO and newly minted chief development officer of HCP Inc., a medical-office-space development company.