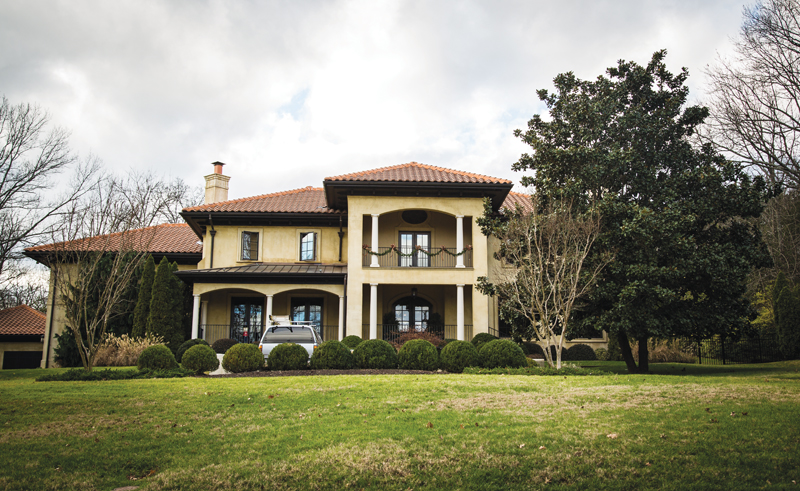 A couple of unusual occurrences mark this month's list, which itself is unusual in that several of the sales are light on details, and nary a celebrity is to be found.
First, the No. 1 sale comes out of rural DeKalb County, with a lakeside home that's made an appearance before in Headline Homes — back in 2011, when it was described as "more bed-and-breakfast than home." DeKalb County has made just two appearances on our august list, and both times it's been thanks to this Silver Point house.
Another weird one: The new owners of the No. 2 and No. 5 homes are the former owners of the No. 5 and No. 2 homes, respectively. Yes, it's a high-end home swap that makes your office White Elephant swap seem even chintzier.
As always, these are the top 10 homes sold in Nashville and surrounding counties in November, ranked by sales price.
1. 375 Lakeshore Drive, Silver Point, Tenn., 38582
Buyers: Lawson and Mary Lauren Allen
Sale price: $2,696,050
Sellers: Kirk and Andrea Caskey
Sellers' agent: Christy Reed Tinius, Christianson, Patterson, Courtney and Associates
Buyers' agent: Robin Drive, Center Hill Realty
Sitting on 7.5 acres on Center Hill Lake in DeKalb County, this nearly 10,000-square-foot home (and three-bedroom, two-bath guest house) sleeps up to two dozen people. Though built just 12 years ago, it was recently renovated with stacked rock and wood detailing.
The Caskeys — Kirk heads up Cookeville-based medical mobility company Allied Home Medical — purchased the home, known as "Tennessee Top Ridge," in 2011. They paid $1.8 million, so they'll net a pretty profit here, though not as pretty as they would have liked — it sold for almost $1 million less than its original ask after nearly six months on the market. Its February 2011 appearance marked the first time a home in DeKalb County appeared in Headline Homes.
Buyer Lawson Allen is a principal and vice president at high-end investment advisory group Lee, Danner and Bass. 
2. 4301 Esteswood Drive, Nashville, 37215
Buyers: Scott and Meredith Burns
Sale price: $2.3 million
Seller: Richard Elliot Ragsdale
Seller's agent: Greg Cooley, Chateau Properties
Buyers' agent: Whitney Musser, Worth Properties
The front end of an unusual transaction: The Burnses bought this Green Hills faux-Tuscan from Ragsdale, who will show up a little later in the list, buying the Burnses' former home.
This home has Brazilian hardwoods, a finished mother-in-law apartment, and is fully automated with all the latest gadgets and whatsits.
Scott Burns is the managing principal at Woodmont Investment. Ragsdale is the co-founder and former chairman of Community Health Systems and is now on the board of directors at, among other things, BreatheAmerica and the Nashville Zoo.
3. 200 Hillwood Blvd., Nashville, 37205
Buyers: David and Catherine Vickerman
Sale price: $1.795 million
Sellers: Meredith and Barbara B. Caldwell
Sellers' agent: Cissy Caldwell Akers, Fridrich and Clark Realty
Buyers' agent: Cathie Cato Renken, French King Fine Properties
The scion of an old Nashville family sells this 1935 home — which has been "thoughtfully updated" — at the corner of Hillwood Boulevard and Post Road. Coming in at 4,661 square feet, the home sits on a scenic and partially wooded 1.83-acre lot.
The Vickermans, despite paying just $3,000 under the original asking price, will not get to keep the sconces and curtains in the Great Room (majuscules included in the original listing) nor the mirror in the powder room. David Vickerman is the vice chairman and executive vice president of former Gov. Phil Bredesen's Silicon Ranch venture, a position he took after his former firm Greystone Management Investment led Silicon Ranch's $140 million raise in the fall of 2014.
4. 371 Jones Parkway, Brentwood, 37027
Buyers: Salim and Majida Mehio
Sale price: $1.73 million
Sellers: Matthew P. and Lindsay H. Willis
Sellers and buyers' agent: Susan Gregory, Parks
This Mediterranean-style home is the monthly entry from Annandale. It has a barrel-tiled roof, Brazilian hardwoods (a popular choice this month), marble, granite and all the so-ons and so-forths we expect.
Salim Mehio is a pulmonologist at The Frist Clinic. Matthew Willis is an orthopedic surgeon specializing in the shoulder. 
5. 124 Taggart Ave., Nashville, 37205
Buyer: Richard Elliot Ragsdale
Sale price: $1.5 million
Seller: Scott P. Burns
Seller's agent: Whitney Musser, Worth Properties
Buyer's agent: Greg Cooley, Chateau Properties
Here's the back half of the trade hinted at in home No. 2. Ragsdale gets this six-year-old, 5,000-square-footer that's a "perfect 10 for entertaining," plus he netted $800,000 in the home swap.
6. 906 Lynnwood Blvd., Belle Meade, 37205
Buyer: Devin S. Cole
Sale price: $1.4 million
Seller: William J. Christopher Andrews
Seller's agent: Patricia Straus, RE/Max Elite
Buyer's agent: Susan Collins, Berkshire Hathaway HomeServices Woodmont Realty
Tax attorney Andrews — faced with a "relocation," according to the listing — is the seller of this custom-built, three-year-old home in Belle Meade.
The home has "walls of windows" and sits on a "stunning oversized lot."
7. 377 Lake Valley Drive, Franklin, 37069
Buyers: Timothy and Amy Little
Sale price: $1.355 million
Sellers: Mark and Cynthia Spivey
Sellers' agent: Sam Logan, SilverPointe Properties
Buyers' agent: Jane Roberts, Pilkerton
The Spiveys were "motivated sellers," which might explain why they took nearly a quarter of a million dollars less than the list for this 7,000-square-foot home that includes a home theater and a "golf room," which itself includes a shower and steam bath. 
8. 221 Mockingbird Road, Nashville, 37205
Buyers: Bradley O. and Stephanie G. Harris
Sale price: $1.35 million
Seller: Jonathan Lehman
Seller's agent: Dana Battaglia, Christianson, Patterson, Courtney and Associates
Buyers' agents: Ami Kase and Kim Brannon, Zeitlin & Co.
Six decades old, but renovated this year, the Harris' new house has fresh paint, "water-popped hardwoods" and a "screened patio to die for."
Dramatic.
9. (tie) 1053 Buena Vista Drive, Franklin, 37069
Buyers: David F. and Heather Broyles
Sale price: $1.3 million
Seller: GP Luxury
Seller's agent: Lisa Culp Taylor, Parks
Buyers' agent: Unknown
This brand-new build was completed in October. As is common with new builds that make the list, the listing is light on details, but we do know it comes in at 4,500 square feet.
9 (tie). 5261 Granny White Trace, Oak Hill, 37220
Buyers: William C. Duffey and Jennifer Hawkins
Sale price: $1.3 million
Seller: Boulevard Building Company
Seller's and buyers' agent: Kathy Beata, Charter Properties
Another new build, this time in Oak Hill, this is a 4,700-square-foot home with "an open floor plan."