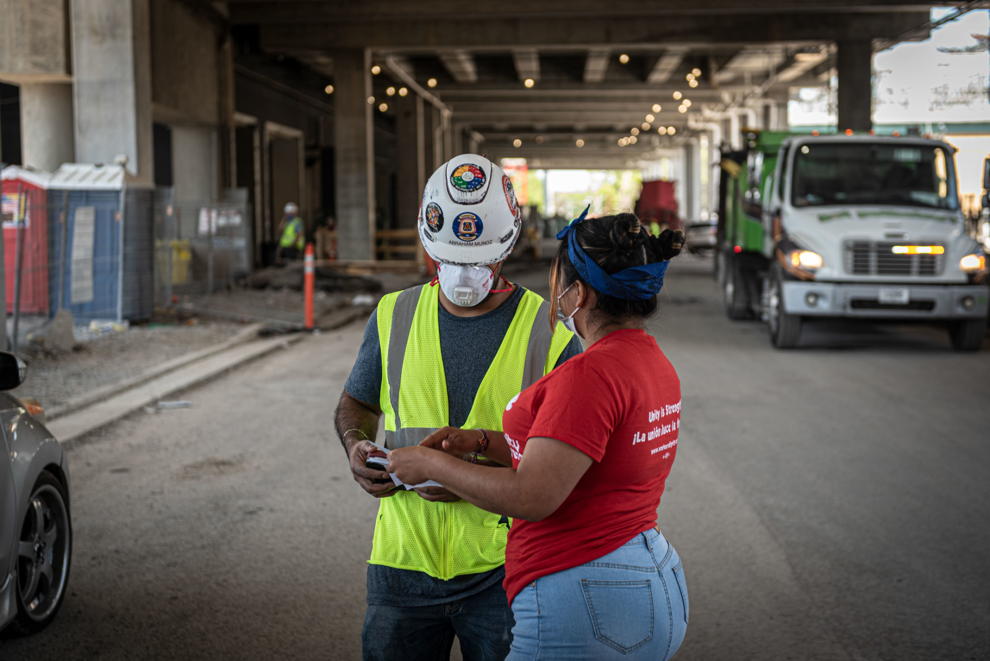 This article is part of a two-story cover package on labor in Tennessee. See also: "The State of Labor in Tennessee: Speaking with workers' rights advocates and union organizers about the ongoing fight for worker protections."
---
After the frantic first weeks of the COVID-19 pandemic, Tennessee Gov. Bill Lee set out to reopen Tennessee businesses — a task he entrusted to a new economic recovery group.
The group included lawmakers and members of Lee's administration, plus the heads of several industry lobbies representing companies around the state — the Tennessee Retail Association, the Tennessee Hospitality and Tourism Association, the Tennessee Grocers & Convenience Store Association and different chambers of commerce, among others. 
Though it's difficult to know for certain where people contracted COVID-19, Tennessee workers died from the disease after working in places experiencing extreme outbreaks of the coronavirus. Asked one year ago whether he'd thought to include any workers or worker representatives on the task force, Lee's answer was, more or less, that employers represent workers. 
"The economic recovery group is made up in vast part by industry folks who are employing tens of thousands of workers," the governor said at the time. 
This sidelining of the workers themselves is part of a long and often bipartisan tradition in Tennessee, wherein political leaders oscillate between completely ignoring organized labor and, when faced with a union drive at a Tennessee business, painting an apocalyptic picture of the dangers of labor unions. 
"It is characteristic and historical that, particularly in the South, state governments have weighed in on the side of the companies," says June Rostan, a retired labor organizer from East Tennessee who spent decades working with the AFL-CIO, the Southern Empowerment Project, the Highland Research and Education Center and a group of women coal miners. "It's about power."
The latest push to strengthen employers' power over unions dates back to the 1940s, when Tennessee adopted a "right to work" law, giving workers the option of opting out of unions and their dues even if they benefit from the collective bargaining or other advocacy undertaken by the organization. Though it's been state law for more than 70 years, a multiyear push is now underway to enshrine right-to-work in the Tennessee Constitution. 
Seven decades on, the move might seem symbolic, but supporters argue that it would make taking the law off the books more difficult for future iterations of the legislature that may be more supportive of organized labor — as now-majority Democrats in Virginia have sought to do in recent years. Additionally, supporters say, adding right-to-work to the state constitution would put defenders of the law in a stronger position if Congress moves to undo right-to-work nationwide, as one piece of legislation currently under consideration in Washington proposes. 
"We believe it's been a very good law for Tennessee and for Tennesseans because it's all about choice," says Jim Brown, who leads the state chapter of the National Federation of Independent Business. "For many workers, it's just about choice, and for some it's a value proposition. There are some unions out there doing work that's worth it to some workers, and there are some that may not be. It's about choice, and that's really what right-to-work is."
Tennessee's labor history is long — and in some cases bloody. In the 1890s, violence broke out in what came to be known as the Coal Creek War when a mine operator broke a miners strike with inmates leased from the state. The violence, and the cost of keeping the Tennessee National Guard in the field, led the state government to end its convict-leasing program.
Shortly after Republicans took full control of Tennessee government, lawmakers in 2011 stripped teachers unions of their collective bargaining power. It was a move that neutered the public-sector union that Republican leaders — including then-Gov. Bill Haslam — said was impeding changes to the state's schools. 
A century after the Coal Creek War, labor tensions flared again as foreign auto manufacturers began moving to the state. Tennessee's long-held right-to-work status was used in the pitch to companies. Wages are lower in right-to-work states (though that cannot exclusively be linked to the policy), and unions are of course weakened when fewer people join them. 
Though the right-to-work push "isn't getting into the actual organizing," as Brown says, Tennessee state officials and industry groups have not been shy about wading into "the actual organizing" before. In 2019, Gov. Lee — who spent almost all of his professional career before entering politics in management at his family's Lee Company — visited Volkswagen's Chattanooga factory to urge workers to vote against a proposed union at the factory. They did, by a slim margin, the latest in a series of unsuccessful organizing attempts at major manufacturers in the South. Tennessee lawmakers had also threatened to divert tax incentives away from companies with unions during the Volkswagen push. 
"Our view is that the laws are generally neutral right now," NFIB's Brown says. "You can still organize, but if Volkswagen or any other company is doing a good job of protecting their workers, providing good wages and a good place to work, there shouldn't be any need for a union. [NFIB companies] are doing everything they can to protect their workers. They look at their workers as family, and they believe if there was an attempt to organize it would disrupt that relationship with their workers."
That's certainly one point of view, but it's one that prioritizes the interests of business owners, who oppose union organizing for reasons other than just their familial relationship with employees. 
In some places, lawmakers are reconsidering right-to-work. West Virginia's Republican Gov. Jim Justice said earlier this year he is having second thoughts about the state's policy, put into place in 2016. "We went out and passed the right-to-work law," Justice said. "We built fields all over the place, in thinking that they will come. They didn't come, did they?"
By some measures, they have come to Tennessee, as more and more companies decide to move to the state with lower wages and less regulation than most of the other 50. And Tennessee lawmakers are responding with their push to put right-to-work in the Constitution. The Tennessee General Assembly passed the proposed amendment resolution by a simple majority in both chambers during its most recent session. Now it must pass by a two-thirds majority, which it already has in the Senate. As of press time, the House had not given the proposed constitutional amendment its second seal of approval, but assuming it does, Tennessee voters will have the choice to add right-to-work to the Tennessee Constitution in the 2022 general election. 
Senate Democratic Caucus Chair Raumesh Akbari is one of the few lawmakers fighting the push. Her Shelby County district includes the Lorraine Motel where Martin Luther King Jr. was shot while visiting the city on behalf of striking sanitation workers in 1968. Her legislative office is decorated with a photo of the workers brandishing their "I am a man" signs. That slogan and King's death in Memphis loom large in Tennessee labor history. 
"I think unions help make the workplace better," Akbari says. "Traditionally, they've been there to negotiate fair contracts, fair wages and safety concerns. When you take that away, it makes it more difficult for the position to be a profession, as opposed to just a job.
"I think we are at a low point, and I really hate that," she continues. "I wish people would look back and see what unions have done to build up our country and particularly to build up our middle class. Unfortunately, it seems there's too much of an eye toward corporate interest and less towards workers."
It's not just public pressure that has weakened unions in recent decades. Shifts in the economy — including shifts away from manufacturing jobs historically home to more organizing — have also contributed. The tech industry, Rostan says, has proven particularly difficult to organize. After spending a lifetime working to advance the cause of organized labor, Rostan admits that unions have not always been perfect. But generally, she says, they've been a force for good in the lives of workers.
In the Rust Belt states where unions still wield major influence, Rostan says, "there's not the fear of organizing that there is in the South. That's what's been used to keep people down. That's not just about right-to-work, but a whole culture of instilling fear in people of losing your job, or this factory will move if you organize a union.
"In spite of all of this fear and the laws that are baked into state governments in the South and some other places that impede union organizing, workers still are able to get a taste of being able to get together and form a union," Rostan adds. "They see we can sit at the table with the company, we have a voice, and we can protect people who get treated unfairly. It can be a very powerful thing — that's woven in the history of the South."