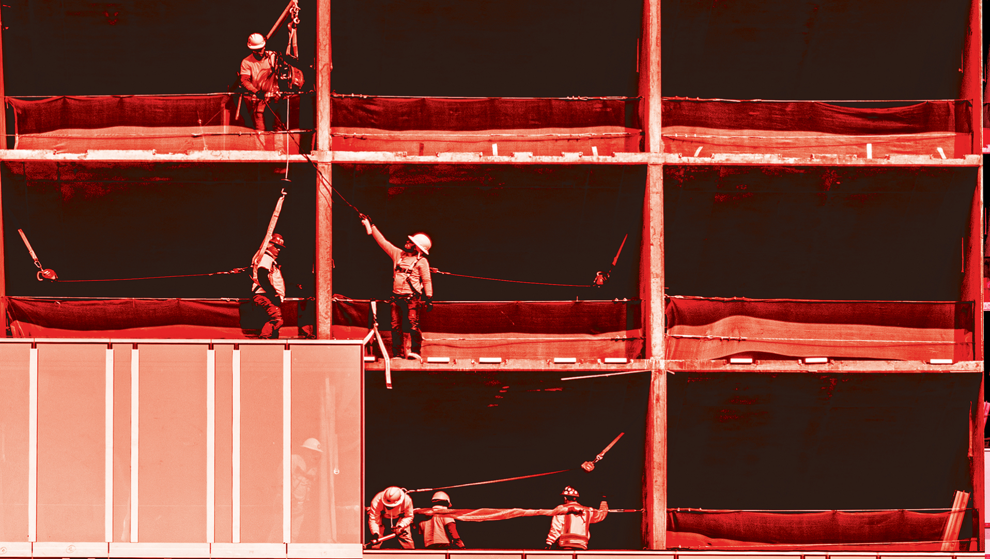 Gustavo Ramirez was a popular 16-year-old who loved soccer, played drums at school and in a church youth program and had an infectious, happy-go-lucky personality. His oldest sister, Jenifer Enamorado, says he always had a soccer ball or basketball nearby. 
"He always had to keep his hands busy," she says. "Hands and feet." Enamorado's husband, a huge soccer fan, always said the teenager had el toque — "the touch," a natural talent for the game.
Ramirez — whose nickname was Kike, pronounced "kee-kay" — was the youngest of six kids, and spent most of his life in Kentucky before his family moved to Springfield, Tenn., in 2020. Shortly after, he took a summer job alongside his older brother — a construction gig at a La Quinta hotel near Nissan Stadium.
On June 24, Ramirez and his brother Josh, 18, were working on the construction site's scaffolding 120 feet in the air. Ramirez's older brother suddenly heard a noise and turned around to see Gustavo fall. According to Josh, Ramirez said "I love you" before plummeting to the ground. They were his final words.
Metro police arrived on the scene and found no signs of foul play, but they did learn the teenager wasn't wearing a safety harness while working on the scaffolding.
The family, says Enamorado, was devastated and confused.
"When you get that type of news, there is confusion," she says. "It's the first emotion that you have. And then it's grief, and then there's anger, but overwhelmingly there's grief."
She adds that Ramirez's family had been preparing for Josh to go off to college in Kentucky, and Gustavo would be their last child to raise and "to ring out those last celebrations before [they had] an empty nest."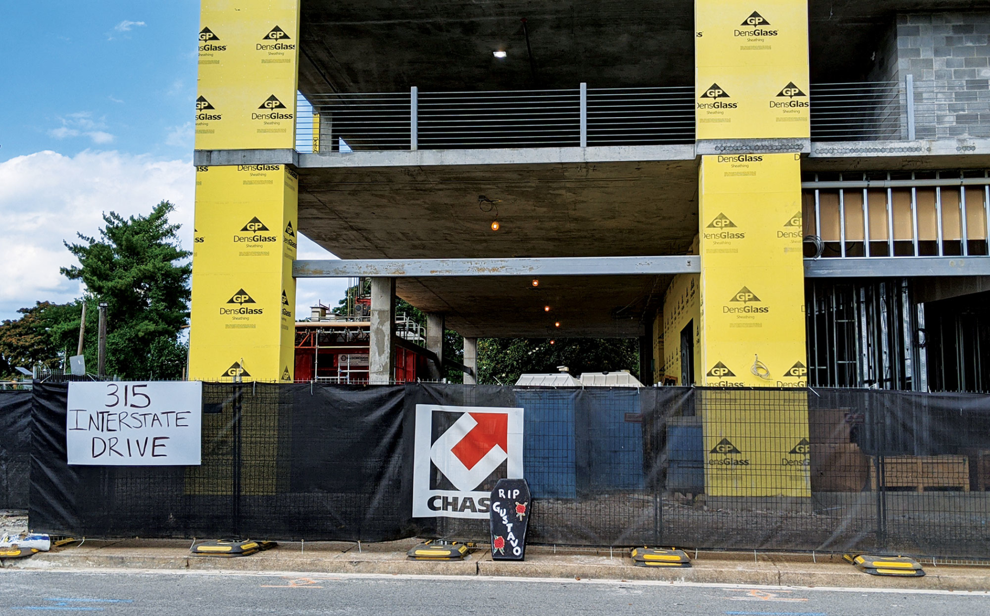 After Ramirez's death, it was initially unclear to investigators who was accountable for his fall, as the site's general contractor and subcontractors shifted blame. Questions about Ramirez's training on the worksite emerged — while it's legal in Tennessee for minors to work on construction sites, they're supposed to have fewer responsibilities than adults. WSMV, which followed Ramirez's case closely, obtained documents that showed the teenager had received training and certification to work with equipment needed to scale scaffolding at the site — even though it's illegal for employees under 18 to use such equipment.
According to the U.S. Occupational Safety and Health Administration, fatalities caused by falls have been and continue to be the leading cause of death for construction employees nationwide, accounting for 320 of the 1,008 construction fatalities recorded in 2018. (Safety harnesses were not necessarily required at the site where Ramirez fell, state officials previously told the Scene.)
For labor activists, the accident emphasized long-standing concerns about safety and construction in Nashville — concerns rooted in an industry culture that seemingly shrugs off accountability in favor of cutting costs, leading to layers of contractors and subcontractors who make accountability for injury and wage theft difficult to discern.
"Anytime someone is injured on a job site, we as a society should reflect on what we can do better to prevent that in the future," says Karla Campbell, an attorney representing Ramirez's family in a civil lawsuit against the site's general contractor and other companies at the site. Campbell, who is with the firm Branstetter, Stranch & Jennings, has represented construction workers and building trade unions in Nashville, and she adds that Ramirez's case is "sadly not my first wrongful death case," nor the first time she has represented a child's family.
Campbell says Ramirez's death doesn't represent a "new problem." "It's just a more dramatic example of how our government has essentially allowed this to happen," she says, "such that construction entities can subcontract with another entity or even a sham entity."
Ramirez's family has filed the lawsuit against the site's general contractor, D.F. Chase, as well as subcontractor Stover and Son, and E.Z. Distributing Inc., which trained the teenager.
Ramirez wasn't the only construction worker in Nashville who died on the job this summer. In August, a wall collapsed on 61-year-old Timothy Tyler during a job on West End Avenue. 
According to the Tennessee Occupational Safety and Health Administration, there have been 10 construction-related fatalities in Tennessee out of a total of 36 workplace deaths this year. It's a small increase from last year, which saw eight construction-related deaths out of 25 workplace fatalities.
"We average somewhere around 35 fatalities every year," says Wendy Fisher, assistant commissioner of TOSHA. "And not quite half, maybe a third of them … are construction. Some years are higher, some are lower. … It is very hard to target."
---
A report by The Tennessean described 2016 and 2017 — a span during which 16 construction workers died in the Nashville area — as the deadliest two-year stretch in the Nashville metropolitan area in more than three decades. The numbers are relatively low compared to other dangerous jobs like logging, but still higher than deaths seen in cities experiencing similar growth. The fatalities also seem linked to the city's construction boom — with more workers building houses, apartment complexes and office buildings comes more risk. A lack of fall protection accounted for a third of all OSHA fines issued in Tennessee between October 2016 and September 2017, according to the report.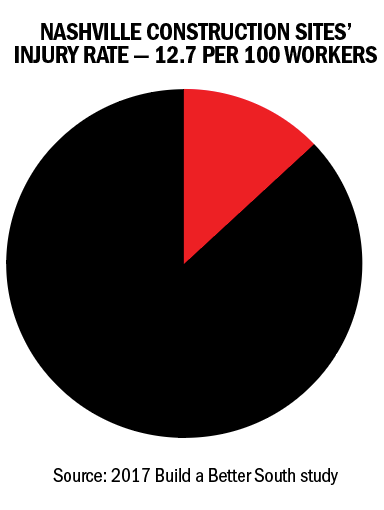 The 2017 Build a Better South study also found that injuries were common in Nashville construction sites. Nearly one in four Nashville workers responding to the study's survey had experienced a workplace injury at some point in their career. The study also reported an injury rate of 12.7 per 100 workers, which is four times higher than the rate OSHA reported that same year, and reported a large number of Latino and immigrant workers at Nashville construction sites.
Raúl Morelos is a former construction worker who now is part of a construction safety committee with Workers' Dignity, a labor advocacy organization. He says he never felt very safe on local worksites — for him, these were usually jobs that took place on rooftops, often without adequate safety equipment.
"You feel exposed," Morelos tells the Scene via an interpreter. "I was very afraid, but … I had to work."
Morelos had his own workplace accident in December, when he fell from a wall and suffered an injury to his clavicle — which required surgery — and back. His employer provided health insurance for the job, but Morelos is frustrated that neither the doctor he has visited nor the employer's insurance company believes his injury keeps him from working.
"I can't do things I was able to do before the accident," like bending over, says Morelos.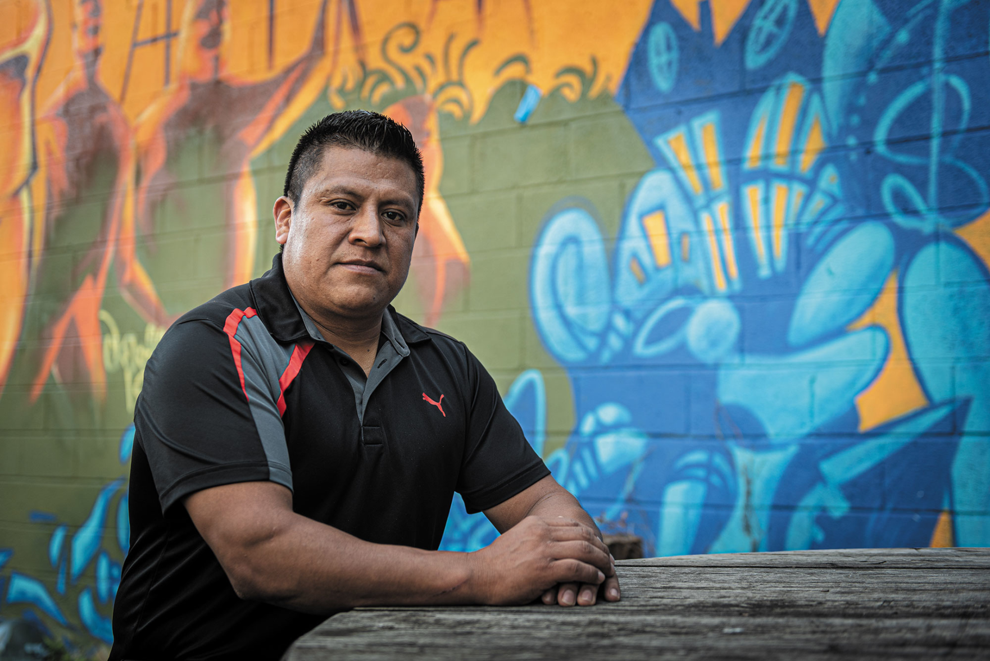 He filed a workers' compensation claim in July, but four months later, he's still waiting for it to move forward.
Morelos has since joined Workers' Dignity and now helps other workers file compensation claims. But he and the workers he assists remain frustrated with the lengthy process.
Intertwined with safety issues is the problem of accountability. When Ramirez fell, it was unclear who was at fault. D.F. Chase, the main contractor of the build, claimed ignorance about Ramirez's employment. At a vigil organized the day after the teenager's death, Cecilia Prado, an organizer at Workers' Dignity, told the crowd Ramirez's parents wanted not just justice but also information, "because they actually had to find out all the details of what had happened through the news and through the police."
Advocates and Ramirez's family struggled to get clear answers in the following days, and inspectors from TOSHA faced similar roadblocks. Eventually TOSHA fined two subcontractors: Cortes Plastering and Stover & Sons. TOSHA says that Stover & Sons is appealing its $5,400 fine. The owner of Cortes Plastering has not appealed, but had  yet to pay the $15,500 fine when the Scene spoke with TOSHA.
---
Sorting out the layers of contractors and subcontractors is a familiar headache for state investigators.
"It's getting harder and harder [to determine accountability], because so many contractors are subbing out to other contractors, and then those contractors are subbing out to other contractors," says TOSHA's Fisher. "By the time we actually figure out who is responsible, it's the third or fourth tier down the line … as far as setting the jobs out."
Local elected officials have noticed the problem as well.
"It's a real mess," says District 30 Metro Councilmember Sandra Sepulveda. "No one wants to take responsibility, and … the buck always gets passed." 
The common practice of hiring subcontractors can also lead to wage theft — some recent accusations of wage theft, for example, surfaced from workers at the downtown Margaritaville Hotel who claim they were denied overtime pay. It can also lead to worker misclassification, wherein subcontractors list their crew members as independent contractors to avoid insuring them. This also makes it difficult for construction workers to receive compensation benefits should they get injured on the job. Sometimes these subcontractors disappear once a job is finished, fleeing the state and laying low before returning to town. Sometimes the company closes down and reopens under a new name, free from any penalties incurred by its previous incarnation. A report earlier this year found that the Tennessee Bureau of Workers' Compensation Compliance Program assessed more than $4.5 million in penalties from 2018 to 2019, but collected only $1.8 million in assessments.
These sketchy practices can cut costs, which allows companies that hire out these subcontractors to launch competitive bids at a low price. And it leads to consistent problems for Nashville construction workers.
Metro Councilmembers, for their part, have been looking for solutions on the municipal side — mainly concerned with how the city awards contracts for publicly funded projects.
"I myself and some other community leaders have been looking at a different way of doing this," says Sepulveda, who says the city needs to change its procurement policies — how it goes about obtaining goods and services.
Finding a proper solution is a bit tricky for the Metro Council, however, because the state could preemptively shut down measures to set such standards. That's what happened to an attempted Metro Charter amendment in 2015 that would have required contractors to hire local workers on construction jobs.
"The sooner we figure this out the better, because we shouldn't have one more death on a construction site," says Sepulveda, who hopes that something related to procurement practices will be presented to the council before the end of the year. "We should be prioritizing jobs and contracts to construction companies that are taking into consideration their workers."
At-Large Metro Councilmember Zulfat Suara has also taken a hard look at procurement, already shepherding the passage of a pair of bills related to contracts in Nashville. The first established a publicly available list of suspended and disbarred contractors — a widespread measure related to all businesses working with Metro, not just those in construction. The second abolished a master list of architects and engineers that determined who the city would contract with. Suara tells the Scene the list was neglected and may have barred businesses owned by women and people of color from getting a fair chance at acquiring contracts. She adds that these bills also encourage city officials to evaluate contractors in real time and determine if they've ever been suspended, rather than simply picking from a list.
"Even if we're doing the right thing, we want the residents [of Nashville] to have confidence that we're doing all that we can," says Suara. "Whether it's making sure that our selection process is open to all and not just a select few, whether it's making sure that bad actors are exposed, you know, that's a way to create confidence in the system."
Last week, Suara also introduced a bill, co-sponsored by District 32 Councilmember Joy Styles, that would establish requirements to retain all procurement records for up to three years — a practice Suara says the city follows but hasn't codified in an ordinance. Styles, in response to Ramirez's death, introduced a resolution in June to keep workers under the age of 18 off of construction sites without proper training and equipment. The bill passed. 
Nashville can look to other Southern cities for examples of a more equitable industry. The city council of Austin, Texas, decided that contractors who participated in what's called the Better Builder program would get fast-tracked to contracts. The program was established in 2012 by a local labor advocacy group called Workers' Defense Fund, and participants of the program are required to offer workers' compensation insurance, provide safety training in accordance to state and federal guidelines, and pay more than minimum wage to their workers.
"People can see construction happening everywhere," says Suara. "And it is very important that as this growth is continuing, the people that are helping to make that happen — the construction workers — are being treated right and being paid fairly."
---
Accidents like Ramirez's fall weren't the only recent incidents to bring heightened attention to safety issues in the city. When the COVID-19 pandemic came to Nashville in March, restaurants and businesses closed down across the city — but construction continued. According to data from the city regarding COVID-19 clusters, from May to June there were 185 cases of coronavirus across five construction sites, including 75 cases associated with the Montgomery Bell Academy worksite. There have been a total of 19 clusters at construction sites according to city health data (although the city doesn't provide details on sites with fewer than 10 cases).
The emergence of two COVID-19 cases at Fifth + Broadway in the spring also highlighted worker concerns about transparency and worksite safety. That story went public after anonymous workers approached Fox 17 and later NewsChannel 5 about the COVID-19 cases, saying many workers weren't informed about the cases until three weeks later. Skanska — a Sweden-based contractor that had been accused of wage theft in Nashville during the construction of the downtown JW Marriott in 2019 — apologized for not informing workers sooner, and said they had otherwise followed Centers for Disease Control guidelines. They also closed the site down for a weekend following the first confirmed COVID-19 cases.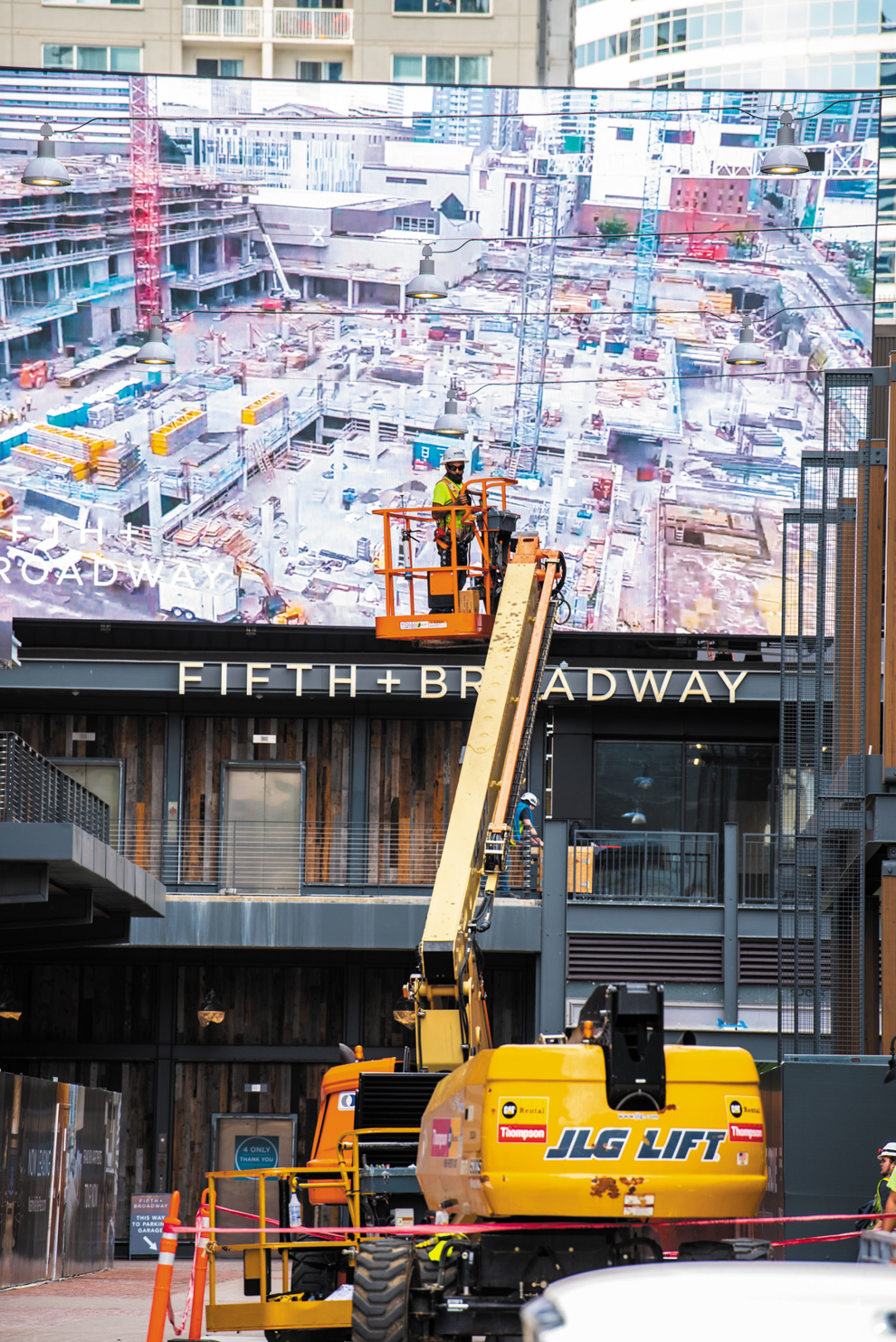 The late-spring and early-summer outbreaks concerned labor advocates, but city health officials are heartened by the fact that the last big cluster was reported months ago in June.
According to Dr. Gill Wright of the Metro Public Health Department, the rash of outbreaks in the spring and summer represented a learning curve for health officials rather than "bad actors" flaunting protocol. The citywide mask mandate helped greatly, he says, as did improvements in contact tracing.
Health department bureau director Hugh Atkins personally visited many construction sites in the early days of the pandemic, and he tells the Scene he saw plenty of protocol compliance at these locations, including temperature checks and hand-washing stations.
Many construction workers come from communities that have been getting hit hard by the COVID-19 pandemic — specifically, Nashville's Hispanic and immigrant communities.
"We've had a lot of people in the Hispanic community who are construction workers that were getting sick," says Sepulveda. She adds that these ill workers would often return home to multigenerational households where they could spread the virus to their families.
Says Dr. Wright: "We are working closely with community partners for the immigrant and refugee community. And I think that those efforts have made some difference also in our overall results."
Morelos of Workers' Dignity is an immigrant who arrived in Nashville from Mexico in May 2019.  He says immigrants face many challenges at their workplaces, which often stem from workers not knowing their rights. Those who speak up are also afraid of retaliation — in the form of bosses threatening to report them to immigration services, for example.
"We don't know which rights we have and as a result we remain silent," says Morelos. "So I'm trying to find a way to get all of these people who are being screwed over to come to us and not allow those injustices to go with impunity, because it's going to keep happening if we don't do anything about it."
The circumstances can be disheartening for immigrants trying to make a better life here in Nashville.
"You feel like you would be able to do something here that you cannot do back home because of insecurity, because of corruption, because of crime," says Morelos. "And you come here with the illusion that you're going to be able to do all of those things here. And then this kind of thing happens, and ... your illusion just dies."
Sepulveda, who has family members who work or have worked in construction, also feels a sense of urgency about the issue.
"It's still something that's very personal to me," she says. "It's a big industry, and it's an industry where a lot of my community members work in. And so I'm making sure that I am doing everything possible to keep them safe and to keep everyday people who are hard workers, who come from a background just like me, safe."
Hopefully the work of Sepulveda and others can spare more families the grief Ramirez's parents and siblings are experiencing.
"The most I want to impart from my family is our loss, the measurable loss that many families before us have experienced in this industry," says Enamorado. "And unfortunately, even if we would wish it to not be so, many families after us will experience [it]. And we would like for that to not be true. … It shouldn't be a fact of life."