This article is part of a two-story cover package on this weekend's Music City Grand Prix. See also: "Music City Grand Prix: A Fan's Guide to a Grand Ole Grand Prix."
---
The ambitious and big-name backers of the Music City Grand Prix are looking to burn some rubber and quickly make their mark in the auto-racing world. But just as importantly, they aim to be around for a long while — which is not something many open-wheel street racing events have been able to do — and become another anchor on Nashville's hospitality calendar.
Aug. 8's Music City Grand Prix will be the IndyCar Series' 11th race in 2021, and will be the third — after St. Petersburg, Fla., and Detroit's Belle Isle — of four events this year on a temporary street circuit. (The Grand Prix of Long Beach will close the IndyCar season in late September; it was first run in 1975 and has hosted Indy-style open-wheelers since 1984, except for last year, when the COVID-19 pandemic forced its cancellation.) Nashville's is the first new street course in IndyCar in nearly a decade, and Music City Grand Prix CEO Matt Crews and his team have in hand a three-year contract that comes with an option to add two years.
Expectations are high for a race that will have drivers zooming across the Cumberland River at about 200 mph and firing through concrete canyons near Nissan Stadium before a global TV audience in more than 100 countries. The Grand Prix team is forecasting that the three-day event will have an economic impact of $25 million, give or take a few million. (Some context: The massive CMA Fest produced $65 million in direct and indirect spending in 2019 before COVID forced organizers to take a two-year hiatus.) Grand Prix president Chris Parker, a former senior Nashville Predators executive, says his team's goal is to supplement June's CMA Fest and July's fireworks extravaganza with a third big summer downtown draw — and the initial interest and enthusiasm has been "tremendous."
Delivering on those expectations year after year won't be easy, however. A number of cities have found that the initial excitement of hosting a big IndyCar race weekend can be hard to sustain or doesn't quite pay the bills. For example:
The Grand Prix of Baltimore arrived on the scene in 2011 with a lot of fanfare and a memorable track in the city's Inner Harbor district. But the race didn't produce the economic benefits organizers had promised, and its backers racked up $3 million in debt, including almost $1.2 million to the city. Another group took over the event, which closed down parts of Baltimore's economic center, but the race was last run in 2013.
In Denver, Indy-style cars under the sanction of the CART organization ran on a downtown circuit in 1990 and 1991. CART's successor, the Champ Car World Series, returned to the Mile High City in 2002 and ran through 2006 before scheduling conflicts ended that event.
Champ Car's first race on the grounds of the Edmonton City Centre Airport in 2005 drew more than 200,000 attendees over three days. But that number dropped steadily in subsequent years, and new promoters stepped in to handle the event in both 2008 and 2010. By 2012, city officials said they had lost $12 million on construction and sponsorships in the previous three years and would not pony up more money to further update the track at the airport, which was in the process of being closed down in favor of commercial development. The event's run would end at eight years.
Promoters in Houston have taken three cracks at hosting top-level auto racing. A first run from 1998 to 2001, under CART sanction, ended because of construction projects in the track's downtown footprint. Five years later, Champ Car returned to race around the recently built Reliant Stadium (home of the Houston Texans, which has since been renamed NRG Stadium), but that run lasted just two years because Champ Car ceased operations and merged into what is now the IndyCar Series. A promoter made another run a few years later, signing a five-year contract with IndyCar and lining up Shell to sponsor the race weekend for four years. After two events, the promoter said scheduling problems meant there would be no 2015 race, and the event has not returned to the calendar since.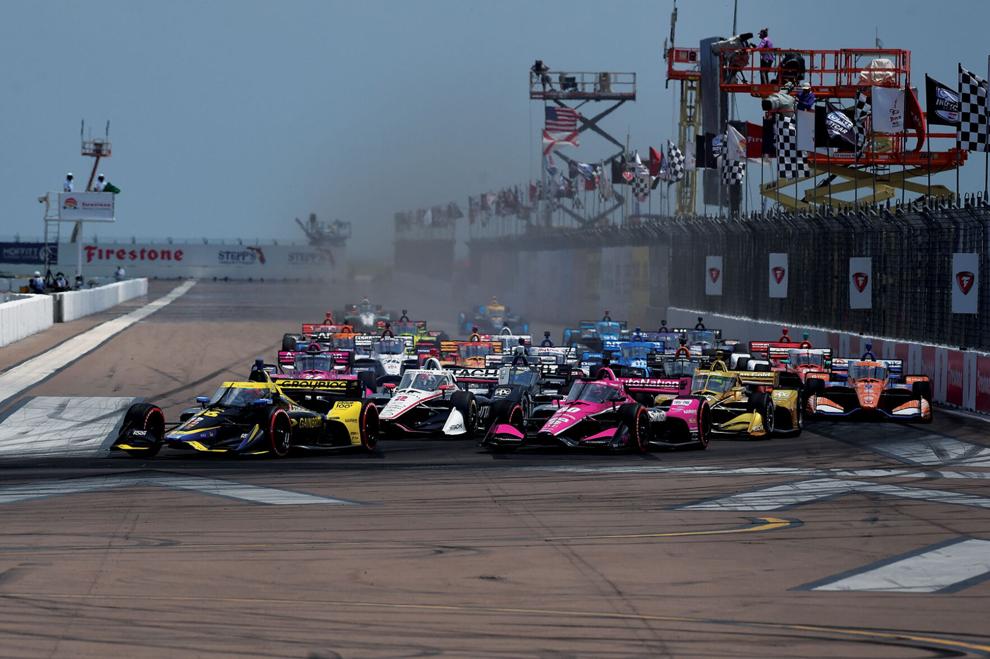 There are more tales of promoters designing street races to showcase their cities and help draw visitors, businesses and their dollars to town but having to fold up their tents a few years later. But there are also longtime success stories, like Long Beach, St. Pete and Toronto. (In Toronto, Indy cars have run nearly every year since 1986, but the city hasn't hosted a race during the COVID era.) In those places, the circuits have produced iconic images, such as the long Shoreline Drive in Southern California, or the yacht-dotted bay in Florida — instantly recognizable racing scenes Nashville organizers want the Korean Veterans Memorial Bridge to join — and attracted sponsors that stick around for years.
Those are the events the Grand Prix's ownership group — which includes Justin Timberlake and Dale Earnhardt Jr. — is seeking to emulate by designing a track that will stick around and connecting with sponsors and other entities that have the same long-term goals.
Parker says the GP crew focused heavily on building its partnership with the Titans and Nissan Stadium as well as the Nashville Convention & Visitors Corp and other business and tourism groups. Also important was "date equity," the idea of having the race at the same time each year — angling to make it both a Nashville destination and a fixture on the IndyCar calendar — and the confidence that the city streets the cars will race on aren't going anywhere.
"We wanted relative certainty that we could build this thing for the long term," Parker says.
The backers are pumping $10 million into their big weekend this year, although that number will come down significantly for future editions when they don't have to buy concrete barriers, fences and other gear from scratch or make quite as many road improvements. The city is not cutting a check to help fund the event, but Metro officials have helped out with permitting and the logistics of roadwork, and the massive undertaking of creating the track on the Korean Veterans Memorial Bridge and nearby streets. Parker says the investors are clear that it's a heavy financial lift to begin with; the benefits — both financial and reputational — will come over time.
"This is not about year one," he says. "It's all about years two, four, five, 10 and 15. The investors see an opportunity in the event, but they also see what Nashville can deliver in the long run."
The title sponsor of the racing festival is Big Machine, the holding company for music labels, a vodka-focused distillery and a racing team that this year began fielding a car in NASCAR's second-tier Xfinity Series. Founder and record executive Scott Borchetta is a Grand Prix investor as well as a racer himself: Driving a 1972 Chevrolet Corvette, he was a 2020 division champion in the Sportscar Vintage Racing Association, and he will race the Grand Prix's track as part of the weekend's Trans Am TA2 contest. He has long sponsored events and drivers, including Hendersonville native and two-time IndyCar season champion Josef Newgarden, and has used racing as a vehicle to champion his recording artists. Soon after he bought the former Tenn South distillery in 2015, he also began showcasing his spirits line via the sport, including as title sponsor of NASCAR's stop at the Indianapolis Motor Speedway.
Sponsorships from Big Machine and others make up a decent chunk of the event's income, along with a cut from food and beverage, parking and merchandise revenues. But Parker says ticket sales, including those to premium and VIP suites, are key — which is where having a series of concerts by Big Machine acts comes in. From midday Friday until Sunday night, the aim is to keep things loud and rocking and build the expectation of return visits.
"We didn't set out to create just another race on the IndyCar circuit," Parker says. "This is a three-day festival where the racing is a part of it. It's having the ability to program three, four, five days in Nashville — with something that is uniquely Nashville."
A close look at the track, the drivers and the technical aspects of this weekend's race