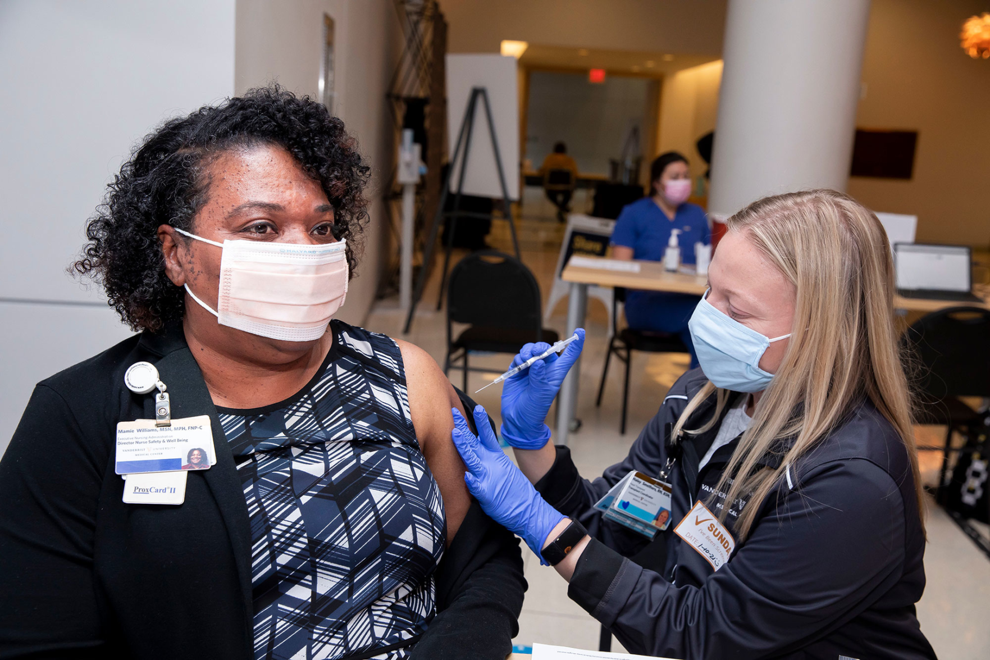 Since February, Jarod Parrish has been visiting barbershops in North Nashville neighborhoods, getting to know the clientele and screening them for hypertension. It's part of a study by Vanderbilt University Medical Center designed to bring preventative care to Black men, meeting them where they go for a haircut. The clinical pharmacist has become such a fixture that barbershop patrons have taken to calling him "Blood Pressure Man."
The Vanderbilt study, modeled on similar efforts based in Los Angeles, was interrupted — like just about everything else — by the COVID-19 pandemic. But Parrish managed to return to barbershops as the months progressed. 
"We thought it was vitally important to get back in there just because of how COVID can affect individuals with high blood pressure," Parrish tells the Scene.
A topic that has started to come up in barbershops is the COVID-19 vaccine — and whether it carries any risks. With a few versions of the vaccine approved by the FDA, rollouts have already begun, starting with those in the medical community. Parrish is able to offer some firsthand information about the vaccine and dispel skepticism and misinformation — which can range from reservations about the safety and the quality of the vaccines to more outlandish fears like microchips in the syringes. 
Parrish calmly listens to patrons' concerns, and in response describes his own experiences receiving the shot or seeing his colleagues fill the vials of vaccine.
"I feel like misinformation spreads a lot faster than the truth does, so that's another reason why I'm glad I'm out there, because I can actually talk to people about my experience," he says. "[I'm] not pushing anything on anyone, just letting you know that it's happened to me and that it's safe."
There's a sense of urgency to get the right information into Black communities. Nationally, the COVID-19 pandemic has hit African Americans particularly hard, with higher infection and mortality rates — Hispanic and Native American groups have also seen disproportionately large numbers of cases and deaths. In Tennessee, Black people make up 16 percent of the population and account for 13 percent of COVID-19 cases, but 18 percent of the deaths. So it's important to reach out, and Parrish notes that when it comes to medicine, representation matters — it helps when Black Nashvillians can speak to a Black medical professional like himself.
Chardé Parrish, a specialty pharmacist at VUMC and Jarod's wife, agrees. "People want to see themselves represented in an authentic and genuine way," she says.
Before joining Vanderbilt, Chardé was a community pharmacist at Kroger, and she says Black customers were happy to see someone who looked like them working behind the counter — no small matter since a pharmacist is often the most accessible medical professional to a community, Chardé says. It's a job that reinforced for her the importance of listening to people, understanding where they're coming from and not dismissing their concerns.
"If a patient comes to us and they have mistrust, it's so important to listen for a while to see what are the reasons behind the fear," she says. "And then from there ask them, 'May I offer some information that may be useful to you?' "
Misinformation is abundant in all communities, of course — from conspiracy theories circulated online to politicized talking points from the anti-mask crowd — but African Americans have legitimate reasons to be skeptical of the health care industry. Those can stem from higher pregnancy-related death rates among African Americans to the history of unethical clinical experiments carried out on Black Americans to their own personal experiences with biased physicians.
Mamie Williams, a nurse practitioner and co-chair of the African American employee affinity group at VUMC, notes this "well-founded mistrust" could be particularly pitched in the South. For example, people concerned about the virus reference the infamous mid-20th-century Tuskegee study in Alabama, in which doctors lied to hundreds of African American patients about their diagnoses and the treatment they were receiving.
"They would bring up the whole Tuskegee syphilis study and how those health care professionals — and they were health care professionals, they were nurses — allowed those men to suffer the way they did," says Williams. 
Williams organized town halls to help inform all VUMC employees — not just medical staff — about the virus and the vaccine, including explanations of how clinical trials have changed over the years. Dr. Consuelo Wilkins, who is familiar with such research, spoke at one of the events.
"There's all this discussion about, 'How do we increase trust among Black people?' " says Wilkins, who is vice president for health equity at VUMC and lead author on a research paper about addressing health disparities in COVID-19 response systems. "I think that the first thing we have to do is stop asking that question. We have to ask, 'How will we be more trustworthy? How will we demonstrate to people that we are worthy of their trust?' "
Again, representation helps a lot when it comes to building that trust.
"The data shows that African American and Hispanic patients are more likely to adhere to treatments, and follow up with more racially concordant physicians," says Dr. André Churchwell, the chief diversity officer at VUMC and Vanderbilt University.
When it comes to outreach during the pandemic, Churchwell points to the work that the historically Black Meharry Medical College has been doing, like managing testing sites. He also calls the school's president James Hildreth "an extremely important spokesman … and an important person to ensure that the vaccine and screenings are appropriately [available] in North Nashville."
Challenges remain, of course. Churchwell also highlights structural challenges to access, such as "the lack of pharmacies and health clinics in the African American community and our Hispanic communities." "They just aren't there in abundance as opposed to our white community," he says. Churchwell adds that many essential workers are people of color who can't work from home.
Everyone who spoke with the Scene had received at least one of the two doses that make up the COVID-19 vaccine. Other than a sore arm (and a headache in one case), all said their experience receiving the vaccine was just fine.