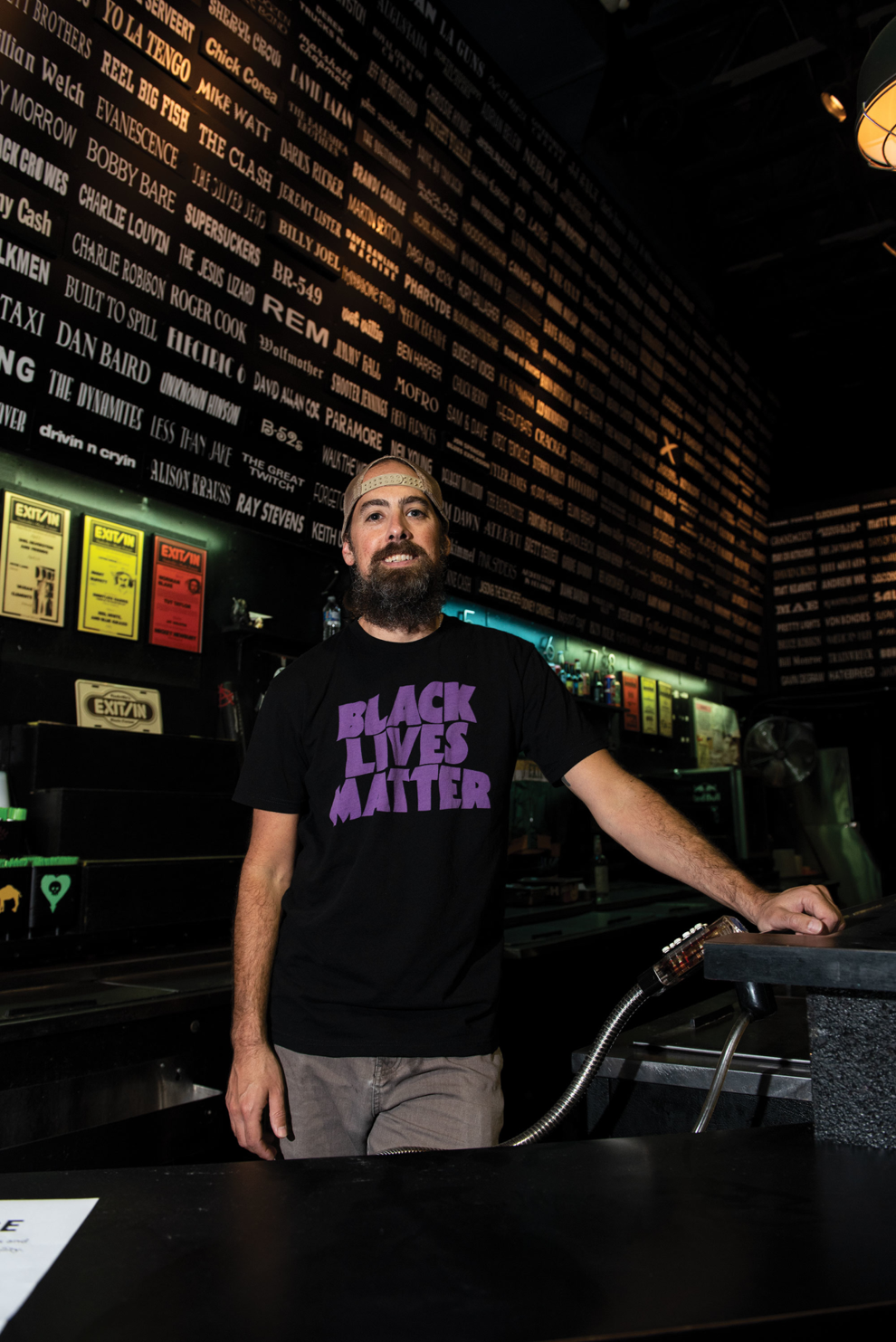 In the 50 years since Exit/In opened on Elliston Place, the beloved music venue has survived a great deal of upheaval. The business has changed hands many times, sometimes with the owner or owners going bankrupt. Responding to extensive real estate development in the neighborhood, current owners Chris and Telisha Cobb spearheaded a grassroots movement called Save the Rock Block and fought off a zoning change. During the COVID-19 pandemic, venues haven't been able to generate revenue as normal for almost a full calendar year. Chris Cobb helped launch Music Venue Alliance Nashville, a group of 15 local independent venues that made its case to Metro and received a vital allotment from CARES Act funding. Exit/In also joined the National Independent Venue Association, which campaigned for federal aid that was ultimately included in December's second stimulus bill — though it's yet to be disbursed. 
The longevity of Exit/In is a testament to the immense cultural and economic contributions that venues make to communities lucky enough to have them. On Feb. 15, however, news came that is too often the death knell for small businesses in general and independent music venues in particular: The two families who each have a 50 percent ownership stake in the property that's home to Exit/In and its sister bar Hurry Back decided to put it up for sale. But there was a note of hope in a report from Tennessee Lookout: The Cobbs have a chance to buy the property themselves, with assistance from Charlotte, N.C., real estate and development firm Grubb Properties and its recently established Live Venue Recovery Fund. 
"It is the singular best scenario for Exit/In and other venues out there who may find themselves in a similar situation," Chris Cobb tells the Scene. At press time, the asking price for the property hadn't been made public, but Grubb has used money added to the fund by accredited investors to make an offer. If the offer is accepted, Grubb will own the property and lease it back to Exit/In, with a plan for the Cobbs to eventually purchase the site. Cobb sees a chance to interrupt a cycle that's been playing out in gentrifying neighborhoods for decades — a cycle that has been slowed but certainly not stopped by the pandemic. 
"Post-COVID, the building-ownership issue is a huge one that the independent venue ecosystem has got to figure out how to navigate," he says. "Things are broken when artists and creatives make somewhere cool, people move there because of that, drive up the property value, and then the people and the places that started all that get pushed out."
The idea that a developer in possession of a sizable parcel of desirable real estate wouldn't take the first opportunity to erect a profitable mixed-use building on the site and leave the historic marker out front is worthy of skepticism in contemporary Nashville. Cobb reached out to Grubb after hearing about the fund through NIVA, and he voices "a high level of trust" in the intention of the firm and its CEO, Clay Grubb. Investing in cultural landmarks is potentially a savvy move, even if the payoff isn't immediate. Spaces like Exit/In are a significant part of why people want to live in Nashville, and keeping them in place is a way to maintain or increase the value of future investments. Grubb has pledged that gains from the project above the 12 percent internal rate of return promised to investors will be donated to NIVA. 
"The pandemic both exacerbated preexisting problems and exposed a fundamental flaw in the independent venue ecosystem," Hillary Schmidt, director of acquisitions at Grubb, says in an email. "We realized it was time to take action to better protect and prepare venues going forward."
Grubb has some experience working with venues, though in different contexts. Charlotte's Visulite Theatre is part of a substantial development spearheaded by Grubb in the Aughts. The company was also involved in funding renovations at Cat's Cradle, a long-running 750-capacity venue just outside Chapel Hill in Carrboro, N.C., that's kind of like the Research Triangle's analog to Exit/In. The Live Venue Recovery Fund was established at the very end of 2020, and its first prospect was Louisville, Ky.'s Headliners Music Hall. Exit/In is the second, and currently the only club the fund is working with in Nashville. Schmidt says she wants to hear from other venues that could be a good fit. There's no target number of clubs for the fund to work with, and the ultimate quantity is dependent on interest from investors and market conditions where venues are. 
The timeline for Grubb selling the venue properties it buys to the business owners is dependent on each venue's situation, but the firm anticipates the process playing out over three to five years in most cases. Cobb doesn't want to put the cart before the horse for Exit/In — the first hurdle is that the current owners have to accept Grubb's offer. But if and when that happens, it'll be time to explore options for raising money to make the purchase. Social media has been filled with pledges from venue supporters offering to do whatever needs to be done to make sure the club stays where it's been since 1971. The Cobbs are currently exploring the legal implications of launching a crowdfunding campaign to make use of that support.
"It's so humbling to see the outcry of support for Exit/In, and Exit/In deserves it," says Chris Cobb. "On some level there's going to be a need, and we're just trying to figure out what level that is and how to allow people to contribute in a manner that aligns with our values, and is able to be used for long-term preservation efforts for the club and improving the experience. When we are able to reopen, we feel like if the community is going to contribute, there needs to be a direct line [between that and] the club being able to give back to the community."