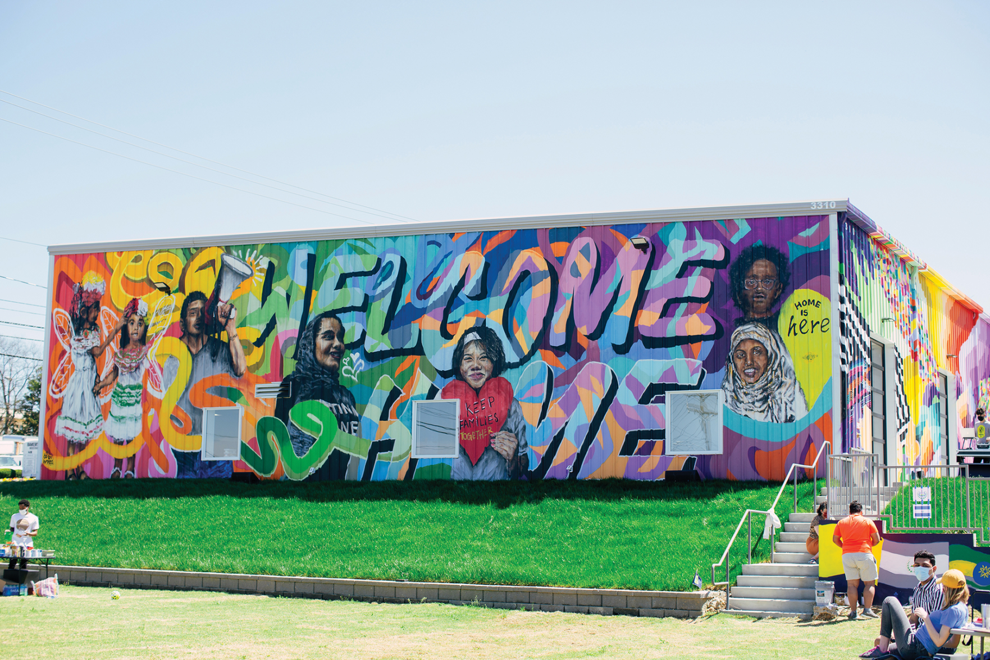 In November, Zhoobin Mohammadabadi's mother was driving down Antioch Pike when she saw something that made her pull over and jump out of the car. An image of her son was painted on the side of the new headquarters of the Tennessee Immigrant and Refugee Rights Coalition. The colorful mural is emblazoned with the words "Welcome home." The young man holds a megaphone. 
"I grew up in this area and this neighborhood, and I drive by it almost every day," says 20-year-old Mohammadabadi, who was born in Iran and volunteers with the TIRRC Votes program. "It's really cool to see it and know that I'm part of this community." 
The mural was painted by Tallahassee, Fla.-based artist Cosby Hayes, and it's one of 13 pieces of original art outside and within TIRRC's brand-new headquarters. After years of operating within Conexión Américas' Casa Azafrán, TIRRC is cutting the ribbon on the 1.4-acre site on Thursday, April 29. The location — on Antioch Pike between Haywood Lane and Harding Place — puts the nonprofit in the heart of Nashville's immigrant community.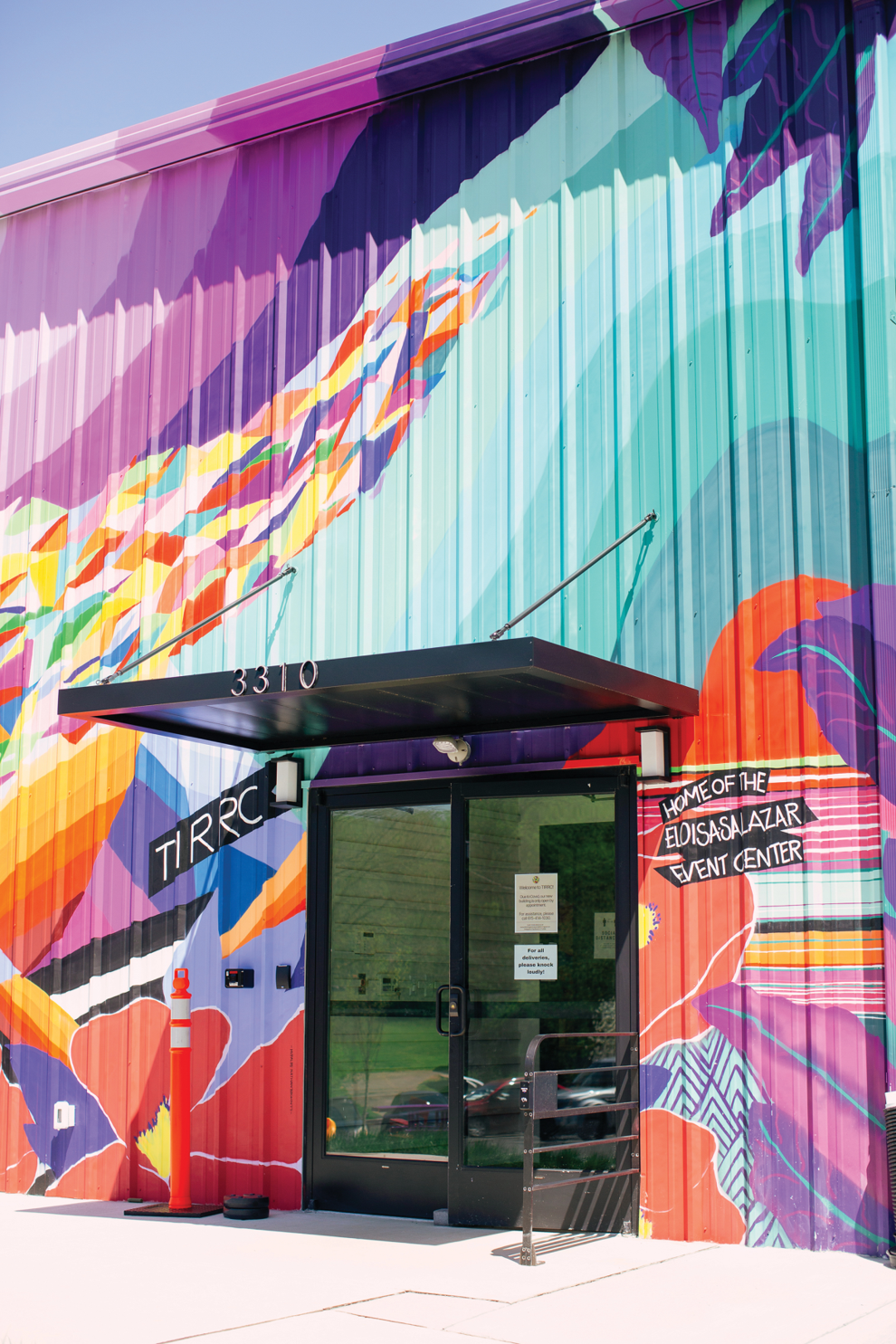 "Antioch has one of the highest concentrations of immigrants and refugees but the fewest community resources," says TIRRC executive director Lisa Sherman-Nikolaus. "By building this new thriving community hub on what was previously an overgrown vacant lot, we're really hoping that we'll encourage other community-based organizations to move to this area to better serve the community, as well as TIRRC being able to fill a gap that has existed."
The new headquarters is a hopeful articulation of TIRRC's mission "to empower immigrants and refugees throughout Tennessee to develop a unified voice, defend their rights, and create an atmosphere in which they are recognized as positive contributors to the state." Actions taken by the Trump administration forced TIRRC to scale up its work significantly with efforts like the comprehensive Family Defense program, which includes services and training to prepare members for encounters with local law enforcement and federal immigration enforcement agents. 
"The four years under Trump were some of the hardest for the immigrant rights movement," says Sherman-Nikolaus. "The constant attacks, the policy shifts changing so rapidly, were all very deliberate in order to weaken us. But instead, what we found was how resilient we really are, and we were able to build more support. It was really a radicalizing moment for a lot of immigrants and refugees, so our movement has grown even stronger as a result of the challenges that we faced."
Inspired by the Wynwood neighborhood in Miami, TIRRC staff commissioned artwork connected to the immigrant and refugee rights movement and themes of resistance and resilience. The large multiuse room inside will host organizing meetings, celebrations and even overnight guests traveling across the country for movement work. A legal suite and private rooms will provide space for consultations and citizenship preparation. A full kitchen will allow members to prepare meals, and a dedicated classroom will hold workshops and courses on language study and more.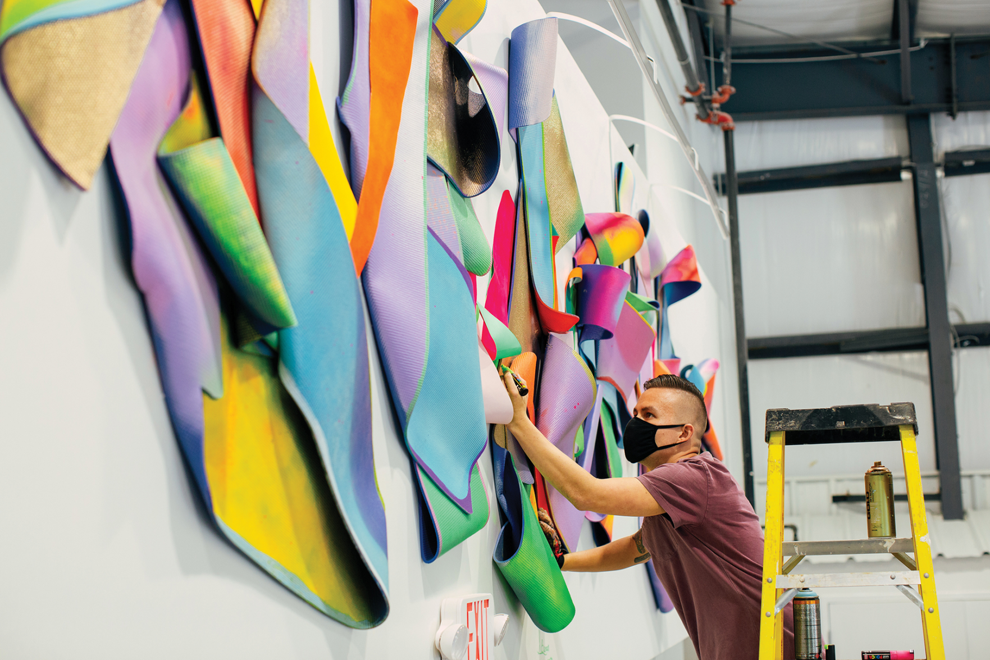 Artist Andrés Bustamante has created a sculptural work that hangs along a wall in the main room. Large, ribbon-like fabric is folded and draped in bunches, and a black light overhead makes the pastel colors glow. Called "Nosotros Las Semillas: We the Seeds," the piece expresses Bustamante's vision of healing and growth. The intention of the work, says the artist, is "to plant a seed of hope that says, 'Even though we are buried in the dark, we are scared, we are sad, we are torn apart, we are ripped to shreds and they want to dehumanize us, let's plant a garden.' "
Bustamante first became associated with TIRRC in 2018, when he curated an exhibition and art sale to benefit the nonprofit. Originally from Colombia, Bustamante joined his mother in the U.S. when he was 10 years old. He says he doesn't like politics and doesn't understand them. "I feel helpless, but I have creative play," says Bustamante. "I have art. I have a community around me that's also enraged and also wants to see what can we do and where can we plant a seed." 
José F. Vargas, also from Colombia, has lived in Nashville for five years. He created three pieces for the new headquarters, including sculptural trees for the playground. "I picked colorful imagery that would help kids interact with the art," Vargas tells the Scene in Spanish via Sherman-Nikolaus, who interpreted. "So many times a lot of children don't have exposure to art in their homes, so I wanted it to be an opportunity for them to interact with the artwork while they're on the playground."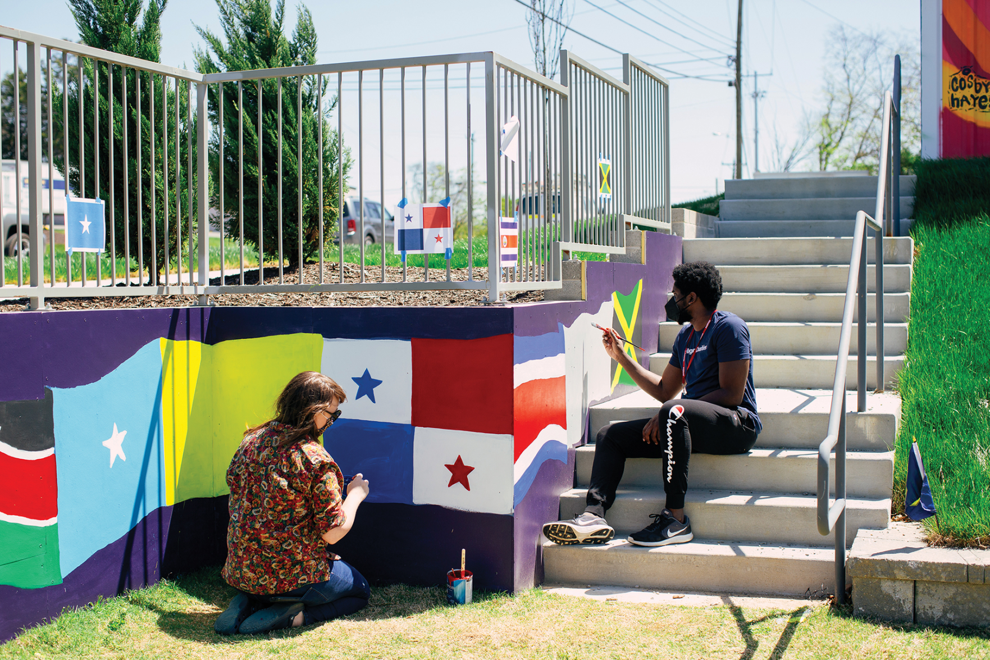 The grounds also include a community garden and a soccer pitch, which is sponsored by Nashville SC. Community members have painted dozens of flags on short concrete walls around the pitch, representing all the countries where TIRRC members previously lived. Sherman-Nikolaus remembers playing soccer after church each Sunday growing up in Guatemala, and she says the soccer pitch will be a place for members from different countries to come together. "A lot of our organizing work happens on the soccer field," she says, "and now we can bring that here, right to our doorstep.
"The new headquarters are such an emotional, hopeful thing for us," Sherman-Nikolaus continues. "To come out of the last four years of the Trump administration and the pandemic, and be able to have a permanent home for the immigrants rights movement. … To have it here, located in the heart of the immigrant and refugee community in Middle Tennessee, is so important to us, because it brings not only our services and opportunities to interact with our organizing work and leadership development, but also for people to be able to have some green space and some community gardens and be able to be empowered and find meaning in the artwork here."
Mohammadabadi echoes that sentiment. "Everything is honestly amazing. … I can see the community organizing around this building and this being a real staple in the community that is Antioch and the immigrant community all across Nashville." 
Vargas has also painted the fence in the parking lot with a quote by poet Amanda Gorman, who performed at January's presidential inauguration. The mural is blue and green, colors that Vargas associates with Tennessee's landscape. He finished it off with a monarch butterfly — an animal with one of the longest known migrations, and the symbol of the immigrant rights movement. It reads, "We will not march back to what was, but move to what shall be."