When Lacey Russell was in the Navy, her instructors showed her a video that stressed the importance of a proper weld on a submarine. It was the story of the USS Thresher, a nuclear sub that sank and imploded when a poorly welded pipe burst and leaked onto an electrical panel. Afterward, they played a sound bite of the sub sinking.
"I remember it just being so surreal, and it made me sick to my stomach," says Russell. "And I had an 'aha' moment." She was inspired to keep the submarine safe and up to code, and that commitment stuck with her after leaving the Navy. 
Russell is a welder by trade and has worked at Sequoyah Nuclear Plant in Soddy-Daisy, Tenn., and other power plants since 2018. Now she's transitioning into a new job as Sequoyah's weld program manager — she'll be in charge of testing new hires and ensuring the work at the plant is up to code, among other duties.
But before she landed at Sequoyah, Russell spent years in the apprenticeship program at Local 572, the local union representing plumbers and pipefitters. Russell applied through programs like Veterans in Piping and Helmets to Hardhats, which allowed her to enter the five-year program as a second-year apprentice.
Indeed, they take welding very seriously at Local 572, the union headquarters that doubles as a training facility. When it comes to certifications, welds aren't just appraised visually — although a perfect weld should look like a stack of dimes, business manager Eric Coons says — but are subjected to third-party testing, which can include X-raying the pipes to check for defects.
In the third year of the program, apprentices choose a path, like plumbing, and begin more specialized courses. They're working the whole time too, going from a day job to night classes Monday through Thursday. Apprentices work with some partner contractors — companies that hire from Local 572. The building is full of classrooms with safety posters, computer labs and plenty of workshops to let apprentices get hands-on experience. Backflows, old tools and various pipes can be found throughout the hallways and rooms. There's even a mock hospital wing used to train pipefitters to work with medical gas, since part of the job is safely routing oxygen and nitrogen supplies in settings like hospitals, clinics and dental offices. The setup includes a patient room, where the pipes and tubes normally hidden from sight behind a hospital bed are on display.
"These things exist behind headboards and in cabinets where the people never see it," says Coons. He says union members are in hospitals all over town, including Vanderbilt University Medical Center and TriStar Centennial. Training director John Sechler says the handling and transportation of the pipes used for medical gas is also important — pipes need to be properly prepared before use as well. Says Coons, "There's a lot of honor in what we do."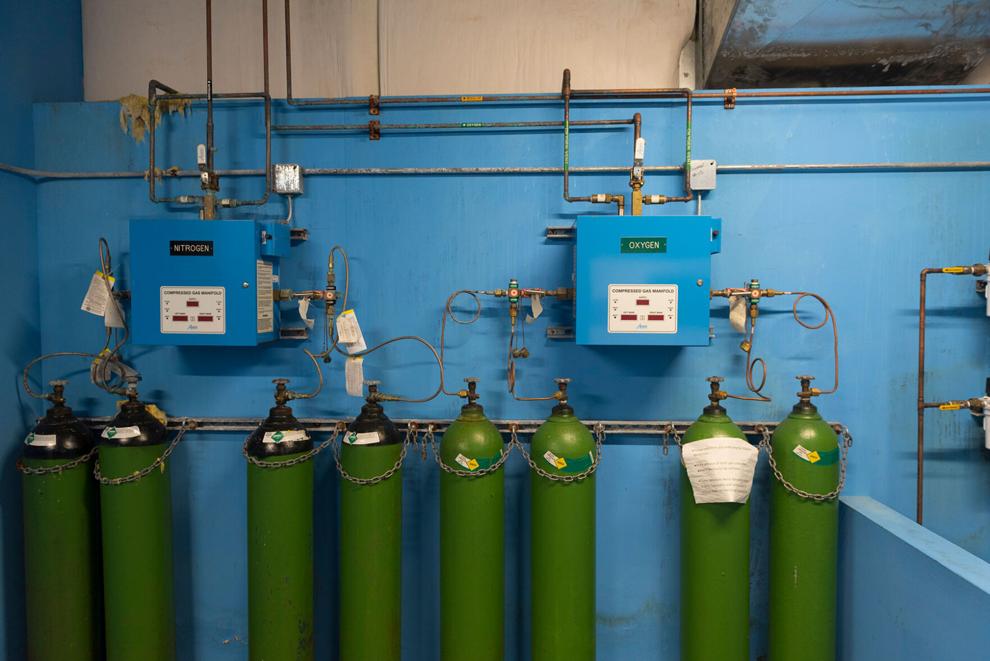 "We keep the water clean, keep it pressurized," he says. "We keep power plants running, hospitals functioning."
Tennessee is a right-to-work state — meaning there are laws allowing workers to opt out of paying union dues even if they benefit from their collective bargaining  — and the state government is historically unfriendly to unions. Coons says "it's been a fight" to survive in Tennessee, but their partnership with contractors who believe in their work is a big benefit. Union workers are a bit more expensive, Coons says, but are worth it.
"We do it right the first time, that's our motto," adds Sechler. They credit that to rigorous training.
There's a lot of hands-on work at the training facility, but sometimes apprentices have to hit the books, crunch numbers and improve their drawing skills. Graduates will even return to the site to train for new certifications.
Troubleshooting is a big part of the training. Instructors will disable or bug various appliances in the HVAC course to be repaired — including the workshop's space heater. Similarly, apprentices will have to figure out the best way to hook up or repair pipes, identify problem areas and navigate other difficult situations. Some apprentices may draw up the isometrics or blueprints for a network of pipes, while another group has to work from those plans. The most dramatic training exercise may be the rigging test, wherein a team of apprentices needs to get a big chunk of pipe craned up and over a tall structure, lowered into the structure and hooked up to another giant pipe. It involves a lot of math and coordination. 
Honestly, there's a lot of math in each of the tracks.
"Math gets beat into you," says Mike Harvey, a certified plumber and former apprentice. Precision is crucial — you might have to make a 3.5-inch pipe fit inside a wall that's 3.75 inches thick, for example.
Harvey says the apprenticeship was "hell" — which elicits a grin from Sechler — and very demanding. Going from day jobs to night classes and commuting home late at night isn't easy, but it builds camaraderie. "It's grueling, it's challenging, but you get a lot closer to your classmates," says Harvey. Some of the apprentices even work the same job sites, and Harvey says it's like gaining a second family.
Harvey completed his apprenticeship seven years ago and is now a lead instructor at the school. He says he returned in order to "give back."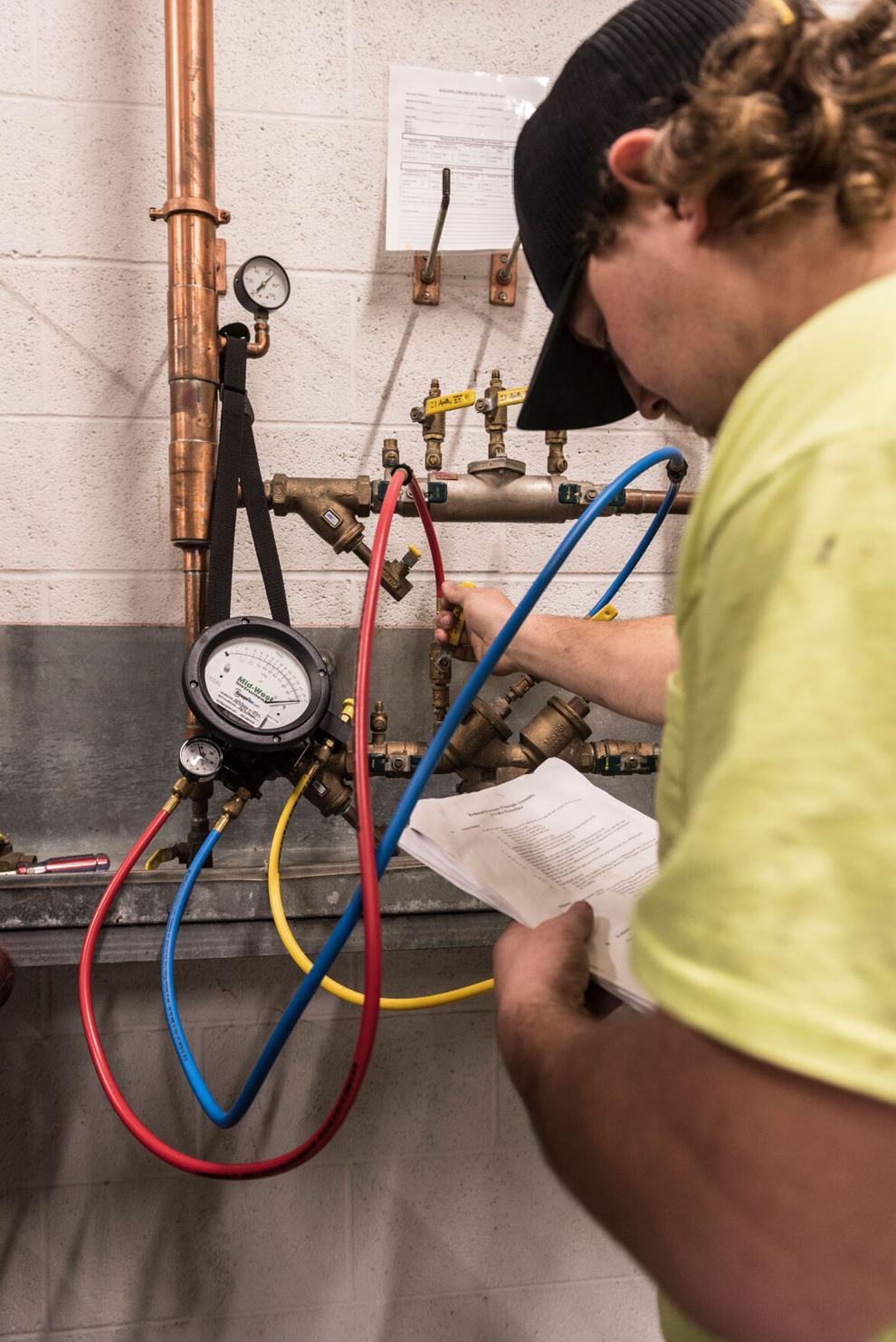 "This is bigger than just one person," he says. "These apprentices are gonna top out and pay my pension. I'm gonna pay John [Sechler]'s pension. We're all already paying for somebody's pension."
Coons' and Sechler's fathers and grandfathers were in Local 572. Russell's brother and father were also members. Russell says she is proud to follow in their footsteps, and that Local 572 opened up a lot of opportunities for her. That includes her upcoming weld program manager job, which she calls a "pinch me" moment.
"I can't believe that I was actually able to get where I'm at, and I've worked hard to get where I'm at," says Russell. "It's very humbling, and I'm excited to see where it takes me."