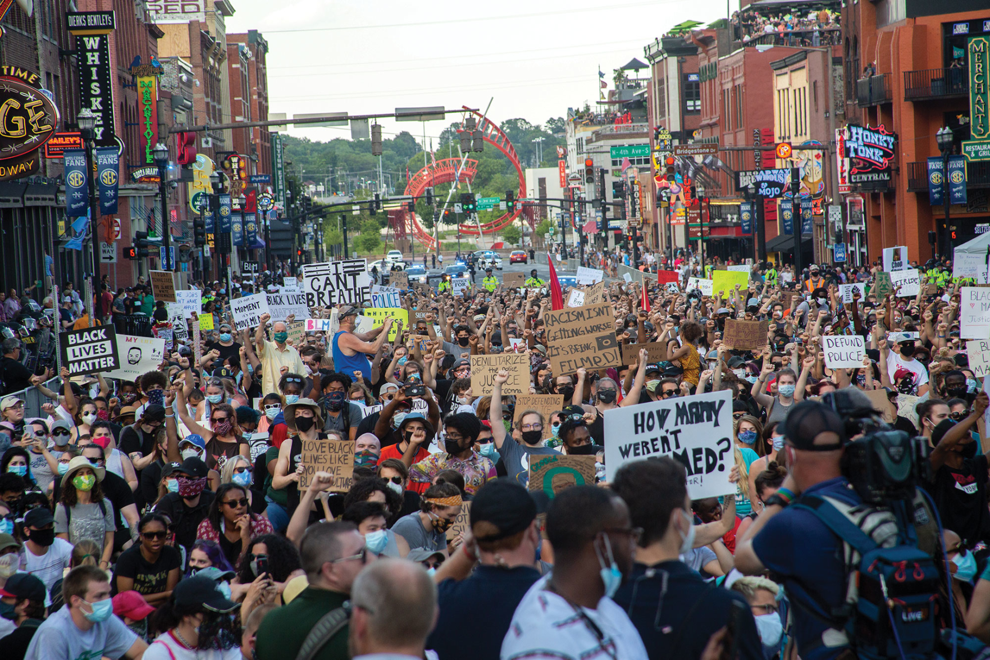 The right to protest has long been a cornerstone of American democracy, intrinsically linked to free speech. But a new bill currently moving through the Tennessee legislature could suppress protests by creating felony charges for the nonviolent offense of blocking traffic, sidewalks or other public spaces. It also will grant "immunity from prosecution" for individuals who injure or kill protesters with their vehicles. 
The bill, HB0513, advanced from the House Criminal Justice Committee to the Finance, Ways and Means Committee on March 3. It is sponsored by state Rep. Ron M. Gant (R-Rossville) and will likely be heard on the Senate floor within the next two weeks. Gant said in a statement that the bill "promotes law and order and protects Tennessee communities against violence." But advocates worry that the bill is simply targeting protesters for speaking out. Late last summer, protesters blocked the Capitol's garage entrance, which is used by legislators — that action may have been, at least in part, the impetus for the bill.
HB0513 aims to change obstructing a roadway from a misdemeanor to a class E felony. Disobeying a request to move made by law enforcement or firefighters would also become a class E felony. Significantly, the new bill also protects people who injure or kill protesters with their car, provided they are "exercising due care" — a frustratingly opaque phrase — and the injury or death is unintentional.
Rep. Vincent Dixie of District 54 in Davidson County was one of three House Democrats recorded as voting against the bill. He worries that legislation like HB0513 could hurt the future of young protesters.
"You're taking away that ability for people to correct injustices," Dixie says. "It's going to give them a felony that's on their record for protesting or advocating for something that they feel is wrong in our country."
Though voting rights for convicted felons vary from state to state, in Tennessee, many people with a felony charge on their record cannot vote. (Tennesseans with certain felony charges may obtain a "certificate of restoration" in order to restore their voting rights, though the certificate is dependent upon the applicant being paid up on all fines, fees and restitution.) According to the Pew Research Center, 41 percent of participants in the summer's Black Lives Matter protests were younger than 30. Bills like HB0513, if passed, could significantly affect some young people and their right to vote.
While Tennessee has a legal definition of a riot, HB0513 is cryptic about differentiating a riot from a peaceful protest. Critics of the bill worry that this sets a dangerous precedent for prosecutors, who can claim a broad interpretation of events in court. And to be sure, Nashville has experienced riots. But arson, vandalism and many other riot-related crimes are already felonies — so why enact a new law?
Aaron Worley, a young activist involved in protests over the summer, says he's disgusted by the bill. "I think it's indicative of a legislature that seeks to control and suppress people's rights," says Worley. "This just shows the priorities are not about safety, or even about addressing the issue at hand, but more so how the streets look and how to lessen the 'inconvenience' to people." 
Dixie also worries that the driver-immunity legislation could encourage violence. "I think that's the worst section of a bill that I've ever seen," he says. "Because regardless of intent, what people are going to hear is, 'I can run people over and I will not be charged for a crime.' "
Dixie notes that bills like HB0513 have no measurable impact on Tennesseeans' lives. Instead, they are meant to send a message. "They want to continue to crush the voice of people who want to pass a real positive change in Tennessee," he says of the bill's sponsors. He urges state leaders to shift their focus from redundant punitive legislation to enacting change that will actually help citizens.
"Our job is to look after Tennesseans, not make political points," says Dixie. "What are we doing to put food on people's tables? Our job is to lead. And if we continue the divisiveness that started on a federal level and is seeping down into our state politics, that's on us."