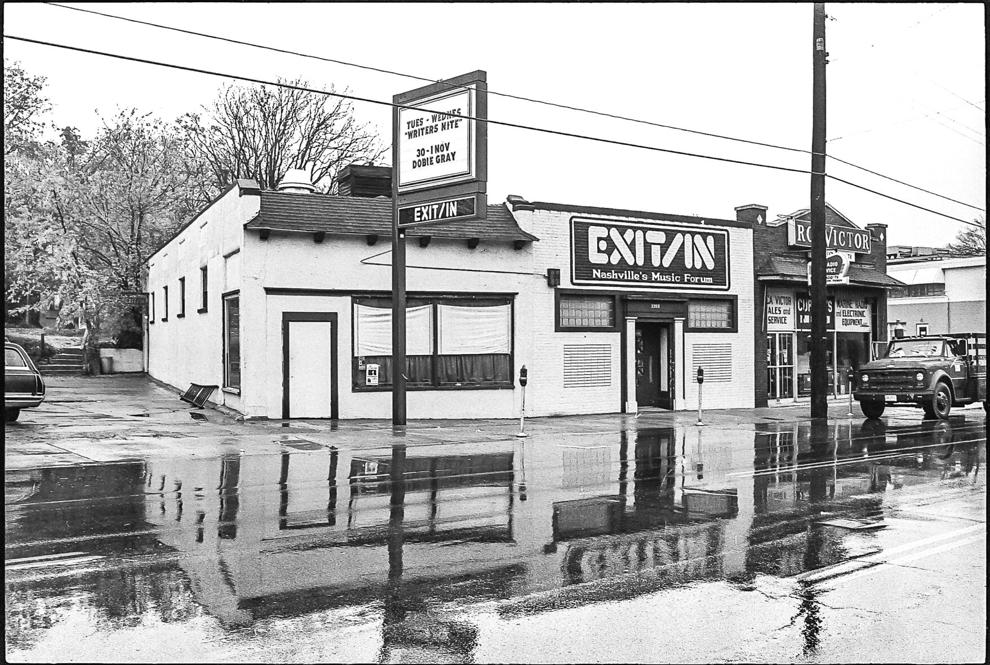 It's a muggy night in the summer of 1975. A line of people swerves down a Nashville street leading to a black building with a marquee reading "Tonight: Comedy." The audience files inside, taking their seats in a dimly lit room. Imagine the scene: a table of lawyers loosening ties, plunging into their beer mugs; nearby are tables of bikers, college students, musicians, tradesmen, women's liberation activists, health care workers. It's a bipartisan spectrum of out-of-towners intermingling with locals.
Voices dwindle to whispers, then silence. The atmosphere thickens with cigarette smoke, body heat and that mysterious thrill of unpredictability. You're here, watching, in the right place at the right time. This is the Elliston Place of an older Nashville — when entertainment took an unusual turn.
"Hi! Welcome to the Exit/In." A red-faced man with a goofy tie and suit jacket pokes his head out from behind the curtain. "My name is Steve Martin, and I'll be out here in a couple of minutes."
Still a relative unknown on the national comedy circuit, the comedian has a grin that's nevertheless well-known to Exit/In patrons. His past shows have become legendary — at one, he marched the entire audience up the street to order Krystal hamburgers.
From backstage, Martin runs around the building to the main entrance, then slips into the sound booth. Owsley Manier, one of the venue's owners — a frequent instigator of foolishness himself — is running sound.
"Hey Owsley, this mic's not on, right?" Martin's voice booms through speakers into the listening room. "God, this crowd, what a bunch of assholes! Do you still have that number of that 13-year-old? God! He was great." Laughter erupts from the audience.
"I know," Steve jokes onstage later during that evening. "You people are sitting there saying, 'Sure he's pretty great. But can he make balloon animals?' "
Infused with fumbling magic tricks, banjo licks and poor attempts at crafting balloon animals, Martin's simple and absurdist humor destroys the oversold crowd. Years later, the wild and crazy comedian would credit his shows during this era at this music venue as making him "really, really funny" — it was a breakthrough moment in his stand-up career.
Martin's name, along with the names of dozens of other celebrated performers, now hangs above the bar at the Exit/In. They're not just the names of comedians, but also of folk singers, blues purists, country songwriters, punk bands, jazz virtuosos and countless others who have etched their signatures into the American consciousness over the past 50 years. 
Exit/In holds a rightful place in Nashville's cultural mythology. But well before its reputation was established, the listening room was just a scrappy entrepreneurial idea tossed between two friends who saw opportunity in the lifting of a citywide liquor law.
---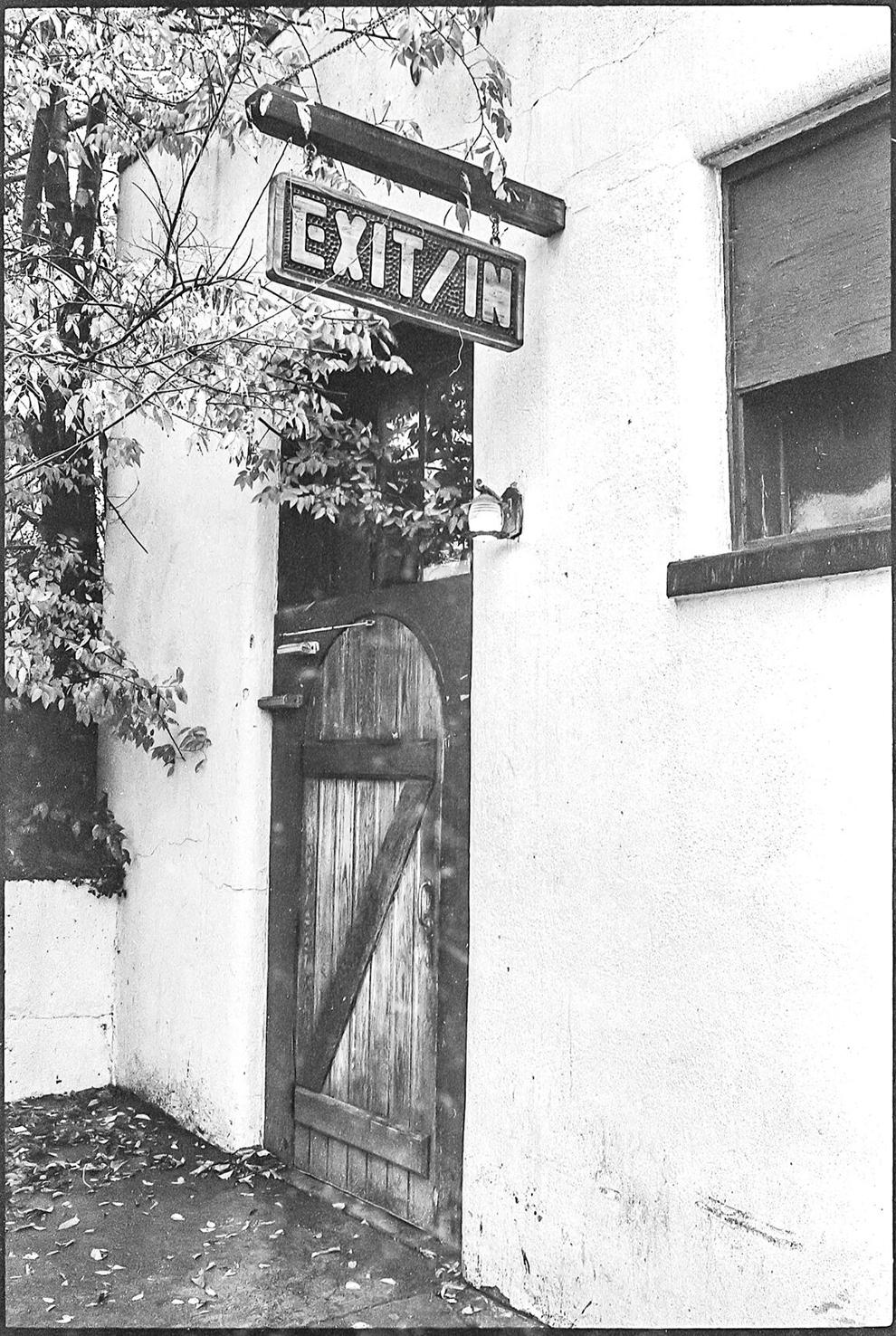 It was 1970. Twenty-four-year-old Brugh Reynolds met his high school friend Owsley Manier at the long-gone local watering hole Bishop's American Pub. Fresh off a "lamentable" stint in the Army, Manier itched to work in the music scene. Since high school, he'd been playing guitar and booking gigs for a psychedelic outfit known as The Lemonade Charades. As a cadet at Fort Benning in Georgia, Manier spent weekends plundering Atlanta's underground, his favorite haunt an unusual establishment — half coffeehouse, half rock club — called the Bottom of the Barrel. This club featured a bar and separate listening room, where the crowd remained silent during and between performances. It was novel and crowded, but the atmosphere carried a sacred kind of quality, like a church where patrons kept silent for the music. Nashville needed something like it, Manier reasoned. Together he and Reynolds could build it. 
Back then, Nashville was worlds away from the culturally vibrant, social-media- and tourist-friendly destination it is now. In terms of music, the city was a rough-hewn gem whose self-contained country music industry proved somewhat opaque and difficult to enter to outsiders. That didn't mean musical things weren't happening. By recording his album Blonde on Blonde here in 1966, Bob Dylan provided a catalyst for a budding music community outside of traditional country. If Dylan thought this rinky-dink Southern town had something special, then perhaps hillbilly music deserved a second look. Johnny Cash further bridged the cultural gap between country music's old guard and talented newcomers by filming The Johnny Cash Show (1969-1971) at the Ryman Auditorium — then still the home of the iconic Grand Ole Opry radio program. Dylan and Cash, as the two most notable examples, spotlighted Nashville as a place where incredible musicians seemed to congregate.
But as far as Manier and Reynolds were concerned, local nightlife still hadn't caught up. When people went out, they hit up restaurants or the movies; intimate live music wasn't much of a thing. This had a lot to do with a particular law: It was illegal to sell liquor by the drink inside Davidson County until 1967. Before then, drinkers could bring their bottles and pay to have their booze served back to them in one of the schmaltzy private clubs in Printers Alley. This was novelty, mostly done by conventioneers and not yet kitschy or ironic enough to be considered cool or cost-effective for locals. The Ryman held shows and the Opry, but the Mother Church had fallen into disrepair, matching its largely decrepit downtown neighborhood surroundings. Honky-tonking was possible, but usually opened conversation to a string of knifing jokes — popping down Lower Broad wasn't the breezy, tourist-friendly activity it would become decades later.
That night in 1970 at Bishop's American Pub, Reynolds and Manier discussed how Nashville had few if any venues for small local and touring acts. As their reasoning went, if Nashville was indeed "the Athens of the South," surely it had space for a live music listening room. The night ended with a handshake deal on a new venture, one that would shift the city's culture far more than they could have guessed.
That summer, the guys cashed out their life insurance policies and leased a former film distribution company on Elliston Place. (They would later lease the dilapidated pinball factory next door as well.) Not long after, during a tiring day building a plywood stage, a name for the venue came to Manier — one that would play off of the fact that the building's back door and loading dock would be used as its main entrance: Exit/In.
On another day of renovations when the guys were finishing the stage, a handlebar-mustached stranger clad in tennis whites wandered in from the streets and asked for an audition. He was a college campus coffeehouse performer who played folky kind of stuff, Reynolds recalls. The stranger played a few songs on the half-built stage and was hired on the spot as Exit/In's first performer on opening night. Many performances on that stage later, this stranger would sell out the Murphy Center, Tennessee's largest venue at the time. The stranger was Jimmy Buffett.
 "Our place is centered around the artists, and we do ask people to keep their talking down so that the performers can come across to everyone."
—From one of Exit/In's first advertisements
in The Tennessean
---
Within its first year, Exit/In quickly stood out for what it was not. It was no concert hall in size or character. It wasn't a sports bar or old-fashioned nightclub. Modeled after Atlanta's Bottom of the Barrel, it was a listening room where patrons behaved much like they would at the movie theater. It had a coffeehouse feel but sold liquor by the drink. Perhaps the civility of its patrons could be chalked up in part to the bar's serving only top-shelf liquor. "Cheaper stuff brought bad vibes," says Manier. There were also the house rules: no fighting, and no talking during performances. True to the owners' plans, Exit/In would provide patrons with equal parts musical entertainment and education. 
Inside, tapestries hung from wood-paneled walls and the ceiling. There was food service with a vegetarian option during lunch. Above the stage was an outstretched mural of Leonardo Da Vinci's Vitruvian Man spread-eagled inside a neon-yellow electric guitar. On the best of nights, the space was a hot, cramped, oversized Tennessee living room of the free-spirit variety. Listening rooms were popping up across the country, but Nashville had never done entertainment quite this way. 
Since the city was, and still is, the capital of country music, the early days at Exit/In seemed to breed a cultural crosscurrent. What came to be known as outlaw country wasn't widely tolerated yet, but as music journalist and publicist Dan Beck points out, country music was beginning to react to its own "rhinestone self-consciousness." Exit/In's unique approach came as a welcome renewal for a small group of misfits who wanted variety, and their business needed it financially. Exit/In was limited by its capacity (roughly 120 people) and Nashville's size at the time, and its business model hinged on selling out tickets nightly, then racking up meal bills and bar tabs during shows.
"The restaurant business is one of the highest-risk businesses out there, next to show business," says Reynolds, who doubled as Exit/In's accountant. Like so many small-size venues later to come, his and Manier's business model straddled both sectors.
To prevent audience burnout, the owners booked a range of artists to attract a wide range of showgoers from all walks of life. Having played music and booked gigs since high school, Manier took the lead. A warlock of eclecticism, Manier had a talent for conjuring outlandish experiences by curating a lineup of performers who bucked against convention as often as they mixed, blended and borrowed from different musical genres.
Exit/In's approach brought a sea change to Nashville's entertainment sector. Within its first two years, the listening room showcased traditional folk, Memphis blues, Kentucky bluegrass, bebop jazz, gospel, Southern rock, outlaw country and comedy to an ever-changing audience. As a result, the club garnered a distinct reputation for being remarkably different from what people expected. Stories spread of unusual and spontaneous occurrences rumored to happen there nightly.
"The music scene has changed a lot since those days," performer Marshall Chapman would go on to write in her 2003 book Goodbye, Little Rock and Roller. "Now it's all business. Nobody hangs out anymore. … [Back then] everything was bigger-than-life. The Exit/In, in particular, contributed to the magic."
There were countless onstage cameos — the kind of unadvertised and often impromptu appearances that were much less typical at the time, but are now often obligatory at Nashville performances. In her book, Chapman recalls just "one of those nights" in 1974, when patrons bought tickets for a John Prine show and wound up seeing performances by Kris Kristofferson, Shel Silverstein, Linda Hargrove, Waylon Jennings and David Allan Coe, among others. At one Allman Brothers performance, the band played so late that the owners ended up locking a willfully consenting band and audience inside the venue to hang out until dawn. When the sun rose, the musicians got back onstage and continued to jam through the morning. 
Exit/In's typical two-shows-per-night lineup gave local bands and budding local songwriters like Chapman a place of their own. A decade before The Bluebird Cafe opened, Exit/In's writers' nights were essential for unrecorded honky-tonk poets hustling to be heard and jonesing to perform in front of and alongside musical greats. As a consequence, music-industry gatekeepers couldn't afford to miss out. That atmosphere opened the stage to a wellspring of lyricism, energy and originality. It also provided an outlet for those looking to push back against the more confining aspects of the "Nashville Sound."
On the right night, Buffett, John Hiatt, Mickey Newbury, Charlie Daniels, Waylon Jennings, Rodney Crowell, Steve Earle and John Prine all shared the stage or sat in the audience. Patrons caught performances from the likes of Marine drill instructor and Arthur Murray dance instructor "Cowboy" Jack Clement, who might dive into the Hamlet soliloquy before busting out a crazed instrumental with his eight-piece band, then belting out a gutbucket country ballad. 
Still awaiting the release of his epochal Old No.1, Guy Clark started as the opener for his friend and mentor Mickey Newbury. Like many performers, he and his wife Susanna were like family to the owners. Their private lives — full of sleepless nights at the Clarks' house, the outlaw custom of swapping songs, drinking and raising hell in living rooms — bled through to Exit/In's stage. 
Out-of-towners like Gregg Allman, J.J. Cale, Silverstein and mercurial outlaw Townes Van Zandt would drop in to play between studio sessions. Rough-hewn and fresh from a stint at a Ohio penitentiary, David Allan Coe bred a cult-like following by using Exit/In like a theater and music as a prop. Coe later compared the Nashville listening room to New York City's Gaslight and Los Angeles' Bitter End, telling the Nashville Banner, "The Exit/In is the only place where the people sit and listen." 
---
As the venue's reputation grew, so did its surrounding neighborhood. The Jan. 14, 1972, issue of The Tennessean speaks volumes on nightlife at the time: "Perhaps the most revolutionary of fun spots in Nashville are TGI Friday's and the Exit/In, both located on Elliston Place." Along with Friday's and various music clubs going in and out of business, there was The Soda Shop, Hurry Back Market, Cat's Records, Elder's Bookstore and beloved bar and restaurant The Gold Rush, which until it closed just last year was famously known for offering nachos, beer and a place to chain-smoke cigarettes late into the night. Elliston Place's business ecosystem and the neighborhood's bohemian culture were a departure from greater Nashville, and the neighborhood would later become known as the Rock Block. Writing for Billboard Magazine in 1976, Don Cusic would later compare '70s Elliston Place to 1920s Paris — "Something out of an Ernest Hemingway novel," he wrote.
While Exit/In served as the Rock Block's crucible at the time, it also influenced a much wider community of radio listeners. Once a week, the venue broadcast live performances via FM stations WKDA or WPLN — the latter now Nashville's public radio outlet. As a stalwart Exit/In patron and later owner, Elizabeth Thiels remembers how she first discovered the listening room through these broadcasts. These shows also exposed radio listeners to less popularly consumed genres like jazz, and according to Thiels, they made a significant contribution to the growing interest in black music from Nashville's predominately white culture. Says Thiels, "There was no other white-owned integrated club in Nashville at the time." 
Exit/In radio broadcasts were famous for their candidness, as displayed in the repeat performances by the blind African American jazz multi-instrumentalist Rahsaan Roland Kirk. Delivering satirical monologues on black history and the civil rights movement between songs, Kirk could dazzle audiences visually by walking blind through the crowd and simultaneously playing three saxophones. 
Generally, the controversy and unconventionality of jazz proved a legitimate commercial success. During sound-check the day before an Exit/In performance, legendary jazz drummer Buddy Rich inspired headlines, street protests and bomb threats when he told a Nashville Banner reporter, "Country music appeals to intellectuals with the minds of 4-year-olds." Onstage the night of his first performance, Rich addressed the backlash: "I meant every word of it!" He sold out both nights.
Director Robert Altman filmed Keith Carradine's performance of the Oscar-winning song "I'm Easy" on the Exit/In stage for the critically acclaimed 1975 ensemble comedy Nashville. But aside from that brief flirtation with Hollywood, the Exit/In's first five years were mostly marked by less glamorous events. Economic factors included the Vietnam War and an ensuing stock market crash, the quadrupling of oil prices and rising unemployment. Essentially, it was a very uncertain time to start a business in America. 
Nonetheless, inside the Exit/In someone graffitied a Traffic lyric on the wall: "I climbed on the back of a giant albatross and flew through a crack in the clouds to a place where happiness reigns all year round and music plays ever so loudly." There's no better quote to sum up what Exit/In meant to Nashville during those days. The '60s were over, but people still sought a sense of community and reprieve from an often unforgiving world. Exit/In's owners were successful in making such a place in Nashville, but in their effort, they also went financially bankrupt.
By 1974 Exit/In's popularity was undisputed. It was as close to the core of Nashville's music scene as any place could be that wasn't on Music Row. Wedged between its rising fame and a less-discussed stark financial reality, the listening room hedged a bet that booking larger acts, despite the club's limited size, would return investment. The owners opened their doors to more touring greats: Ray Charles, Jerry Lee Lewis, Joan Baez, J.J. Cale, Fats Domino, Barry Manilow, Charlie Byrd, B.B. King, Buddy Guy, Al Kooper, Kansas, The Police and a beret-wearing Tom Waits, who chain-smoked Old Gold cigarettes until dawn. 
But money issues loomed. Reynolds and Manier took on other business partners to stay afloat: Manier's cousin Bill Manier, his wife Cat, and Harvey Magee, a friend working at what would become WKDF in 1976. In 1973, Thiels — a former PR professional — fell into an easy kinship amid the makeshift family of owners. 
The expanded ownership soon doubled seating capacity, and the listening room grew its staff to 25 total employees. A shed out back doubled as business headquarters and a dressing room for performers. By most of the owners' calculations, the waitstaff — mostly Vanderbilt students — made more money than anyone else, thanks to tips. 
But having so many owners made finances difficult to track. Cash-register theft seemed typical. Friends got in free, as did musicians and music executives. Even as a Linda Ronstadt show in '73 marked the first time the club had to turn away patrons, there were always "off nights," as Thiels put it, when even a Guy Clark performance would draw fewer than 15 people. On the best nights, Exit/In proved to be a far more successful social experiment than it did a profitable enterprise. 
---
1975 was Exit/In's most bipolar year. The wild triumphs of sold-out shows, benefit concerts and accolades from music publications were ironically positioned alongside misleading headlines, money troubles and, ultimately, bankruptcy. On a chilly Tuesday night in January, donning a Native American war bonnet, Kinky Friedman lunged onto the stage clad in red-white-and-blue leather chaps, with a Star of David belt buckle. Backed by his band the Texas Jewboys, Friedman violently tuned a cherry-red guitar while juggling a brown-bagged bottle and a fat cigar between his mouth and his free hand. The audience was "bedecked with Kris Kristofferson, Rita Coolidge, Waylon Jennings, Billy Swan, Tompall Glaser, and the not-nearly-so great press and PR types," wrote Eve Zibart in The Tennessean's Sunday Showcase. "Ranging from raucous to quasi-religious," Kinky's material left the audience "no chance to catch its balance."
When another headliner canceled that summer, Exit/In booked The New Riders of the Purple Sage 24 hours before show time. Unable to take a loss, the owners rented a sound truck and took to the streets. With big banners streaming, the truck rumbled across town with Manier's voice booming through its PA so loudly that passersby cringed and plugged their ears: "One-night-only special performance! Tonight, The New Riders of the Purple Stage at the Exit/In!" The show sold out.
Two months later, the Nashville Banner warned, "Nashville's music industry is in trouble." It was one of the earliest printed reports of Exit/In's financial troubles. "We lost money serving vegetarian lunches and on some big-name acts," Manier told the Banner. There were plenty of suspects to potentially blame, but the clear problem was four years of accrued debt incurred through trial-and-error operations. "While we feel the club was very unique and did extremely well business-wise, it was all done by trial and error," Manier admitted.
Reynolds also recalls the stark contrast of this cycle — the venue would host big blowout shows, then feverishly try to make payroll and pay off bills the next day. Booking larger acts drew larger crowds, but that only exacerbated the problem. One sellout success would change everyone's expectations; the owners had to hedge even more money to book bigger acts for next time. The cycle never allowed them to get ahead. "There's a brutal disparity between the club's philosophy and reality, between giant albatrosses and bill collectors," wrote Eileen Putnam in Nashville! Magazine. 
"Exit/In Beats Crisis — 4 Year Struggle Paying off Big & Unknown Acts." That was the headline of an article in Billboard. Fundraising efforts took the form of a "recession special" — tickets to five shows for $11 — and benefit concerts were put on by loyal Exit/In performers. "The Exit/In is an important forum for ideas," Silverstein preached at one benefit concert. The same night Billy Swan and the band Barefoot Jerry called for help from "every artist, publisher, producer, songwriter and musician" who could be reached in Music City. "Our position is vastly improved," Manier insisted in the Billboard piece.  
But in late November 1975, Exit/In filed for Chapter 11 bankruptcy. Under Chapter 11, the listening room could stay open as long it stayed profitable each night and debts were paid off in a controlled manner. Unfortunately, most patrons assumed Chapter 11 meant the business wasn't open, and the crowds seemingly thinned. "If you would like to keep the Exit/In around, now is the time to help, or remember it as something really nice that we had in Nashville while it lasted," wrote Dean Hitt in Hank magazine.
Still, the owners wouldn't quit. "We'll never close it," read a Manier quote in Hitt's piece. "We'll either sell it or try to sell stock." No matter how financially bleak their mornings seemed, each night produced musical revelry, or "awakening experiences," as patrons later recounted. On Monday, Dec. 14, 1975, Don Cusic reported on a performance from a vast collective of songwriters: The Allman Brothers' Dickie Betts, Jack Clement and a whole cadre of other known and unknown greats. 
By mid-December, record labels banded together to organize a final benefit concert, where Willie Nelson, Johnny Cash, Vassar Clements, David Allan Coe and Shel Silverstein performed. The boost proved temporary. Billboard soon pointed to "difficulties caused by continued lack of capital, the effects of inflation, and inexperienced management."
Four months later, even after reporting profits from returning acts like Tom Waits, Townes Van Zandt, Barefoot Jerry and Guy Clark, Exit/In still owed a massive debt of approximately $125,000 (adjusted for inflation, that's more than half-a-million dollars today), and the owners declared full bankruptcy in July 1976. Local real estate pros Vianda Hill and Nick Spiva bought the business and sold it two years later. Manier and Thiels lingered on as managers without pay. But ultimately they moved on, each going on to build a significant career in the music industry.
---
But Exit/In did not go away.
After more renovations, the club reopened in 1980 with Chuck Berry duck-walking across the stage in front of a three-piece band. "The Exit/In has been important to the development of Nashville's total music center," said Music Row power player and BMI VP Frances Preston, speaking before Berry's performance.
At a glance, new owners Joseph Sullivan and Wayne Oldham seemed better for business. Sullivan had managed Charlie Daniels, and Oldham had made a fortune bringing Wendy's to Middle Tennessee. Even so, "fast-food and nightclub mentality are two different mentalities," recalls music producer and historian John Lomax III, a die-hard patron of the club's earliest days who was utterly disappointed with the Berry show.
"It was a complete disaster," says Lomax. "They insisted on church-pew style seating. Nobody knew where to keep their drinks!" As he remembers it, Berry played and the crowd screamed until finally a couple seized by the spirit hopped onstage and started dancing. They were immediately kicked out.
During the '80s, Exit/In's bohemian vibe dissipated, and the venue became a "big box-style club, more like the grubby, punk-friendly dives," as critic and former Nashville Scene staffer Noel Murray wrote nearly two decades ago. By Murray's account, '80s Exit/In had a worsening sewage problem that reaffirmed why it was the performances — not the space itself — that made the club special.
By current owner Chris Cobb's calculations, there have been a total of 26 Exit/In owners throughout the years. "That averages out to something like a new owner every two years," says Cobb, who also owns Marathon Music Works. Along with his former partner Josh Billue, Cobb bought Exit/In in 2012. They built an upstairs balcony, then took over the adjacent property, where they opened the bar and restaurant Hurry Back, paying homage to the original '70s Elliston Place market. Cobb and his family now manage Hurry Back and Exit/In independently. Cobb is still deeply attached to the venue — but he admits that, even without the current COVID-19 pandemic and ensuing stay-at-home orders, Exit/In could by no means support his family as a primary source of income.
In March of this year, Cobb closed the office, and then the club itself. The club's booking schedule has been cleared through June. Nevertheless, Exit/In management still shares music with its patrons via email newsletters and livestream performances. Cobb has downsized his working staff from approximately 50 employees to three. Though Exit/In has qualified for a PPP loan, Cobb says he hasn't yet determined how to spend it. 
What's more, Exit/In is also one of several Elliston Place businesses concerned with ongoing development of the neighborhood, including JV Hospitality Group's plans to replace a trio of brick apartment buildings on Elliston Place with a Holiday Inn Express. 
Cobb is likely the best person to ask why Exit/In, through all its dysfunction, has hung on for so long. His answer? "There's always been somebody crazy enough who cares enough about live music in Nashville to run it."
It's a sentiment reminiscent of something a young Reynolds told The Tennessean shortly after opening Exit/In: "We still aren't finished. I guess we will never be finished. That's the thing I like about it. It keeps changing."