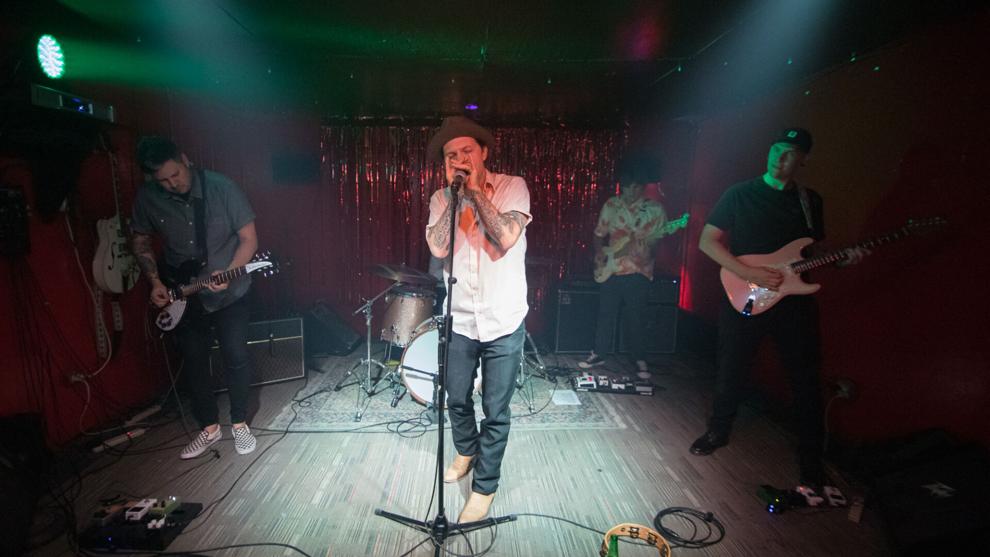 For generations of Nashvillians, nights at Springwater have reliably promised cheap beers, sets from all manner of local and touring musicians, and a sense of community. Those were the driving forces that sent me to West End on Saturday, when a pair of hometown acts I've spilled a lot of ink on in recent years but had yet to see live — flannel-flying power trio Nehoda and prolific pop-rockers The Cancellations — shared a bill at the storied dive with Young Romantics, a foursome of young classic rock and prog appreciators from Bowling Green, Ky. 
I walked in as The Cancellations, who were first up, fired off a Costello-esque number titled "Walk in the Clouds." You'll find the recorded version of that tune on Love Letter, the second of three full-lengths the band has issued in just 18 months. As you may know, the venue has been called Springwater Supper Club and Lounge since the late 1970s, and the building has housed a bar since the 1890s. Back when Springwater shows ran on punk time and smokers could still light up indoors — a practice retired in 2016 — a show starting at 9 p.m. on the dot would've been practically unheard of. But Cancellations frontman Elijah Jones and his cohorts were raring to go, even with only a small, subdued, mostly seated crowd on hand, reflecting the seldom-used "Supper Club" portion of the tiny bar's full name.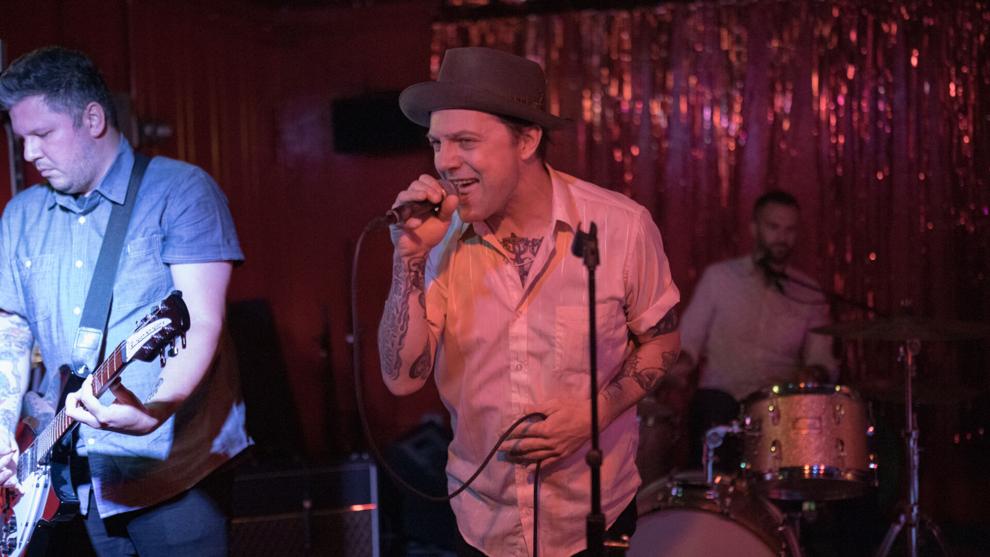 Sedentary audiences can be tough to connect with, but The Cancellations acquitted themselves well Saturday, cycling through a smattering of the 30-odd tunes in their songbook of sometimes-lovestruck, often-lovesick power pop. In one-on-one settings, Jones tends to be loquacious, but he kept between-song banter to a minimum, which worked well for the show. "Verse and a Chorus," the song that leads off the band's most recent album Pity Parade, was a definite standout in the set, with laid-back, bossa-nova-indebted verses giving way to a killer power-pop chorus. Later in the set, "Whatever You Want" explored an interest in disco, while the elemental garage rock of "She's the Needle" served strong early-Aughts vibes — think The Libertines or The Walkmen. 
Lead axman Anthony Keener became part of The Cancellations fold recently; Saturday was only his second gig since joining. But the new addition already seems to have loosened the team up. On the set-closing "It Won't Leave Me Alone" —  the tune that put the band on my radar back in February 2021 — tall, stoic guitarist Erik Matthijs cut loose with some ecstatic Bob Pollard-style high kicking.
Speaking of Anthonys, sandwiched between The Cancellations and Nehoda were the aforementioned Young Romantics. The band's singer Griffin Fletcher is not only the spitting image of Red Hot Chili Peppers' Anthony Kiedis, but he also channeled the Peps frontman with his onstage mannerisms; Fletcher's T-shirt made it about three songs before it was ripped off. After the show, I asked bassist Gabe Rogers about whether the group had any connection to Cage the Elephant, as do so many bands from the home of Western Kentucky University. Not to his knowledge, Rogers said, though they do share an alma mater, Greenwood High. He added that, as much of an institution as Cage is in Bowling Green — even years after moving to Nashville — the scene there is due for a new breakout band. Will Young Romantics be it? Saturday's set was pretty rough around the edges, but with enough woodshedding, who knows where their energy will take them.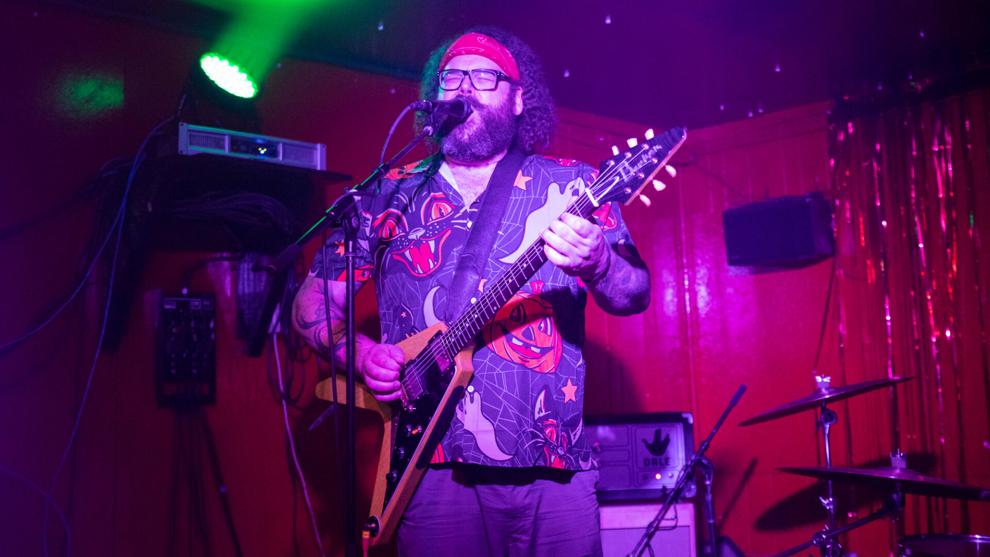 Having held court near the sound booth all night, Nehoda singer-guitarist Patrick Nehoda, bassist Grayson Papa and drummer Jeremy Gill took the stage just after 11. With a Flying V as his battle ax and a button-up shirt splashed with Halloween imagery as his onstage garb, the 6-foot-7 frontman and his bandmates launched right into a thrashing homage to Bleach-era Nirvana, cheekily titled "What Would Kurt Do." "WWKD" was the first of several new songs played Saturday, alongside highlights from their debut LP But Anyways…, released in 2020. Older tunes included "Shakey Pop," among the best Dinosaur Jr. tunes J Mascis never wrote, and "Devil's Bitch," a slow-burning stoner-rock tour de force. "WWKD" was also neatly bisected with an abridged rendition of Neil Young's frequently covered, yet never-not-affecting "Cortez the Killer"; Nehoda clarified that they were covering it in the style of Built to Spill circa 2000.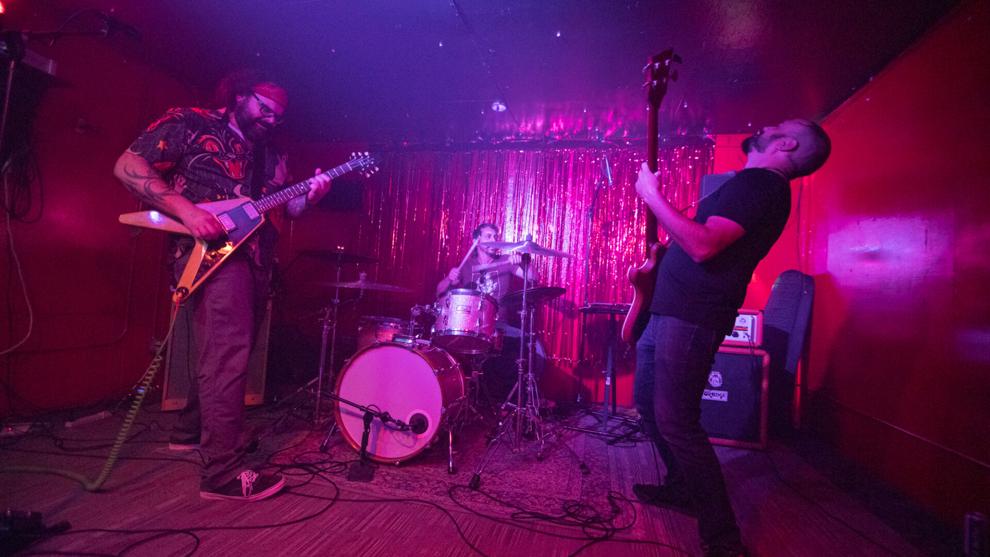 Two summers ago, talking to the Scene at Gill's house near Five Points, the drummer mentioned that before joining, he'd already been a fan. Nehoda's songwriting, Gill told me, came off "heavier and more grown-up than a lot of bands — the feeling behind it, the timbre of his voice." The group's sonic language is just as direct, with little in the way of effects pedals or other accouterments. Though the venue has played host to a broad spectrum of creative expressions over the years, a new Nehoda tune tentatively titled "Bells" — on which Gill does double duty on drums and xylophone — was about as experimental as the group got on Saturday. The honest, emotive and thrillingly loud set was about the best thing you could ask for to cap off the night; sometimes, that's all you need.
The Spin: The Cancellations at Springwater, 7/30/2022
With Nehoda and Young Romantics