Rain has become a persistent problem for music festivals in the Midstate scheduled for late summer or early fall, aka hurricane season. In 2018, a deluge in Franklin meant that Pilgrimage had to be called off after just a couple of hours; Bonnaroo, whose long-awaited return was set for Labor Day weekend, was likewise canceled after Hurricane Ida turned the site into a mud wallow. After a steady downpour literally rained on its parade Saturday morning, Nashville Pride had to make a pivot. The precipitation finally let up around midday, but the festival grounds at Bicentennial Capitol Mall State Park needed time to dry out before they could be opened to the public.
The site opened around 3 p.m.; many of the local acts scheduled to play had to be struck from the bill, while the headliners were able to go on about an hour behind schedule. Though fans had to navigate some treacherous patches of mud on this muggy evening, it seemed little could dampen their spirits. A substantial crowd turned up to be heard and seen, shining as their truest selves and bopping along to some top-notch pop of various flavors.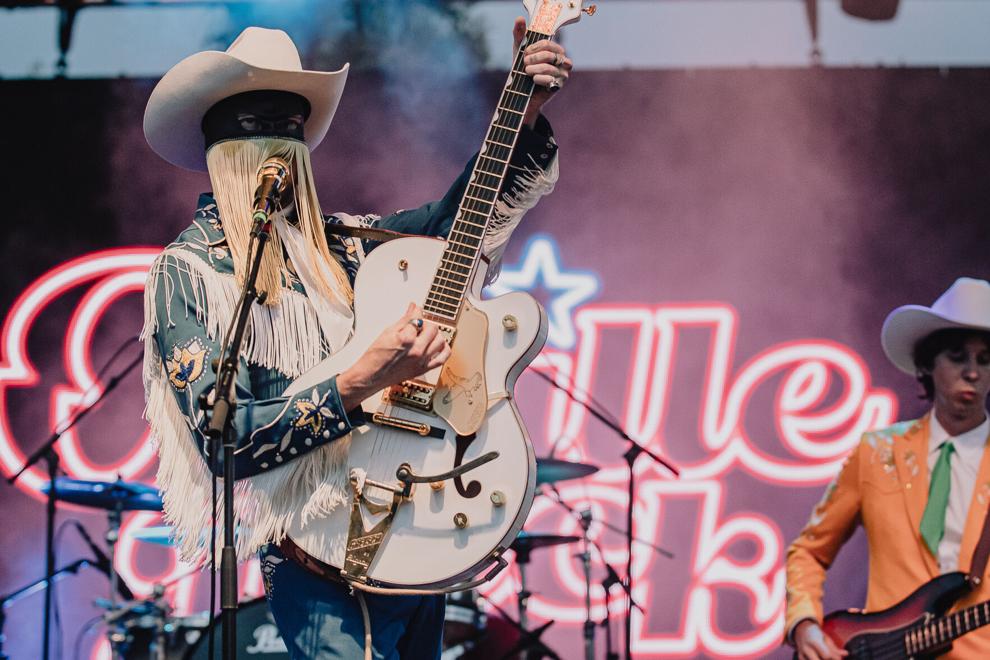 Both of the acts I got to see had occupied top spots on my to-watch list at Bonnaroo. Just around sunset, sporting a luminous blue Nudie-style suit and the signature fringed mask that's concealed his identity thus far, enigmatic Canadian troubadour Orville Peck took the stage with his band against a backdrop of low-flying clouds. It was an ideal setting for the star-swept, melodramatic and subversively nostalgic homage to country music's golden era Peck does so well. Peck opened with the violent and sentimental "Roses Are Falling" from his 2019 debut Pony, his sole full-length so far. The song is a showcase for the anthemic hooks he delivers gently through a baritone croon that feels like something out of a movie; it's also a prime example of his deft and dreamy blend that includes goth, indie rock and classic country. 
This was one of the first stops on the band's COVID-delayed tour for last year's Show Pony EP. Peck revealed to the crowd that newer songs like the original "Drive Me, Crazy" and the Bronski Beat cover "Smalltown Boy," which was originally released for the 2020 Pride edition of the Spotify Singles series, were being played live for the first time. As if fan favorites like "Dead of Night" and "Queen of the Rodeo" weren't already killing it with this delighted audience, Peck's twangy reimagining of Lady Gaga's "Born This Way," released earlier this summer as part of a companion to the 10th anniversary edition of the Born This Way LP, was a better crowd-pleaser than anything I could have imagined.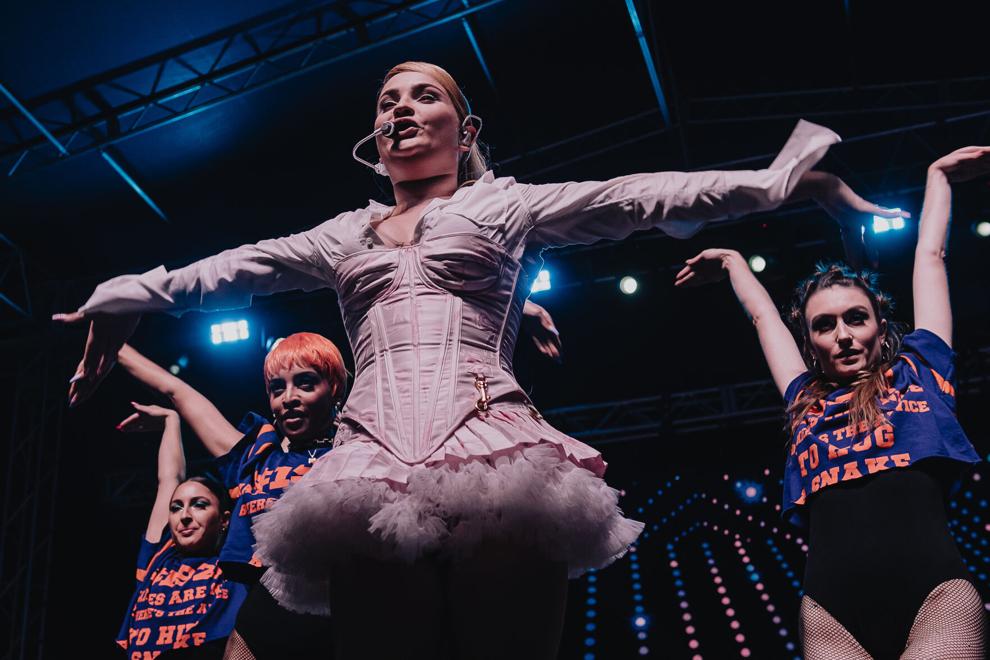 As night fell, the crowd moved closer together and closer to the stage in anticipation of German-born, L.A.-based singer-songwriter and underdog pop diva Kim Petras. The choice time slot and dialed-in audience more than compensated for my disappointment at not being able to see the transgender pop queen down on The Bonnaroo Farm. Flanked by a troupe of dancers, Petras came out blazing with a sassy and sultry strut, half-jokingly asking the crowd, "Are there any rich men here who wanna buy me shit?"
Though her discography includes just two full-length albums, both released in 2019, Petras is a pop veteran who has released a steady drip of club-friendly singles since 2011. She managed to pack a heap of them into her hour-long set. Some of the highlights included the bratty, down-the-middle pop of her breakout 2017 single "I Don't Want It All" and her very recent release "Future Starts Now," as well as dark, razor-sharp blog-house-revival bangers "Death by Sex" and "Wrong Turn" from her Halloween-inspired album Turn Off the Light. Throughout, Petras' cartoonish obsession with sex and decadence yielded glittering, high-speed collisions of radio-pop earworms, bombastic EDM and the morbid excess of a Bret Easton Ellis novel. Sonically, she doesn't push the pop envelope, but she's a purist who masterfully condenses all of pop's guiltiest pleasures into the most potent pill imaginable. By the time Petras closed with her 2018 single "Heart to Break," the crowd was primed for anything else the night could bring.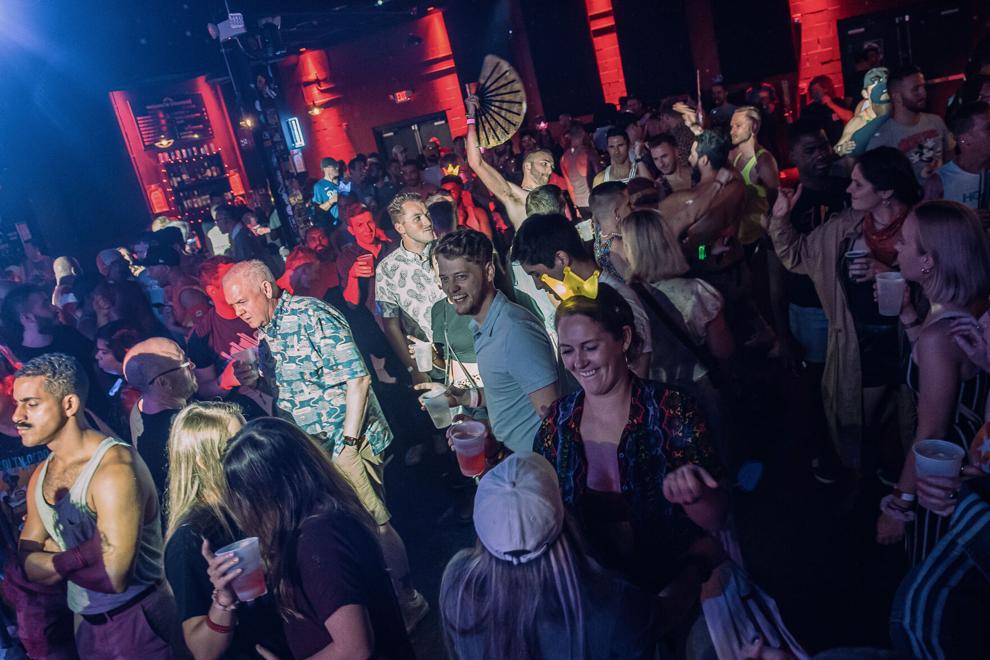 Unfortunately, one thing it brought was more rain. Shortly after 11 a.m. on Sunday, the word went out that the park was simply too soggy to handle more partying, and the day's shows were canceled. Mid-afternoon, however, word went out that at least some of the performers would appear at The Basement East during the Sweet Tea Dance, an installment of the recurring dance party that was set to close the festival.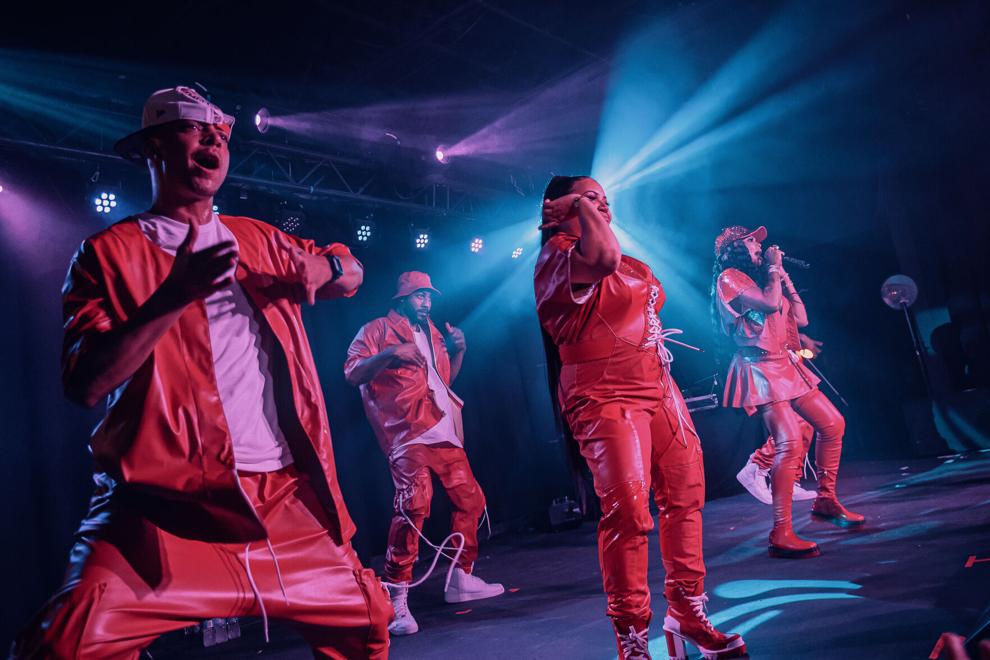 Longtime freelance photog Steve Cross was the only member of the Scene team who was able to make it over. Per his report, however, local popster Freak Daddy turned in a ferocious set with an assist from stellar rapper Daisha McBride. Pop-schooled Canadian MC Tommy Genesis, suffering from vocal issues following a recent illness, kept it short and sweet; though she couldn't muster the energy she'd probably have liked, a small cluster of thrilled fans packed in tight. And hip-hop legends Salt-N-Pepa, seemingly delighted at the unexpected chance to rock a far more intimate party than initially planned, practically blew the doors off the place with a hit-filled throwback set. It may not have been the Pride everyone would have liked, but fans, artists and organizers powered through to make it one to remember.
Nashville Pride Fest at Bicentennial Capitol Mall State Park, 9/18/2021
Featuring Kim Petras, Orville Peck and The Aces