"Live music is back in Nashville!" Old Crow Medicine Show frontman Ketch Secor yelled to big cheers from the stage of the new Brooklyn Bowl Nashville on Friday night. "That was a whole lot of fun when we got that second vaccination!" 
It might seem like all the mismatched pieces of the show shouldn't fit together. Traditional bluegrass and old-time butted up against rock 'n' roll and Beastie Boys covers. Tons of guest stars made appearances, punctuated by the crack of bowlers knocking down pins on the lanes right next the stage. But the buckdancing crowd was proof that the delightful contradictions simply worked.
Friday's gig was the kickoff of a two-nighter celebrating the opening — originally scheduled for March 2020 — of the midsize venue and bowling alley. The space is a joint venture of ticketing and touring giant Live Nation and the founders of New York's original Brooklyn Bowl, and it backs up to First Horizon Park in Germantown. Throughout the night, Old Crow called on guests like bluesman Keb' Mo', songwriter and masterful bluegrass picker Molly Tuttle, and ace country songsmith Joshua Hedley. They blasted through staples of the band's catalog like "Tell It to Me," a highly danceable tune that laments a lover's drug addiction and is just barely not a hoedown. The set also included slower, sweeter tunes like "Caroline" — and yes, of course, they played that one song you were probably wondering about. More on that shortly.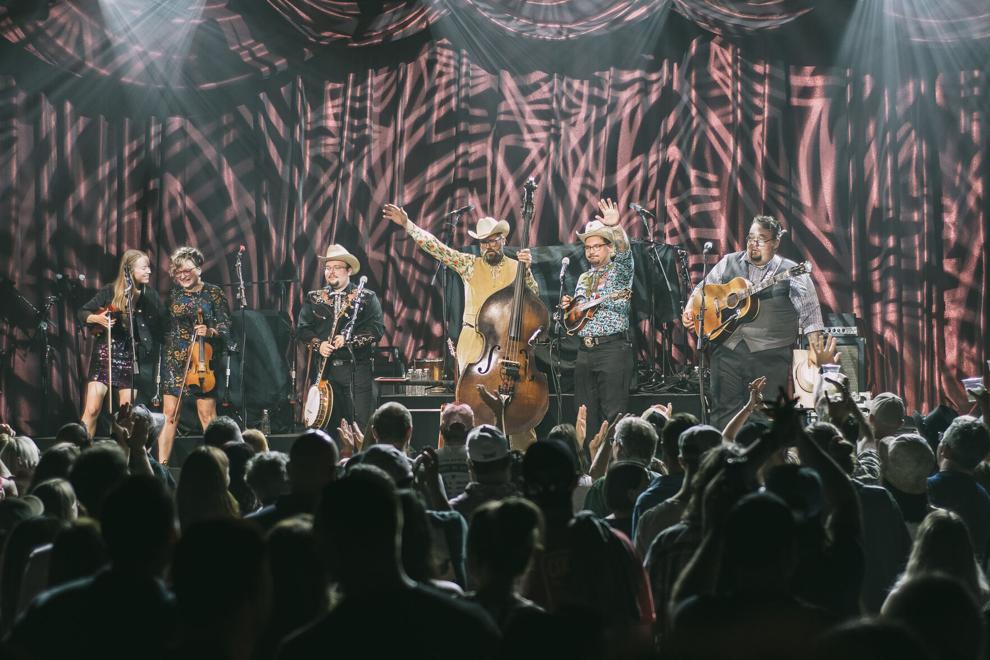 While Old Crow might've been the headliner, the couple to my left said they'd driven more than three hours from Martin, Tenn., just to see The Po' Ramblin' Boys open the show. The Grammy-nominated neo-trad bluegrassers didn't disappoint, warming up the crowd with danceable tunes like "Next Train South." Founder C.J. Lewandowski sang and played mandolin, with Laura Orshaw on fiddle, Josh Rinkel on guitar, Jasper Lorentzen on bass and Jereme Brown on banjo. Guest fiddler Bronwyn Keith-Hynes joined in for the closing number, sawing up a twin-fiddle storm with Orshaw. The group is known for its sartorial savvy as much as its picking prowess, and they delivered there, too, with blinged-out Western ties and floral shirts. Plus, they know their audience well enough to carry a kit for seasoning your cast-iron skillet at the merch table.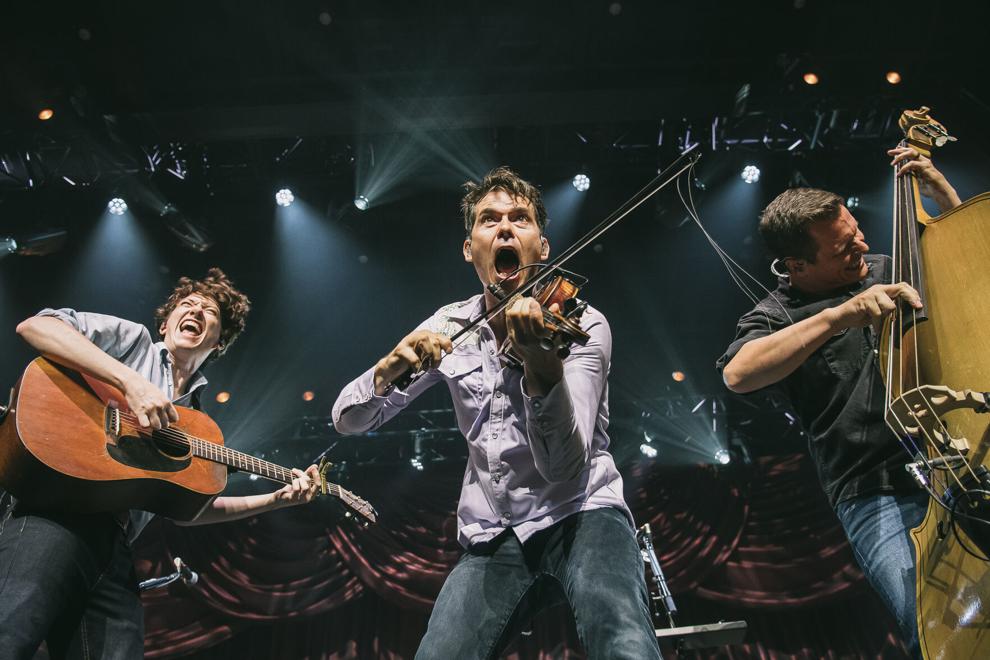 Old Crow's lineup has changed a few times since the Grammy-winning roots band with the wild stage show began as a troupe of buskers back in 1998. In addition to co-founder Secor on vocals, fiddle and harmonica, Friday's show featured Morgan Jahnig on bass, Cory Younts on keys and vocals, Jerry Pentecost on drums, Mike Harris on guitar, dobro and banjo, and Mason Via on guitar and vocals. But that's really an oversimplification; by the end of the night, most everybody had played most every instrument onstage. Mo' joined in while Pentecost led the sweet blues duet "C.C. Rider," and Hedley brought out his fiddle and sang lead on the Oak Ridge Boys' "Bobbie Sue" (with sax by local-music MVP Robbie Crowell). The crowd cheered wildly when Tuttle came up to do a few tunes. One standout from her segment was the Tom Petty-Stevie Nicks classic "Stop Draggin' My Heart Around," which Tuttle covered with Nathaniel Rateliff on her recent ...But I'd Rather Be With You, Too EP. 
The show closed out precisely how I thought it wouldn't. I was so sure that "Wagon Wheel" — the tune with the convoluted Bob Dylan connection, and Old Crow's best-known song — would be their encore, but it appeared much earlier in the set. Instead, they wrapped by paying homage to Brooklyn Bowl's New York origin with the Beasties' "(You Gotta) Fight for Your Right (To Party)," followed by a final jam with Po' Ramblin' Boys on "Will the Circle Be Unbroken." Reader, I saw not a single still mouth in the room. I loved that they chose to close with something besides "Wagon Wheel." The band seemed to be saying, "Forget the past, let's move on if we can." They made sure the crowd got the message, mentioning half a dozen times how grateful they were to be playing and for the return of in-person shows in general. It certainly felt fitting in a night full of picking — and most importantly, grinning.
The Spin: Old Crow Medicine Show at Brooklyn Bowl Nashville, 6/25/2021
With Po' Ramblin' Boys