Joshua Hedley is a hard-working man.
During his set Saturday night at The Basement East, he said he'd only be at his merch table for a few minutes because he had to get to a second gig later on at Dee's Country Cocktail Lounge. 
He breezed through his hour-long set, almost totally originals, both from his 2018 debut on Third Man Records Mr. Jukebox — beloved, at least, by classic country connoisseurs, of which there were many Saturday night in a range of ages — as well as a forthcoming release on New West. He did open with a Roger Miller cover, which I missed despite arriving on time, due to a combination of a solid crowd for an opener and the slower-than-usual queue to get in due to The Beast's stringent vax-or-negative-test policy. I'm happy to wait in the interest of public health.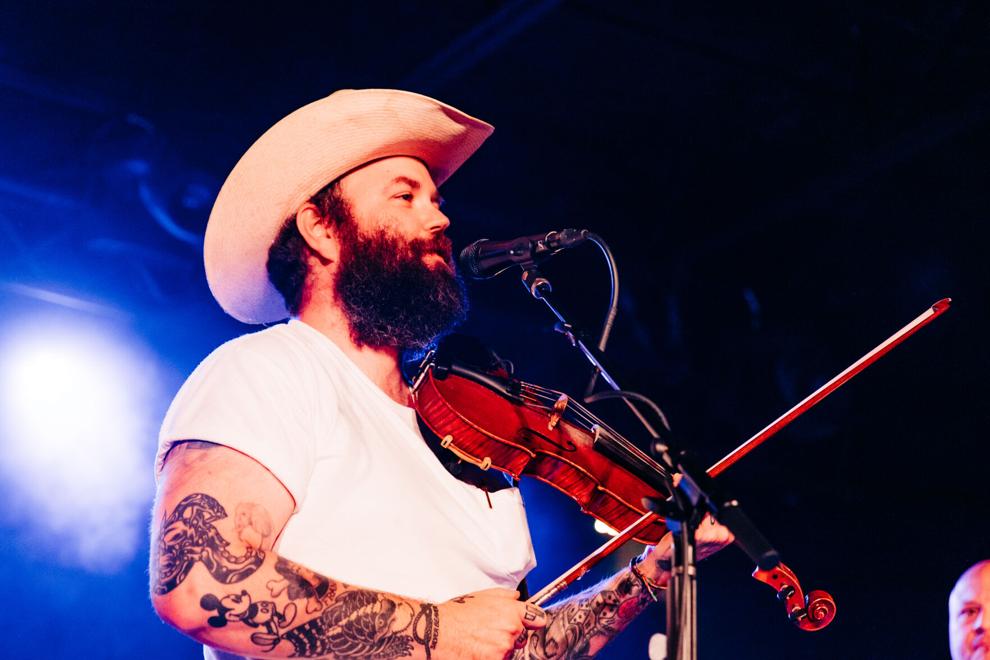 Hedley said he was chuffed to be playing mostly his own stuff — "these sad-ass songs," he called them — since his usual gig as a workaday honky-tonker in the neon canyon of Lower Broadway doesn't afford much opportunity.
"You don't get much call for original material down there," he chuckled.
Those expecting to see Hedley in his usual livery of well-manicured beard and well-fitting suit (Nudie-style or otherwise) may have been disappointed: The beard was a little scraggly and he was dressed simply in white T-shirt and jeans. But, hey, the man can sing a song, so he could have worn swim trunks and Crocs for all I care.
One of the joys of Hedley — a strong testament to his songwriting and vocal chops — is that every song sounds as if it could be a cover from those 1950s and 1960s country crooners he idolizes.
Did Miller originally sing "Weird Thought Thinker"? No, but it would have been a perfect fit for him. George Jones could have nailed "Mr. Jukebox" and Jim Reeves would have melted hearts with "Let's Take a Vacation." Some of the lyrics may have been a little racy for the era, but Gentleman Jim's best-known song is about talking dirty on the phone in a public place, so he could have pulled it off.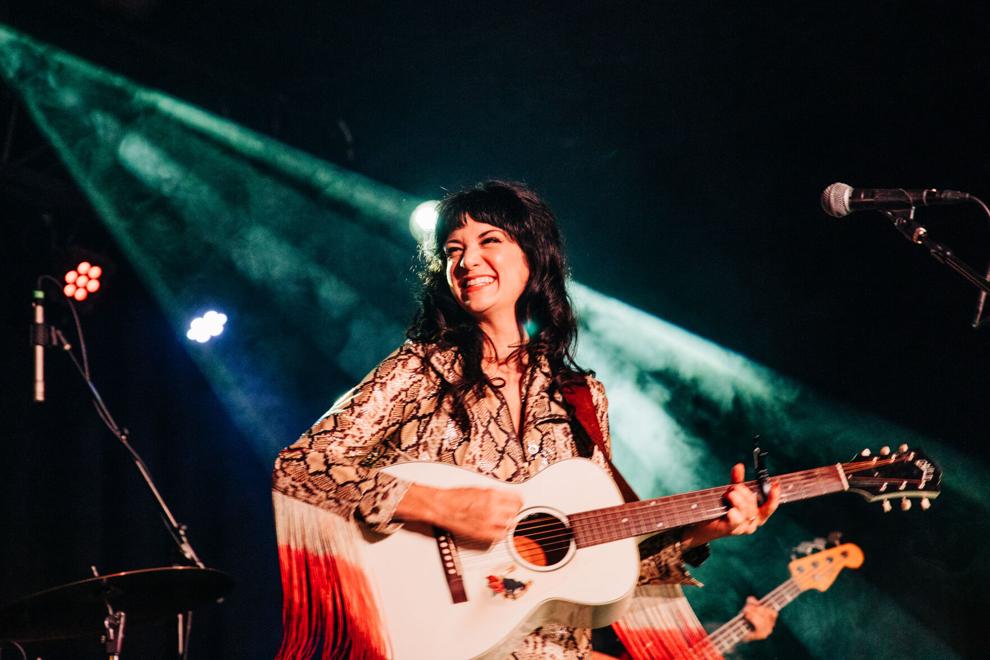 For those of us who, like Hedley, wish mainstream country sounded more like it did when it crackled out of our grandparents' AM radios, his sad-ass songs and his velvety baritone are like a time machine. Headliner — and now Hedley's labelmate — Nikki Lane is a time traveller, too, though her oeuvre echoes later decades: more of the badass ladies of '70s and '90s country. There's some Chicks girl power in there, some Loretta Lynn strong-and-soft and some Rosanne Cash roll-up-your-sleeves, too. Indeed, during quarantine, Lane and some of her karaoke crew covered Cash's 1987 banger "Seven Year Ache."
Lane was back in Nashville after a loop on the road and her banter included tales from the tour. Several of them involved her daddy, who must be quite a character, as she threatened to kick him out of a show for too much yapping. She noted that he "sometimes gets the facts wrong between Bud Light one and 18."
She opened the set with working-musician's lament "700,000 Rednecks," which begins with a spirited, if slightly sarcastic, "Yippee ki yay." It had the intended effect of juicing the crowd for the nearly two-hour ramble and rumble of Lane's set, which stomped and boot-scooted through the highlights of her three albums' worth of work.
Lane, like Hedley, has a new disc in the offing. She explained she sat up one night buying all the intellectual property of Denim & Diamonds, the Madison country-dance club that was a staple of the mid- to late-'90s. (Lane's daddy was under the impression it was a strip club; it was not.) Indeed, the club's name, which now belongs to Lane as well as to the memories of Middle Tennesseans of A Certain Age, will serve as the title of the new record. The titular tune, which she played during the show, is a rockin' anthem of independent womanhood.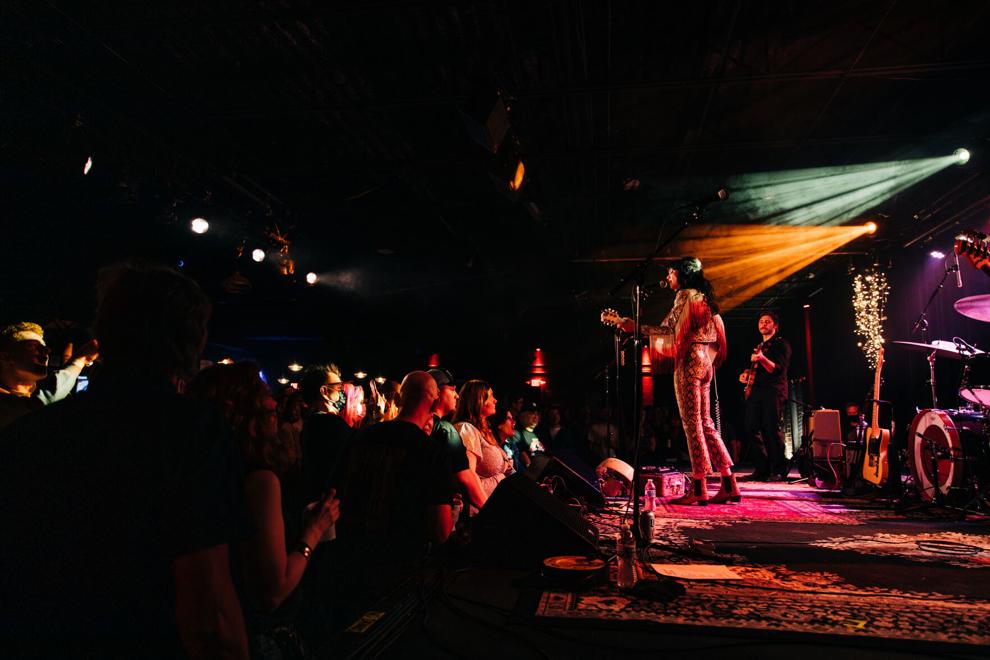 Lane began her encore with one of the most sing-along-appropriate songs in the C&W pantheon — The Nitty Gritty Dirt Band's 1987 hit "Fishing in the Dark" — and the crowd did its part. Nearing the end of a long evening of dancing, spinning and yipee-ki-yaying, the throng delighted Lane and themselves by joining in on the chorus and taking the "Ooooo-oooos" to floor-shaking volume. (The effort at making the song a round was handled better by those on the stage than by us in the crowd, but we didn't receive any instructions and a round is not something that a group of people can just wing.)
For music that doesn't lend itself to moshing or crowd-surfing or any of the other physically intensive parts of the live music experience, Hedley and Lane flat wore out the audience anyway. Time travel really takes it out of you.
Nikki Lane at The Basement East, 9/11/2021
The Highway Queen returns to The Beast, with Joshua Hedley