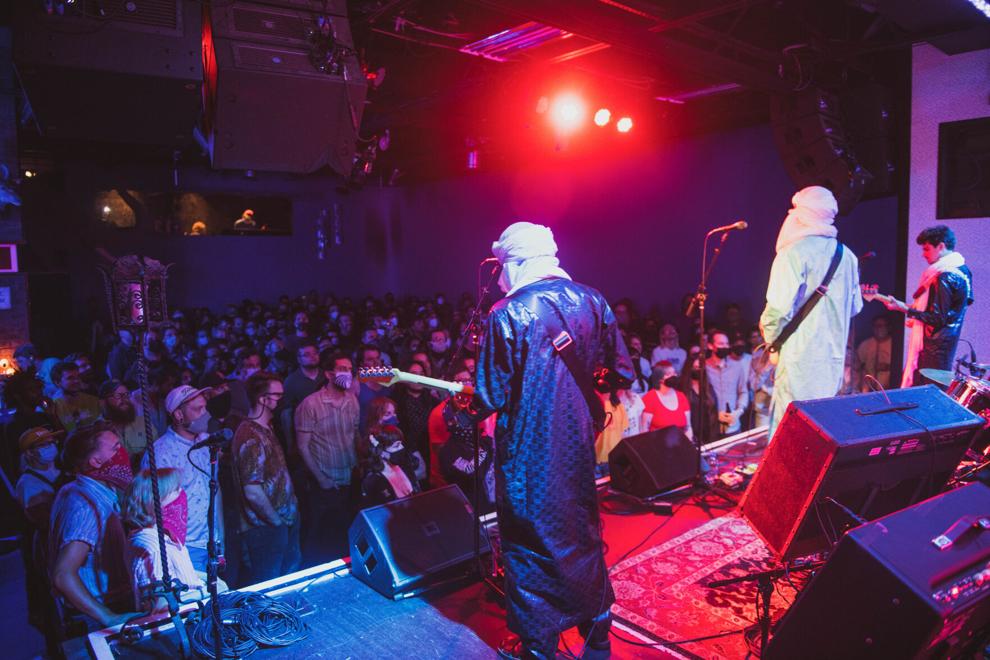 Mdou Moctar's 1 p.m. This Tent set was the first item on my Friday itinerary for the star-crossed pandemic-era Bonnaroo. The six-string wizard, who hails from Agadez, Niger, in West Africa, was slated to warm up a stage on the farm that's often hosted international acts with a psychedelic slant, from Mali's Tinariwen in 2010 to Japan's Kikagaku Moyo in 2019. However, Moctar's set and so many others were not to be: Torrential rain from Hurricane Ida soaked the festival site, recently renamed The Bonnaroo Farm, and the fest was officially canceled Tuesday afternoon for the second time in as many years.
But all was not lost, as several last-minute gigs popped up around town over the weekend featuring would-be Bonnaroo performers. Friday evening, the Third Man Records crew welcomed Moctar and his three bandmates to The Blue Room for a no-opener show that sold out rapidly. The quartet's resourcefulness can't be overstated: They toured the U.S. for several years pre-pandemic, reaffirming the power of word-of-mouth and the keen ears of indie promoters with rollicking, uptempo sets centered around the 35-year-old's virtuosic playing.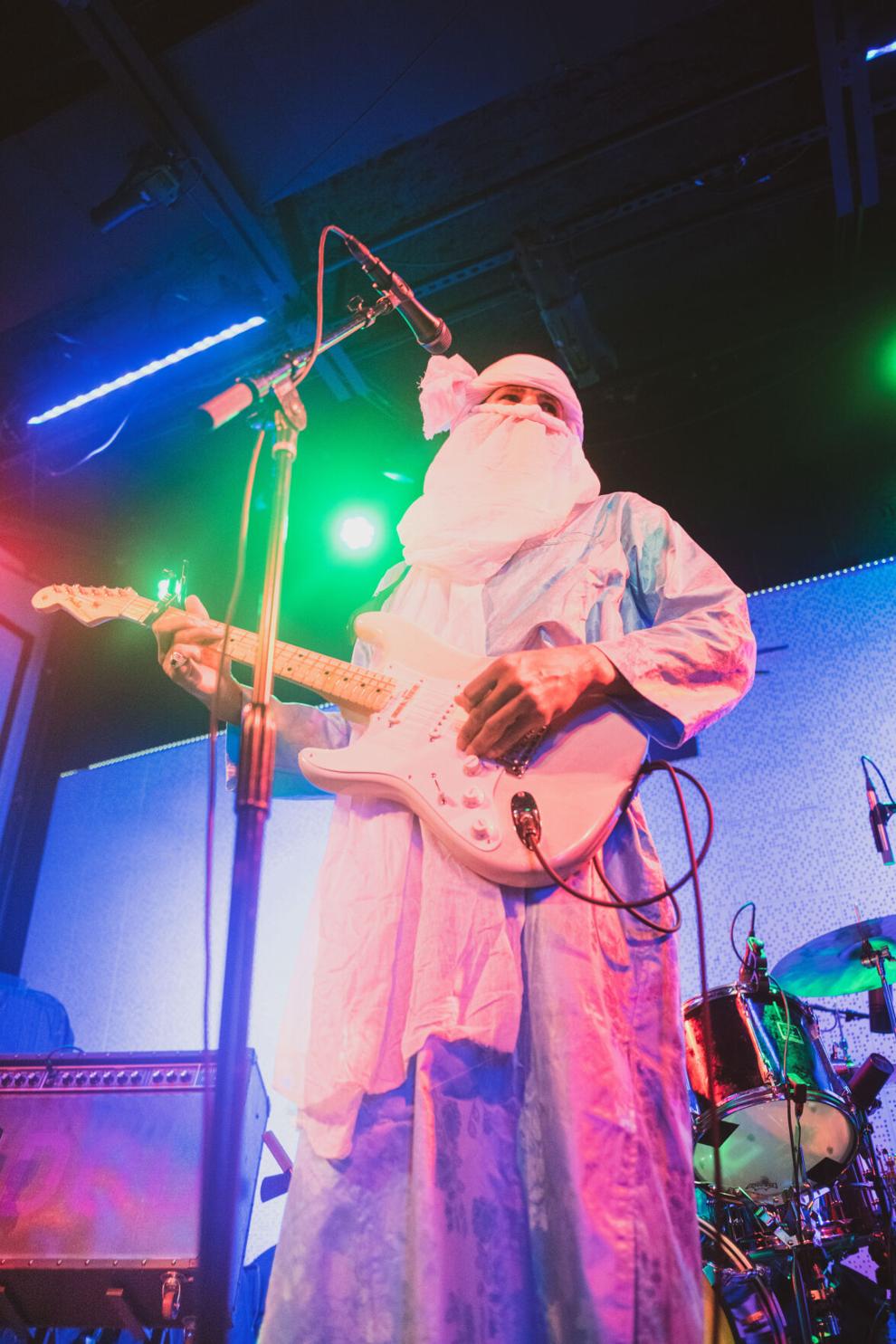 Friday's performance was Moctar & Co.'s first in town since the pandemic began. His most recent was an appearance at Mercy Lounge in September 2019 supporting Boogarins. On the tour following Ilana (The Creator), that show was his third local performance that year, making the absence seem even longer. Friday's set was packed with new material, including songs from the group's recent release Afrique Victime, on which they speaks out about the longstanding exploitation and inequality in their region.
Picking standout songs from such a mesmerizing gig is a challenge. "This is everything," remarked a friend who was seeing the Nigerien guitar god for the first time. Still, among the peaks in the show's emotional energy were Afrique Victime songs "Ya Habibti" (with a heavy groove) and "Asdikte Akal" (with space for solos that reached an even higher plane). "Ilana," meanwhile, kicked off with a ferocious solo from drummer Souleymane Ibrahim that put a spotlight on the vital support work that he, second guitarist Ahmoudou Madassane and bassist Michael Coltun had been doing all night.
Draped in traditional Tuareg garments that were white and turquoise, Moctar shredded, tapped and slid up and down the neck of his left-handed Strat in ways that would've made the late Eddie Van Halen proud. (When I spoke with him in 2019, Moctar cited EVH as someone he'd "love to open for.") The final song from the main set had several false endings before the band finally put its instruments back on their stands and stepped to the side of the stage. Moctar even took a selfie from the stage with the crowd, adding an air of finality to the proceedings.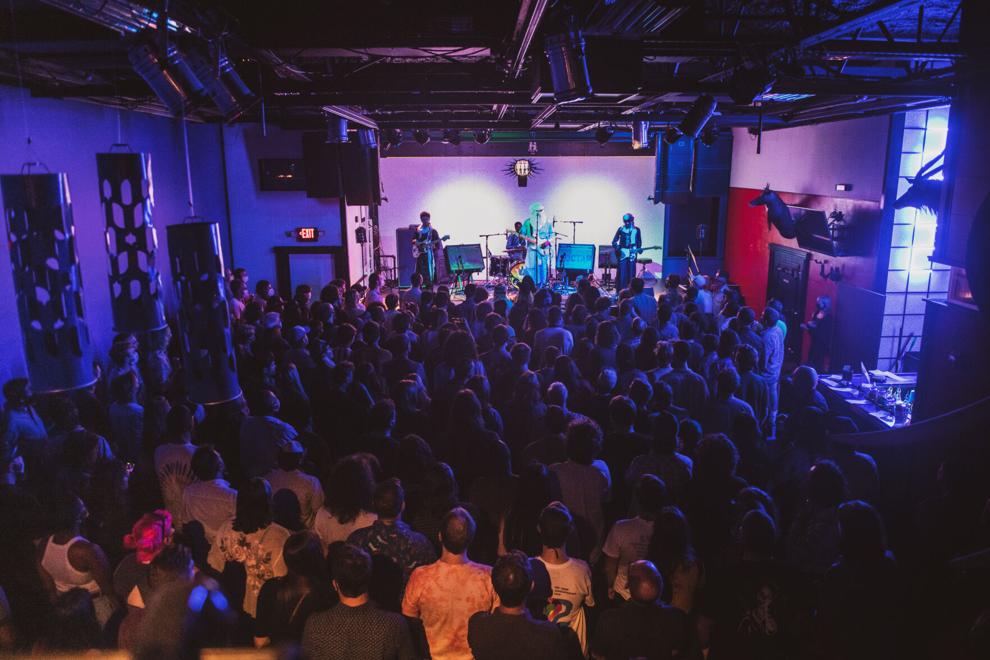 But it was clear the audience wasn't ready to go anywhere, and the band came back. Their outrageously tight encore began with rapid-fire drums; soon they were joined by a busy bass line and then by driving rhythmic support from Madassane. Moctar himself came in last and left first, standing just offstage to watch his bandmates ride the groove at light speed — not playing the riffs so much as becoming them.
Mdou Moctar at Third Man Records, 9/3/2021
The Nigerien guitar wizard and his band stopped in at The Blue Room amid a slew of pop-up shows following the cancellation of Bonnaroo