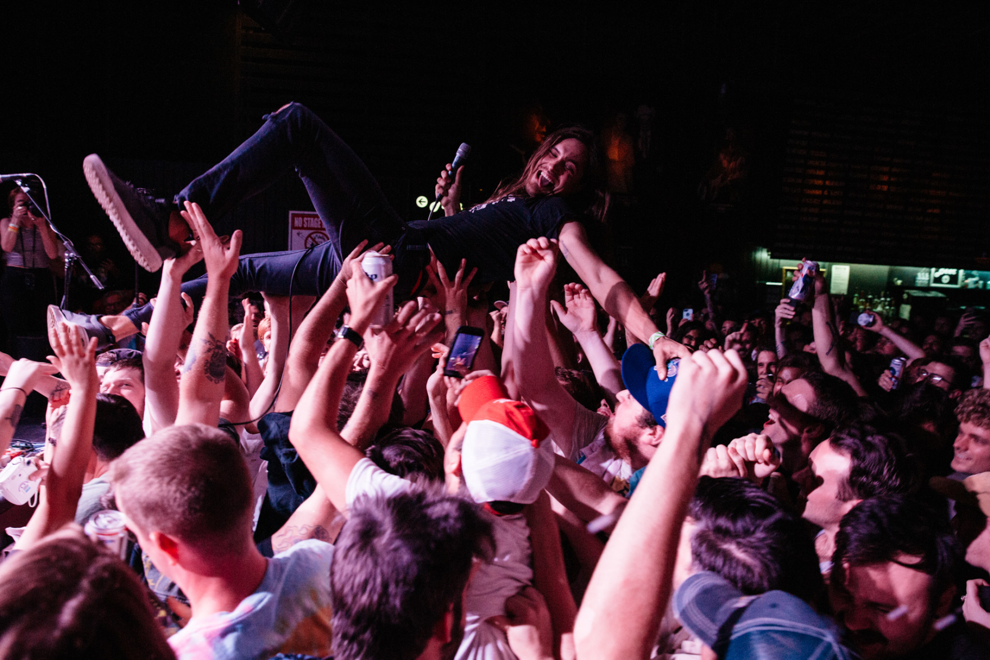 Today The Spin works through our hungover haze to bring you a recap of Saturday's final Exit/In concert by Music City's shittiest-named, arguably finest rock 'n' roll export of this decade: Diarrhea Planet. The show capped a long-sold-out three-night farewell series and was the main event on a monumental weekend for Nashville rock that also included a Municipal Auditorium show headlined by Paramore (with Bully and others supporting), plus the release of a new album by DP's longtime Infinity Cat labelmates JEFF the Brotherhood. 
We can understand why singer-guitarists Jordan Smith and Emmett Miller, guitarists Evan Bird and Brent Toler, bassist Mike Boyle and drummer Ian Bush, who are in the neighborhood of 30, are quitting while they're ahead. As fun as it surely must be living out one's rock 'n' roll fantasy with your five best friends for days and nights on end, life catches up. DP started in 2009 with the obvious intent of getting Nashville's old guard clutching their pearls, and the group spent its nascent years playing any venue or party that'd have them, maturing into a legitimately great band as they went. We knew they weren't going to go quietly. Not without one last blowout.
With that in mind, we made our way to Elliston Place to join a sold-out crowd in seeing them off. Throughout the three-show run, the best-ever four-guitar band out of Belmont University flanked itself with peers and friends. '90s nostalgists Reality Something opened Thursday, while Friday showgoers got the melodious Idle Bloom and laid-back Blank Range. Saturday was kicked off by H.A.R.D. (or Have a Rad Day), a local foursome with Mississippi roots playing songs laden with Southern rock licks and chiming guitarmonies.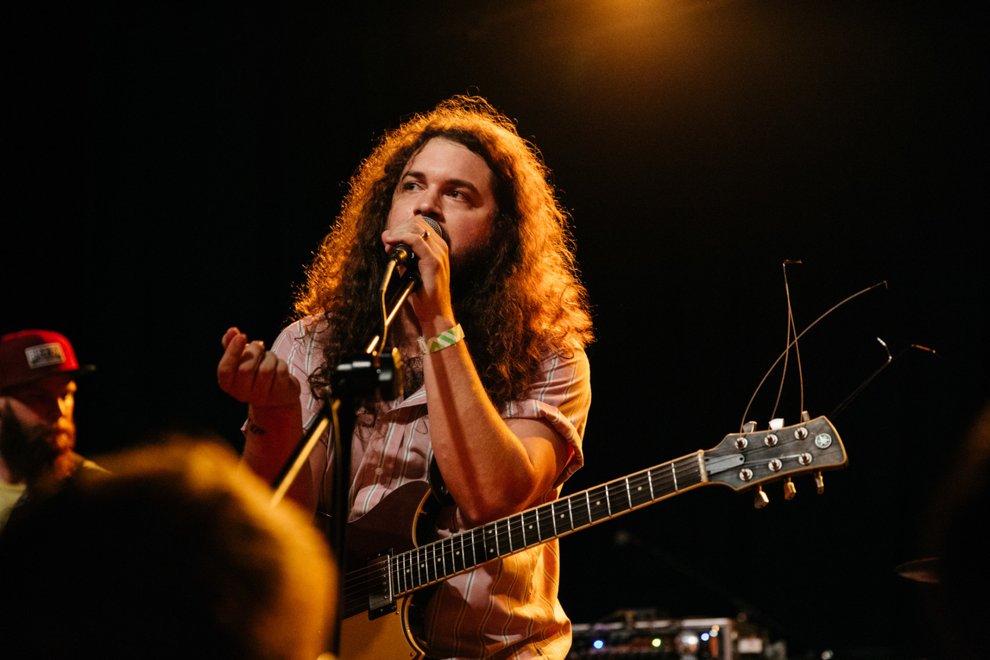 "That song was about aliens, this song's about smoking weed," announced singer-guitarist Thomas Sweat between songs — not highbrow stuff, but concise, uptempo and stylistically similar enough to the men of the hour to win over first-time customers. Jordan Smith produced H.A.R.D.'s recent self-titled EP, from which much of this material came, and Sweat shouted out the Planeteers for hooking him up with a room back when he first moved to town. The band closed with a cover of Thin Lizzy's "The Boys Are Back in Town" that was faithful, if a little on-the-nose.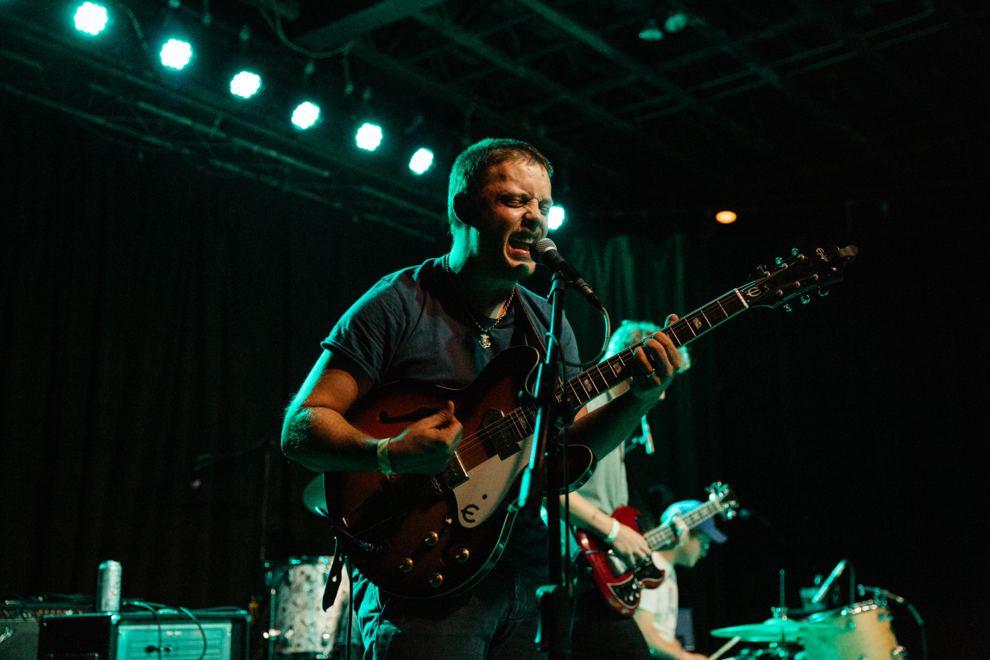 Playing to what was by then a packed house, Faux Ferocious delivered a captivating set of truly psychedelic punk. They grooved hard with surgical precision, then jarred us out of our reverie with drastic tempo shifts. The foursome's warbly, appealingly ominous tunes called to mind '80s legends The Feelies and Mission of Burma as well as contemporaries Preoccupations (formerly known as Viet Cong) — all magic words for post-punk heads, which we are.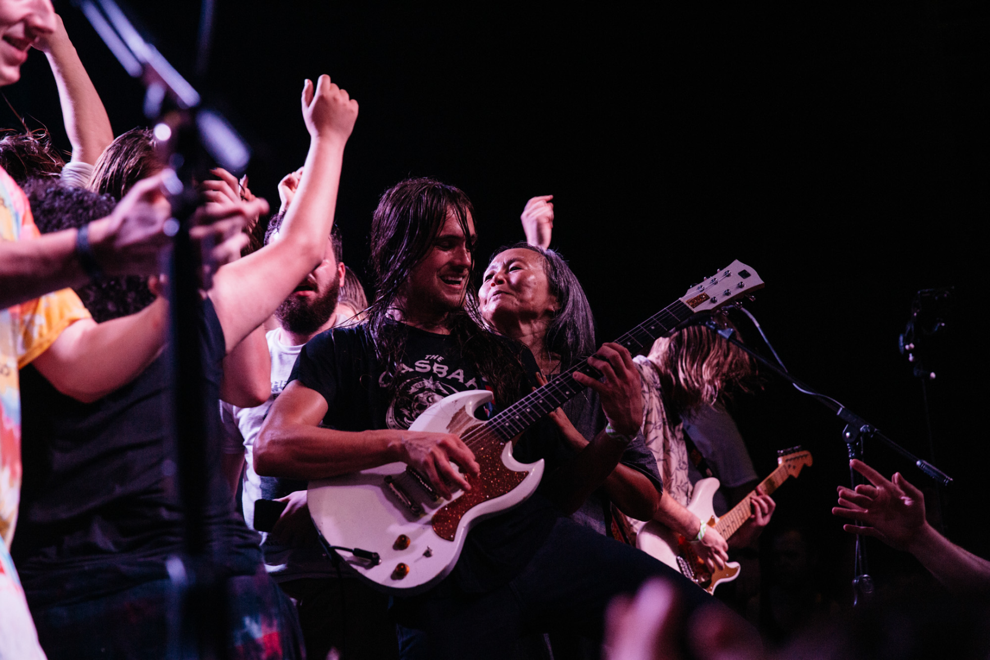 "Heroes get remembered, but legends never die," proclaimed a friend of the band tasked to welcome DP to the stage, referencing the coming-of-age classic The Sandlot, which turns 25 this year. "And Diarrhea Planet," he concluded, "are legends."
In a classic move for a band that's built its career on testing what it can get away with and getting away with it, the set began with a towering rendition of The Who's "Baba O'Riley," which Smith concluded by gracefully walking out to the center of the room on the hands of his audience. A series of punk bruisers followed, with "Lite Dream" (off 2013 catalog standout I'm Rich Beyond Your Wildest Dreams) and "Ain't a Sin to Win" (from 2016's Turn to Gold) inciting joyous mayhem in the pit.
The two-hour set demonstrated the band's mastery of reading a room. Besides singing and shredding, frontman Smith functions as an able guide, knowing exactly when to amp it up, calm it down or deploy the perfect cover to keep the show on track. And DP's "be excellent to each other" ethos carries over to their fans, who very much function, as Smith pointed out numerous times, as a seventh member of the band.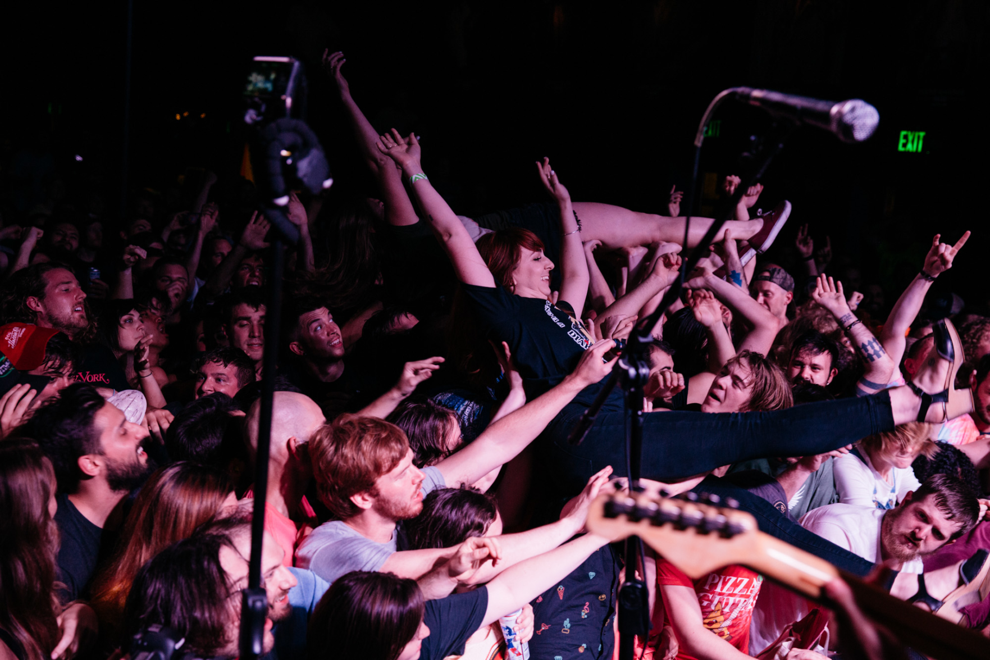 We moved around the room throughout the gig — into the pit for total immersion, by the soundboard for the most balanced mix, to the top of the stairs for a bird's-eye view. What we saw from up there was heartwarming. All night long there was endless stage-diving and crowd-surfing, and any time someone didn't land right or got hit too hard, other showgoers helped them up, checked that they were all right, then carried on. DP's music is aggressive but not aggro — the difference is in how you use the energy. If only it were always this way.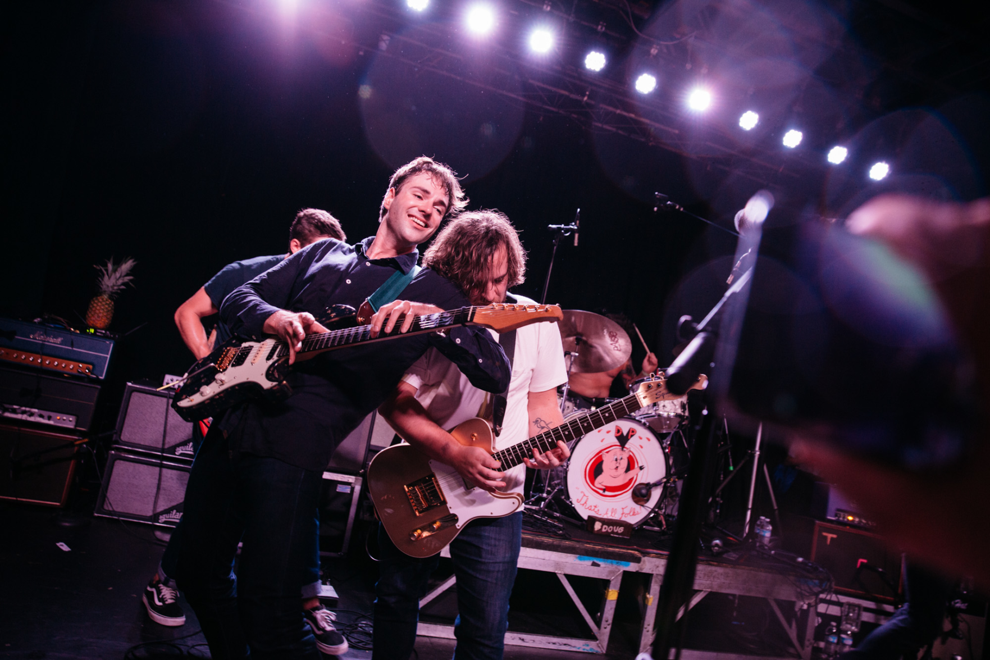 We also dug how this particular set list highlighted Emmett Miller's contribution to DP. The hyper-extroverted Smith is the de facto voice and face of the band, but the more low-key Miller is its ace in the hole. We've long been a fan of his songs, which share a lot in common with Hüsker Dü and The Marked Men — bands where velocity and melody are equally paramount — and it was nice to hear a string of them here, capped with a note-perfect, chilled-out rendition of Tears for Fears' security-blanket of a song "Everybody Wants to Rule the World." (That was the second of three covers in the set. The third was the encore's screwball take on Rage Against the Machine's "Bulls on Parade," with Bird doing his best Zack de la Rocha.) It got us very stoked on the idea of Miller potentially doing a whole band project based around these tunes.
With each between-song break came more shout-outs to the places and people who shaped DP. Naturally, that included Belmont; the Brentwood Papa John's that used to employ half the band and always let them come back to work post-tour; and each band member's parents, by name, "for trusting us as we embarked on founding probably the worst-named business of all time."
The set's final two songs served as a nice encapsulation of what Diarrhea Planet is about. First was "Kids," the slow-burner off I'm Rich about feeling hopelessly caught between childhood and adulthood. "Kids," when it came out, revealed a softer, more empathetic side of the band. The song's roll-credits vibe has never been stronger than on this night. But the last DP show was never going to end any other way than their first one did: with half the crowd up on the stage, drowning out the band as they shouted along to "Ghost With a Boner." The ridiculously titled, ridiculously catchy two-minute number — stretched to five here — will live on as DP's signature song.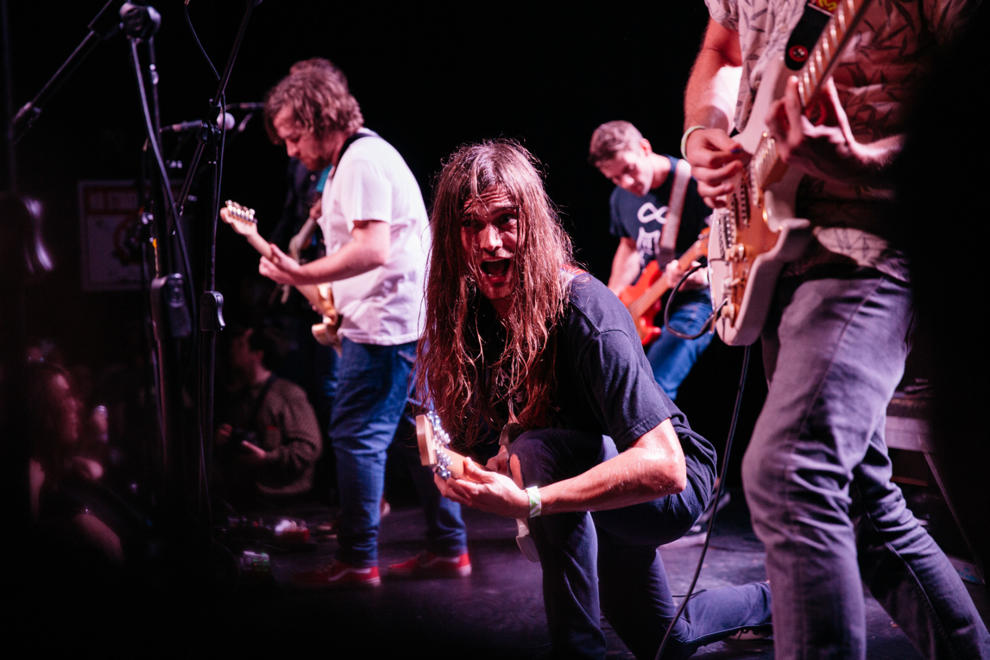 DP has played this town and specifically this venue so many times over the years that it's become easy to take for granted having a world-class rock band in our backyard. Saturday, we were reminded about the full impact of what that means. Beyond their trove of quality tunes, they'll be remembered as supreme bringers of good vibes, for their deep rapport with their fans, and for consistently sounding great — no easy feat for a group the size of a small village. We often end a Spin column with some variation on "We look forward to seeing where they go next." As much as we'll miss Diarrhea Planet (we'll be able to get some temporary relief when they play the Ryman, opening for Jason Isbell in October) we really can't wait to see what happens.
See our slideshow for more photos.
In The Spin — the Scene's live review column — staffers and freelance contributors review concerts under a collective byline.