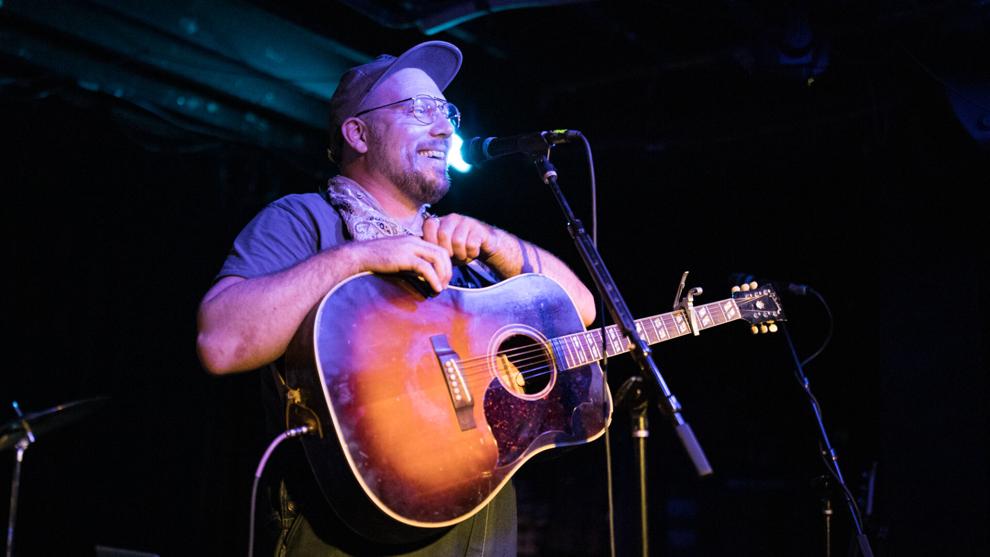 For a while, it's been fairly routine for songwriters who've aged out of the punk scene to make their way into the folk-Americana-country sphere. If you care about writing and singing songs that tell stories about how to survive a life on Earth, you're going to find a way to continue doing it when you look at the world a bit differently than you did at age 19 — and your body doesn't behave quite the same way, either. 
Darrin Bradbury has navigated this transition very well. As photog Brandon de la Cruz pointed out when we compared notes after Bradbury's album release party Friday night at The Basement, the Madison-residing singer-songwriter and self-described "folk satirist" has refined his instinct for immediacy and economy of language, which likely served him well as a young New Jersey punk. When Bradbury picks out an image or a subject to feature in one of his songs, he gets it across succinctly, but in a way that never feels clipped or forced. He's also carried over a few other things from his punk days, but more on that in a moment.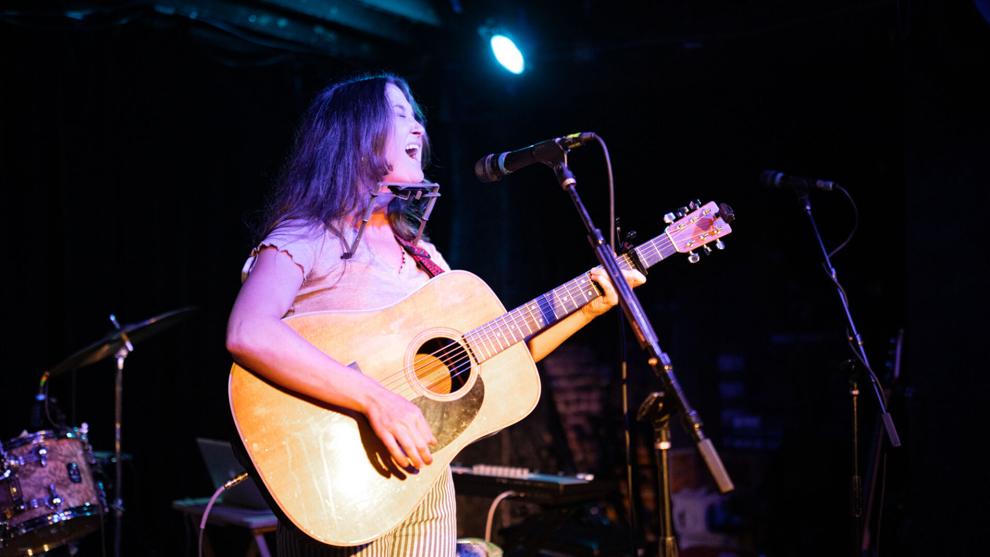 The show began with a solo acoustic performance from Coralee, one of Bradbury's favorite songwriters from area writers' rounds. As she told the crowd, she came to Music City a few years back following breakups with her partner, her band The Townies and her previous hometown of Lexington, Ky. She sang in a bright voice with only the faintest hint of a drawl, but the overwhelming feeling was one of sadness. Near the end of her set, she quipped, "I'm a happy gal, I swear!" It seems like writing and singing melancholy tunes can be a healthy way to figure out what to do with those feelings; hearing songs like Coralee's "The Music," a poignant and nuanced look at infatuation, made me feel a little better about squaring up to the messy state of everything.
Bradbury came up next for an abbreviated acoustic set of his own. He picked a few songs, written since the recording of his just-released album Artvertisement, that are in tune with living in a time where part of "normal" seems to be reckoning with profound unease. Bradbury has significant experience coping with mental illness; as he explained in press materials, he spent a couple months last year in residential treatment, participating in intensive therapy for obsessive-compulsive disorder and PTSD, which has given him lots of new perspective on his work. But the older songs he played weren't any less insightful. Among the standouts was "Breakfast," a wry tune from his 2019 LP Talking Dogs & Atom Bombs that is built around observations on a lonesome morning in the suburbs. Bemused, Bradbury pointed out that "Breakfast" somehow took off on Spotify and has been played more than 100,000 times.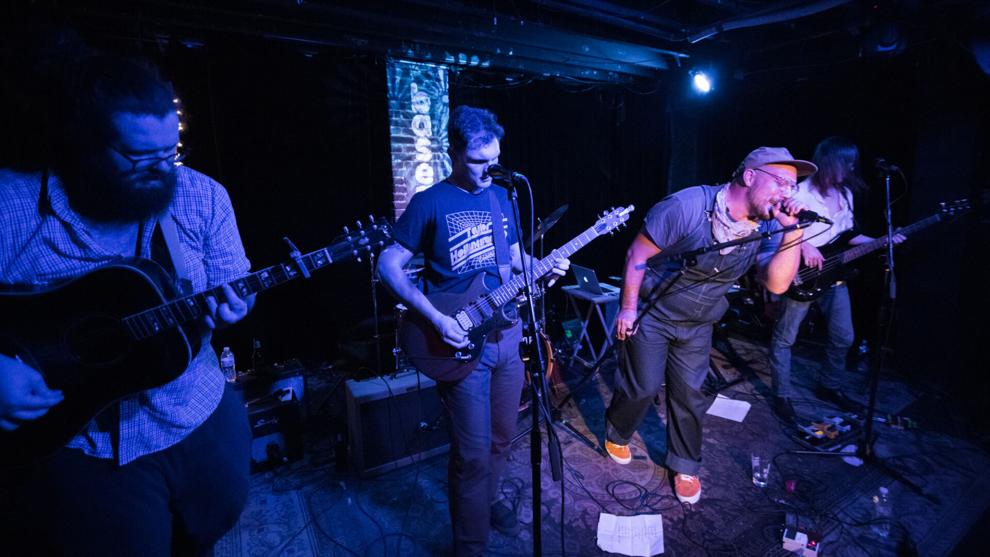 After a couple requests, Bradbury put down his guitar and called up his band, which Coralee dubbed "The Dudes." As he cranked his mic stand up as high as he could get and angled the mic down at himself — "Gotta get into Danzig position," he said, laughing — he informed us that the band helped him make Artvertisement during the week in March 2020 between the deadly tornadoes in Middle Tennessee and widespread shutdowns due to the infernal COVID pandemic. The complement included Scottie Prudhoe on electric and acoustic guitars, Ryan Sobb (also a standout songwriter) on second electric guitar, Preston Cochran on bass and keys and Chase Ballenger at the drum kit. The album is Bradbury's most rollicking and sonically adventurous release yet, and the band ripped into it with even more gusto than on the recording. 
They played the record in full, though not in order, roaring out of the gate with "Busted World," whose refrain — "We are strangers here in stranger times" — feels like a rallying cry. "Artvertisement," a dramatization of a meeting Bradbury once had with a clueless label rep, was delivered as a full-throated hardcore-punk missive with an allusion to Joni Mitchell buried in the middle. The intensity simmered down a smidgen but stayed high even through more mellow tunes like "XXY Top Left," in which Bradbury extrapolates on a musing about the nature of reality by fellow songwriter Rayvon Pettis. As the group tuned up for "Exile on Myrtle Beach," Bradbury chuckled and joked that his doctor would probably call this performance "good cardio." 
The final tune of the night was "Mikey Shoulda Died," a song about a musician and scenester who has changed his self-destructive habits but hasn't changed his perspective. Or put more elegantly, as Bradbury did: "There's a sadness in his smile that says far more than his songs these days." While the band played on, Bradbury finished his lines and strolled out the front door of the club, emphasizing through his actions how the exchange between artist and audience is something incredibly special, and either party takes it for granted at their peril.