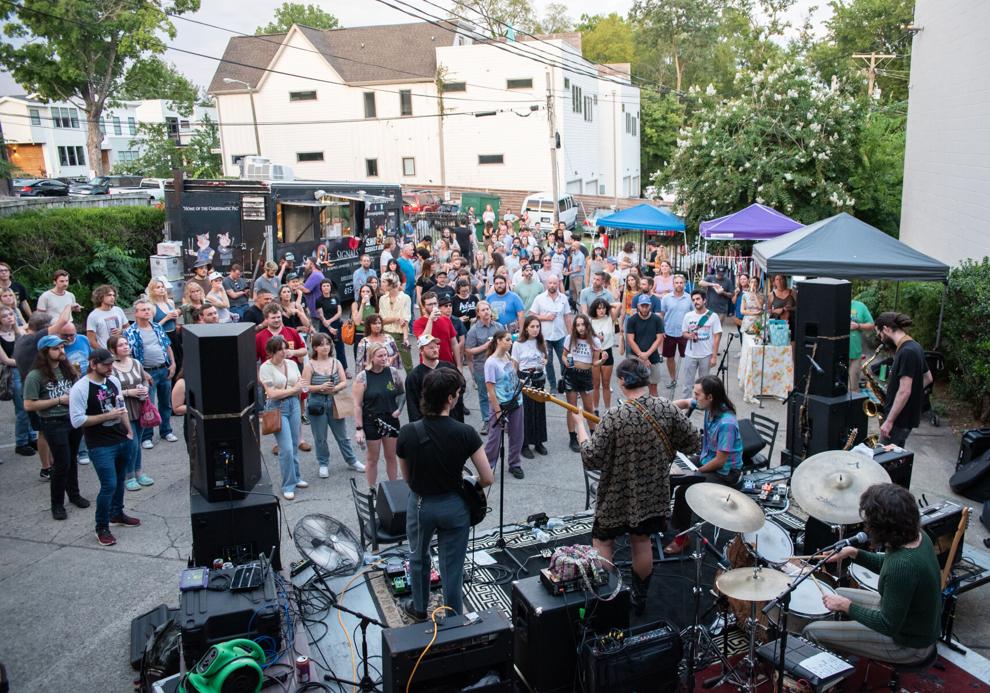 The sun was still pretty high in the sky on Friday when I started firing off a flurry of text messages to friends who were likely about to miss A Giant Dog if they weren't already close to Eighth Avenue South. The Austin, Texas, rockers are much-loved in Music City, especially by those with fond memories of their raucous shows at places now long gone, like DIY venue Glenn Danzig's House and the downtown location of record and vintage shop Fond Object. But an hour before dusk on this muggy evening, a lot of their fans seemed to have missed the memo about the early gig.
To be fair to the tardy bunch, I missed much of the first set of the show by getting to The Basement — the original — at about 6:15 p.m. The four-band bill was part of a free weekly concert series called Get Happier Fridays, held outdoors and curated by the good folks at the venerable venue. Thanks to drinks, local barbecue and booths full of wares from area merchants, the vibe split the difference between a miniature music fest and a happy hour. Squeezing four bands into a three-hour block meant they needed to run a tight ship, and showing up at rock o'clock was not the best call.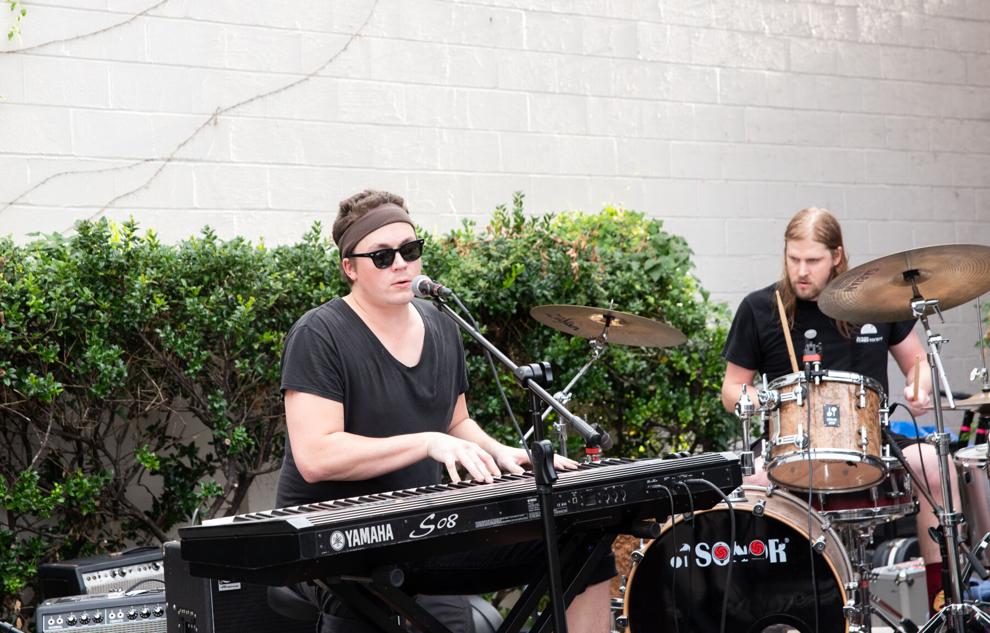 I tucked myself into a nook between the merch tables and the food truck to the sounds of keys-and-drums pop 'n' rock duo BCKHND. After a mellow jam, singer-keyboardist Conner Hastings belted out "I'VE GOT BLISTERS ON ME FINGERS!" in his best Ringo Starr voice. I was a little confused by the "Helter Skelter" reference until I saw sanguine fluid gushing all over his equipment. As it turns out, a blister on his thumb indeed burst midsong. He finished up their last two numbers in stride, but as he packed up, I could see the keys were coated in bloody fingerprints, looking like a prop from an '80s slasher flick about synthesizers.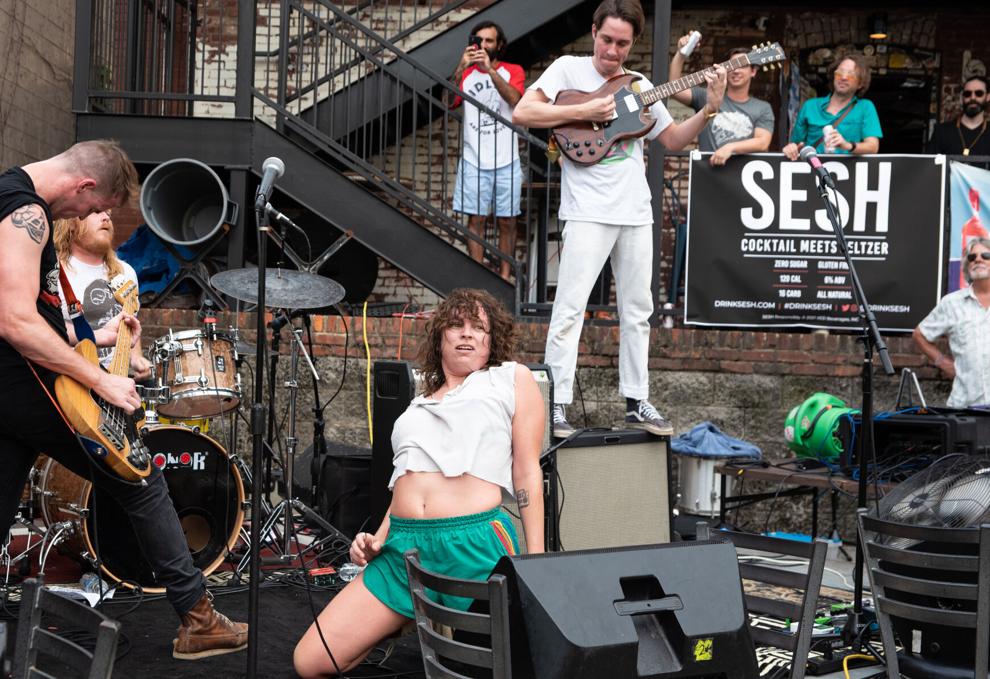 I got so wrapped up in the unexpected gore of BCKHND — and wondering if any of my buddies who planned to come were going to make it — that I wasn't paying much attention to who was setting up next. I noted that a fresh-faced guitar player, who I eventually clocked as Andrew Cashen, was warming up with riffs from The Stooges' "I Wanna Be Your Dog" and "Search and Destroy." The master of ceremonies, Basement and Basement East co-proprietor Mike Grimes, grabbed the mic, visibly excited to bring A Giant Dog back to Nashville. So it was that a bunch of my pals who expected this shindig to run on punk time, or for the Texan outfit to play last, missed out. 
Living up to its name, the band virtually chewed through its set, peeling off rollicking, ear-catching songs at a furious pace. The members carried on the long-standing tradition of pop-schooled punks starting their shows by mashing the accelerator to the floor and navigating all the twists and turns without so much as a tap of the brakes. For reference, I could direct you to the Ramones' It's Alive or the Descendents' Liveage! I can only hope A Giant Dog will one day issue a live LP — which, if I had to guess, would be called Show.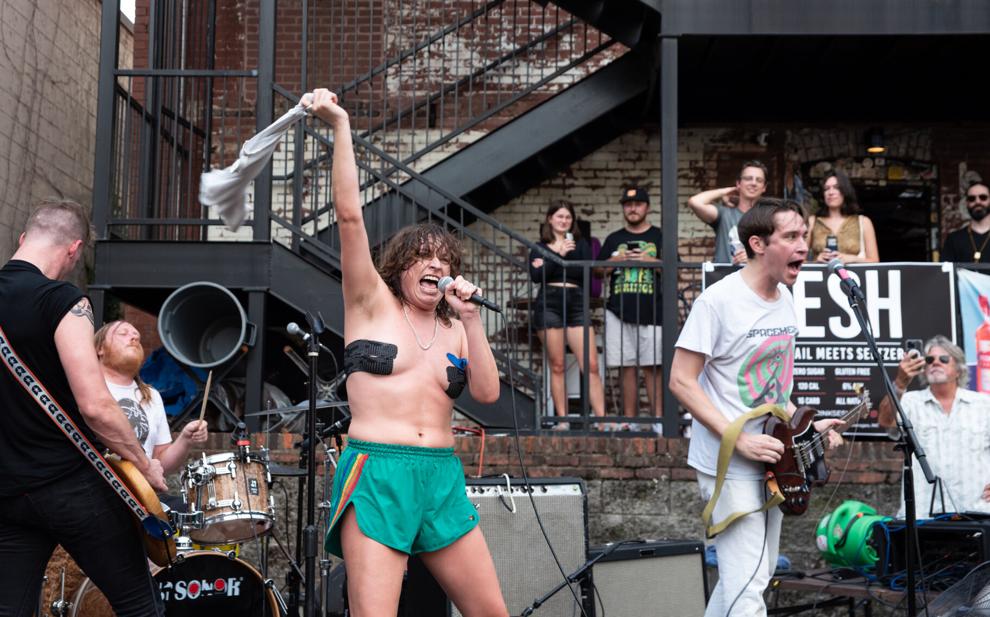 The set list on Friday was made up mostly of early songs, which was fitting since A Giant Dog's summer tour celebrates Merge Records' reissues of the band's first two albums; 2012's Fight and 2013's Bone were released originally by Chicago DIY imprint Tic Tac Totally. Singer Sabrina Ellis has a unique balance of charm and fury that I've never experienced from any other frontperson. They're a hyper-animated rock 'n' roll cabaret performer who takes having fun very seriously, backed by one of the best rock bands you could ask for. Grizzled old punk that I am, it was heartwarming to see the band play the best show I've seen from them yet.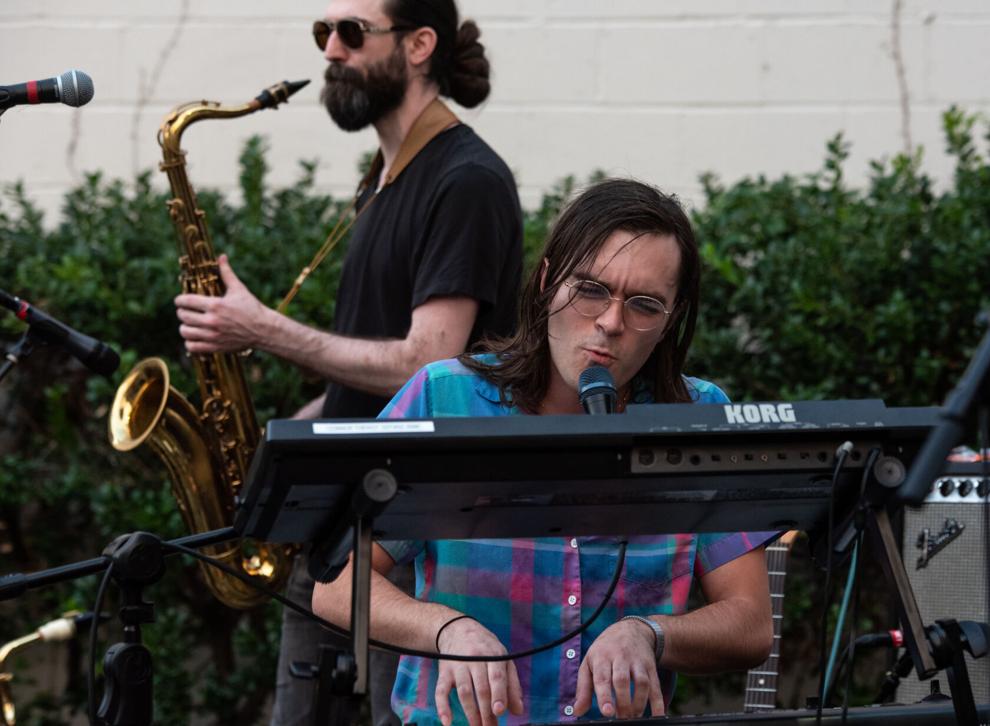 Someone had to follow that, and the task fell to long-running Nashville outfit Ornament, the brainchild of singer-keyboardist Will Mann and drummer Ryan Donoho, who just released their second album Rock Solid. The LP is an olio of solid gold album-oriented rock from a bygone era that you can imagine Johnny Fever slipping onto the airwaves via WKRP. Most of Ornament's set came from the new release. It was brought to life by a full band that included Linda Parrott holding down the low end with a teardrop bass and a winds player whose name I didn't catch, who was absolutely committed to his role of doubling on sax and flute. They had the period-correct look down pat, not to mention clever lyrics, jangly guitars, big organ sounds, Randy Newman melodies, Bay City Rollers hooks — and a sax solo, naturally. This was all perfectly suited to "Rock Solid," a stompy jam that Grand Funk Railroad or U.K. glammers Mud might be proud to claim.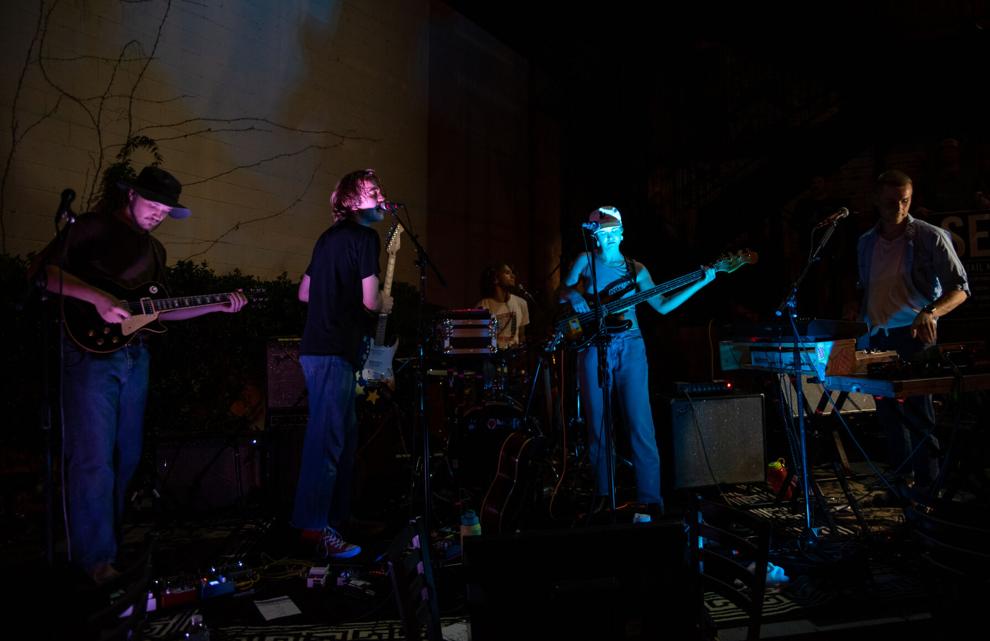 As the sky went purple, Future Crib took over the parking lot stage. Their gently grooving and atmospheric pop-rock was a sweetly melancholy soundtrack as folks milled about and shopped for vintage clothes, band merch or a last-minute pulled-pork sandwich. Walking back to the car, I realized I'd be home by 9:30 p.m., having already seen sets I might not expect to catch on a regular show night before, say, 1 a.m. Bravo, Basement crew — you commanded me to get happier, and that certainly did the trick.
The Spin: Get Happier Fridays Feat. A Giant Dog at The Basement, 8/5/2022
With Ornament, Future Crib and BCKHND