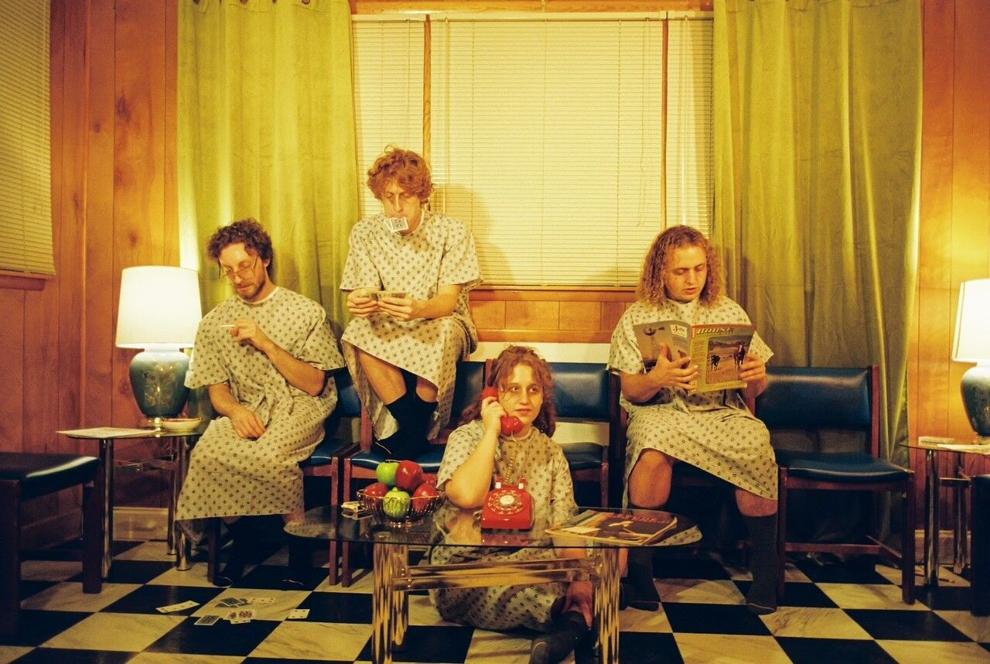 Volunteer Department, the project of Indiana transplant Oliver Hopkins and his constellation of collaborators, is a fascinating addition to Nashville music. Hopkins picks through the complex layers of social situations in his concise and deliberate songs, and the players and producers he works with create rich but never overwhelming sonic settings that draw on traditions as seemingly disparate as post-punk and folk.
The most recent Volunteer Department full-length was 2019's Brain Wave Mechanic, but Hopkins & Co. have been working on new music consistently. In addition to split singles and collaborative tracks with Heaven Honey, Hopkins has been dropping singles in the run up to a new EP called Clean Living, on its way from local label Like You Mean It Records and a prelude to a new full-length coming next year.
Today, we're very pleased to premiere "Swell," the third prerelease track from Clean Living. The gently rolling piece was produced by Micah Tawlks, who's worked with Liza Anne and Hayley Williams among many others. For this particular tune, Paramore and HalfNoise's Zac Farro sat in on drums; Jake McMullen of Louis Prince plays synth on the track; while frequent collaborator Parker James adds his fluid vibraphone style to the mix. In the song, Hopkins reflects on feeling like isolation is stunting his creativity, but he has a revelation about looking for the solution elsewhere.
"I do a lot of automatic writing because I feel that it strikes closer to the core of what I mean before I know what I mean," says Hopkins in a note to the Scene. "I also impose impossible deadlines on myself in order to squeeze juice from the lemon. In order to write, I often distract myself — I took my meals exclusively from the now-gone [and since-reopened] International Market on Belmont Boulevard while writing 'Swell.' I struggled with the song for two days, took a break, wrote 'What a Life' … and on the third day walking back from I.M., I heard a voice say 'you've gotta put forth energy into the light beam' — I went straight home and finished 'Swell.' "
Check out the track below, and follow the group on Instagram for updates. Hopkins notes to keep your eyes and ears out for a forthcoming cover of Stephen Sondheim's "Losing My Mind" from Follies, which will be the closing track on the EP. Also, catch Volunteer Department and Joshua Virtue opening up wildly creative rapper NNAMDÏ's show at Drkmttr on Nov. 5.