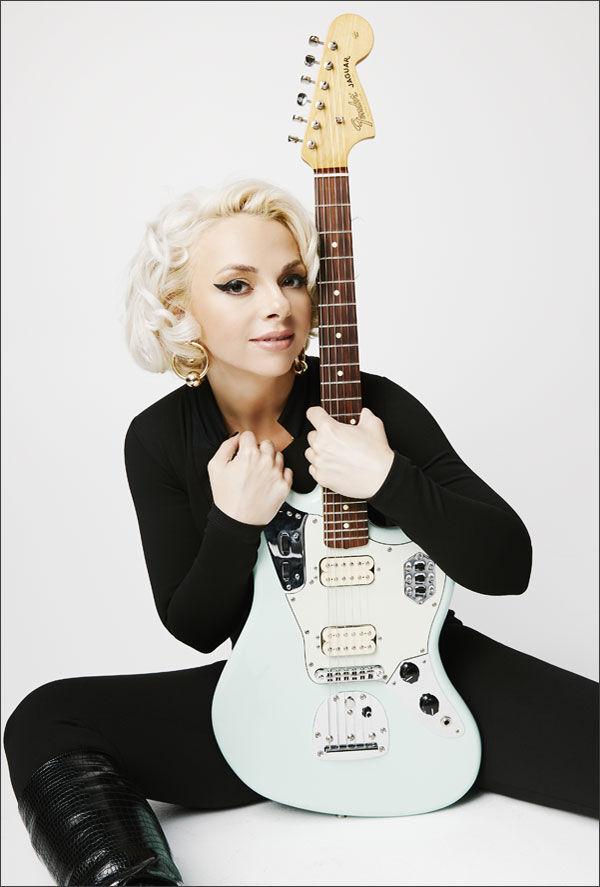 While best known as a blues-rocker, guitarist and vocalist Samantha Fish has always enjoyed stretching idiomatic boundaries. Growing up in Kansas City, Fish began as a drummer, but switched to guitar at 15, and has enjoyed a string of successful albums over the past 12 years. Fish's willingness to try fresh things and multiple directions is prominent on her seventh and latest release Faster.
Released in September, it's her second album for Rounder, which brings in a host of techniques and electronic elements that lean toward mainstream rock. Martin Kierszenbaum, who has worked with Sting and Lady Gaga, produced the record; he also co-wrote several of the songs and plays a variety of instruments. Drummer Josh Freese, well known for his work with Guns N' Roses, Nine Inch Nails and The Replacements, also joined in on the sessions, as did bassist Diego Navaira of The Last Bandoleros.
Fish will appear at the Ryman Thursday, Dec. 9, on a double-headliner bill with Louisiana blues stalwart Tab Benoit and his Swampland Jam. In a recent interview with the Scene, Fish shared some thoughts about her new LP and her music in general.
---
What did you want to do musically on Faster that differed from past releases?
I wanted a more aggressive sound, wanted to get a real rock 'n' roll feeling in the songs. Martin and I talked about the feel and sound we wanted, and what I wanted to say. At the same time, while there were definite serious subjects and emotions covered in the lyrics, it was important for the album's mood to be one of us having fun. That was a critical element, and I think it really comes across in the music.
Why did you decide on a small group session rather a larger one?
Well, I had horns on the last album, and these were songs that could work with horns, but I really wanted a tighter, more lean sound. Besides Martin, it was a treat to get Josh and Diego. These guys can play anything, and we really had a great feeling on all the songs. We could do slow blues, hard-driving rock, and anything else, and I'm thrilled with how things turned out.
Were there any concerns that more purist blues fans in your audience might not like this direction?
The blues is an essential part of my musical foundation. It's always interspersed in my playing and singing. But at the same time I didn't and never want to get into a rut where I'm doing the same stuff all the time. I think the fans who've followed me from the beginning will find things they enjoy on Faster, but I also got the chance to do some different things artistically — to stretch out, and explore other related sounds and styles.
How does playing at the Ryman compare to other places you've appeared?
It's one of the great music halls in America. You always get a special feeling when you play at the Ryman. The acoustics are incredible, and you get audiences that know and love music. It inspires you as a performer. You want to play and sing your best at the Ryman. It's always an honor and a treat to appear there.
What about working alongside Tab Benoit? 
He's one of the premier musicians in the country. The singing, his intonation, his playing — all of it is very special. Getting the chance to see him perform and the whole Swampland Jam is a nightly treat. Audiences are responding very eagerly and energetically every night, and that in turns fuels and drives the band. It's been a remarkable experience thus far.
The pandemic greatly affected touring last year. Things seem to be getting better. Are there plans for more touring in 2022?
Well, you certainly don't know for sure how the pandemic will affect plans, but right now we're looking at going to Europe and doing a lot more concerts next year. We'll keep our fingers crossed because you just don't know. But we're seeing good crowds and response right now. I think people were cooped up for so long and now are anxious to get out and hear good music.