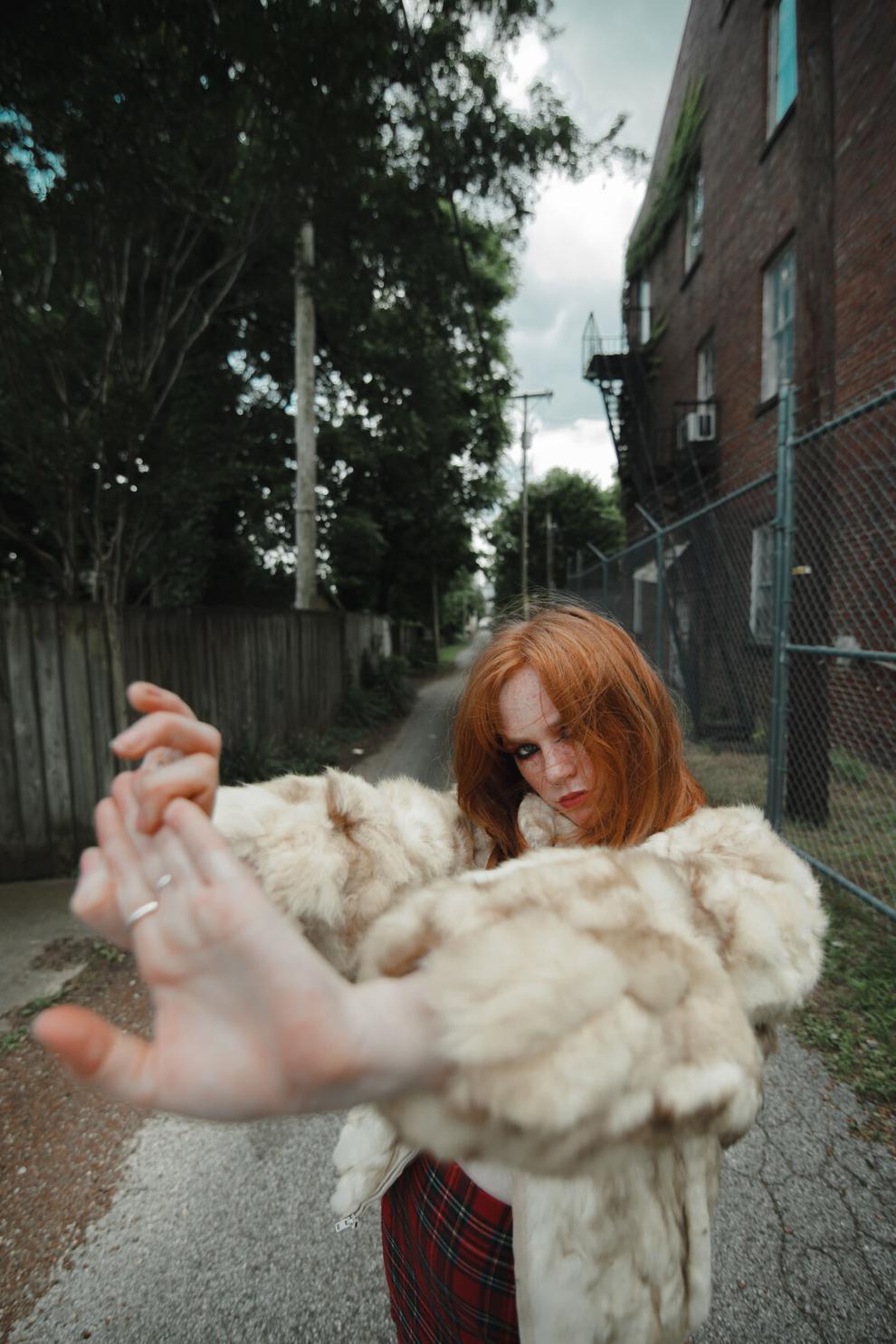 RobinAugust has an impressive artistic background. From being lead guitarist in the Music City punk band Queens of Noise for five years, appearing the TV series Nashville and now completing her first year at Berklee College of Music, she is ready to make her debut as a solo artist with her first album Avocado Head. 
After Queens of Noise disbanded last year, RobinAugust moved to Boston to attend college. On visits to Nashville, she worked on her album with her dad in their backyard studio. With a sound inspired by '90s rockers like Alanis Morissette and Sheryl Crow — plus some psychedelic elements — Avocado Head lets RobinAugust present a more vulnerable side of herself. 
Some delays have pushed back the full release of the album until July, but there's a celebration of Avocado Head at Eastside Bowl on Sunday, June 26, when RobinAugust and her band will play the album in full. A reunited Queens of Noise will join the party, as will Molly Martin and Sales Tax. Tickets are $10 and the show starts at 5 p.m. In advance of the gig, the Scene caught up with RobinAugust to talk musical inspiration, breakups and her appreciation for Nashville's tight-knit music community.
---
What are your biggest inspirations for this album — music-wise or just in general?
Alanis Morissette has been a huge inspiration for this album, and just '90s rock — '90s female rock musicians in general. … I think the music industry is lacking blunt lyrics by female artists, kind of like how they were in the '90s. Jagged Little Pill especially was the biggest influence for Avocado Head. 
What inspired your album title?
This is kind of a long story. So, I dated this guy. At his house, he had this chalkboard, and they would draw stick figures of all the people who came to the house. There was a stick figure of me and my boyfriend drawn on the chalkboard. Whenever someone would have a breakup, they would erase the girlfriend and they would turn them into an avocado. So I was scared throughout the relationship that we were going to break up and I was going to end up being an avocado on the chalkboard. And that's basically what I became because we broke up. I knew that they were gonna end up drawing me as an avocado.
Queens of Noise was known as a punk band, but you also note psychedelic influences on the new project. What inspired the change?
The attitude from Queens of Noise is definitely still present in this album, but I would say that Queens of Noise is more punk and not melodic-based. Avocado Head is very melodic. Queens of Noise was more raw and, I guess, moody [in its] lyrics. And with Avocado Head, I wanted them to be more thought-out and emotional.
Queens of Noise comes from a place of anger. And I guess Avocado Head came from a place of grief and sadness. Also, I think I was just ready to branch off into my own stuff because Queens of Noise was very limited to just punk, and I wanted to have more influences of psychedelic rock in my music.
This album touches on your mental health and growing up. You've described it as, "basically my diary as an album." How do you want audiences to react to such a personal album? What do you want them to get out of the listening experience?
I guess I just want people to be able to relate to it. Because I wish I had music like that when I was going through the breakup. I also want people to know that even though I have a very big personality, there's still a lot of depth to me. I feel like a lot of people sometimes perceive me as shallow or fake just because I have a very big personality. It's something I've had to deal with my entire life and I hope that this album shows people that their words sting and that I'm not just a performance, I'm an actual person.
Queens of Noise will be reuniting for this album release. What does that feel like?
I'm super excited. We all had to put the band on pause because most of us went off to college. We're all really excited about getting back together because we're mostly just friends outside of being a band. So it'll be really fun to catch up with them. Especially because I think after going to college, I realize how special it is to have a band of all girls that you've known for your whole life. It's a really excellent, unique thing and I guess I took that for granted. I'm really excited to bring it back.
What's the biggest difference between performing and promoting music as a solo artist versus with a group?
I would say it's a bit easier to promote as a solo artist because you don't have to go through all of the band members. You don't have to get the approval of all the band members. You can kind of just make it up on your own. However, Queens of Noise naturally had its own look and brand, which I'm really lucky to have. With my own personal career, I kind of had to find a brand for myself.
In the creative process, how is it different?
I wrote most of the songs that are on Avocado Head with the lead singer of Queens of Noise, so she was very involved in the entire process. With the band, our songs touched on more politics. My own personal career is more about stuff that I've gone through, people I've interacted with or things that I've gone through. It's definitely easier to procrastinate without a band. When you have a band, there's so many people that you could let down. When I'm trying to record to make an album, it's so much easier to procrastinate and throw it off until the next morning. 
You currently attend Berklee College of Music in Boston. What's it like to be back in Nashville to release your album?
I've realized how lucky I am to live in Nashville. I definitely took it for granted. I didn't realize how lucky I am to have grown up in Music City. In Nashville, it seems more like a community of [musicians] lifting each other up and helping each other.
How has moving to Boston shaped you as an artist and a songwriter? What have you learned?
Honestly, I think that I have grown more into my Southern roots since leaving. Leaving Nashville gave me a different perspective on my entire childhood and where I came from. I have been more open, I guess, to my Southern background. I've been wearing a cowboy hat, listening to more country music, which I never thought I would ever have done. But I guess it made me branch out and appreciate where I came from.
What are your long-term goals as an artist?
I hope that this album will reach the people who need it. People who have gone through a breakup or some sort of relationship ending — where they need music to get angry to, to cry to in the car. I also hope to perform more and to get my name more known in the music industry. I hope to write more and maybe produce a few more albums.