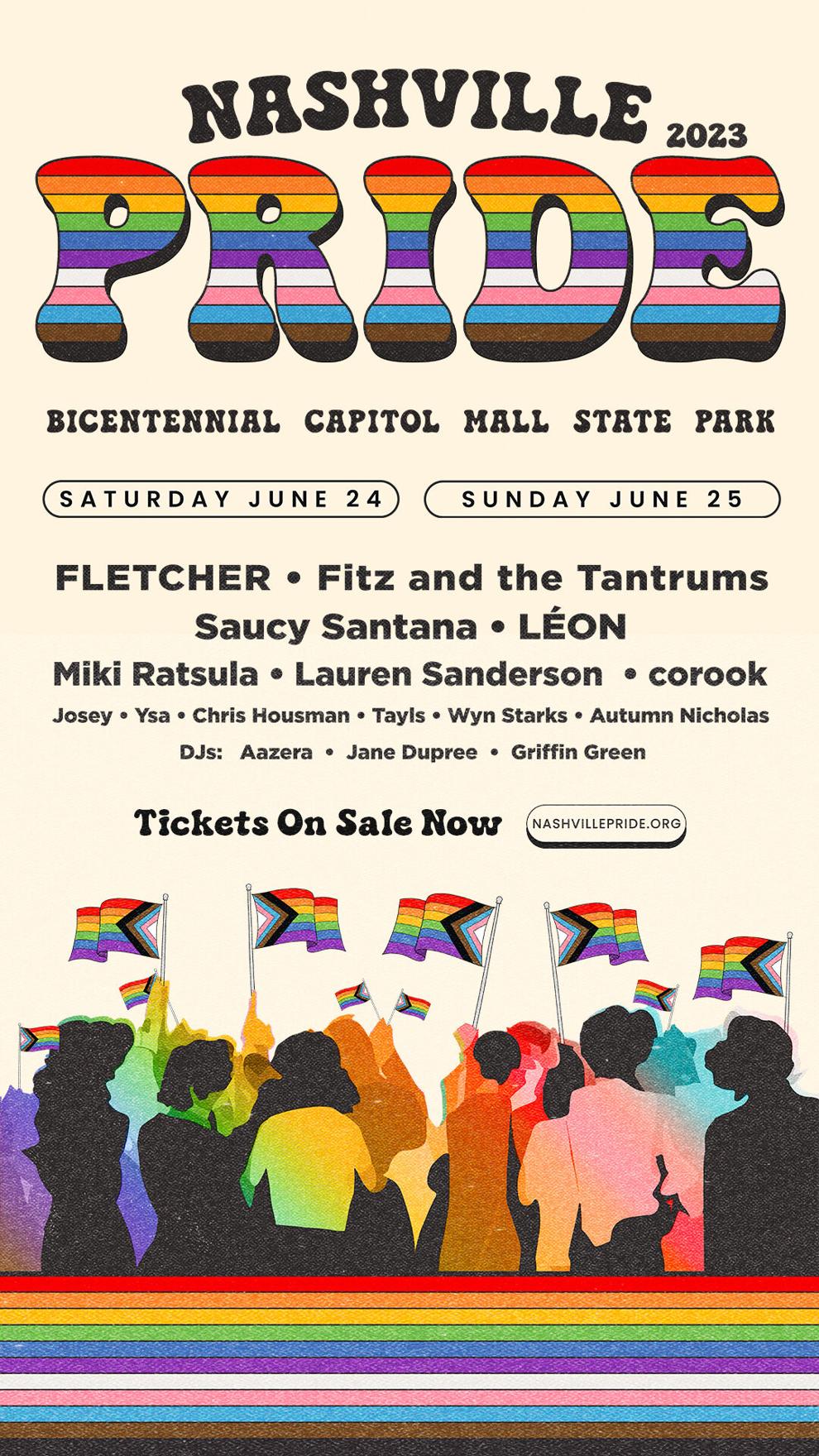 While celebrating our LGBTQ community is vital for our city to do all the time, it doesn't diminish the importance of celebrating Pride in June. This year, of course, the state legislature's attacks on queer rights are an exceptionally obvious reason why a big and powerful Pride celebration is crucial. You can bet the extensive slate of musicians announced to play this year's Nashville Pride Festival, set for June 24 and 25 at the Bicentennial Capitol Mall State Park, will do their part.
At the top of the lineup for the main Equality Stage is mellifluous and candid pop songsmith Fletcher, who'll share the spotlight with soul-and-pop champs Fitz and the Tantrums and charismatic MC Saucy Santana, among many others. Quite a few Nashvillians will appear on the Equality Stage too, including popster Corook, rock 'n' pop megaband Tayls, R&B-schooled singer-songwriter Ysa, plus country-leaning folks like Autumn Nicholas, Chris Housman and Josey. Queer music community-builders RNBW have also curated an extensive lineup for the Rainbow Stage. That includes folks who work in the country realm like Adam Mac, Shelly Fairchild, Mercy Bell and Brady Riley, those who lean toward dance pop like Coleman.X and more.
There's plenty more to come — per a post from Nashville Pride, watch for information on the lineup of drag performances in the coming weeks. GA passes for the whole weekend start at $10 and are on sale now. Keep an eye on the Nashville Pride website for more updates.
Equality Stage
Fletcher 
Fitz and the Tantrums
Saucy Santana 
Léon
Miki Ratsula 
Lauren Sanderson 
Corook
Josey 
Ysa 
Chris Housman 
Tayls 
Wyn Starks 
Autumn Nicholas
DJ Aazera 
DJ Jane Dupree 
DJ Griffin Green
 Rainbow Stage
Adam Mac 
Ahli 
Anna Clendening 
Brady Riley 
Coleman.X 
Danni Nicholls 
Elizabeth Davis 
Gigi Rich 
Hallie 
John Chandler 
Kristen Merlin 
Lillicat 
Lindsey Hinkle 
Liv Lombardi 
Lorie Jo Bridges 
Mark Robert Cash 
Mercy Bell 
Rackley 
Shelly Fairchild 
Sonia Leigh 
Steff Mahan
The Low Blow 
The SS-SR 
Zoe Cummins