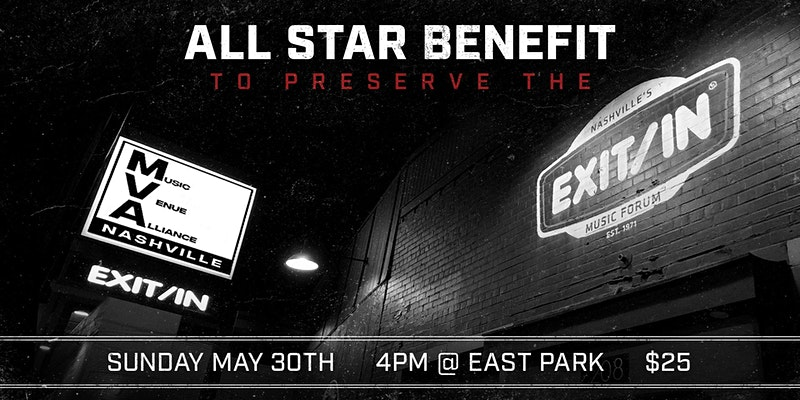 Over the past three weeks, the Cobb family has mounted a massive effort to buy the Elliston Place property that's home to Exit/In, the historic club they own and operate. They've gotten vocal support from members of Metro Council for their desire to preserve the culture of the venue as well as its building. The Cobbs have also received more than $224,000 in donations from more than 4,000 donors to sweeten the offer (backed by Grubb Properties' Live Venue Recovery Fund) that they hope to make to AJ Capital Partners, the developer to whom the property went under contract. 
More financial support is soon to come courtesy of an outdoor benefit show organized by Music Venue Alliance Nashville, of which Exit/In's Chris Cobb is president. The 15-member trade group is a kind of local analog to the National Independent Venue Alliance, and it was founded last year to support area independent venues as they remained shuttered during the pandemic. Among MVAN's achievements is the lobbying effort that led to Metro Council approving a portion of Nashville's funds from the CARES Act to be used to help venues.
On Sunday, May 30, Nashville Helping Nashville: An All-Star Musical Benefit to Preserve the Exit/In is set for 4-10 p.m. at East Park on Woodland Street. The event is built around two Last Waltz-style tribute sets with lots of guests. One is called No More Depression, and features rock band Dirt Reynolds performing Uncle Tupelo songs with appearances from Aaron Lee Tasjan, Luke Schneider, Joe Andrews, Charles Butler, Andrew Leahey, Jon Latham, Brian Wright, Allen Thompson, India Ramey, Joey Fletcher and lots more to be announced. Also performing is End of the Line, an Allman Brothers Band tribute including former Greg Allman Band keyboardist Peter Levin as well as Jimbo Hart and Chad Gamble, who you'll know as the rhythm section of Jason Isbell's longtime band The 400 Unit.
Tickets are $25 and available via Eventbrite. All proceeds will go to MVAN, and will be made available to the Cobbs as part of their bid to convince AJ Capital Partners to sell.