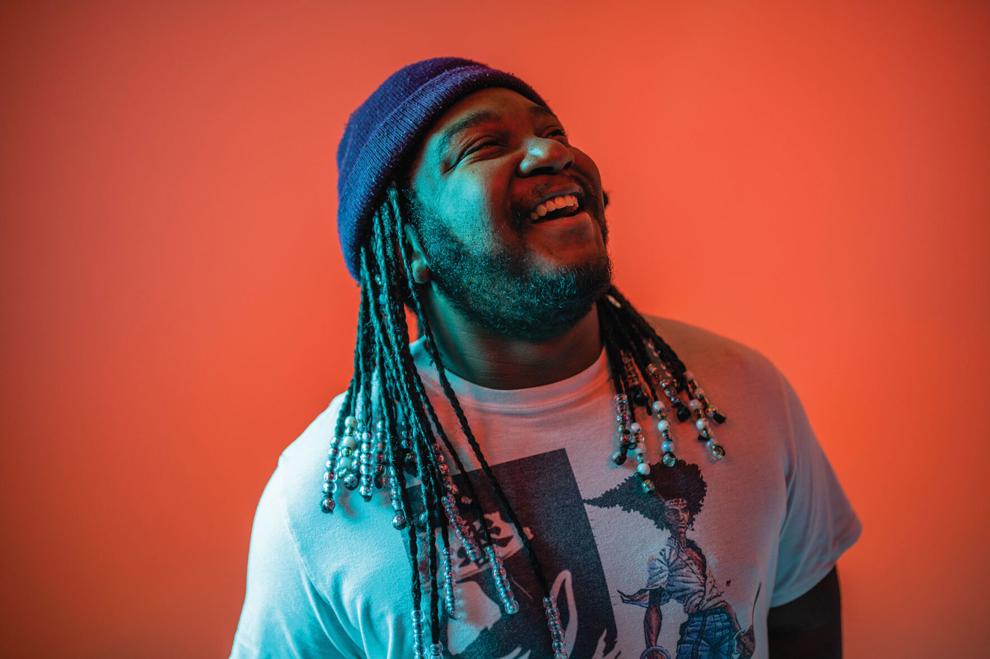 When I show up to Namir Blade's house in South Inglewood, the rapper-producer is blasting a record by Washington, D.C., prog-metal trio and guitar-mag faves Animals as Leaders. On the TV: Figure-skating highlights from the 1994 Winter Olympics in Lillehammer, Norway — the Tonya Harding-Nancy Kerrigan year. The combo actually works quite well; two art forms built on extreme precision. This is an average Friday afternoon in Blade's world, he says with a smile and a shrug.
The 29-year-old has a recent pair of releases for Tucson, Ariz., label Mello Music Group, home to not-exactly-mainstream hip-hop heroes like Kool Keith, Open Mike Eagle and Mr. Lif. Blade's solo concept album Aphelion's Traveling Circus dropped in September, and Imaginary Everything, a collaboration with North Carolina producer and former Nashvillian L'Orange, came in May. Both releases revel in bringing together unlikely sounds and art forms. Pushing some chairs aside so we can sit down at his coffee table, Blade reveals an impressive wall of several hundred VHS tapes.
"I collect science-fiction, anime, classic Black films, kung fu movies, B-horror movies — or maybe more like D-horror movies," Blade says with a laugh. Recently acquired: a copy of 1990's infamous Troll 2, the focal point of the 2009 doc Best Worst Movie, an exploration of the limits of bad taste.
Born in Milwaukee — "the Murfreesboro of Chicago," he jokes, citing the Wisconsin city's location just outside the metro of its much-larger neighbor — Blade moved with his family to Nashville in 1995. Ostracized at school for the Coke-bottle glasses he wore for his extreme nearsightedness, he coped by developing a rich interior life. "I was pretty much raised by the TV," he says. "I remember all the commercials, all the themes." He was especially fascinated by movie scores and video-game soundtracks. The keyboards he was given at ages 2 and 5 encouraged his interest, and he joined the school band: "I was a little oboe dude." At 12, he got a drum machine. "And that's when the rapping began."
At the beginning of his teenage years, Blade's social circle had grown. "I'd meet my friends to play basketball at Shelby Park," he remembers. "We'd go from there to marauding around everywhere out East, going to stores, scrounging up just enough money to get us snacks and getting into all sorts of shit."
He eventually found his footing at Nashville School of the Arts, along with a new musical hero. "I didn't like Prince when I was little because of course I was conditionally homophobic and thought he was gay," says Blade. "But when I [got] to NSA I took a look back, and it was the flyest shit to me. He plays all these instruments, wears whatever he wants, doesn't conform — he just makes amazing music, going from this wailing falsetto to this bellowing baritone. The Super Bowl halftime show was legendary. I never wanted to perform in a stadium till I saw that. Before I die, I'm going to perform in a stadium."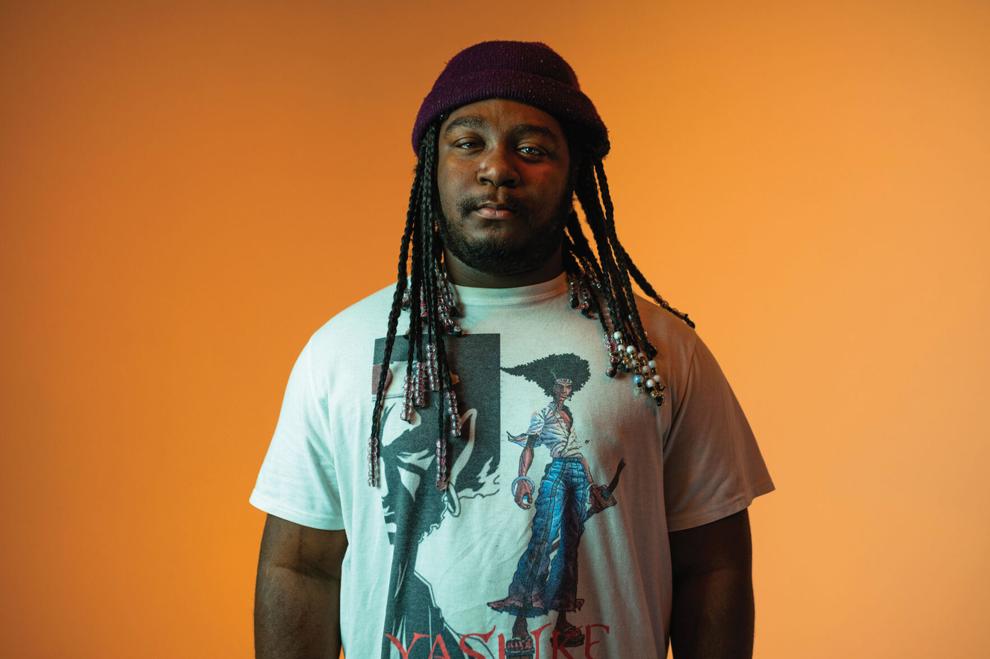 Like The Purple One, Blade's work is fueled by an active imagination, a penchant for showmanship and a willingness to start over if a new idea feels better than the previous one. Blade's 2013 debut Scatterbrain is a straight-ahead rap record rooted in the aspirational Southern sounds of the early 2000s, with the audible influence of Lil Wayne and Young Jeezy. Certain aspects of that carry over to Aphelion's Traveling Circus. Blade's quickness with turns of phrase, pop-culture references and artful similes recalls golden-era Wayne. The Aphelion's track "Pace" pays homage to Blade's mom, his aunt and a pair of '90s hip-hop greats: "Mama used to bump that Missy / Auntie used to bump Three-6."
The range of moods, soundscapes and ideas across the 16-track set is astonishing for an artist so early into his career. Set in a distant, zero-gravity future when Earth is a long-gone memory, Aphelion's is at once amusingly irreverent, dark, heavy and real. It's a mix of streetwise braggadocio and intimate confessions, sometimes within the same song, with surprising instrumentation — the Celtic fiddle and flute on "Spanish Web," for instance. Its skits include riffs on "lost arts" like Instagram, Teslas and fast food ("What I Miss About Earth"), as well as clever parodies of fast-talking street hustlers ("Foreword"), infomercials ("RRN in Space") and bogus pharmaceutical cure-alls ("Biowaretech").
These vibe-setting spoken-word pieces offer a sense of levity alongside powerful material like "The Holy Mountain," which is built upon a warped-almost-beyond-recognition Supremes sample and showcases Blade's vocal dexterity. Midway through the song, he shifts from a coolly detached drawl to an anguished cry, reflecting on his anxieties and vulnerabilities as a young Black man, as he sings: "I can barely get to sleep at night / I pray that my neighbors never hear me weep at night / I know polices want to kill my dreams and read my rights." Elsewhere, there is elegiac solo piano ("Science"), sultry R&B crooning ("Stay") and modernized gospel stylings ("Homesick," a gem buried deep on the record's second side). Working on the album during last year's quarantine months, Blade says he wanted to make something listeners could enjoy at home: "Pick your poison, close your eyes and get lost in it."
The L'Orange collab Imaginary Everything, meanwhile, reins in the broad scope of Aphelion's and frees Blade to focus exclusively on rapping. Blade made contact with the reclusive beatmaker and SoundCloud fave — known for his fondness for making samples from soul albums, pre-1950s jazz records and radio broadcasts — years before, following a show at The Basement. Impressed with Aphelion's, L'Orange reached out and gave Blade a dozen finished tracks to write bars to, on the condition that he couldn't change anything about the production. Though vexed at first — "I hadn't rapped on classic hip-hop beats in a while," Blade admits — he leaned into the opportunity to step outside his comfort zone, and considers the end result "a really, really fun project — very free and instinctual."
At a time when Nashville's rap scene seems on the verge of breaking out, Blade is positioned to be a leading voice in what it becomes. "The coolest thing about it is how steeped in musicianship [local hip-hop] is," he says, pointing to the presence of live musicians onstage and in the studio. This encourages outside-the-box sonic ideas and makes concerts singular events.
"In my house growing up, I heard blues and hip-hop, jazz and The Police — even country, now and again," Blade says. "A lot of us in the rap scene here experienced that same lifestyle, so we approach music with a similar diligence."
Post-pandemic, Blade anticipates music — locally and globally — becoming increasingly post-genre. "You can't judge a band by their [look] anymore. You might see a band dressed like a desperado, country-and-Western [act] — then they're counting off into blast beats, '1-2-3-4-go!' " he says with a gregarious laugh. "Different vibrations hold different emotions, so why not mold them together? That's the sum of the world — our emotions, our drawbacks, our triumphs. It feels natural that music has taken that turn."