Guitarist and songwriter Yasmin Williams introduced herself last year with Urban Driftwood, a record whose title perfectly encapsulates its sound — earthy yet urgent. Just 25, Williams is upending long-held stereotypes of instrumental acoustic-guitar music being the domain of John Fahey fanatics who don't sing because either they can't, have nothing to say, or both.
On the morning the Scene reaches Williams, she's enjoying a brief respite following a fly-in gig in Houston. Up next is a tour that brings her to Knoxville's First Baptist Church for the first in-person Big Ears Festival since 2019, and then to Third Man Records' Blue Room here in Nashville on March 29 with local new-age pedal-steel guru Luke Schneider opening. Williams' gig at the Marble City avant-garde music summit follows a late-2020 streaming show, presented by Big Ears and filmed at the Loghaven Artist Residency in the Smokies. There, Williams matched wits with veteran six-stringers Marisa Anderson and William Tyler.
"As a fan of both of their music, I was nervous," Williams says. "I just hoped it'd go well."
Williams did more than hold her own. It was my first time seeing her play, and I became a convert within minutes. All three acts will be present at this year's Big Ears. Williams notes that she and Nashville native son Tyler also have designs on collaborating on a soundtrack in the near future.
Williams grew up in Washington, D.C., with her parents and four brothers. Hip-hop, gospel, jazz and R&B got a lot of play in the household, "and we were always singing," she remembers. Go-go — the call-and-response-based, proto-hip-hop sound pioneered in the District at the turn of the '80s by acts like Trouble Funk — was also a constant. But there wasn't a lot of rock 'n' roll around until Williams started playing Guitar Hero in 2009. For the then-middle-schooler, the game was a crash course on the ins and outs of guitar in particular and rock history in general.
"I played clarinet growing up, but playing Guitar Hero and hearing all that music, I got obsessed," she says. "When I beat it, my parents bought me my own electric."
Getting her sea legs with "a lot of Nirvana, because it seemed simple enough," Williams soon graduated to Jimi Hendrix. Eventually she gained the confidence and proficiency to want to play out, but she wasn't interested in starting a band, and as she notes, "I didn't really know anyone else who played anyway." She picked up an acoustic and started learning fingerstyle techniques, beginning with The Beatles' "Blackbird."
Shredding her way through Guitar Hero might have planted the seed, but Williams' original material prioritizes feelings over chops. Her music is busy yet relaxed — precise but never gratuitous. At its most epic, Urban Driftwood recalls the endless-crescendo-driven post-rock of artists like M83 or Sigur Rós, minus the reliance on rare analog synthesizers or boutique delay pedals.
Becoming a player also gave Williams new appreciation for some of the music of her youth, like the go-go genre's own guitar hero, the late Chuck Brown. For many, the D.C. sound is punk rock, synonymous with Fugazi and their locally focused, world-renowned Dischord label. But the District is a Black-majority city, and natives regardless of ethnicity will tell you go-go is its pulse. You can hear its influence on Urban Driftwood, which features cello, djembe and mbira accouterments. The dulcet melodies and mosaic-like arrangements are the focal point, but the toe-tapping rhythms make it go.
And where instrumental rockers' song titles typically fall into one of two categories — inscrutable letter-and-number combinations, or sentence-length inside jokes — Williams goes deeper. Where Side A of Urban Driftwood is pensive and pretty, its back half takes a stormier turn. The liner notes reveal the backstories behind emotionally charged material like "Through the Woods," which Williams penned during the nationwide civil unrest of 2020. "To walk through the woods for me is to walk in self-reflection," she writes. "As a country, we are stuck in the woods with no clear way out."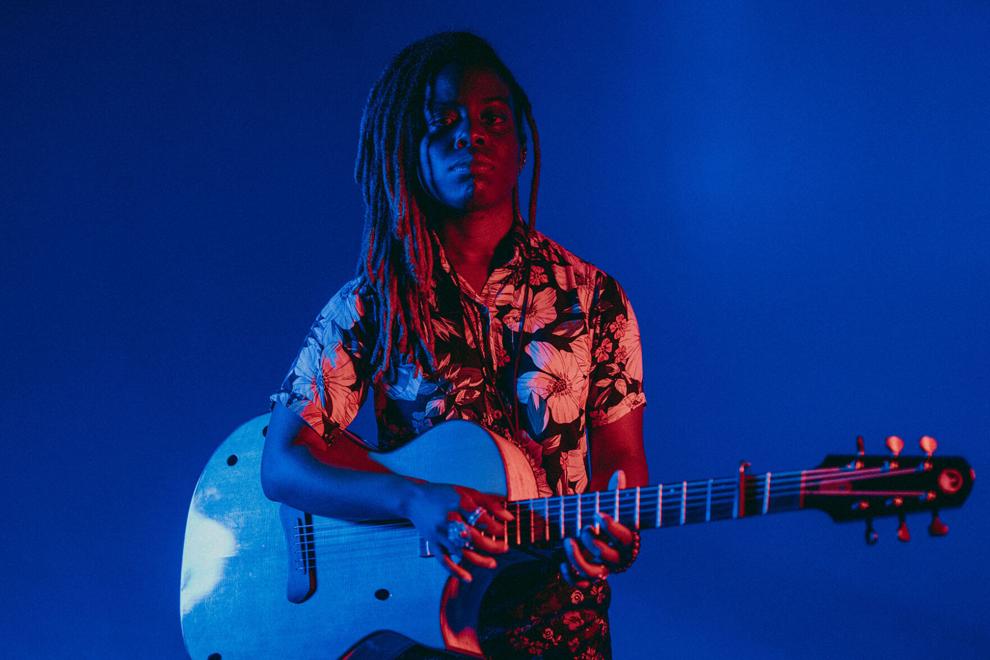 While sequencing the album with producer Jeff Gruber, Williams "was going to the protests, and realized the order I'd come up with — the atmosphere, the mood — felt in line with the year 2020." During quarantine, Williams also took a deep dive into the Afrofuturist sci-fi literature of N.K. Jemisin and Octavia Butler, influences she says listeners can expect to have a tangible effect on Driftwood's follow-up.
Williams plans to play some of that new material during her swing through Tennessee. And these days, her nerves going into that livestream are a distant memory.
"The time off definitely made me appreciate getting back onstage and having people there to talk to. I don't want my live show to just be me playing music at you for 90 minutes. I want it to feel like a kickback — not a concert."