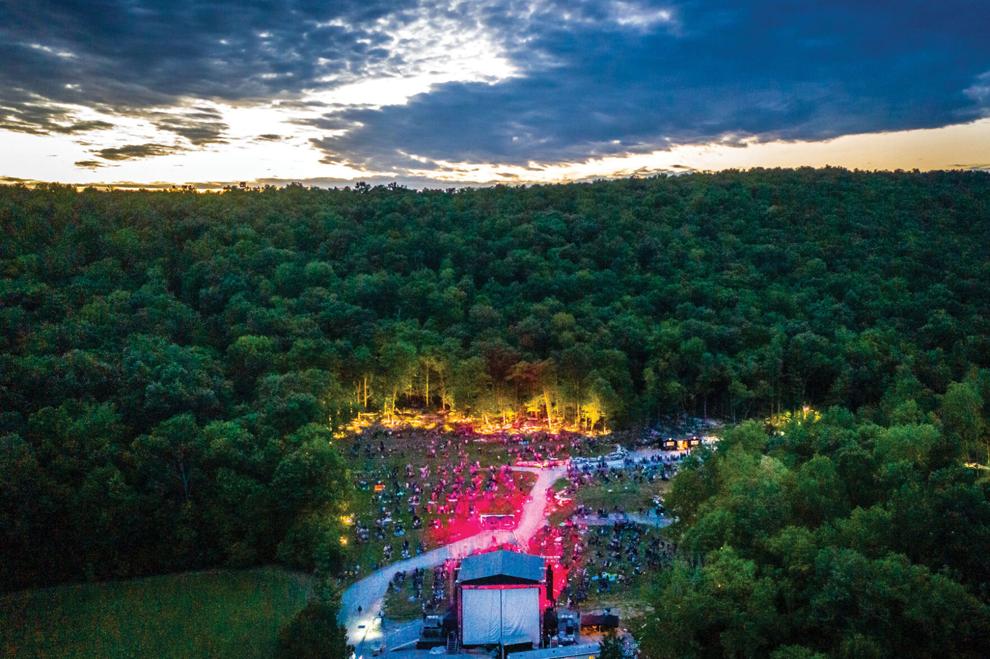 "If necessity is the mother of invention, then desperation is the father," says Todd Mayo, half laughing in a way that tells you he's also completely serious. He's the founder of The Caverns in Pelham, Tenn., about an hour and 20 minutes southeast of downtown Nashville. The underground music venue opened in 2018 and has since become one of the nation's most unique — even magical — music destinations. But then came the pandemic.
Suddenly, cramming a thousand or more people into a hole in the ground for live concerts seemed like maybe a bad idea, so Mayo and his team needed a fix. They found it with a brand-new above-ground amphitheater. While other independent venues in Nashville and elsewhere have struggled, in some cases closing down completely, The Caverns has thrived.
"If you have a need to do something and you're desperate enough, well, you'll figure it the fuck out," Mayo says, speaking with his typical gusto and born-selling bravado. "And that's what we did."
Admittedly, doubling the size of The Caverns' operation was a long shot in terms of "pandemic pivots," as Mayo explains. An amphitheater was never part of his original plan. But with its serene Grundy County setting, eclectic bookings and a pod-based system that got people back in front of bands early — starting in October 2020 with a run of shows headlined by Jason Isbell and the 400 Unit — the amphitheater was an instant success. And now, it's officially here to stay.
On June 25, Old Crow Medicine Show will celebrate the grand opening of The Caverns Amphitheater's new permanent stage, which officially adds space for 5,500 fans to a complex that was already a music lover's nirvana. Years earlier, Mayo co-created the PBS performance series Bluegrass Underground, which first filmed at Cumberland Caverns. Under his guidance, a space known to residents in the Pelham area and spelunkers from all over as Big Mouth Cave was transformed into an otherworldly music venue with extraordinary acoustics for up to 1,200 fans. Bluegrass Underground moved over, and the site hosted an array of other shows as well. By the time COVID-19 arrived, The Caverns had hosted more than 100 concerts by everyone from jam-oriented rock heroes Gov't Mule and psych legends The Flaming Lips to master songsmiths Dawes, drone-metal pioneers Sunn O))) and beyond. 
"We were poised to have our best year ever in 2020," Mayo says, looking back on the unlikely move above ground. "The last show we did — which turned out to be his last show [before he announced his retirement] — was Arlo Guthrie. We had Arlo on a Saturday, and then the next Thursday the whole world shut down."
At first, The Caverns team thought they could just push things back a few months, but soon it was clear they were in full-on survival mode. For a tourism business in a remote rural location with little else in the area to draw people in, that survival looked unlikely. But Mayo is one of those guys who always has one more card to play.
Luckily, the cave system that created Big Mouth Cave was much more extensive than it might seem from the surface. There was another huge, awe-inspiring underground hollow known as Big Room Cave, and Mayo had always intended to open it for tours. Diverting workers to the excavation, they opened the state's first new show cave — that's a cave open to the public for tours — in about 50 years on July 4, 2020. Mayo figured "Red Rocks meets Ruby Falls" would be enough to limp through the pandemic.
"It's the size of three football fields, and at the back of it is something called Tombstone Pass, where it gets real narrow," Mayo describes. "Then it opens up, just like in The Goonies, and there's waterfalls and crystals everywhere — it's incredible. It was good because we didn't furlough anybody, and instead we just all became tour guides. …
"But one day I was in the cave leading a tour, and when I came out I had a call from Andrew Colvin,' " he continues. "He's the booking agent for Jason Isbell, Lucero, Orville Peck and different people, and he said, 'Hey Todd, I saw this thing in the U.K. where they're doing socially distanced, pod-based amphitheater shows, and man it looks just like the outside of The Caverns.' I was like, 'Huh, it kind of does.' And then it was like the movie Field of Dreams — I was like, 'Well, if Jason Isbell comes, we'll fucking build it.' So that's what we did."
In six weeks, Mayo and his team built a whole new amphitheater from scratch. They harvested and cleared acres of hardwood forest, moved countless massive boulders and hauled 500 dump truck loads of dirt to create tiers of seating space, and then built a temporary stage. Isbell did in fact come, performing the first of four shows on Oct. 8, 2020. Over four months in spring 2021, The Caverns Above Ground Amphitheater hosted 43 shows.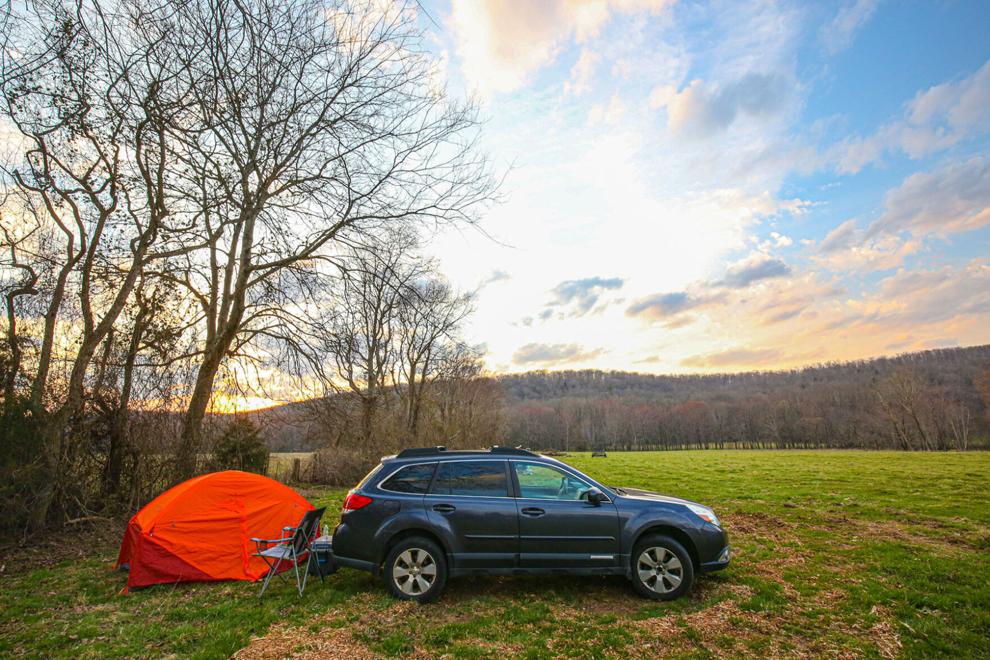 People seemed to love the pod-based concert experience, with every ticket now feeling like a VIP upgrade. And after Mayo added camping to the equation — because why not? — he'd once again stumbled into something unique.
"It saved our ass!" he says. "That was when the lightbulb went off, like, 'Wait a minute, in the post-pandemic world, we've got a 5,500-capacity amphitheater here.' So believe it or not, the whole vision of our property has really grown during the pandemic."
Now, The Caverns' new chapter is beginning in earnest, with Old Crow Medicine Show hosting the first show at the amphitheater's new permanent stage on Saturday. The show is billed as a "hootenanny," and will also feature former Old Crow member Willie Watson as well as bluegrassers Town Mountain and country songsmith Joshua Hedley. Later this year, it will welcome performances from Fleet Foxes, Greensky Bluegrass and Umphrey's McGee, as well as the inaugural Cave Fest in October, with Sam Bush and Leftover Salmon leading a lineup chock-full of bluegrass and newgrass luminaries. 
Those lineups speak to the venue's unique pairing of natural wonder with roots-based music, which goes all the way back to the beginning of Bluegrass Underground. Mayo's first booking was The SteelDrivers (back when Chris Stapleton sang with the band), and The Caverns opened up with Billy Strings in 2018, before the Grammy-winning prodigy had broken out. 
"Being the first band to christen a new venue is an honor in itself, but it's especially meaningful for us because of the truly one-of-a-kind location," says Old Crow Medicine Show in a prepared statement. "Todd Mayo and the Caverns staff have created a world-class venue amidst the natural splendor of the region, an outdoor music venue only Tennessee could boast, where tall trees meet rock outcroppings and farm fields. It's a place where eagles fly, cattle call, and the wind howls through the holler. Simply put: The place has vibe and plenty of it."
Looking ahead, that vibe will likely draw music fans from far and wide.
Noting that 73 percent of all Caverns patrons come from outside Tennessee, Mayo says the new stage will more than double the number of fans who visit tiny Pelham and leave their dollars behind. He expects to keep hosting between 60 and 75 cave shows every year, while adding 20 to 35 at the amphitheater. 
"Before we had the amphitheater, we would have maybe 60-70,000 patrons coming per year, and now it's gonna be more like 200,000," he predicts. "The fact that it's in one of Tennessee's nine distressed counties — our real goal is to get Grundy County off that list."
Considering their history, that promise seems like more than lip service. With a summer camp for kids and an annual scholarship for local students already established, The Caverns will go even further this year. One dollar of each ticket sold will help fund music programs in Grundy County schools.
Mayo says he's proud of The Caverns' deep roots in the community, and even more proud they've brought some positive attention to the whole area. And they're not done yet. 
"In the future we'll be looking at expanding even more," he says. "We hope to do some hiking trails and expand the campground, and just offer different types of experiences. We just want to give folks all types of things to do while they're here at the caverns, and also more all over Monteagle Mountain. 
"It's not the destination, it's the journey, right? But for us at The Caverns, the destination becomes the journey. And that's not just marketing speak. That's the reality."