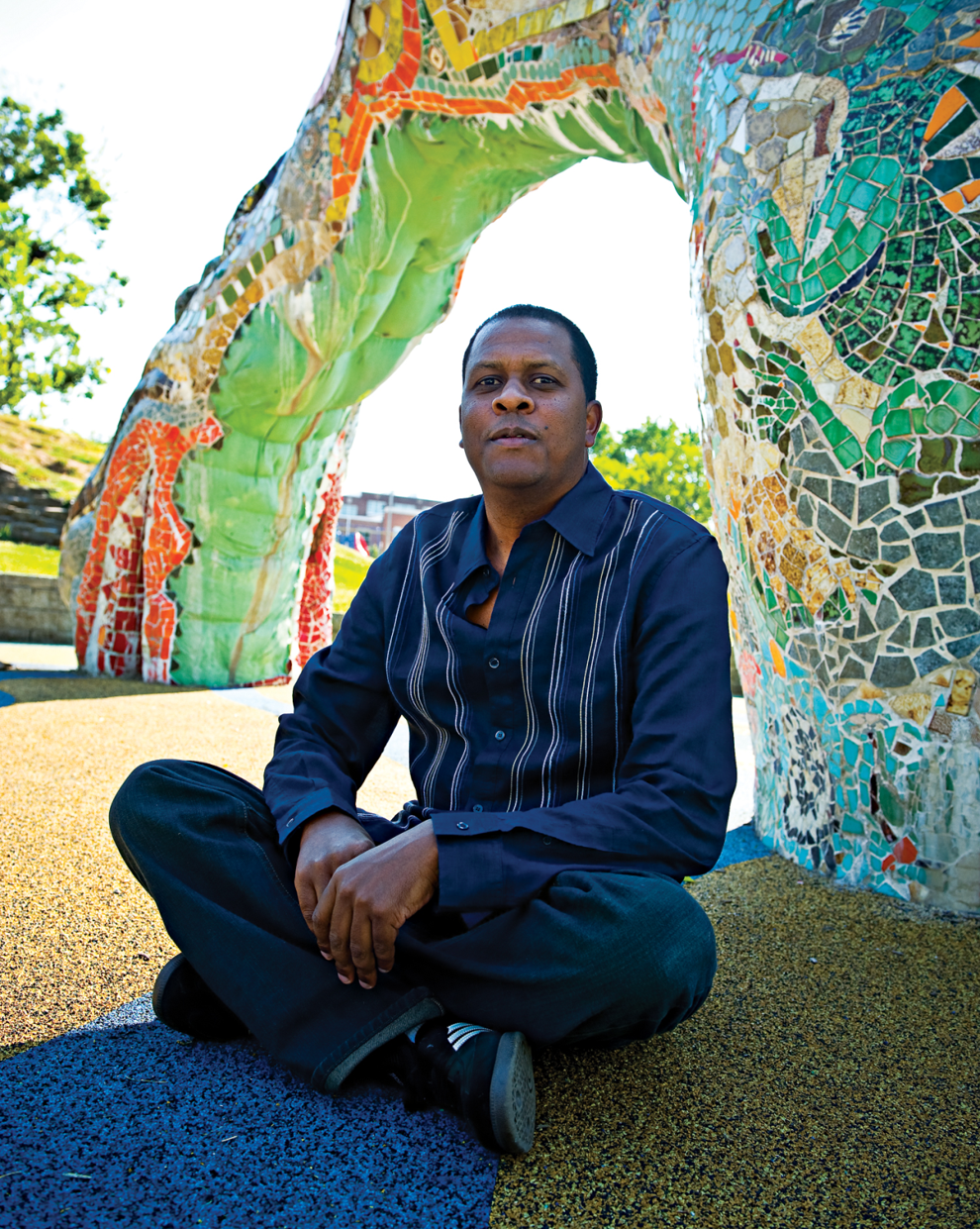 Hourlong phone calls. They're an inevitable subject when talking to folks about the life of Nashville dance promoter Leon Jackson, who died Nov. 24 of stomach cancer. Jackson might have been one of the most important proponents of electronic music this city has ever seen, but it was his phone calls that people want to talk about. His dancing, his unflagging love and support for the creative people in this town, and his enthusiasm for ChapStick all come up repeatedly, but his friendships were defined by those out-of-the-blue hourlong calls.
"I loved those phone calls," Jackson's longtime friend Nicollette Matthews tells the Scene. "They were the best, and we always talked about anything and everything under the sun. And his ChapStick. Man, I swear he always had at least three different kinds of ChapStick on him at all times."
"I always knew to allot at least 45 minutes when we were getting on a call," remembers Heather Kohler, Jackson's most trusted door person at shows. "His ChapStick and soft hands need an honorable mention as well." Kohler was also the person tasked with closing the guest list when Jackson just couldn't say no. "I seriously had the best giggle when we were in the hospital room and he asked his brother how his lips looked."
But Jackson's legacy is of course more than ChapStick and long chats. He was a champion of progress, a student of history and a man who loved Nashville with all of his heart. He proved that electronic music was economically viable in the country music capital of the world. He provided a space that allowed local electronic musicians to blossom, to flourish and to succeed. He was a role model and mentor to an entire generation of promoters, performers and fans.
He was an architect, like his father, Leon Quincy Jackson — a Tennessee State University professor famous for having been the first African-American architect to open an office in the state of Oklahoma. But rather than designing buildings, the younger Jackson helped build a scene, helped create a structure that allowed the dance music community to grow and prosper. He believed in the inherent coolness of Nashville long before the rest of the world noticed. He was a true champion of diversity in Music City, who had come up during the Rock Block's late-'80s golden age and never lost his enthusiasm or optimism. He also never forgot the lessons imparted by that wild DIY era. As he wrote to the Scene in a 2006 letter to the editor:
"I got my start as a kid promoting punk shows and posting posters in late 1987 while at Hillwood High. People like Bruce [Fitzpatrick], Kath Hansen, Royal Court of China, Shakers, Raging Fire, Steve West and others let me in their community with open arms. … Adam Dread's radio show at WRVU got me hooked from my room in Bellevue in 1985 or '86."
Jackson would return the favor over and over again for years. As news of his death made its way through the tightly knit Nashville dance music community, people were quick to recall his welcoming nature and his ability to see the value beneath people's ragtag raver exteriors. For many, Jackson was one of the first people to take them seriously as artists and as businesspeople.
"Leon was the guy all the DJs wanted to impress, and they believed that he could make anything happen, because he made electronic music visible in Nashville," DJ Jane Dupree tells the Scene. "He went to venues other promoters were scared to [book]. He held events at a swingers' club, an old church, a parking lot. … Outside of the club, he was a caring, funny and positive man."
"He wove the fabric of Nashville's electronic music community and provided so many with opportunities to learn and grow in the music industry," says Lalita Monclus, who started as a fan at Jackson's show and eventually became a friend and the operations manager at Jackson's Ultimo Productions. "He opened a lot of doors for me. He emphasized the importance of learning from your experiences and to enjoy the show."
"He was a calm, caring soul and always a delight to be around," says DJ Squake, the promoter behind many of Nashville's drum 'n' bass events. "Leon opened doors for so many artists, including myself, and gave all of us a chance to share what we love. He was great at bringing people together, and many of my Nashville friends I have because of him."     
In a scene that sees remarkable turnover of fans and promoters alike, Jackson was a constant presence for the better part of two decades. Whether it was at the Electric Lounge (his seminal weekly party in the old 328 Performance Hall space during the days when EDM was still called "electronica"), in the parking lot of Nissan Stadium for big-name EDM acts, or at someone else's after-party, Jackson was always out, always smiling, always at the party, even if it wasn't his party.
"Leon helped me out so much back in the day by putting me on his shows and giving me a chance to share the stage with some really big acts," local DJ and producer Wick-It the Instigator posted on Facebook. "I remember the first time I played one of his shows, and it went really well, and he came up to after my set and was like, 'Dude! I want you on every show I ever do,' and we both shared a good laugh."
By the time Jackson formed Ultimo in 1999, he had already cultivated a self-sustaining scene. By the time he partnered with Insomniac Events and Disco Donnie, two of the Southeast's biggest dance promoters, Ultimo was already making Nashville a must-visit tour stop for some of electronic music's biggest names. This eventually coincided with the rise of EDM as a national cultural force and commercial commodity. And still, Jackson was able to accommodate the flood of new fans without alienating the folks who were dancing here first.
"He was surrounded by all of these party people, but he always had his head on his shoulders," says former girlfriend Aimeé Nesse. "I always picture him with his energy as this calm, serene guy with plates twirling on all his fingers and toes. He just seemed calm, he didn't seem stressed about shows even though he had all of these plates twirling. Even when we were all young and dramatic, he was sort of the voice of reason."
And while Jackson may be gone, his spirit and his energy have been a massive influence on this city's dance culture, and will resonate for years to come. His easy manner and dedication to this city helped shape its image as a modern, progressive, welcoming place for creating music of all styles. He helped teach the next generation of artists and promoters the importance of being a good person while running a good business. But most of all, he affected countless lives by being a good friend and caring person. 
"He has been my friend for over 30 years," veteran Nashville DJ Chip Ballard tells the Scene. "I will miss our long and spirited conversations, his razor-sharp acumen and wit, his infectious smile and his immutable energy. Most of all, I'll miss his presence. The Nashville music community has lost a devoted champion and creative advocate."
A public viewing will be held for Jackson 2-6 p.m. Friday, Dec. 2, at Lewis and Wright Funeral Directors, 2500 Clarksville Pike.
Email music@nashvillescene.com