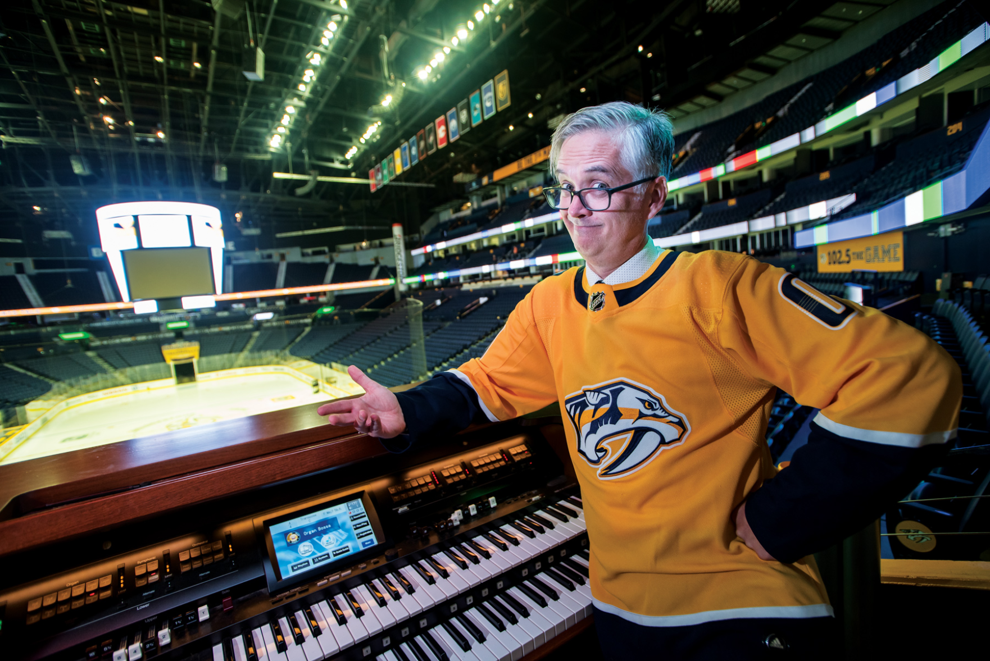 Not only can you not throw a rock in Nashville without hitting a musician — there's a good chance you'll hit one who tours and records for a living. But one of the most-heard players in town is a guy who's performed for more than a million people in the past year without having to leave Davidson County.
Meet Kyle Hankins, alias Krazy Kyle, organist for the Nashville Predators. Hankins has been a fixture at the 17,000-plus-capacity Bridgestone Arena since 2002. The team plays 41 home games each regular season — closer to 50 when they make the playoffs, as they have seven times in the past decade — and average attendance was at capacity for the 2017-2018 season. Factor in Hankins' summer job at First Tennessee Park tickling the ivories for the Triple-A Nashville Sounds (who in 2018 boasted the fourth-best attendance in minor league baseball, drawing an average of 8,741 fans over 69 games), and you've got a seven-digit figure.
"Take that, Garth Brooks," Hankins quips. He's taken a seat on a couch in the back room of East Nashville tobacconist and craft beer shop Smoker's Abbey on a recent afternoon between the Sounds' season ending and Preds' season beginning.
Sizing Hankins up, "crazy" isn't the first word that comes to mind. Rather than the personalized home-team jersey he customarily sports at games — with navy-and-gold highlights in his hair for a punk rock look — he's dressed snappily in a tucked-in plaid dress shirt, tie and maroon slacks, his hair combed neatly. He's come straight from playing Thursday Mass at Pope John Paul II High School in Hendersonville, one of his many regular school and church gigs around town.
What is crazy is Hankins' repertoire, and the ease with which he's able to access any part of it, any time. Beyond an encyclopedic knowledge of music, the job requires an innate understanding of the rhythms of the game — identifying the right snippet of the right song for the moment, then transmitting that from the brain to the keys in a matter of seconds.
"You go through your mental backlog of tunes you know," Hankins says of his in-game process. "When you tap into that zone and catch yourself off guard, those are fun nights."
He grew up an only child in Paducah, Ky., and the seeds for his future were planted early. His childhood fixations: Cardinals baseball and the Hammond organ in his parents' living room.
"I started playing when I was 4," says Hankins. "It's always been a part of my fabric. In Little League, we'd trek up to St. Louis, play another team, then go to a Cards game. I loved sitting out in left field, watching Lou Brock and hearing the organist, Ernie Hays."
After moving to Nashville and graduating from Belmont in 1990 with a degree in music theory and composition, Hankins spent the '90s touring with country singer Lacy J. Dalton. Once he and his wife Paula married and had their first of three children, Hankins began working nights in the musical theater department at St. Cecilia Academy on Harding Pike.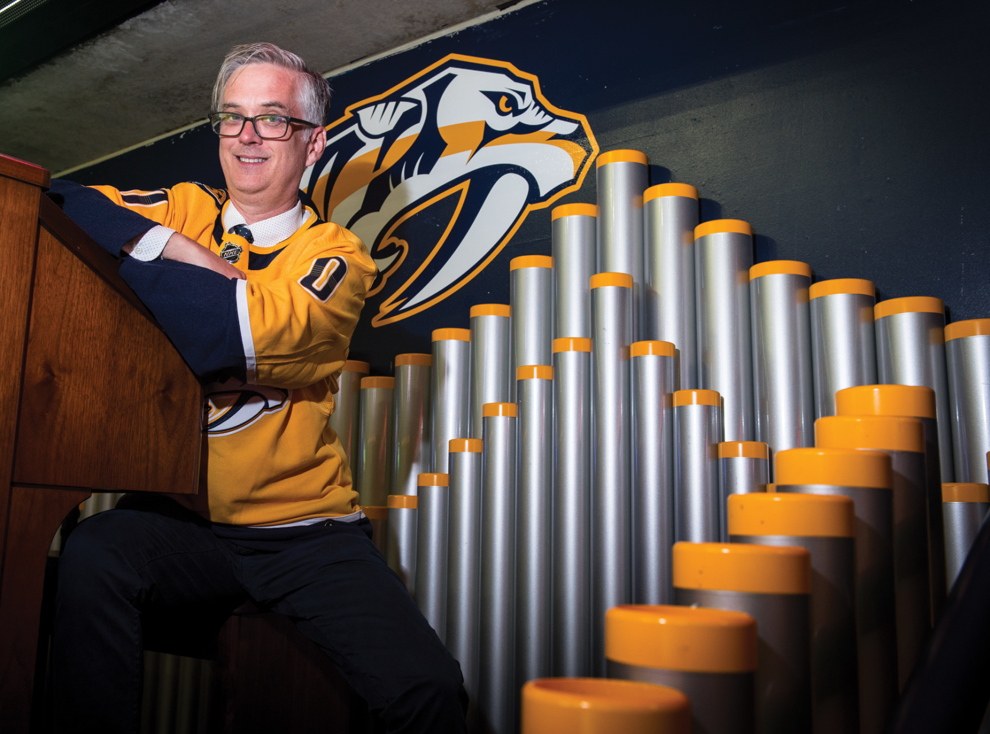 In 2002, the Predators — heading into their fifth year of existence — put out a want ad for an organist. "I was like, 'Well, that'd give me some 'me' time,' " says Hankins. "So I auditioned, gave it my heart and soul, and landed it."
Those first years were spent mostly "just not wanting to screw up," Hankins says. "There'd be losing streaks and I'd be like, 'Oh no, is it me?' Those blowout nights don't happen a lot anymore, but when they do, you want to lighten the mood, step it up, keep the fans in the arena."
While it's the Preds who gave Hankins his big break and his main gig, baseball remains the 50-year-old musician's first love. That's why he was thrilled to hook on with the Sounds for a string of games in 2017, going full time this summer.
"I'd been hoping to get that gig, naturally, because the organ is synonymous with baseball," says Hankins, eyes glistening. "I grew up hearing Ernie Hays play, listening on the radio, hearing it wafting through. I know the smells, the feel, everything. The snow cone afterward, the Dubble Bubble, the dirt in your mouth. … I know all those sensations."
It was also at a Sounds game where Hankins was approached by Tennessee rock luminary John Davis, singer-songwriter-guitarist for '90s power-pop greats Superdrag and, more recently, the shoegaze-tinged trio The Lees of Memory. Mutual fans of each other's work, the two discussed making a 45 featuring traditional and rocked-out versions of "Take Me Out to the Ballgame" for a Sounds promotional giveaway. The budget didn't allow this to come to pass, but Davis and Hankins will share a bill Dec. 14 at Exit/In. Davis headlines with the Lees, and Hankins supports, leading a jazz trio rounded out by drummer Rick Malkin and bassist Viktor Krauss.
By that point, hockey season will be in full swing. For now, Hankins is counting down the days till he can have his "me time" again — just him and the other 16,999 or so folks in the room.
"The best part of playing for the Preds is entertaining the fans," he says. "Now that I'm over the enormity of playing [Bridgestone] and that freakout factor — because there's 17,000 people and probably 25 percent of them are lit, right? — it truly, honestly feels like my second home down there."