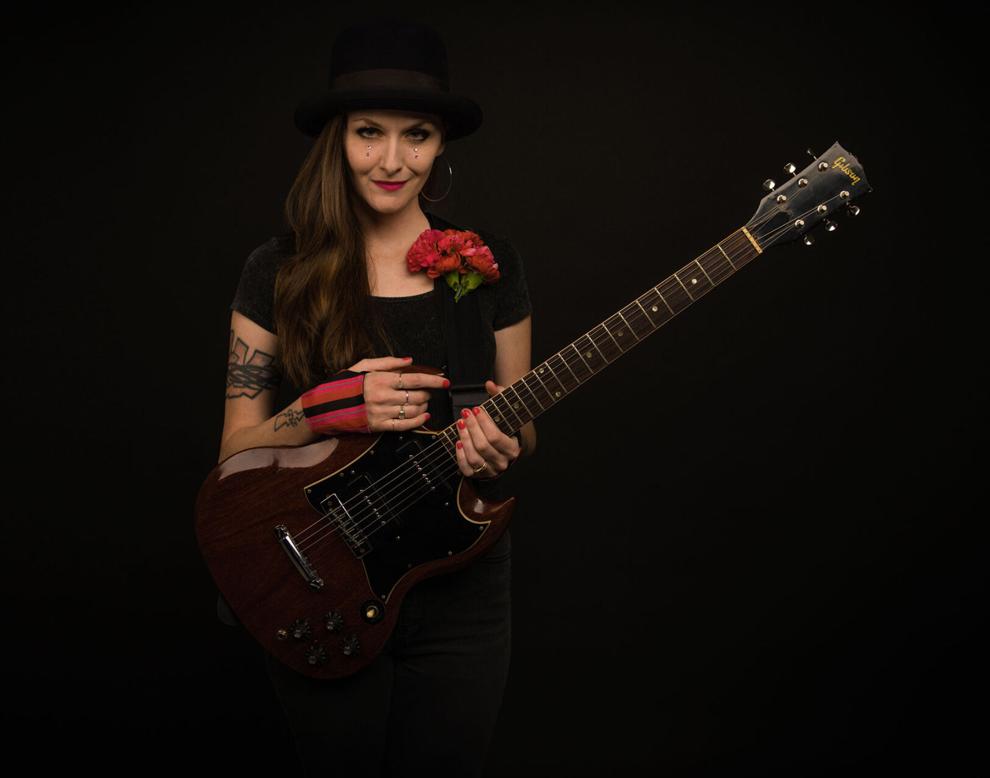 You get the idea of what Buick Audra has in mind from the title of her latest full-length Conversations With My Other Voice. But the album is not just a series of songs about the circular nature of identity. The Nashville singer, songwriter and guitarist put the record together around a conceit: She would return to songs she had written previously and then pen new songs that mirrored the themes of the older tunes. In addition to the record, Audra has written a memoir, Conversations With My Other Voice: Essays, that will be released along with the album on Sept. 23. The book serves as a companion to the album, and both are powerful pieces of self-revelation and subtle psychological insight.
For Audra, who moved to Nashville in 2008 after growing up in Miami, her latest work is a way to examine how female artists can survive in the music business. Audra, who is the guitarist and songwriter for Nashville rock duo Friendship Commanders, has had a remarkable career. She won two Grammys in 2010 for her vocal duet with English soul singer Joss Stone on the traditional gospel tune "This Little Light of Mine." The song was included on a 2009 multi-artist collection of gospel tunes, Oh Happy Day: An All-Star Music Celebration, and Audra took home Grammys for both her vocal performance and her production of the track.
Speaking from her home in Nashville, Audra tells me how she came to record Conversations. She's just come back to town after playing a couple of metal festivals with Friendship Commanders. Audra comes across like a very enthusiastic — and intelligent — observer of how she wants to use her talents in a music business that can often be hostile to women.
"I wanted it to be an honest and sort of indelicate set of statements," Audra says about the album. "The five songs that I chose were really pivotal works for me — about leaving a marriage and my brother going to prison for two-and-a-half years, and about leaving my life behind and moving here alone."
Indeed, the music on Conversations is as multifarious as the writing in her essays. On the album, "Afraid of Flying" — one of the older songs on Conversations, written more than a decade ago about her experiences recording with Stone — is paired with "From Down Here," a great rock tune that seems to come from a position of strength Audra is grateful to occupy. Conversations is a first-rate rock album that's melodic and riff-savvy.
"I feel like, at my core, I've always been a rock musician," she says. "Even in my softer stuff I lean that way. I tend to play electric guitar, and I have a big old voice. I tend to be a rock musician that can moonlight in Americana and other genres."
Audra cut almost all of Conversations in one day at Nashville's Sound Emporium Studios with a band that included guitarist Kris Donegan, bassist Lex Price, and her Friendship Commanders bandmate, drummer Jerry Roe. She tells me she wrote the new songs in similarly speedy fashion, over a couple of weeks. One tune, "Simply Said," about her brother, was cut at a separate session.
If Audra's album provides insight and rock 'n' roll thrills, the accompanying essay collection could serve as a cautionary tale for women attempting to thrive within a skewed musical ecosystem. In the essays, Audra writes unsparingly about various men who take music as their exclusive domain. She also describes her time working with Stone as an example of how music-business success can equal entitlement.
Audra writes well, with a combination of concrete detail and philosophical insight. Taken together with her album, the book makes a case for her work ethic and aesthetic sense. Audra makes it clear that the best rock 'n' roll comes from true self-empowerment, and that's a potent combination.