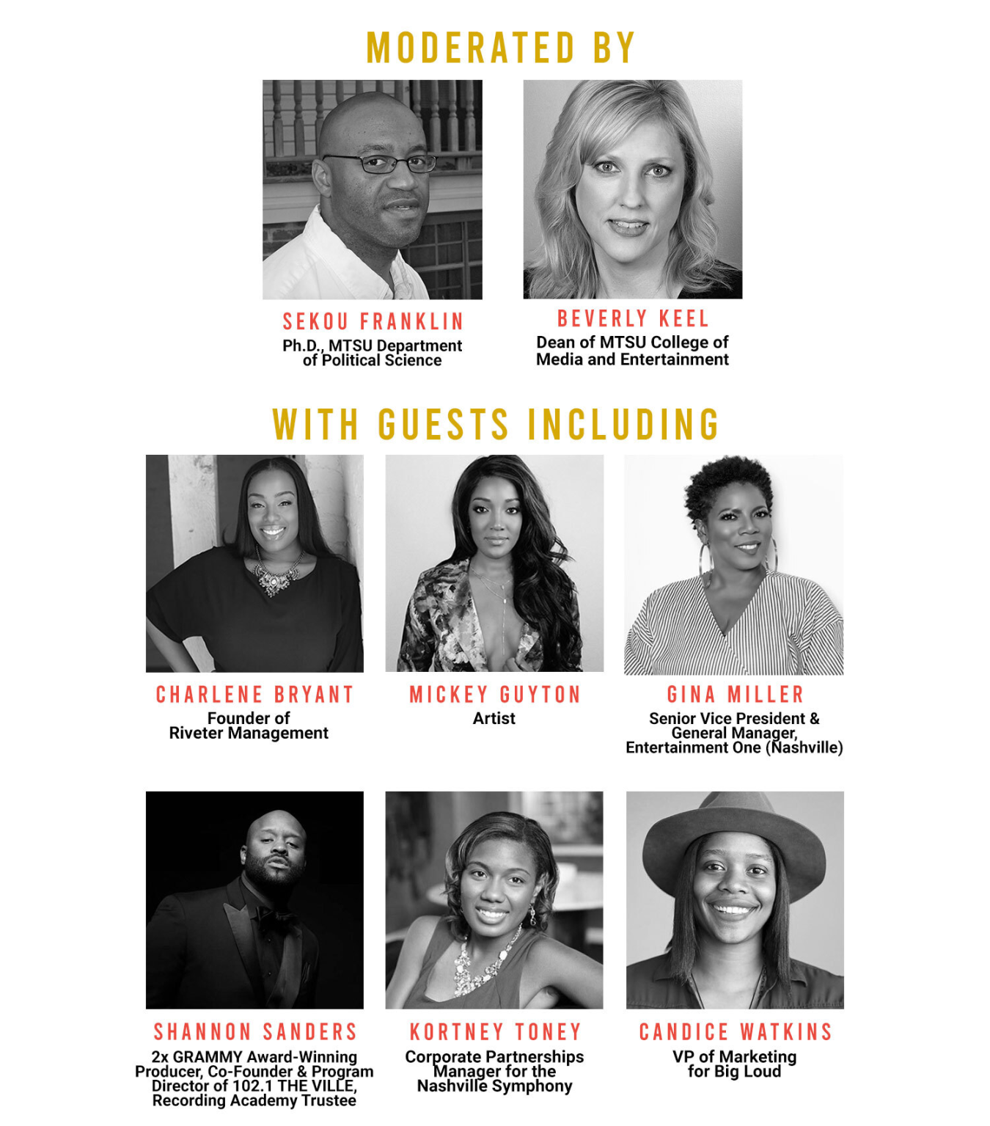 On June 2, Beverly Keel, the dean of Middle Tennessee State University's College of Media and Entertainment, and Dr. Sekou Franklin, an author and professor in MTSU's Department of Political Science, hosted an online conversation with six professionals to discuss what it's like to be Black in Nashville's music industry. The panel included Charlene Bryant, founder of Riveter Management; Mickey Guyton, country artist; Gina Miller, senior vice president and general manager of gospel-focused record label Entertainment One Nashville; Shannon Sanders, Recording Academy trustee and program director at 102.1 The Ville; Kortney Toney, corporate partnerships manager for the Nashville Symphony; and Candice Watkins, vice president of marketing for country label Big Loud Records.
Even without considering what was said during the conversation, the panel's very existence was monumental.
In the fall of 2018, I was working on a story for the Nashville Business Journal that would explore the lack of racial diversity in the offices of country music labels and publishers. Country music, a genre born of Black musical traditions, has intentionally kept its stages nearly all-white. But even as this issue receives periodic rumblings in the media, there is little talk about what's happening behind the scenes, in the offices of the decision makers who ultimately reinforce this whitewashing.
My editor wanted to reveal the economic implications of a multibillion-dollar industry that refuses to diversify. What does it mean for country music and for all of Nashville, this relatively new "It City" sitting atop all the best-of lists, if the genre remains so white? These are valid questions, but I wanted to dig deeper still. I wanted to know what it was like to be one of only a handful of Black people on Music Row, and I wanted to know why label and publishing heads weren't actively hiring more. Unfortunately, the story was never published. The interviews were too difficult to secure; the efforts to get folks to go on record — even about something so blatant and obvious — proved futile.
I thought of this at the beginning of the June 2 discussion when Candice Watkins admitted to her deep trepidation about participating. Watkins was on my list of interview subjects in 2018, back when she was at Universal Music Group. According to the UMG media marketing exec who facilitated my request, Watkins was unavailable to speak in person or by phone. For two weeks I tried to schedule a conversation. Ultimately, I was told that an email interview was the best I could hope for.
Email interviewing makes gauging the tenor of a subject's responses nearly impossible, but when I received Watkins' responses, they felt safe. When asked about any racism she's experienced working in country music, Watkins wrote that there weren't "any stories worth sharing."
I know this mask of safety that Blacks in country music hoist upon themselves. I watched my husband wear it for years as a touring musician and musical director. It is both the only way to keep your job and a sacrifice of gratitude for the opportunity to walk into rooms that so many other Black people are locked out of.
In the end, I was unwilling to compromise the integrity of the piece, so I decided to kill it. There was a very real need to have a very real conversation about the very real racism in country music, but it seemed that the time had yet to arrive. Fast-forward a year-and-a-half, and in the wake of the brutal killing of George Floyd by a Minneapolis police officer and the protests that began rocking this country in late May, that time appears to be upon us.
During the panel, Watkins was vocal about her uneasiness, but also forthcoming. She spoke openly about the racism she's encountered in the industry, often as the only Black person working in her department or company. When asked whether she has ever feared for her safety, Watkins noted that she is always careful about the environments she enters. She feels especially concerned when traveling to music video shoots, especially in rural areas, where Confederate flags fly freely. That anguish crystallizes when her white colleagues see the trauma being inflicted and say nothing.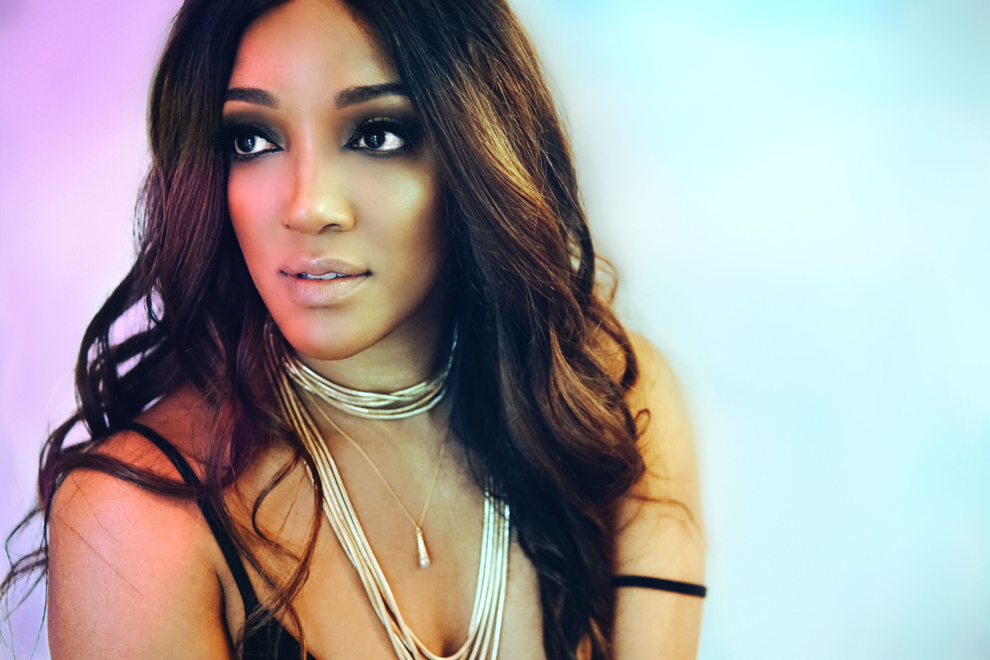 Mickey Guyton echoed this sentiment when she shared her own experiences in a genre that relies so heavily on Black influences but has been, at times, so unwelcoming to a Black artist.
Despite not having released an album in the nine years she's been signed to Universal Nashville, Guyton has released a handful of singles, including 2015's "Better Than You Left Me." Those singles were enough to land her on a major tour, an accomplishment that should have been marked by joy but was marred by hate. After a show, while signing autographs, someone in the signing line said, "Oh, everyone's waiting for the nigger." Guyton froze, unsure of what to do next, trapped in a moment made all the more excruciating when no one spoke out on her behalf.
According to Guyton, her publicist told her to forget about the incident. She could never forget, of course, but she did pledge not to talk about it. "I was so worried about proving myself to the label," she said during the panel, "that I didn't say anything."
---
The U.S. was built on a bedrock of white supremacy that now undergirds every industry and system throughout the nation. This we know, and we talk about it when we implore people to vote, when we fight for federal policy change, when we consider the viability of reparations for the descendants of the enslaved. But on a micro level, each region, each state, each city carries its own history, and that history is illuminated in its individual transgressions. We need to have that conversation too.
As Minneapolis historian Michael Lansing noted, George Floyd's death is no anomaly. It is, instead, the cruel and inevitable result of a "weak mayor" system that, when coupled with a corrupt Police Officers Federation, has led to negligent reform in the wake of ongoing police brutality enacted upon the city's minority communities. Likewise, it is a fallacy to assume that the racism that winds through Nashville's music industry was born in a vacuum, that it is a rare dark stain on an otherwise spotless town.
We can't forget that Nashville is, today, the proverbial altar to the Native-removing, slaveholding Andrew Jackson — that his plantation is lauded as an ideal venue for elementary school field trips and six-figure wedding ceremonies, and that his nickname graces one of the city's main thoroughfares. Nashville is where Black attorney and activist Alexander Looby's Jefferson Street-adjacent home was bombed, likely retribution for his role in the desegregation of Clinton High School just outside of Knoxville. Years later, Nashville built I-40 right through the middle of Jefferson Street, simultaneously demolishing Black businesses, Black homes, and the collective spirit of all of Black Nashville.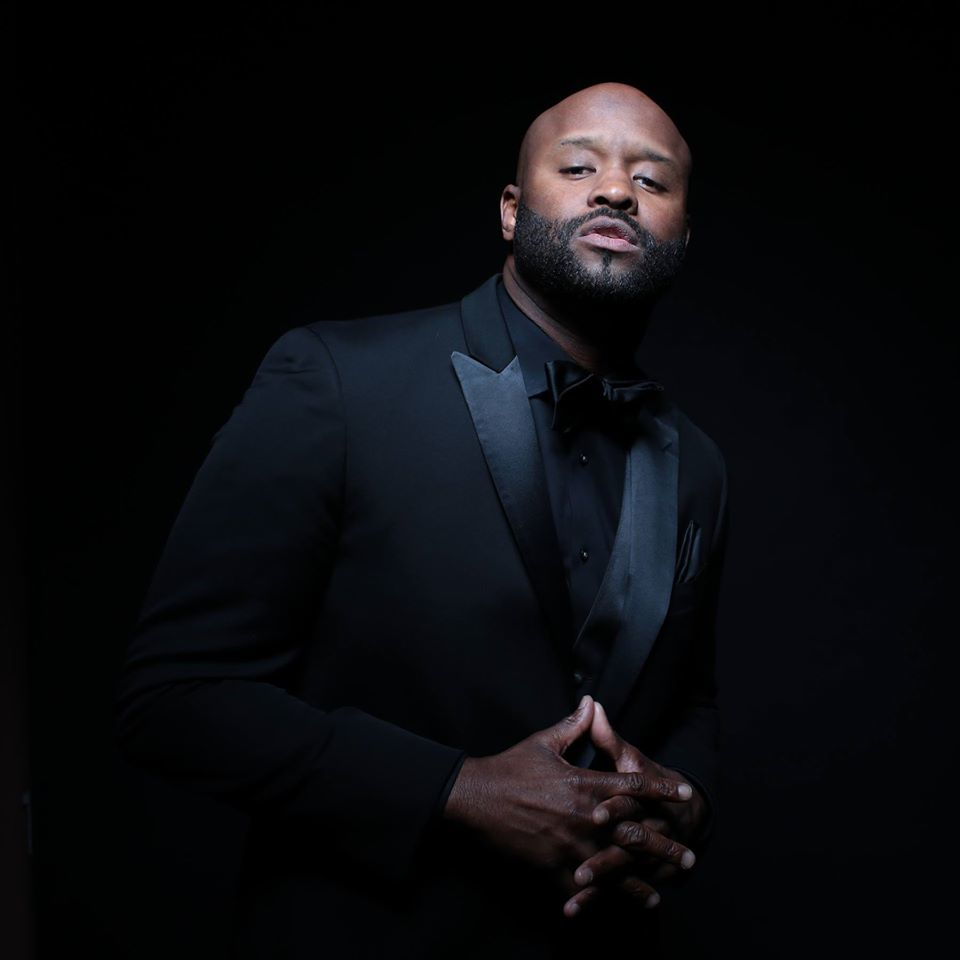 Because of all this and more, the Black men and women who work in Nashville's music industry don't just endure racism at work. It follows them everywhere they go.
Gina Miller spoke of being watched while shopping in a Brentwood retail store, of the anxiety that weighs heavy when a store clerk thinks you might steal a $7 pair of earrings. She asked, "How do you move in a place where people don't think you belong?"
Shannon Sanders knows this feeling well. As a Black man, he said his anxiety is only multiplied, that he has to go out of his way to check his emotions and not frighten white people by appearing angry or aggressive. "They might think you're gonna steal the earrings," he said to Miller, "but they think I'm gonna rob the whole store."
---
As conversations around the systemic oppression of Black Americans take over social media, the news and even our dinner tables, the June 2 discussion served to humanize the narrative in a way that even images splashed across the internet can fail to. Nashville is a big small town, after all, and hearing from people with whom other industry folk have likely crossed paths can open minds and hearts in a transformative way.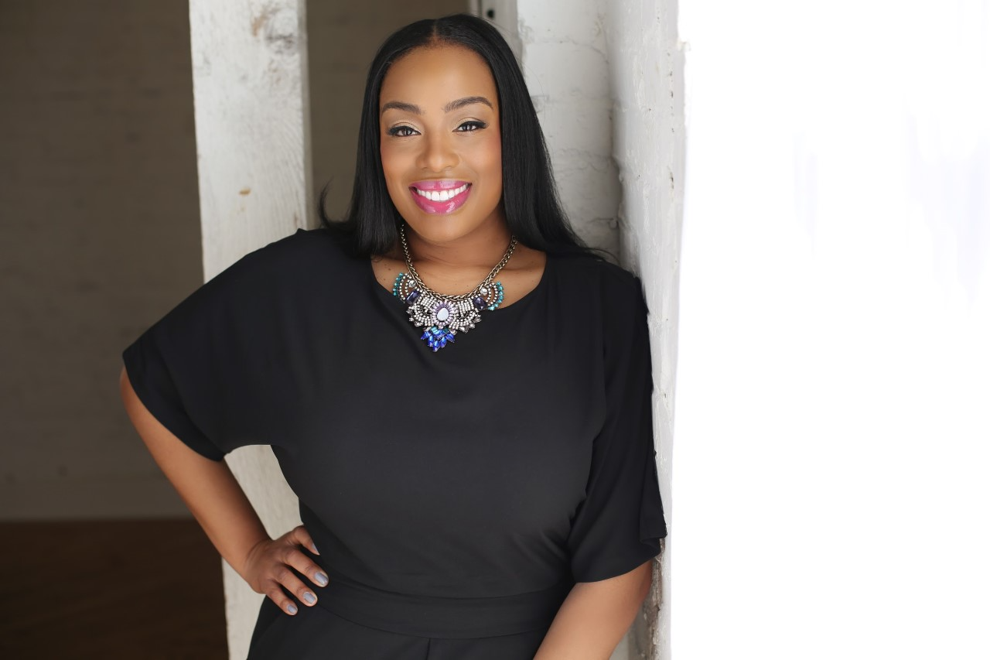 The fact that the panelists are so well-accomplished makes this theory all the more plausible, even as it also speaks volumes to the tenacity of systemic oppression. The panelists are not average, unskilled, uneducated Black people — the people who, if we are honest, white people most easily overlook. No, these people are exceptional. They are, dare I say, magical. But there is a problem with being the magical Black person, the only Black person who makes it into the room.
While Watkins talked about having her Blackness disregarded, Charlene Bryant lamented being the token Black person expected to represent her entire race. She said she is often asked, "What do you think about the new Beyoncé song?" or, "Have you heard the new J. Cole track?"
Questions like these are tiring, Bryant said, because they reveal that, in seeing her Blackness, too many white people in the industry fail to see her. "I don't want to have to be 'Black Charlene,' " she said. "I just want to be Charlene."
But if Bryant, the head of her own management firm, is forced to endure these microaggressions, if Sanders is a Grammy winner whose awards still can't shield him from racism, and Miller's position at the head of a record label can't protect her, either — what does that mean for everyone else? What about the Black professionals who are never allowed into the room at all, who won't get signed to a major label because country music already has Guyton?
In discussing her path to the Nashville Symphony, Kortney Toney recalled having an impeccable résumé, but hiring managers' faces would go blank when they realized she's Black. With that understanding in mind, when the panelists were asked how white people can move past hashtags and fluffy PR statements to show true allyship for their Black colleagues in Nashville's music industry, Bryant was clear: "Hire us. Give us opportunity."
---
Nashville's music industry has much work ahead if it is going to rectify its past and create a better future. Beyond learning and reflection, there will have to be intentional, unprecedented action. The racist structures that have stood strong in this industry for generations won't fall on their own. They'll have to be torn down. The work is necessary. Even more importantly, it is possible. Each of the panelists agreed with this point, and they are hopeful that something great will come from this time of turmoil. "For the first time in my life," Watkins said, "I think change is coming."
According to Sanders, that change will come when white industry leaders "get comfortable being uncomfortable." Even white allies who aren't in leadership positions, who feel helpless to effect real change, will have to step outside their comfort zones too. "Speak truth to power," Sanders said. Look around, see who does have the power to effect change, and then call those people out.
"Please let this be the beginning of something that is going to change you," added Toney.
Progress is a process, but if Nashville's music industry can sustain the energy and sincerity that has recently emerged, we may see that progress sooner than we think.
Update, June 9: A follow-up discussion with all of the panelists is set to take place via Zoom on Thursday, June 11, at 5 p.m. You can submit questions via this Google form, and register to watch here.