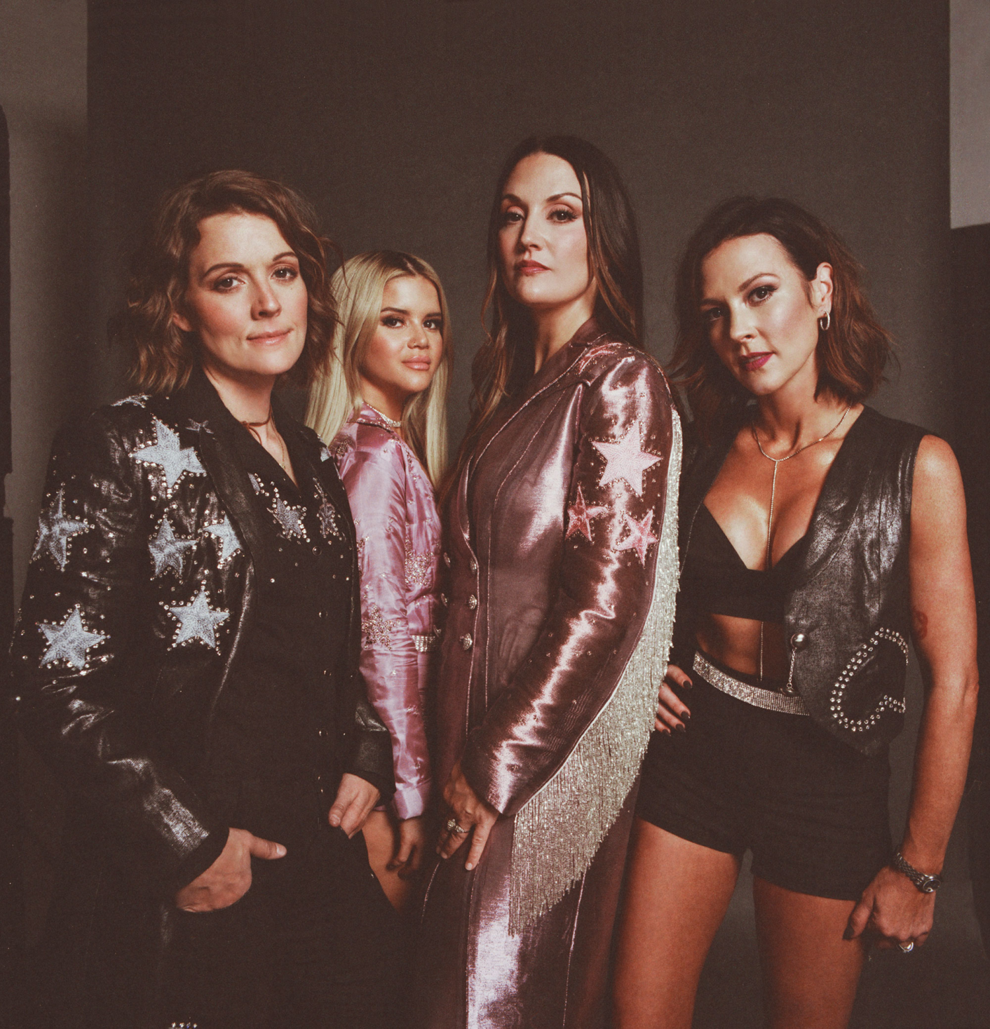 This year, The Highwomen made an incredible impact on country music — commercially and, one hopes, culturally. The supergroup, featuring Brandi Carlile, Natalie Hemby, Maren Morris and Amanda Shires, released its acclaimed self-titled debut album in September, with the explicit mission of telling real women's stories and raising the profile of women artists in the notoriously male-dominated genre of country music. The album was a hit from the beginning, debuting at No. 1 on Billboard's Top Country Albums chart, and also an instant classic, with the foursome's expert musicianship rivaled only by the potency of the stories they tell through song.
The Highwomen have been part of many of the genre's biggest moments in 2019. The world first learned about the group in January when Shires let a few details slip during a radio interview. They made their official live debut with a triumphant performance July 26 at the Newport Folk Festival, announcing themselves as a force to be reckoned with. The next night, the group joined in on an all-female jam, curated by Carlile, whose trove of jaw-dropping guests included Sheryl Crow and Dolly Parton. The Highwomen shared a stage with Parton again in November, when they performed in an opening number featuring a slew of hit-making women at the CMA Awards, which marked an attempt to highlight female voices and remind the genre what it's missing when women's music doesn't get played on country radio. Through it all, The Highwomen spoke frankly and eloquently about gender inequality and representation for women artists, leading a movement with inclusivity at its heart.
If 2019 was a big year for the group, 2020 sounds extraordinarily busy for each of the members. Carlile spent time in the studio in November with Soundgarden — heroes of her hometown, Seattle — for a project that will likely be released next year. Hemby will release Pins and Needles, the follow-up to her excellent 2017 debut solo album Puxico, which she says will be the "1997 Lilith Fair album" she's always wanted to record. Morris, who wasn't available for interviews, has a Grammy nomination for the song "Common" (a duet with Carlile) on her CMA Album of the Year-winning solo LP Girl; she also has a son due in March. And Shires has plans to release new music next year, including a batch of songs that pay tribute to her late friend and fellow musician Neal Casal, who died in August at age 50. She also joined her husband Jason Isbell in the studio to work on the follow-up to his 2017 album with his crack band the 400 Unit (of which Shires is also a member), The Nashville Sound.
The Scene caught up with three of the four Highwomen for separate conversations as they reflect on their landmark year and look ahead to what the acclaimed band can accomplish in the future.
---
Brandi Carlile
Your performance at the CMA Awards was certainly a highlight of the show. What did it mean to you to get onstage with women artists from across generations?
It was unbelievable. I talk about all those artists in interviews all the time, because of how foundational and formative they are for young girls and were for me, in my own way. I thought it was so much fun to get them on one stage at one time. And it was such a surprise, too. I didn't think that we were going to be up there with Terri Clark and Sara Evans and Martina McBride. When [2019 CMA Awards producer] Robert Deaton told me that was the plan, I was like, "That's genius." It's so important that we show the world what we don't have right now and what we did have then.
It seems like the best way to move forward and to get women artists the representation and opportunities they should have is for women from all corners of country and Americana to come together. It's unfortunate that the battle has to be fought, but it's also so special to see, say, Carrie Underwood and Amanda Shires on the same stage. What do you think the performance accomplished, and how do you feel about where the genre is headed?
It's a battle that's being fought really gracefully, I think. … I personally have a pretty clear mission that I would like to see happen. The conversations that got started [by the performance] were the conversations that needed to get started, which is essentially how women and girls used to have a narrative in country music. Not even that long ago, you used to be able to turn on the radio, as a young girl living in a rural part of the country, and be told something about yourself that was important. 
Right now, if you turn on country radio, the things that you're told about yourself aren't fair and aren't true and aren't applicable. If you're mentioned at all, you're objectified, and you're not hearing those things from a female voice. Gone are the days of "She's a Wild One" or "All American Girl" or "Wide Open Spaces," all of these things that so many female country artists have been saying to young girls through the radio for decades. Country music has made a dangerous departure, which is that it's excluded the narratives of half the human race. 
To your point, across The Highwomen we hear stories about women of all ages and backgrounds and sexual orientations, and women who are mothers and women who aren't. There's a wide range of diverse female experience represented. Given that the album has been out for a couple of months now, what's been your experience with how people are connecting to the music?
I think it's really important. There are more LGBTQ people coming out of the closet and illuminating themselves in the world, and more and more families that want to understand, and maybe don't because of the way they were raised or where they live. So, again, it's an important voice in country music. And there are real way-pavers, particularly two of them I can think of right now being Chely [Wright] and Brandy [Clark]. Those two gals have been really important, and I think they've paid the price for folks maybe not being quite ready yet. Now that it feels like the door is open a little further, I really look forward to what they have to say and hearing their voices a little bit more, because they are really special people. 
I was thrilled to see the album you worked on with Tanya Tucker, While I'm Livin', get so many Grammy nominations, particularly "Bring My Flowers Now" for Song of the Year. What has it meant for you to see this project do so well?
It's absolutely incredible, especially because I know where Tanya started out emotionally in the process. To see her come back into herself like this in such a big way is stunning. She doesn't like the word "comeback," and people take that word lightly, but for me, I feel like this has been, for her, not a comeback in a career sense but in a really big personal one.
---
Natalie Hemby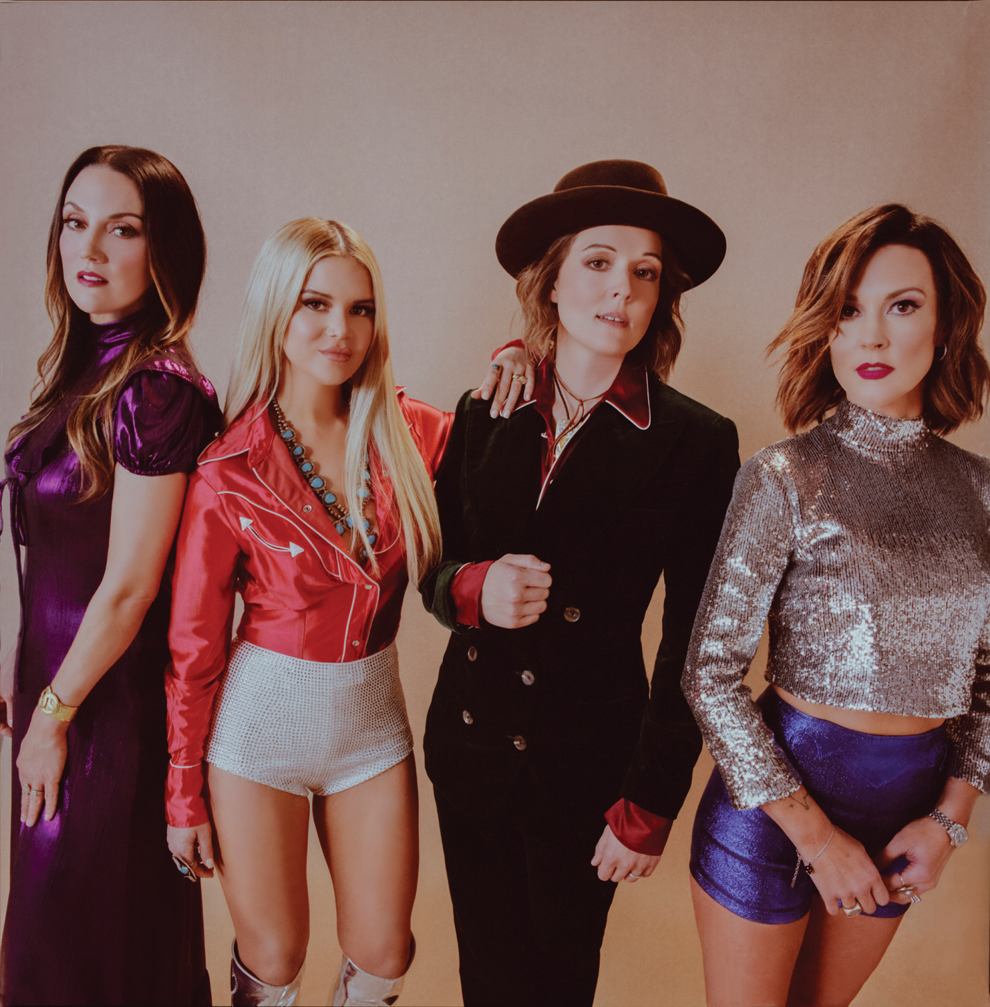 Congratulations on all of the year-end love y'all have been getting. How has it felt to get that level of acclaim for The Highwomen?
Just a year ago, I was not in a band. I didn't know Brandi Carlile or Amanda Shires. This would be the furthest thing from my mind that I would have thought would happen this year. So I feel lucky, honestly. For me personally, I feel like I got to jump line and be out in the stratosphere and have this huge audience of people be able to hear music that I wrote. And I've done it through other people, but not through a band or my own artistry. So for me, it's been a wild ride. 
How does that compare — having it be a project with your name on it versus seeing the success of work you've done for other artists?
Well, when you write a song for someone, you have to let them go and take it and do something with it. But when it's your name on it, I never realized all the details that go into it and how everything matters. You have to care about everything that goes into your artistry, from the way you look to the way the drum head looks on the drum. [Laughs] I just learned so many new things this year about how all of this works, so it's been interesting.
And congratulations, too, on your Grammy nominations. I was especially excited to see you in the Song of the Year category for "Always Remember Us This Way" by Lady Gaga on the A Star Is Born soundtrack. With all you've had going on, have you had a chance to process that news?
Actually, I haven't. It's always an honor to be nominated for a Grammy. It really is, because it's such a wide field of music, and it's your peers who vote for you. Honestly, I really didn't see it coming. I have two nominations for two different songs. [Hemby's other nomination is for the Lady Gaga-Bradley Cooper duet "I'll Never Love Again" in the Best Song Written for Visual Media category.] I hate to say it, but when you go to these things you sit there and you totally want to win. I mean, after you pay for the tickets and the dress and the hotel — and also, it's the Grammys — you totally want to win. … I'll be sitting there and my stomach will be hurting and I'll be wanting to win. But I also want to do this whole series on Instagram about losing to Lizzo with the hashtag #truthhurts.
At the heart the Highwomen project is telling women's stories and lifting up women's voices. When you look ahead to 2020, particularly with regard to the conversations around gender equality in country music, how are you feeling about where things are headed?
I think where things are headed is a good place. Where they are right now, I mean, it could be better. But if we're making progress, that is the goal. Honestly, just making people more aware of what it's been like in the last few years of country music for women, if we can bring any sort of awareness to that, I feel like it always helps the cause. Women do listen to other women in country music. It's so not a myth. 
I just recently played Whiskey Jam. Ashley Ray put it together. I've never played a Whiskey Jam in my whole life, but she put together this all-female lineup, and it was their biggest show. It was completely sold out; there was a line wrapped around the entire building. So I do feel like there is a change coming. To me, that was a big indicator. Whiskey Jam is usually a guy's country music night. Which is fine! We need that, too. We need all of it.
When you look back on your year and all that the Highwomen have accomplished, is there anything that really stands out as being particularly meaningful to you personally?
I'll never forget Newport. For me, it was a spiritual experience. Right before we went onstage — and it was the first time we'd ever performed our songs — we just huddled, and it felt like a movie moment, where it was a lot of "I love you" and "I can't believe that we're here" and "I'm so proud of you guys." And then we all walked up on that stage — and I do realize that people cheer for you, I'm not used to that, but they do cheer when you come onstage — but this felt different. It felt like everybody was waiting to see what we sounded like and what we had to say and what we were doing. Because our record wasn't out, so nobody had heard it. So it was electrifying. Before we even sang a note, we looked at each other and smiled and hugged each other, and it's a moment I'll never forget. 
---
Amanda Shires
What have the past few months since the album was released meant to you, knowing that people have had time to really sit with the music?
We did have a blast doing the opening number at the CMA Awards with the other fine ladies. … We're making plans, figuring out touring. Hemby and I have been writing some. We've been trying to get everything into a place where we can do stuff like tour and perform more together.
That CMA performance was so special. It was so neat to see so many women artists from different generations and corners of country and Americana come together for one cause. How was that experience for you?
I think we did three rehearsals that week. The first rehearsal was where you go into a room and everyone is in there. I didn't know that was going to happen, and I walked into this room at the Bridgestone that was just a big room with tables, and everyone that you saw onstage just sitting in chairs talking over parts. 
I was, of course, at a loss for words. But it was also amazing, because everyone was giving their thoughts. There was no sense of there being a "diva" in the room, you know what I mean? Like with Dolly Parton and Tanya [Tucker] and Carrie Underwood, Karen Fairchild and everybody else, it was just an amazing thing to see. So I just put on my sunglasses and tried not to cry every time Crystal Gayle sang "Don't It Make My Brown Eyes Blue," but I couldn't. Every single time I'd start bawling like a baby. Oh well, that just means I care!
The performance itself was what I saw talked about the most during the show and in some of the conversations after the show. Obviously the idea was to lift up women artists. What are you feeling, after the fact, with regard to what it was able to accomplish?
I think it was a step in the right direction. To get country music and women in country music to where I'd like to see it, I think of it as a bridge. We're taking steps on that bridge, and eventually we'll get to the other side and be able to have a more diverse and more balanced genre. That's my hope. Then after that, we'll have a new problem to work on. 
You mentioned that you and the other Highwomen have been talking about plans for the future, and for touring and writing. What have those conversations looked like so far? Do you have a sense that The Highwomen is a project you'll continue to be able to work on regularly?
The idea right now is for residencies, to go to various towns and do a few nights in each town, maybe once a month or once every other month. There are a lot of folks who wanted to be part of The Highwomen and help with the message in any way they could and tell more women's stories. I think with the residency idea that could be really great. 
Neko Case DM'd me on Twitter and she had written her own verse for the "Highwomen" song. And other folks have expressed interest. And if and when we do residencies, on the first day we can do sound check and have the rest of the time to do some sort of community outreach, and just help as much as we can and do as much good as we can for our friends, and for me, for our daughter. But hope is a thing with feathers, isn't it?
You mentioned that you and Natalie have been writing together. Is that Highwomen-related, or something else?
What I love about Natalie is that she, when we write together, she lets it go, where we're not writing for anything. It's just to write music and play songs. I don't know where any of these songs are going to go, but right now we have them in little piles. But the one we wrote last Friday, I think it's just a song that we wrote, just the two of us. It's not really a Highwomen song, but I think anything could be a Highwomen song now.