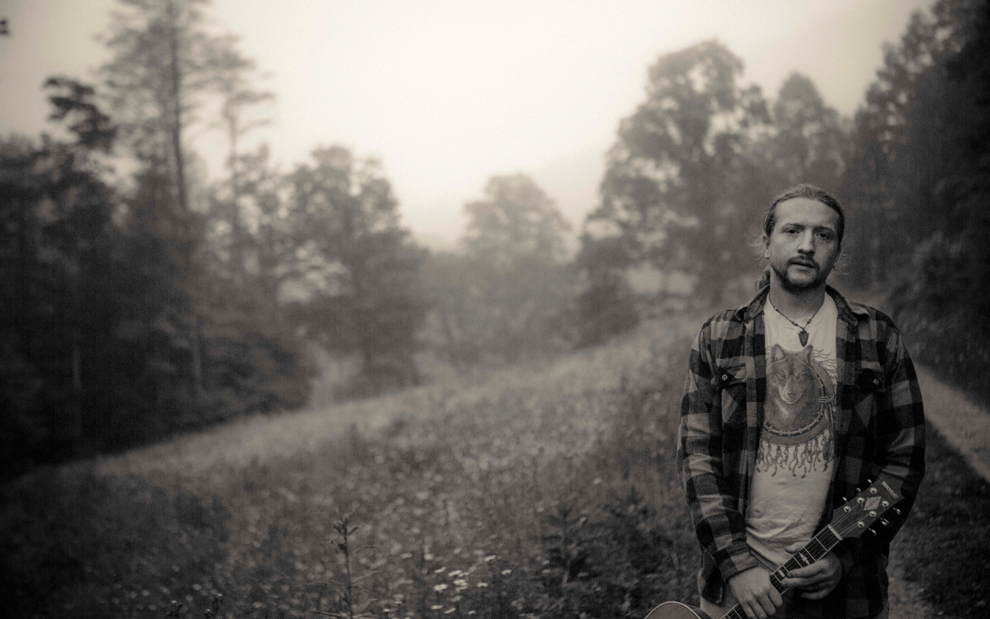 For a guy who spends the bulk of his time traveling the country (and lately, beyond) playing shows, Tyler Childers is something of a homebody. Childers, 27 years old and born in Lawrence County, Ky., lives with his wife about an hour southeast of Lexington and spends time there, as he puts it, as often as he can. These days, that's not too often. Following the critical success of his 2017 album Purgatory, Childers has spent the last year touring relentlessly, checking items like playing the Opry off his bucket list, and growing a loyal, rabid fan base. As they did with his mentor Sturgill Simpson, Childers' fans find his work a refreshing antidote to much of the music that passes for country on contemporary radio.
With arrangements that marry the best of traditional bluegrass music to modern Southern rock, Childers' songs are weathered postcards from his native Appalachia. Songs on Purgatory like "Whitehouse Road" and "Banded Clovis" employ regional colloquialisms as they spin rich yarns about running moonshine and making ends meet in rural Kentucky, while opener "I Swear (to God)" riffs on a gospel standard with anecdotes about drinking, drugs and trying to find redemption. Childers' songs make palpable his love for the place he comes from, as well as his clear-eyed perspective on its many complexities. 
With Purgatory, Childers established himself not only as one of country's most promising young songwriters, but also as an important artistic voice from a region of the country that despite its increased national attention following the 2016 presidential election, has grown only more misunderstood. Standing in stark contrast to Childers' output, popular portrayals of Appalachia like J.D. Vance's Hillbilly Elegy fail to address the nuances of the region, its culture and its challenges.
At this year's Americana Music Honors and Awards, Childers is up for Emerging Artist of the Year, a well-deserved honor to be sure. It's also one that highlights — as did Margo Price's 2016 win in the same category — the widening gulf between commercial and independent country music, as well as Americana's enthusiastic embrace of the latter. The Scene caught up with Childers in between shows during a two-night stint in Louisville. 
It's been a little more than a year since Purgatory came out. I imagine it's been a whirlwind year for you, but when you look back on all you've gotten to do since then, what do you make of it? 
It's been pretty surreal. It's one thing to come up with goals and plans, and then it's much another to watch a lot of them come to reality in a little over a year. It's been pretty awesome getting to play the Opry and play the Ryman with Margo and some of the people we've gotten to open up for. It's been really rewarding.
One big thing you have coming up is your Emerging Artist of the Year nomination at the Americana Honors and Awards. What has that nomination in particular and the Americana community's embrace of your music meant to you? 
I'm glad that they like it. [Laughs] 
It seems like over the past few years especially, folks like you, Margo Price and Sturgill Simpson, who are making country music but aren't getting on country radio or awards shows, have really been taken in by the Americana community. Why do you think that is? 
I have a hard time explaining to anyone what exactly Americana is supposed to be. I haven't really bothered myself with trying to understand it, because first and foremost, I make country music. Not even really country music, just music that I feel. More often than not, that leans toward country. I do think that Americana, from what I've noticed, seems to have become this refuge for real country outcasts. But if it walks like a duck, and talks like a duck, and looks like a duck, and sounds like a duck, and tastes like duck, it's probably duck. For the most part, it just seems like a lot of people that get taken in by Americana are really just country artists. Moses was in the desert for 40 years, so maybe for the next 40 years we'll be in Americana.
You're no stranger to touring, but it seems like these past few months you've really been hitting the road especially hard. What's it like spending that much time on the road, and playing in parts of the country — and overseas — that aren't typically associated with country music? 
It could be better, but it could be worse too. I'm really lucky in the sense that everybody that I'm on the road with, we all care about each other. We were buddies first, and then we started the band going on five years ago now. So that makes it easy if you're going to have to be away from home —  if I'm away from my wife and not sleeping in my own bed and not staying in my own house and stuff like that. I couldn't imagine doing it if I wasn't on the road with friends. They're great musicians, but just the camaraderie on the road is really there. The guy playing drums, the pedal steel player and the bass player, they've been in bands since they were in high school together. So they're just a group of brothers. 
I've always wanted to see a lot of places that we get to go to. For the longest time, I thought about taking some time off. I'm 27 now, and really since I was 18 I've been playing music. I've had other jobs — odd jobs here and there in landscaping, hardwood flooring, in breweries, whatever the heck I could find to make money when I wasn't making it with music. But I always thought, 'Hey, it'd be cool to take a month off to go to such-and-such place.' But then I'd think, 'If you take a month off of music, that's momentum that you've lost.' People's attention spans — heck, with my attention span sometimes, I can't even get through a sentence without forgetting what I'm talking about. But if you go away for a month, by the time you come back they forgot who Tyler Childers is because now there's Taylor Childress, or whatever. So I thought that if I was supposed to go to these places, that one day my music would take me. After years and years of telling myself that, it's finally happening, and it's kind of awesome.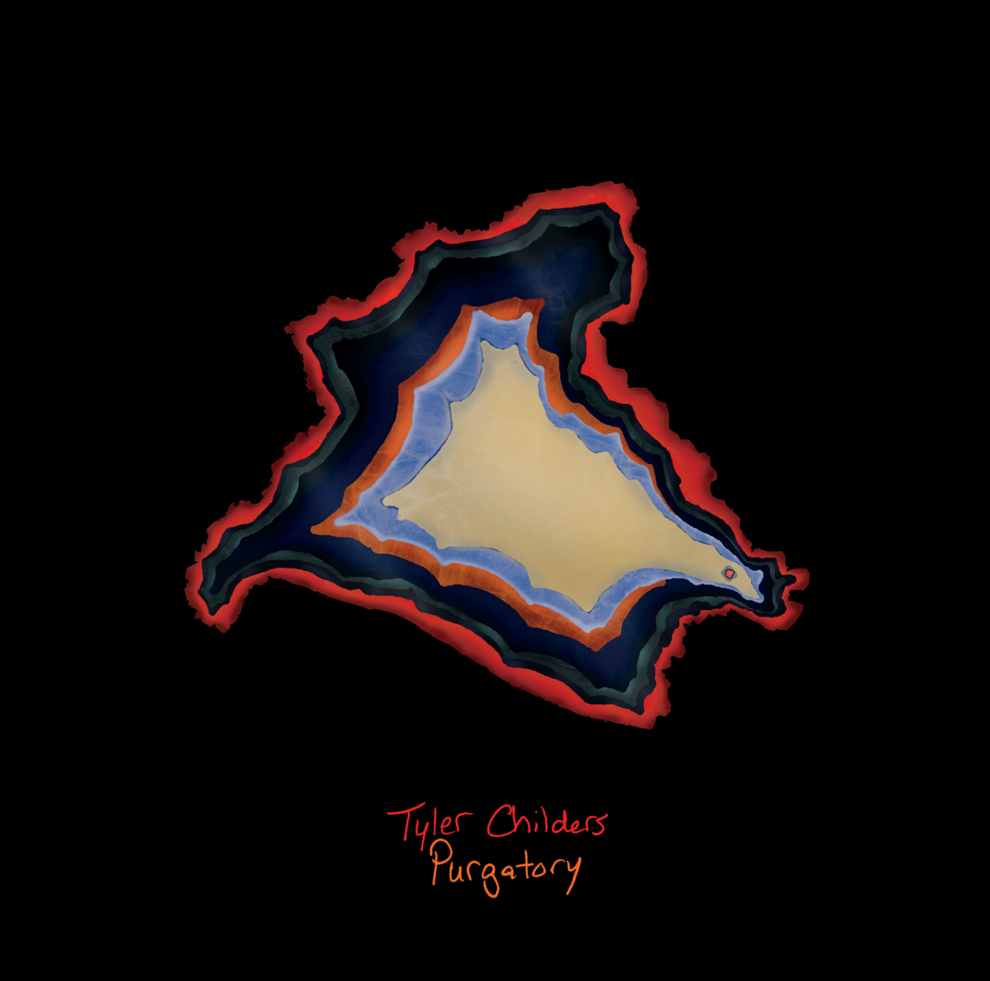 Are you able to do much writing when you're out on the road? 
I'm getting better at that. My preferred method of writing used to be at the house by myself, like 2 to 4 in the morning. It's hard to be at the house, and it's almost just as hard to be by yourself on the road. So I'm learning how to write with people around, carve out time. You just kind of have to do that. If you get in the habit of having one method, then you're not really growing as a writer. I'm writing more on the road than I used to. Of course I'm on the road now more than I used to be. If I only wrote a song every time I went home, I'd have like two songs a year. 
Have you started writing material for a follow-up to Purgatory, or have you even had time to think about that yet? 
I'm always writing. That's my main focus. It always has been. When I was a kid I wanted to write novels. I guess I decided I didn't have the fuel to write 400 pages, so I started writing three- to four-minute songs and sketches. With Purgatory, with the way we've been pushing it and touring it behind it, it's hard to carve out time to get into a studio. So I have some time set aside. Hopefully, if it all works out, we can get in the studio for a week by the end of the year and do it the same way I did Purgatory. I walked in with 50 or 60 songs that I was proud of, songs that I was serious about and ready to put on an album. Then we picked 10 of them. And I've been writing since. So I've got those old songs, and I've got new songs, and then I'll go in here at the end of the year and pick out nine, 10, 11 and do it again. 
You've gotten to do some work with other artists recently, like Town Mountain and Newtown. What do you get out of the experience of working with other artists that is perhaps different from what you do for yourself? 
Well with Newtown, they were looking for songs and asked if they could do some of mine, so they were kind enough to give me my first cuts, which was awesome. They did four on their first album, and I think I have two or three on their new album. So that was awesome, the fact that they liked my songs enough to take them and use them. It meant a lot. And it got my songs out to a base that I maybe don't get to play to nearly as much, because they're pretty straight 'grass. It was cool to hear those songs played that way. I've always toyed with the idea — I had a bluegrass band for a minute, it didn't really work out, long story — of using more bluegrass playing and sounds, so it was really cool to see those get treated that way. 
With Town Mountain I went in and recorded with them. I think that years from now there's going to be some Smithsonian bluegrass coffee table book, and they're gonna talk about how awesome Town Mountain was. They're bluegrass the way bluegrass is supposed to sound, but they're writing original material. They aren't playing the same damn 27 tunes that everybody and their brother is playing faster than the other person.
You have a great connection to your local and regional communities of musicians in West Virginia and Kentucky. Has it been hard to maintain those connections while you're gone so much? 
I've been lucky over the last little bit that, more often than not, I get to have a little bit of say in who I have on the road with me as support and co-headliners. So I've been trying to take that new opportunity and spread it around to my buddies that I care about a lot who are making music that I believe in. We went on the road with [William] Matheny for a few weeks, and that was just awesome. He had a band of five guys, and I had a band of five guys, and we have the same manager, so it was 11 heathens in two vans, driving around for three weeks having fun and playing music. So I get to maintain those relationships on the road. 
Speaking of folks you champion out on the road, who are some artists you're really into that you're hoping will get more recognition soon? 
There's this dude I started out playing in the bars with back home, William Matheny, and his band Strange Constellations. He's got this dude playing bass, John R. Miller, and he's one of my favorite West Virginia songwriters. He's writing grown-man songs. He just had a new album come out, The Trouble You Follow. I don't know what you'd call it. Maybe you could call it Americana? [Laughs] There's Laid Back Country Picker. I've known him since I was 15. He was my government and economics teacher in high school. He also happens to be a bad man on the guitar. He's got his own cult following, and it's been pretty exciting to see that. His wife [Teresa Prince] is one of my first local influences as a songwriter. She writes really amazing stuff. Her band's called Luna and the Mountain Jets. I could keep going on and on.
With all you've got planned for the next couple months — heading overseas, getting into the studio — is there anything else on your radar you're feeling excited about? 
I have most of September off. So I'm looking forward to that. [Laughs]