It's a chilly Monday night in North Nashville, and dozens of students are huddled inside a practice room in Tennessee State University's Performing Arts Center. Just a couple of weeks into the spring semester, the students are deep into the first half of their regular weekday evening practice as part of the university's Aristocrat of Bands, a premier collegiate band nationally renowned for its intricate, high-energy performances, its genre-spanning repertoire and its fierce, rigorous commitment to excellence.
There's a charge in the room as the band runs through a portion of Beyoncé's 2022 Renaissance hit "Cuff It," with an interplay of drums capturing and amplifying the song's dance-floor origins and percussive bursts of brass and winds re-creating its infectious bridge. "Cuff It" is just one of dozens of songs in the band's back pocket, as a whiteboard at the front of the room boasts nearly 100 songs that the AOB can perform on command — among them school standards, traditional marching-band fare and a singular blend of pop, R&B, soul and hip-hop.
Surrounding that song list are doodles and messages from students, though these likely represent higher stakes than the average classroom whiteboard fodder. There's a sketch of a Grammy statuette in one corner and the words "Tennessee Grammy University" in another, alluding to the AOB's two nominations this year: a Best Roots Gospel Album nomination for its debut recording project, 2022's The Urban Hymnal, and a Best Spoken Word Poetry Album nod for its contribution to Urban Hymnal collaborator J. Ivy's album The Poet Who Sat by the Door.
There are smiles and laughs during moments of downtime, but members of the AOB are quick to get back down to business when called upon during nightly rehearsal. The students are, after all, mere weeks away from what will be one of the biggest weekends in the band's history, as they prepare to compete at Feb. 4's HBCU All-Star Battle of the Bands in Atlanta, and anxiously await results from the Feb. 5 Grammy Awards ceremony.
"We hit the ground running the first day of class," says Director of Bands Dr. Reginald McDonald of returning from the holiday break. He's speaking to the Scene in his office, which is adjacent to one of the AOB's practice spaces. "We have another 10 days to prepare [for the Battle of the Bands]. And after we finish, I along with my staff will be bringing the band back to Nashville [from Atlanta]. And then I'm going to try to catch an early-bird flight out to Los Angeles Sunday morning. We're still working on trying to get [Grammy] tickets and everything. But hopefully, I can have a ticket to be part of the weekend. And then I'll be back in town on that Monday."
Such a jam-packed schedule is the norm for the AOB, whose demanding schedule Dr. McDonald compares to that of a student athlete. During rehearsals, students are dressed in matching gray-on-gray sweatsuits, which give the AOB's nightly meetings a feeling of not just camaraderie but of discipline as well. Being disciplined is crucial to being part of the AOB, whose exacting standards require four hours of rehearsal — two hours inside the practice room, two hours outside on the field — each weekday evening after students finish classes. On weekends, the AOB rehearses even more, when not supporting the university's athletic program or performing regular gigs like Titans halftime shows.
"We only do 4-to-7 o'clock [rehearsals] on Fridays," Dr. McDonald adds, grinning. "We try to give them the chance that night, Friday night, to be regular college students."
---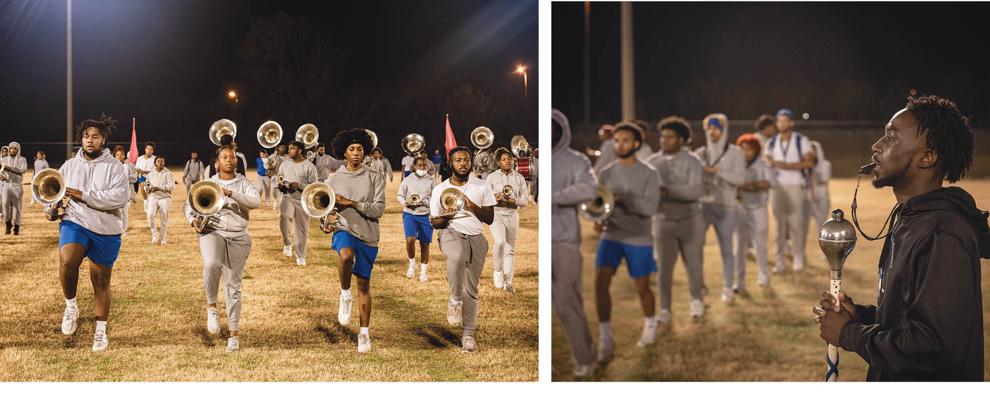 Friday night parties aside, the students in the Aristocrat of Bands and its many alumni are anything but typical college kids. Since its inception in 1946, the AOB has represented TSU and its Tiger athletic program far and wide, developing a reputation for, as Professor Larry Jenkins puts it after the first half of rehearsal wraps up, being "the band of firsts." 
Those firsts include a 1955 halftime performance during a Chicago Bears versus Los Angeles Rams game, making the AOB the first HBCU band to appear on national television. Six years later, they once again notched an HBCU first by performing as part of President John F. Kennedy's 1961 inauguration, marching in the inaugural parade. And in 2002, the AOB became the official band of the then-relatively new Tennessee Titans, making them — you guessed it — the first HBCU band to serve in an official NFL capacity. 
In November, the Grammys added another "first" to TSU's ever-growing list when the Recording Academy announced nominees for the 2023 ceremony, making TSU the first collegiate band to receive a nomination in any genre. Other nominees in the category are Willie Nelson, the Gaither Vocal Band, Keith and Kristyn Getty, and Karen Peck and New River. 
"It's such a historic moment for our program and our university," says Jenkins, who also serves as assistant director of bands. "And I was about to say all bands at HBCUs, but it's all [collegiate] bands. This is absolutely historic."
When nominations were announced, a collective joyous roar erupted across much of TSU's campus, particularly in its performing arts facilities. Students were cheering in their classrooms; professors and music department personnel were stunned; phones rang off the hook and inboxes filled to the brim. 
"You could just hear kids everywhere," Dr. McDonald says. "They were so excited. A lot of professors were caught off guard, but they got excited. I said, 'Well, let me call the president [Dr. Glenda Glover].' And before I can even call her, she calls me and says, congratulations, and so on. Then I called my wife. It was one of those moments where it was so much excitement, so much pride, just a sense of accomplishment. And I think the band felt that way for pretty much that whole day."
"I was just a bundle of nerves," Jenkins adds. "I ended up going home to watch the broadcast because I was too nervous to be around anybody. My stomach was in knots. Then when it happened, we were the last name to be called. You heard the first [nominee], second, third, fourth. And it almost felt like there was a dramatic pause. And I'm just sitting and not quite looking at the screen, then they say, 'the Tennessee State University marching band, The Urban Hymnal.' It was shock for a second, and then I just lost it."
As Dr. McDonald tells it, winning a Grammy was part of the AOB's plan for The Urban Hymnal from the jump — he said as much to Dr. Glover when he reached out for her approval on the project. Accordingly, everyone involved with The Urban Hymnal worked tirelessly to complete and release the album before the Grammys' eligibility period ended on Sept. 30, 2022. With a little help from their friends the Tennessee Titans, the AOB stylishly debuted the project during the team's halftime show on Sept. 25. 
The album is, in many ways, the brainchild of Jenkins and contemporary Christian artist Sir the Baptist. The pair's initial vision of modern gospel performed by a marching band was brought to life through the creativity and hard work of hundreds of students, much of the university's music faculty and an all-star lineup of guest artists from contemporary worship, R&B and hip-hop that includes Kierra Sheard, Louis York, Fred Hammond and Dubba-AA. 
Following Sir's participation as an artist-in-residence on campus, he and Jenkins grabbed dinner at the Cinco de Mayo on White Bridge Road, during which they sketched out a rough idea of what a marching-band gospel album could be. That was in January 2022, a mere 10 months before the same project would attract the attention of the Grammys. After securing approval from the university, Jenkins, Sir the Baptist, Dr. McDonald and the rest of the music department got to work.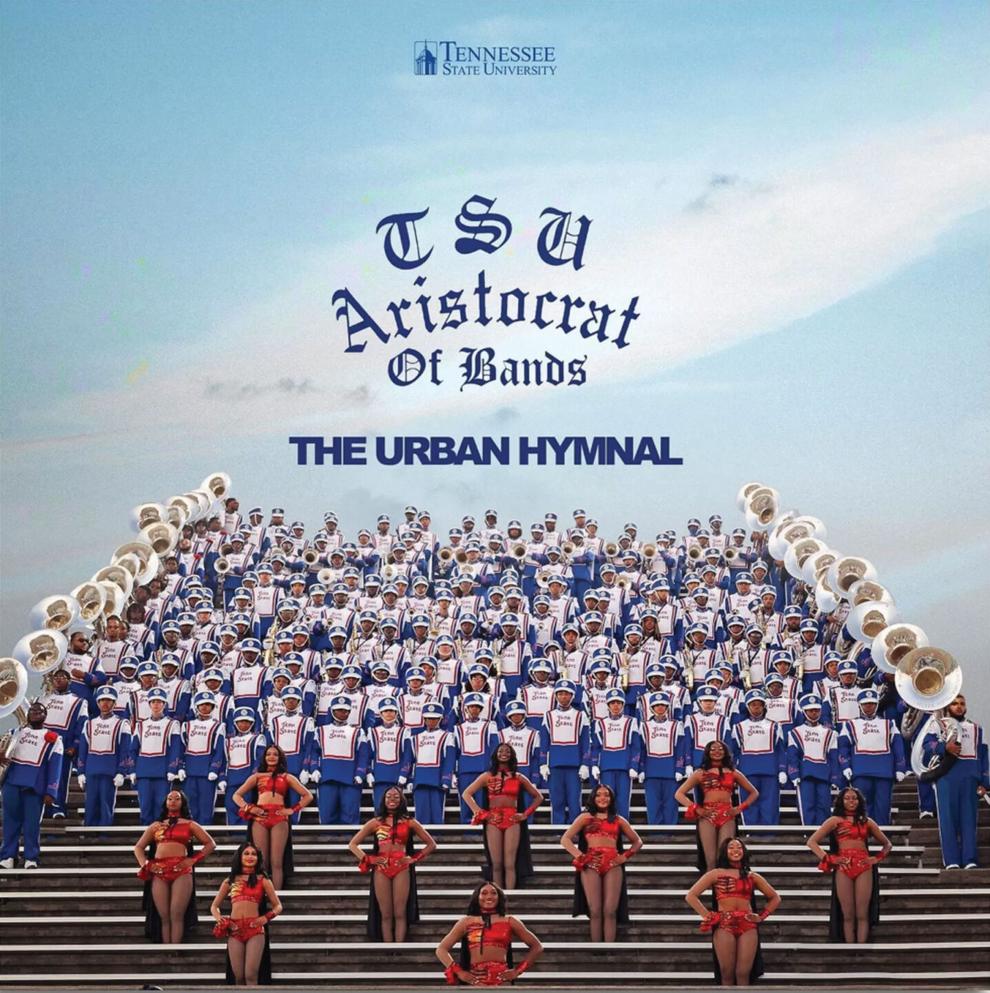 As the AOB had never recorded music in the traditional sense, the team had to get creative. Section leaders would write and arrange parts and come together to compare notes, sometimes recording parts on the fly and often pulling all-nighters. Though the process was a learning experience, the finished product sounds anything but amateur, managing to capture the grandeur, spirit and versatility of the band despite navigating so many moving parts.
"It was a long ride, for sure," Jenkins says. "Sometimes it was easy; sometimes it was tough. Dr. [Derrick] Greene, we would be in his space invading the percussion room. He always allowed us to come in and helped with mics. We had help from everywhere. Students would take time and come after hours, or we'd say, 'Hey, we'll bring pasta and pizza. Can you come in? We need to record this, this and this.' It was just one of those things where everybody had to come together."
The Urban Hymnal opens with "Turner's Overture — I'm So Glad," the university's official fight song. President Glover's voice is heard toward the track's end, bridging the gap between the sounds of a marching band and the spirit of gospel music. "I just hold up my hands in praise," she preaches. "I know the Lord has a calling in my life. No matter what, I will lift up my hands because God is in control." Then the track seamlessly shifts into standout number "Dance Revival."
"Dance Revival" perhaps best encapsulates the ethos of the project, which is to find and celebrate the intersection points between the varying musical traditions that have built the AOB. It's fast-paced and foot-stomping, with jubilant and soulful vocals, a clipped, smooth flow from Sir and a hopeful message. Other highlights include the lush pop of "Fly (Y.M.M.F.)" and the closing "Alma Mater," on which faculty members celebrate the AOB's past, present and future. Amid listing a sampling of the AOB's accomplishments — which Jenkins slyly notes is a service to future historians — the track reminds students, "The TN State on your chest is bigger than you. You have to believe that. You have to embrace that."
---
Saturday, the AOB will compete as part of the HBCU All-Star Battle of the Bands at Mercedes-Benz Stadium in Atlanta. Only six college-age bands are invited to compete — two exceptional Atlanta-based high-school bands will join the proceedings too — making for a truly elite event, one suited to the breadth of the AOB's talents. Other participating HBCUs are Alabama State University, Bethune-Cookman University, North Carolina A&T State University, Norfolk State University and South Carolina State University.
And on Feb. 25, the AOB will learn if its two NAACP Image Awards nominations — Outstanding Gospel/Christian Song for "Fly (Y.M.M.F.)" and Outstanding Gospel/Christian Album — bring additional wins to its already lengthy résumé. These are the band's first Image Awards nods, though likely not its last. McDonald shares that the AOB's Battle of the Bands performance will incorporate surprise elements to celebrate its recent string of successes.
"Ideally, for this short turnaround, we would like to perform something that we've already done before, because it makes the learning process a little bit easier for the kids, with juggling that time between the beginning of the semester and trying not to miss classes, trying to get their schoolwork done," he explains. "But because of the Grammy nomination and the NAACP nominations, we have some unique material that we want to capitalize on. Without telling you too much about what we're doing — can't lose the element of surprise — we will center our show around those two things."
Regardless of the battle's outcome, the event will be a victory lap for the AOB, whose star is poised to rise higher in the coming years. More important to Dr. McDonald and Jenkins than bringing home trophies, though, is how being part of the AOB will forever change students' lives for the better. Jenkins knows this firsthand, as he himself was once a TSU student sitting behind the same music stands, working the same late nights and long hours in service of something bigger than himself.
"The qualities and the things you learn, they go well beyond the field and the stands," he says. "The discipline I learned here, in particular, has carried me in every situation in my life, you know, the discipline, the hustle. You can look at the whiteboard and you see songs from the fall — just to be able to call those up? It takes grit."
"A big part of [being in the AOB] is stepping out on faith, seeing something that no one else can see and believing in yourself, that you could get it done," Dr. McDonald says. "And that's something that I aspire for all of my students to know. Once you finish this degree — we talk about this a lot — you compete with people around the world. You have to see where it is you're trying to go even before other people. You have to believe you have to be able to work and push yourself to that next level. That's where we are."
D'Erykah Sudduth, a junior from Birmingham, Ala., studying public health, is one of the many students who contributed to The Urban Hymnal. As co-captain of the Sophisticated Ladies troupe of majorettes, she participated in creating visuals for the album, and occasionally plays flute when she isn't dancing. Her dream is to work at the Centers for Disease Control in Atlanta after pursuing a master's degree in epidemiology. Within the AOB, she finds not just a framework for pursuing her dreams but a family of like-minded, similarly motivated students and a chance to blow off steam after long days studying.
"I'm with my sisters almost seven days a week for five or six hours at a time after classes," she explains. "So we're together all the time. Coming here is a break. Dance is a break, for me, from regular classes. So I get here and it's just like, 'OK, I can relax. I can be myself. I can do what I love.' "
Jenkins sees how that sense of family and connectedness transcends TSU as an institution and contributes to the broader cultural fabric of Nashville, particularly North Nashville, as well as how the AOB expands upon the area's already rich legacy. He points to the Fisk Jubilee Singers' 2021 Grammy win — also for Best Roots Gospel Album — as a recent example of how the neighborhood, and its anchoring Jefferson Street, is a place where musical magic happens. 
"North Nashville, and Jefferson Street in particular, a lot of that is the real heart of Music City," he says. "Even though Jefferson Street is different than what it was — especially with the interstate system, we all know the story — the spirit of that music is still here. And this is important: We take Music City elsewhere, too. The AOB's bringing Music City; we're bringing that culture from Nashville; we're bringing Jefferson Street; we're bringing that mile between us and Fisk; we're bringing that spirit to you. So I think of us as ambassadors."