Over the past two decades, live performance has increasingly become what musicians rely on to make a living. At the beginning of 2020, the concert business was booming, and Nashville was experiencing a strong uptick in activity at the club level. Small and midsize venues — rooms with a capacity of between 150 and 1,500 people — are where artists build the audiences that make their careers possible. They're a cultural and economic boon to cities that are lucky enough to have them. Nashville's ecosystem of independent clubs has nurtured heaps of rock bands with global fan bases, played an important role in the rise of Americana as a force to be reckoned with, and hosted an array of pop musicians, rappers and others as they've worked to get established in our city. The international network of venues that our city's clubs are part of employs thousands of people and allows local scenes to grow and evolve across an array of genres and traditions.
Running a small or midsize venue has always been a difficult business, with high overhead costs and margins that depend on crowds consistently coming through the doors. As Music City navigated its recent decade-long cultural boom, challenges like rising rent and real estate prices put additional pressure on Nashville's independent music venues. But that hasn't stopped local musicians, promoters, talent buyers, venue owners and staff — as well as audiences, including heaps of new Nashvillians who've arrived since 2008 or so — from building on the foundation of an incredibly dynamic club scene. It's been ebbing and flowing here since Exit/In opened in 1971, and now big players like Beverly Hills-based ticketing and touring giant Live Nation want to tap into that market. That means additional competition to cope with, but it's also a badge of honor. 
In March, the COVID-19 pandemic began to creep across the U.S. As public spaces closed in an effort to slow the spread of the novel coronavirus, the live-music economy — from dive bars to major festivals — ground to a halt, putting musicians, audio and lighting techs, stagehands, bar staff and most other people who make live music possible out of work. Musicians and some other workers, who typically work on a freelance basis and are classified as self-employed, have been able to find some help through revamped government unemployment programs as well as relief funds from nonprofits like MusiCares and Music Health Alliance. Musicians have been able to pivot to livestream shows from their homes or studios or from empty venues. It's an alternative creative outlet that can make up a small portion of the income they've lost since the pandemic has prevented them from touring.
Venues, though, have had precious few ways to generate revenue beyond selling T-shirts and masks and launching crowdfunding campaigns. While assistance from fans has been both heartwarming and financially significant, it can't create the kind of sustained income that independent venues need to survive. We're six months into the pandemic with no clear end in sight, and numerous clubs across the U.S., including Nashville's Douglas Corner Cafe, have announced that they will close permanently. Others, as Scene contributor Marissa R. Moss reported via NPR, are concerned about becoming targets for predatory investment. Legislation that could help venues has been introduced in Congress, and on Sept. 1, the Metro Council passed a resolution offering grants, allocated from federal CARES Act funding, meant to help independent venues pay bills for two months, delaying the worst outcome. There's still a real danger that some venues will not reopen. None, however, are giving up without a fight.
---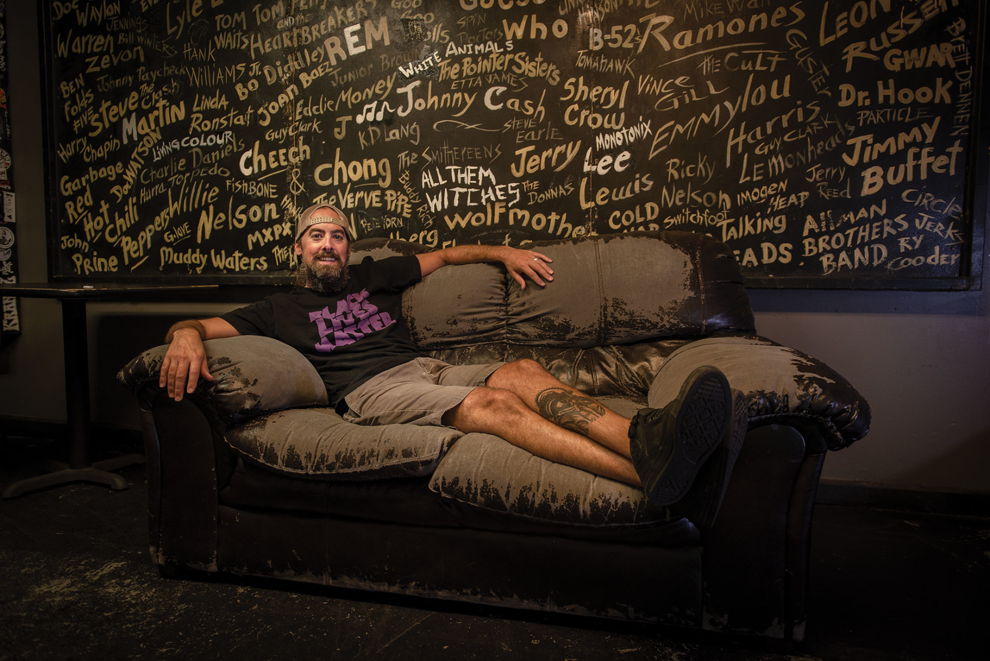 Chris Cobb started booking shows at Exit/In in the Aughts, and he became the sole owner of the venue last fall after an amicable split with business partner Josh Billue (with whom he co-founded 1,800-capacity venue Marathon Music Works). Cobb is already very experienced with organizing support on behalf of the longstanding 500-capacity room on Elliston Place. Exit/In is at the center of the group Save the Rock Block, which organized a successful grassroots campaign in 2019 against a rezoning ordinance that Cobb and his neighbors — whose strip of Elliston is known as the Rock Block for its long tradition of hosting shows — saw as detrimental to their businesses. Construction on the proposed hotel project may continue anyway, but the area was recognized at the top of Historic Nashville Inc.'s 2019 Nashville Nine list of endangered historic properties. Funds were raised for a historic marker recognizing the neighborhood's contributions to the city, which was unveiled outside Exit/In on Aug. 12. 
But now there's a more immediate problem. Exit/In hasn't hosted a show since March 15, and financial reserves are getting thin. 
"We don't have a lot of cash in the bank," Cobb tells the Scene. "If we don't get a significant amount of help … it's going to be mass extinction." 
Cobb has been using his experience in organizing: He's a charter member of a trade group called the National Independent Venue Association, launched in April. NIVA's ranks currently include about 2,600 independent venues and concert promoters — more than 30 of which are in Nashville — and one of its primary goals is lobbying Congress for federal aid. Cobb and Exit/In have also banded together as part of a group of 15 of those local NIVA members, from tiny all-ages spot Drkmttr to  the three-venue Cannery Row complex, as Music Venue Alliance Nashville. 
A fact sheet that NIVA published in June includes an unsettling statistic from an internal poll: Ninety percent of the 2,000 members surveyed would have to permanently close after just a few more months without significant financial assistance. A survey of MVAN's members is even more alarming: By early October, six of the Nashville venues would have to close permanently, and by early November, 14 of the 15 would be gone. In August, the group made its case to Metro's COVID-19 Financial Oversight Committee, which led to the Sept. 1 resolution. The two months' worth of funds offered by the council doesn't come close to getting the venues all the way through the pandemic. It does not help either the self-employed workers these businesses have been unable to hire as they normally would, or the full-time staff they've had to lay off. Nonetheless, it's a welcome bit of relief.
"It's two months — we asked for six, and we need, probably, 12," Cobb says. "But it feels good. It's a whole hell of a lot better than nothing, and we could have very easily got nothing. There are so many people so affected by the circumstance, and CARES was not set up to help us all through much more than a few months of the pandemic." 
Cobb hopes that success bodes well for getting help from both the state and the federal government. The wheels are already turning at the federal level. In July, U.S. Sens. Amy Klobuchar and John Cornyn introduced a bill called the Save Our Stages Act that would make some $10 billion in aid available, addressing the bulk of NIVA's concerns. (The bill also shares its name with NIVA's call to action, featuring a form email that makes it easy for music fans to contact their representatives in Congress.) Recipients would be able to cover things like rent and utilities, as well as costs of personal protective equipment and other expenditures to comply with local health guidelines once they are able to reopen. There's also a provision to pay people who work for venues on a freelance basis — from bartenders to sound crew to the folks who work the door, they make up a substantial portion of the live-entertainment economy. There isn't money specifically for performers, but many musicians also work at venues. There are safeguards to prevent large corporate entities from taking advantage of the program, and there's an opportunity to apply for supplemental grants if conditions force venues to remain closed.
The Small Business Administration's Payroll Protection Program — an imperfect solution to an unprecedented problem — has benefited a lot of businesses. But it's not much help for clubs and similar spaces that can't predict when they'll be allowed to reopen, let alone feel that it's really safe to do so or that the decision is financially sound. Cobb counts himself lucky that he has access to financial experts through his bank and elsewhere. After working with them for two weeks on a PPP application, he was approved. He then did extensive research to learn how the loan could be forgiven, but ultimately determined there was no way he could meet the requirements. He'd already taken on the loan, and unless Congress changes the rules for PPP, about 60 percent of it will become a debt. Lacking a way to predict with certainty whether he'll be able to generate any revenue in time to pay the loan back, Cobb made a gut-wrenching decision. In addition to the 47 self-employed workers he'd already cut loose, he let go of seven full-time staffers.
"What I learned over the course of 10 days was that it was going to be better for not only most of them," Cobb says, "but also for the hope that Exit/In wouldn't have to permanently close … to lay all of them off."
The Save Our Stages Act enjoys bipartisan support. The same is true of another piece of legislation that NIVA endorses: the RESTART Act, a broader relief bill in the U.S. Senate that would expand and modify the PPP to make it work better for businesses like venues. SOS hasn't gained any support from Tennessee's congressional representatives yet, but Sens. Marsha Blackburn and Lamar Alexander have signed on to co-sponsor RESTART, while Reps. Jim Cooper, Steve Cohen and David Kustoff have co-sponsored a corresponding bill in the House. However, congressional Republicans and Democrats remain at an impasse over how to proceed with financial relief, and both SOS and RESTART are among the bills that didn't come up for a vote before Congress took its August recess.
In the meantime, independent venues are looking for any viable revenue source. Exit/In was one of five Nashville clubs to host stops on young bluegrasser and rocker Billy Strings' wildly popular Streaming Strings Tour in July. Exit/In's own house video rig is almost dialed-in, and they'll produce more streams coming up. Streaming works for some venues: Bluegrass mecca the Station Inn established its Station Inn TV platform in 2019, and it's been a huge help to the club this year. But Cobb has done the math, and the money brought in from streams like recent ones by Lilly Hiatt and Moon Taxi isn't sufficient for Exit/In. To match the revenue that comes from a full year's concert calendar, he'd have to produce 2,000 streams in a year — an impossible five to seven every day.
"We love it because it uses the stage," Cobb says of streaming. "It connects artists with fans. It allows artists to create their art, and it gives musicians a chance to get together and play. It gives a few people an opportunity to make pennies to the dollar of what they used to make — to do not only the same work, but probably harder work. Definitely harder work mentally and emotionally. And I'm talking about the artists, musicians, the audio techs, the video techs, the venue managers — who are now doing temperature checks and having to have everyone who comes into the building sign waivers that say you won't sue us if you end up sick. It's a whole new world."
---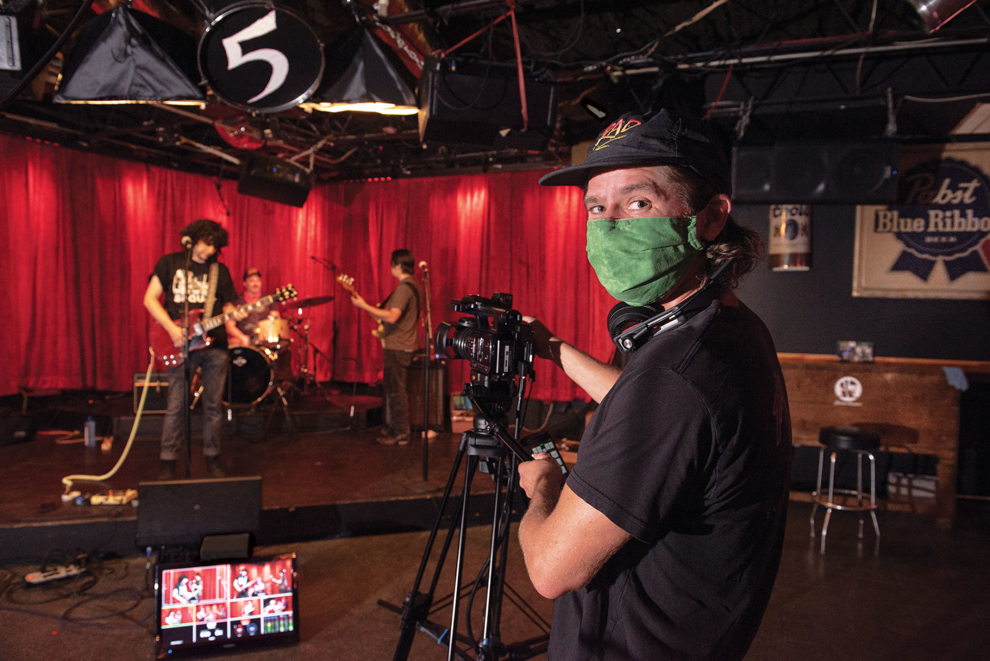 In 2003, Diane Carrier and her husband William "Bones" Verheide opened The 5 Spot in East Nashville's Five Points, and the club, whose capacity was originally fewer than 100 people but has since grown to 150 or so, became a staple practically from the get-go. The couple handed the business off to Todd Sherwood and Travis Collinsworth a few years later. Sadly, Carrier died in 2017, but she's fondly remembered as a firm believer in the area's music scene years before it took off. 
Miraculously, the building was spared from the March 3 tornado that did extensive damage to dozens of nearby homes and businesses, including 3 Crow Bar and venue The Basement East. The 5 Spot was without power for a week, but reopened March 11 with a benefit show for Gideon's Army's tornado relief efforts in North Nashville. The next day, seeing the rising tide of COVID-related cancellations, Sherwood and Collinsworth made the call to close until further notice. 
They set up a crowdfunding campaign with the goal of paying staff, bands on the calendar whose shows were canceled and some of their own bills, at least for a month. They haven't yet been able to reopen. One bright spot is that Verheide is their landlord, and he made a public pledge to waive rent until the venue could get back in business, a very rare circumstance in commercial real estate.
"The business is basically OK, but I feel morally obligated to be able to pay the rent and the bills, and some staff members and myself," says Sherwood. "I can't just not do that. I feel like it's a challenge, like, 'OK, let's see if we can still pay these bills and some people with this situation.' "
Over the summer, Sherwood and Collinsworth have transitioned to a model that's more like a soundstage. They've installed a streaming rig with several cameras, upgraded their lighting to make the room look better on screen and invested in a strong internet connection. Sherwood has produced multiple shows most weeks, including one-offs and online versions of some regular weekly shows like Jason Eskridge's Sunday Night Soul, Casual Tuesday (a version of Derek Hoke's $2 Tuesday) and Tim Carroll's Rock 'n' Roll Happy Hour.
The process has become streamlined — audio and video are consistently high-quality, and the talent is first-rate. Most of the shows have been free streams on Facebook with a virtual tip jar for the artists, but the next step is to experiment with ticketed shows via the StageIt platform. 
"There's been the whole 'phases of reopening' for Nashville, and I had my own phases of doing this," Sherwood says. "Phase one was 'Build it,' and phase two was 'Get it going well.' And now I'm in phase three, which is 'Try to find out if people will pay five bucks to watch something on their phone or computer.' If they do, we can have a broader reach. But there's a lot of competition out there for the little rectangles that people are looking at. So we're about to learn in September if it is possible to even make a living at all doing this."
As of late August, the September calendar was nearly booked, but the number of people that the current iteration of The 5 Spot can pay is small. Two techs help Sherwood produce the streams, and he's been paying them out of his own pocket. He hopes to scale up and run more than one stream per day. The main obstacle is a very New Nashville problem that, ironically, feels almost quaint during the pandemic. Heavy construction on M Cubed Developments' townhome complex next door rattles The 5 Spot until 5 or 6 p.m. most days.
Sherwood would be grateful to see some federal assistance, but he isn't betting on it anytime soon. Looking into the future, he sees a way that a proliferation of streams could spruce up the city's image.
"What all the music venues in Nashville need to do is find a way that we can service the city itself and help change the view of Nashville from downtown drunken idiots in a pandemic to real live music," Sherwood says. "When the city opens back up, maybe tourism will be improved by bringing people to come see the venues that they watched on livestreams."
---

A handful of venues have been able to meet the guidelines on Metro's roadmap to reopening, and have hosted shows for a very limited-capacity in-person crowd. They offer a glimpse of what a cautious return to live audiences might look like, and it's hopeful. It will not, however, be easy.
City Winery opened in 2014 in a former warehouse near Third Man Records and the Nashville Rescue Mission It's one of eight City Wineries around the U.S., each of which features a restaurant space as well as one or more venue spaces. Showgoers have always sat at tables inside the venue, eating meals from the kitchen and drinking housemade wines while they watch the show. The Nashville location is one of two City Wineries that's been able to cautiously make a return to live music since the pandemic began. 
Tables are now spaced eight to 10 feet apart, and wine barrels are used to mark off guest areas. Both staff and guests get a temperature check and a wellness questionnaire on arrival. Staff members wear masks; guests are expected to do the same, and few have complained. In addition to sanitization before patrons arrive and after they leave, a staffer spends each show circling the venue, wiping down high-touch surfaces and offering hand sanitizer. Guests receive a baggie so they've got a place to put their mask while they're eating, plus a disinfectant wipe. Paths are marked throughout the building to keep traffic flowing freely. 
For Mike Simon, a longtime City Winery staffer who took the reins as programming manager for Nashville in 2017, attention to detail in making the room a safe place to be is absolutely critical.
"I think all parts of the music industry are realizing that venues need to all work together to make sure that we're all doing this the right way," says Simon. "Because all it really takes is one venue doing it poorly, and it could ruin it for everyone else."
With these precautions in place, 100 people — 25 percent of the main room's capacity — can come see a show. As you might predict in a music town starved for concerts, demand has been strong, and events with much-loved songsmiths John Hiatt and Hayes Carll sold out quickly. Also a quick sell-out: an Aug. 22 set from bluegrass guitar master and rising singer-songwriter Molly Tuttle, the first show with an audience to be streamed live from City Winery via its new partnership with streaming startup Mandolin.
"The energy that an artist is getting from a crowd listening to their music, as opposed to an empty room, [that] made all the difference in the world," Simon says. "We were hearing that from people who watched it from home, saying, 'That was the best livestream I've seen this entire quarantine experience.' And part of it has to be because Molly was feeding off of the crowd. You could hear people saying things to her, thanking her for playing tonight, and she didn't want to get off the stage."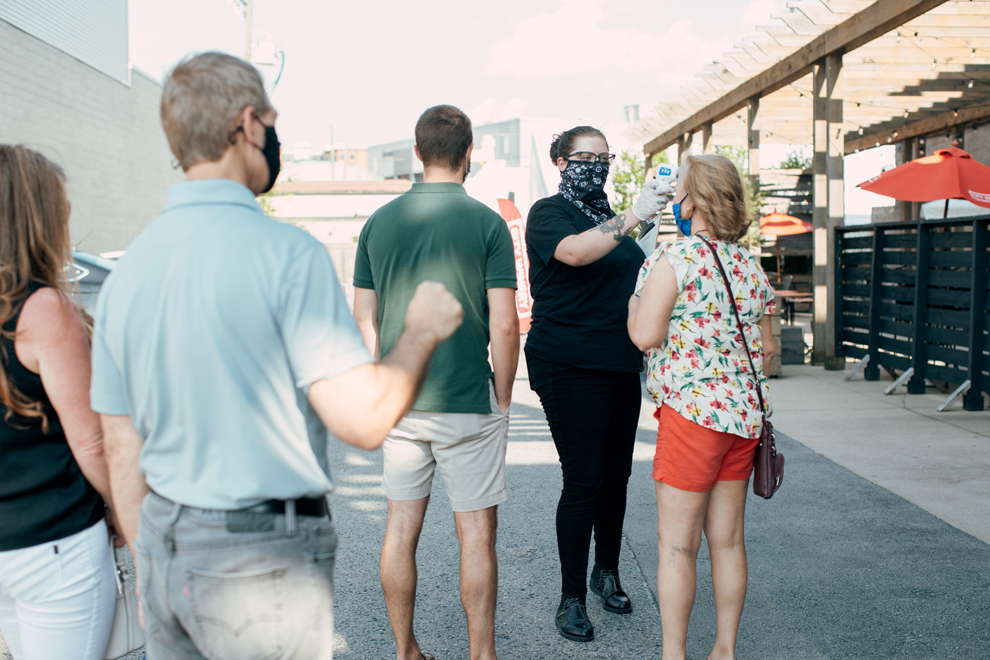 At the end of August, the venue opened a new tented outdoor area called the Music City Wine Garden. A full house of 100 guests came to the debut show in the Wine Garden with blues ace Keb' Mo'. With the addition of heat lamps, Simon expects the Wine Garden to remain in operation until December. As long as the public health metrics that Metro tracks don't indicate a need to move backward on the reopening roadmap, City Winery can accommodate 200 total patrons at its two stages each day. They won't be increasing capacity until they judge that it's safe to do so, even if Metro's guidelines allow it sooner. These are some relative luxuries provided by having other parts of the business to rely on; food and wine are City Winery's main sources of profit, something that works well for few club-size venues. 
In a non-pandemic year, City Winery might serve from 600 to 2,000 guests on a busy weekend night via the restaurant, the upstairs lounge and the main venue. The current conditions are a vast improvement over the venue's lowest point during the pandemic, when all but five salaried employees were furloughed, but it's still a skeleton crew. In addition to booking the shows and ensuring they run smoothly, Simon is out on the floor busing tables.
"The economy of scale just isn't what it used to be," he says. "Is that sustainable? If we're still in the same place and still trying to do the same type of stuff, let's say, in March, probably not. We feel lucky in Nashville that we have this beautiful, huge parking lot, which is now completely tented with the Wine Garden. … Some of our locations are closed, and their local legislation is not giving any kind of room to be able to operate. They just don't have the space to be able to do outdoor, fresh-air programming. In Nashville, we are counting our blessings."
While they're in this rough spot, there's little for the folks who run Nashville's independent music venues to do that they aren't already doing. They're seeking out new sources of revenue and lobbying for federal financial aid. They're asking fans to contact their representatives in Congress; to donate money, if they have it, to keep the lights on; to wear masks when they go out in public with the hope that sooner than later, it'll be safe to gather in groups again. They might be hoping for a benevolent investor like Sir Elton John, who recently told BBC Radio 6 Music that he has "a few irons in the fire" with regard to saving The Troubadour, the Los Angeles club where he made his U.S. debut in 1970. 
One thing is clear: These venues have given us more than we can give back.
Correction: The print version of this story incorrectly states the status of Exit/In's PPP loan.