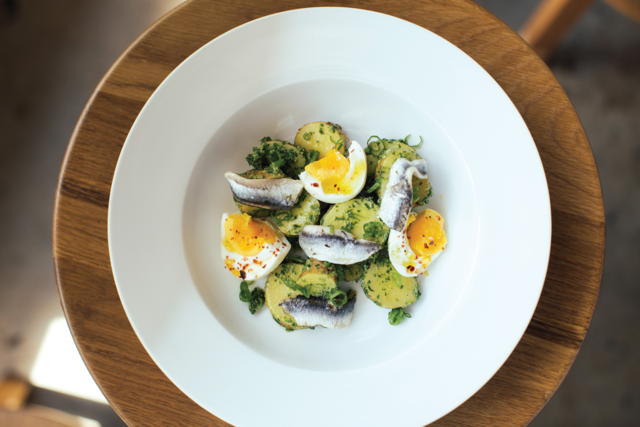 New potatoes with eggs and boqueronesPhoto: Daniel Meigs
New restaurants are opening in Nashville at a phenomenal pace, but quantity is not the same as quality or freshness or variety. How many elevated-burger joints can a city support?
It's still uncommon for Nashville to get a new restaurant that is truly mind-blowing. Happily, Folk, the second restaurant from Rolf and Daughters' chef-owner Philip Krajeck, has knocked off our collective socks. Just as Rolf joyfully expanded Nashvillians' notions of what pasta could be, Folk delivers Krajeck's dream of the perfect pizza. (The menu features many remarkable things beyond just pizza, but more on that later.)
Krajeck starts his pizzas with carefully sourced flour from select regional mills, creates a dough that's leavened naturally (no commercial yeasts) and tops the pizza with fresh ingredients. The pizza is then plunged into one of Folk's two brick ovens, and what happens next is almost like magic, as he told Scene editor D. Patrick Rodgers in a recent interview:
"The dome temperature of the oven is like 800 to 900 degrees, the floor of the oven is like 750. When you put a pizza in and cook it for like 90 seconds, it's almost violent. The dough goes through this insane transformation. You get this leoparding on the exterior of little charred spots. Your sauce, which is raw, is evaporating and concentrating. In 90 seconds, all these raw things turn into something."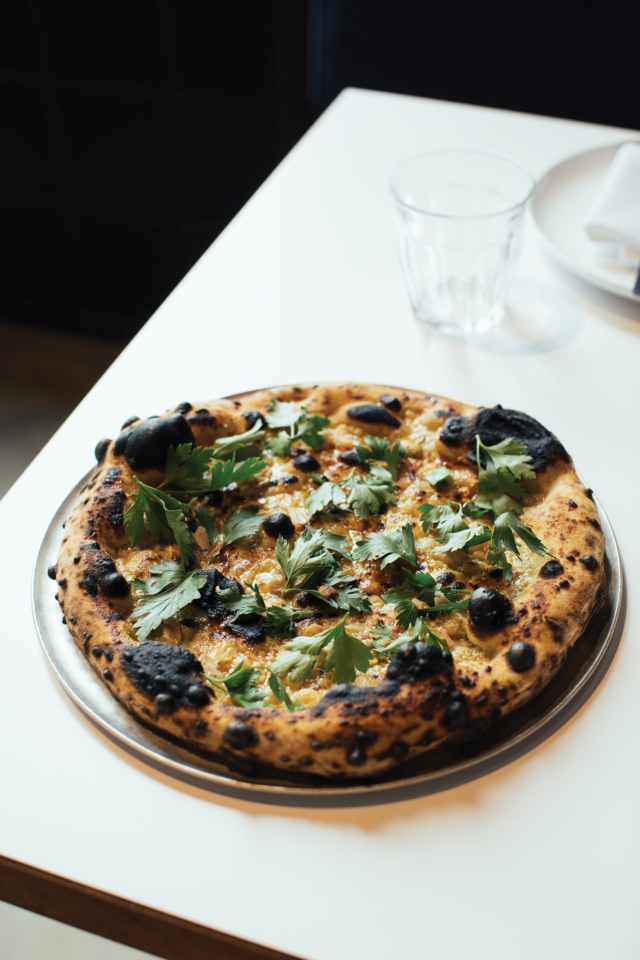 Pizza with clamsPhoto: Daniel Meigs
The ingredients meld into something that is quite special, indeed. The clam pizza is the pinnacle of Folk's method. As Krajeck explained to me, it starts with fresh clams in the shell, which are cooked traditionally with white wine and aromatic herbs. The clams are removed and the remaining liquid is concentrated and strained, and a little cream is added. That's the pizza sauce. The cooked whole clams, plucked from their shells, are added to the pizza, and the disk goes into the oven for its transformation. 
The resulting pizza crust is a sophisticated complement to the tender little clams. The dough tastes rich, almost creamy, with the aforementioned "leoparding" — bubbles of charred crust — providing an earthy counterpoint. A light, almost imperceptible sprinkling of shaved katsuobushi (smoked skipjack tuna from Japan) adds depth of flavor, and it's finished with sprightly lemon and fresh Italian parsley. It's one of the finest pizza pies I've ever tried.
Part of the reason Krajeck decided to open a second restaurant (nearly six years after his first) was simply to make room for the brick ovens he desired. Rolf and Daughters' kitchen, designed when the Germantown neighborhood was just beginning to ignite as a restaurant destination, is way too small to accomodate pizza ovens. Plus, Krajeck didn't want to produce pizzas only a few blocks from Tandy Wilson's City House, a granddaddy of fine cuisine in Germantown and a place whose wood-fired pizzas are widely adored.
To find a new neighborhood for his new neighborhood restaurant, Krajeck started searching in East Nashville. He found his spot in a former grocery store in the McFerrin Park area. The space has been remade as an airy, attractive dining room with exposed brick, blond wood, giant rice-paper globes that provide elegant lighting — and a wide-open kitchen that allows patrons to watch the chefs and ovens in action. If Krajeck had stopped there, with pizzas and a convivial dining room, that would have been enough. But there's much more to the menu, all executed with meticulous attention to ingredients and perfect balance on the palate.
The menu is fairly small, but it offers a lot of options. At the top of the roster are shareable snacks, including a deceptively simple little plate of shishito peppers. I'm not usually a huge fan of peppers as a central ingredient, but this dish is fascinating. The peppers are lightly crusted with Folk's version of XO sauce, a chunky miracle of a condiment that was originally developed in Hong Kong in the 1980s. Folk's iteration uses dried wild shrimp from Louisiana, shrimp-infused oil, and leftover ends from the kitchen's slate of house-cured meats, like coppa ham.
Also on the snacks list is a truly remarkable take on mushroom toast. "I have a bit of a love affair with flour and water in general," Krajeck revealed to us in April. So in addition to pizza crust, loaves of fresh bread — baked in house, of course — are a major contributor to the menu. The toasted bread is topped with chanterelles and guanciale (Italian-style pork-jowl bacon), along with parsley and lemon. It's luscious.
Folk does wonderful things with seafood, such as a delicious blue crab dish with garlic scapes and cabbage, as well as with vegetables. A standout among the veggies is Folk's dish of new potatoes, sourced from Rocky Glade Farm in Eagleville, Tenn. The variety of potato is Austrian crescent, and Krajeck and his team even picked out the seeds from which the farm grew the potatoes.
I'll admit that this dish made me especially happy, because it reminded me of my mom's version of potato salad, featuring vinaigrette instead of mayo. The little gem-like potatoes are combined with celery pesto — made with pine nuts and local leaf celery, sauvignon blanc vinegar and chunks of lightly boiled egg — then topped with beautiful boquerones: pickled white anchovies from Spain. It's lovely.
With so much going on with the snacks and small plates, I did not, on my three visits, get to sample many of the big plates. But I was wise enough to try the pork milanesa. Milanesa is a style of preparation from Latin America that's similar to Austrian schnitzel. 
Folk takes a cut of pork (from local Bear Creek Farms) and pounds it thin. It's then cured for two hours with shio koji, the ingredient used to ferment sake, miso and other Japanese dishes.  Finally, the pork is breaded and pan-fried. The meat turns out to be incredibly moist, while the crust is crisp and not at all greasy. With condiments of aioli and capers and a roasted marinated banana pepper on the side, it manages to be a hearty — but not at all heavy — entrée.
"I want you to come and eat and feel good the next day and not have a hangover from too much fat or poor ingredients," Krajeck told us. He has achieved his goal. Even the desserts have a kind of restraint and creativity that don't bludgeon the diner into a sugar coma.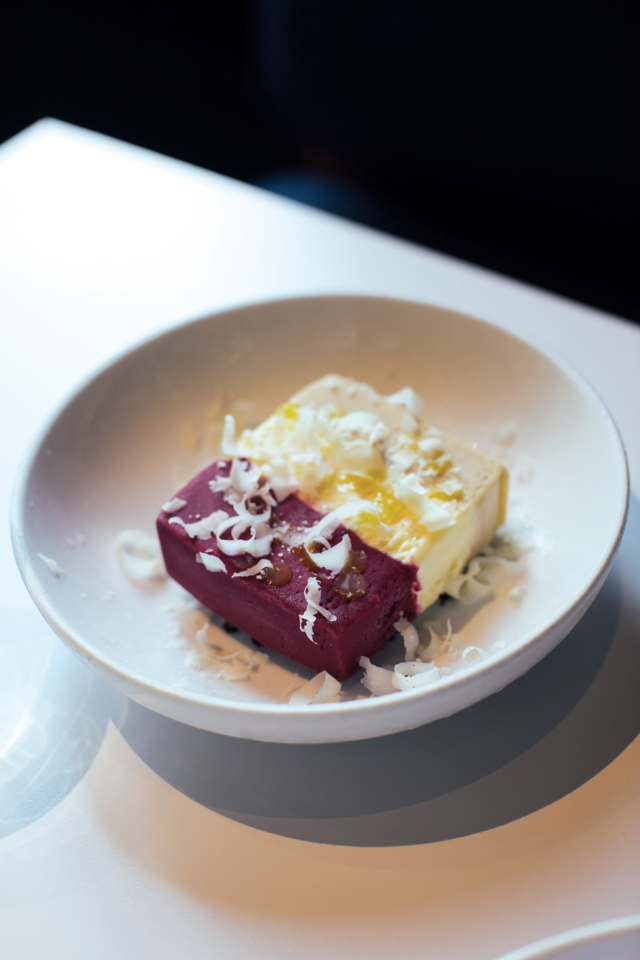 Neapolitan ice creamPhoto: Daniel Meigs
I am extremely fond of Folk's Neapolitan ice cream dessert. While traditional Neapolitan features stripes of strawberry, vanilla and chocolate, this version is a brilliantly whimsical take. The three ice cream flavors are beet, vanilla-Parmesan and rye (the bread, not the whiskey), topped with fine curls of Parmesan and a drizzle of olive oil, served atop a crumble of rye and cocoa. I'm aware many people will have an automatic aversion to the idea of beet ice cream, but believe me, the flavors are delightful.
The Neapolitan ice cream is the work of Samantha Short, who is the pastry chef for both Folk and Rolf and Daughters, and it's worth mentioning other principals on Krajeck's team. Folk's co-chefs are Sean Sears and Dauer Ellis, and the general manager, who handles Folk's wine list, is Aria Dorsey. Folk's floor manager, who helps keep the service knowledgeable and smooth, is Kate Classon. Michael Matson bakes the phenomenal bread that is served at both Folk and Rolf, and Shane O'Brien is the bar manager for both restaurants.
Folk's menu prices aren't total budget busters, so the entry point is relatively accessible. Snacks and small plates range from $6 to $14, pizzas are $15 to $20, and entrées hover just above $20 (except for a dry-aged Bear Creek Farms New York strip, which is offered for $4 an ounce). You could pile on the dishes and have a very special blowout meal at Folk, or you could just zip in for a snack or pizza at the bar, spending much less. The bar stools and a line of seats facing out the front windows are reserved for walk-ins, allowing spontaneous, casual drop-ins. And the cocktail and wine lists are fun for experimenting. 
Folk's team says all the wines on its list are natural, produced with minimal manipulation and showcasing the winemakers' "dedication and integrity for the land they farm." That means the offerings may be less familiar to the average diner — no mass-produced corporate juice on this menu. That makes exploring all the more fun.
With all the restaurants opening in town, people regularly ask me why some places, like Folk, are considered more special than others. The answer is a kind of care that chefs don't tend to trumpet. Reading the relatively terse Folk menu doesn't reveal all the incredible thought and time spent picking the perfect ingredients that has taken place over months to create the seemingly simple dishes.
But you don't have to know those details to enjoy Folk. You just need to know that you shouldn't miss it.