I'm gonna start this column by patting my own butter: I'm a pretty good baker. People have physically fought over my cookies. Strangers have offered me absurd amounts of money to make cakes for their loved ones. And have you ever seen a miniature pumpkin pie baked into a cupcake? Yeah, I invented that. In fact, I literally wrote the (cook)book, titled Bake It in a Cupcake.
But despite knowing my way around a kitchen, making pie — specifically, traditional pie crust — has always eluded me. I've tried all the tricks: I've tried cold, even frozen ingredients; I've tried substituting water with 7-Up and vodka; I've kneaded and not kneaded; I've rested and not rested. Despite all efforts, my crust is soggy, tough, raw, burnt, sandy or flavorless, and I've had to turn to store-bought to get the job done.
I used to see my torrid relationship with pie as an alluring challenge. Every fall, after being taunted by photos of gorgeous pies on magazine covers and social media, I'd try to brush up on my own pastry skills. But not this year. This year, I have better things to do. I have better things to bake. I'm not making sub-par pie — I'm letting experts do the work for me. And if you, too, want to buy your pie, Nashville has you covered (by a pretty lattice crust, even). There are a lot of phenomenal bakers in this city, and whether you want your post-turkey treat to be a traditional pumpkin pie or something a bit more adventurous, vegan or gluten-free, here's where to find some of Nashville's best Thanksgiving pies.
Dozen
Dozen sells several hundred pies in the days leading up to Thanksgiving, and for good reason — they make some of the very best pie in the city, with a simple, expertly crafted crust and well-balanced, comforting flavors. They also offer other baked goods for the holiday, including breads, rolls, galettes and even cubes of sourdough for stuffing ($1 per pound).
Cost: $27-$30
Flavors: Pumpkin, buttermilk-pear, chocolate silk, apple and butterscotch-pecan
Deadline: Sunday, Nov. 19, at 5 p.m.
Contact: holidays@dozen-nashville.com, 615-712-8150
Buttermilk Sky Pie
If you live in Nashville, a drive out to Franklin might feel like adding unnecessary stress to an already busy time, but, oh my God, it is worth it. Buttermilk Sky Pie is decadent and rich, a must-have for any true pie fanatic (especially the I-40, a pumped-up pecan pie with toasted coconut, chocolate chips and a shortbread crust). And if you're the procrastinating type, the folks at Buttermilk Sky say they'll have some pies available for walk-ins in the days leading up to Thanksgiving, but pre-ordering is always your safest bet.
Cost: $26
Flavors: Apple, pecan, spiced pumpkin, chocolate chess and I-40
Deadline: Mon., Nov. 20, but pies may be available for later walk-ins
Contact: 615-721-5962 or order online at buttermilkskypie.com
Henrietta Red
Some of the season's more intriguing pie flavors can be found at Henrietta Red, one of the newer additions to Germantown's exploding culinary scene. While the kitchen is often praised for its seafood, mega-talented pastry chef Caitlyn Jarvis is making magic happen over on the dessert list. "Mulled Apple Cider Chess Pie" may very well be the best words ever written on a menu.
Cost: $30
Flavors: Mulled apple cider chess, toffee pecan, and brown-butter-pumpkin with pumpkin-spiced latte marshmallows
Deadline: Tuesday, Nov. 14
Contact: info@henriettared.com
The Loving Pie Co.
Berry Hill's Loving Pie Co. has the largest pie selection by far, with a holiday menu boasting more than two dozen varieties and even a couple gluten-free options (chocolate cream and pumpkin). They also offer the Chef's Choice Sampler, which is a Franken-pie of sorts, made from a variety of different flavored slices, so you can try them all. It's a Thanksgiving dream come true.
Cost: $22
Flavors: Coconut-custard, pumpkin-chess, blueberry-peach, maple-toffee-coffee, Mexican chocolate, pumpkin-spice latte and many more 
Deadline: Saturday, Nov. 18
Contact: TLPCHolidayOrders@gmail.com, 615-383-1355
The Loveless Cafe
Not only does the legendary Loveless Cafe offer pies, but they will make your whole freakin' meal for you — from roasted turkey with brown gravy to bourbon-cranberry relish. Details are at lovelesscafe.com.
Cost: $16.95
Flavors: Pumpkin, pecan and apple-crumb Deadline: Friday, Nov. 17
Contact: lconder@lovelesscafe.com, 615-646-9700
Marché Artisan Foods
Besides pie, East Nashville's Marché is also offering a number of breakfast foods, savory pudding and soups. And as far as dessert goes, they also have pumpkin-spice and chocolate bombe cakes, cranberry linzer and chocolate-pumpkin tarts, and cookies and other pastries available by the dozen.
Cost: $25-$32
Flavors: Pumpkin, chocolate-walnut and apple
Deadline: Monday, Nov. 20
Contact: info@marcheartisanfoods.com
Dulce Desserts
If you're pie-ticular (haha) about your baked goods, and want to try before you buy, Dulce Desserts is hosting their annual holiday open house noon to 2 p.m. Saturday, Nov. 18, where all their Thanksgiving and Christmas treats will be available to sample.
Cost: $22-$26
Flavors: Pumpkin and coconut crème with a macadamia nut crust
Deadline: Saturday, Nov. 18
Contact: info@dulcedesserts.com, 615-321-8700
Leeuw Bake Shop
Not only is everything from Leeuw Bake Shop vegan (even, miraculously, the macarons), but these holiday pies are also zero-waste, with compostable pie tins and gift boxes made of recycled material. Mini 3-inch pies and sampler bundles are also available, and there's a gluten-free crust option for an additional $5.
Cost: $20
Flavors: Pumpkin, pecan and apple
Deadline: Monday, Nov. 20
Contact: Order online at leeuwbakeshop.com
The Peach Cobbler Factory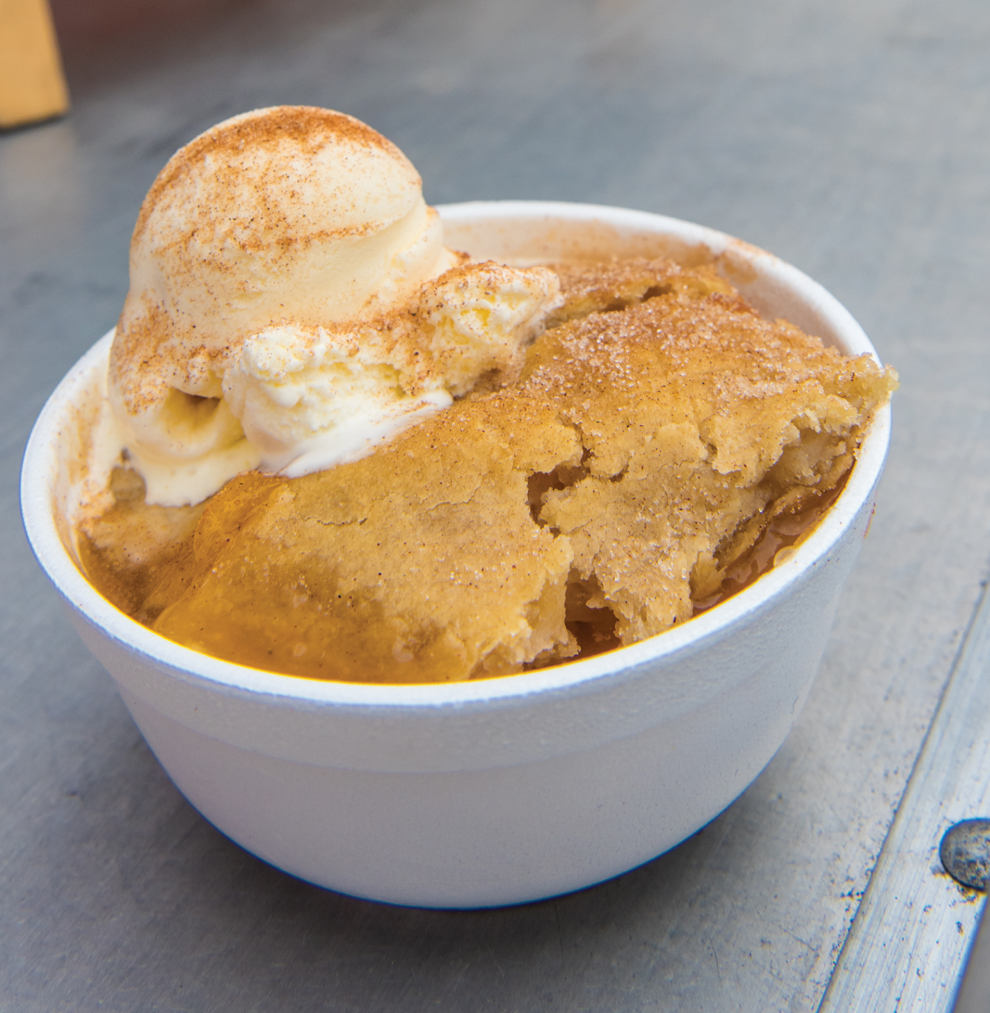 Not into pie? Fine, weirdo, celebrate the holiday with cobbler, lemonade cake and/or banana pudding from The Peach Cobbler Factory. Their cobblers come in a dozen flavors, including sweet potato pecan, cinnamon peach praline, honey apple and cherry, but for the Thanksgiving traditionalists, they've temporarily expanded their offerings to include a few classic pies as well.
Cost: $15-$18
Flavors: Sweet potato, pumpkin, chess and sweet potato-praline
Deadline: Thursday, Nov. 16
Contact: 615-592-5170
Arnold's Country Kitchen
The popular meat-and-three may be known for their roast beef and sides, but if you've ever left Arnold's without also having a slice of pie, you really messed up. In fact, they'll make your whole Thanksgiving dinner for you, right down to the banana pudding. Details are at arnoldscountrykitchen.com.
Cost: $19.25
Flavors: Chocolate meringue, chocolate-chess, pecan and hot-pepper-chocolate
Deadline: Wednesday, Nov. 17
Contact: Arnoldsmeatand3@gmail.com, 615-256-4455
Visit the nashvillescene.com for pie baking tips from local bakers.