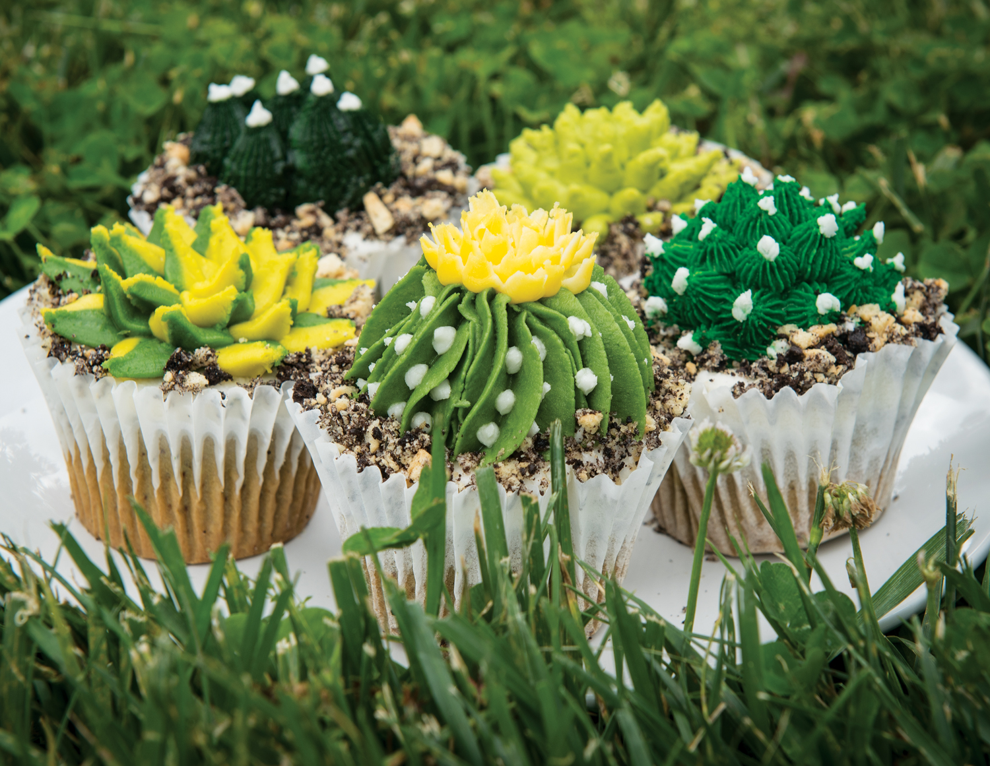 There's a reason — several reasons, really — why most pastry chefs don't gravitate toward vegan desserts when seeking out lucrative business models. According to a 2016 poll conducted by The Vegetarian Resource Group, an estimated 3.3 percent of American adults are vegetarian, with just half that number claiming to be vegan. For the remaining 96.7 percent, egg- and dairy-free treats carry a tarnished reputation for being heavy, dry or flavorless. Smooth ice cream needs milk. Moist cake needs eggs. Crispy cookies need butter. Right?
Wrong, buddy! It's 2017. Being vegan no longer means molding smashed dates and waxy carob chips into a square and calling it a "brownie." Food science has progressed — we can grow burgers in test tubes and make egg-free, gluten-free pasta out of gel extracted from yams. Vegan bakers can make tender muffins, flaky crusts and creamy fillings.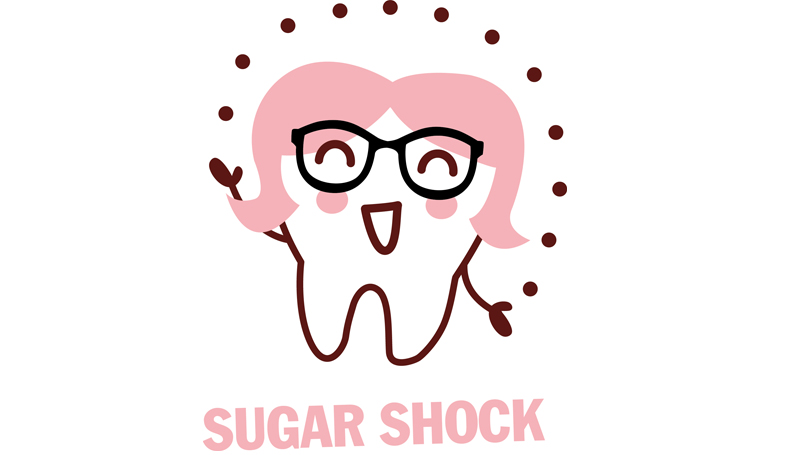 One woman proving that here in Nashville is Beca Lewis Skeels, the baker behind Leeuw Bake Shop. (The name means "lion" in Dutch, a nod to her Dutch roots and Leo astrological sign.) Skeels has lived in Nashville for only six months, but her once part-time operation has blossomed into a full-time venture, partly thanks to a growing Instagram following that's smitten with her mini cakes decorated with buttercream in the shape of life-like dahlias, delicate peonies and potted succulents. The stunning cakes — many inspired by the plants and color palette of the Southwest, where she grew up — have been recognized by Huffington Post and Better Homes and Garden, helping extend Skeels' reach beyond just the vegan community.
"I would say, like, 65 percent of my customers aren't vegan," Skeels says. "And every single time they're like, 'I wouldn't have known it was vegan.' That's my goal. Looks are really important to me, but taste is even more important."
And her goods — cupcakes, layer cakes, shortbread cookies and French macarons — taste goooooood.
"I made cupcakes for a family member, for their kids, and they came back to me the next day and said, 'That was the best cupcake I've ever had, and I don't eat health food.'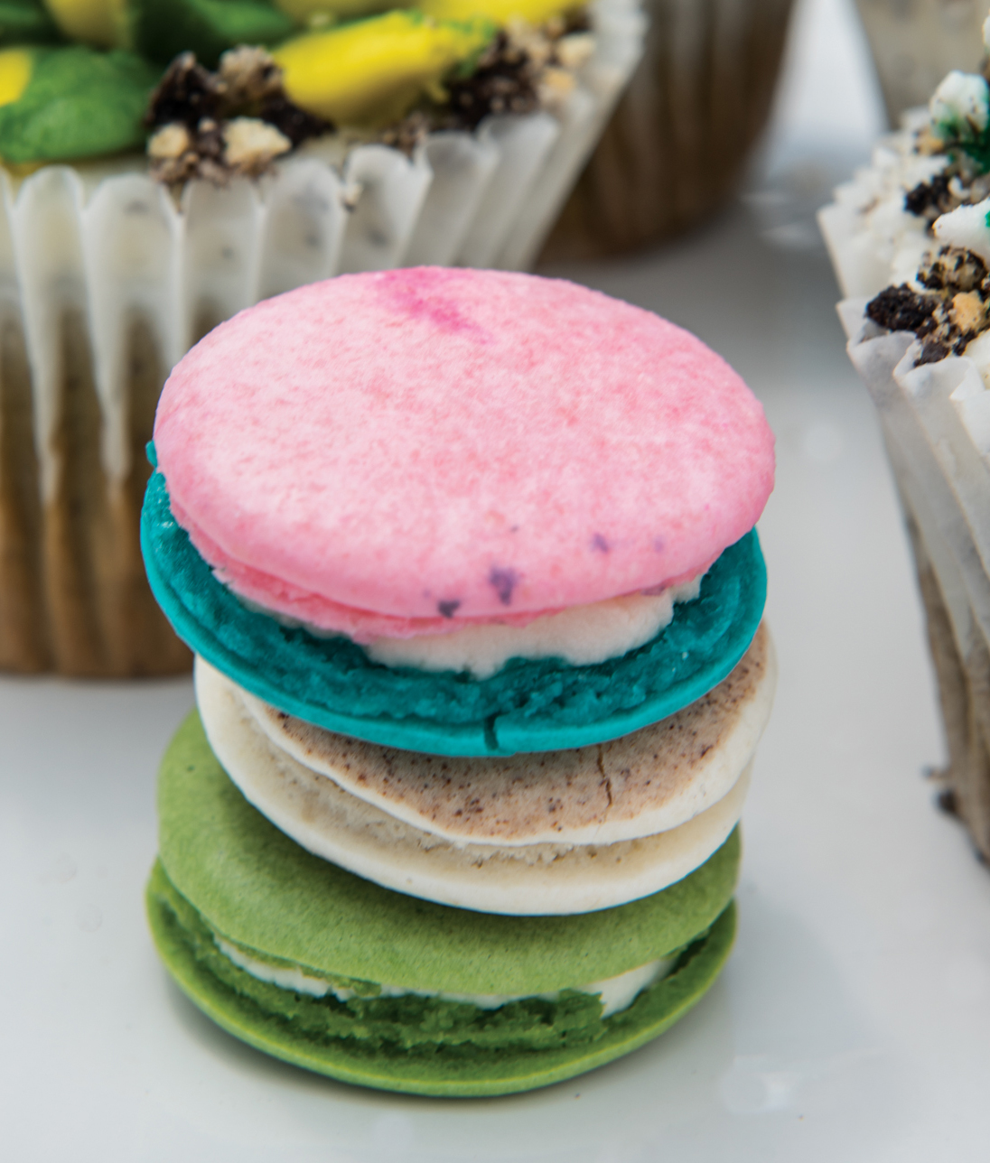 "I was like, 'I don't make health food!' " she continues. "I make dessert. I just happen to do it without using animal byproducts. People think vegan and go, 'Oh, that's healthy, that's not a dessert.' But it is. Everything I do correlates to a traditional Southern recipe. That's how I was taught to bake from my grandma. But I've just been able to, over the years, figure out how to do it where it tastes the same."
When I first tried Skeels' vegan macaron, the texture was perfect. It was tender and delicate, and just as eye-catching, with the candy-colored cookies bursting with bright swirls and a dusting of edible shimmer. But macarons are traditionally made with almond flour and whipped egg whites. So what does Skeels use to replace clouds of meringue? Bean juice. That thick, viscous liquid you drain from a can of garbanzos, in fact. Don't barf! While the thought of chugging that cloudy syrup is — blech — pretty disgusting, the vegan community has been using aquafaba (water-bean) as a stand-in for egg whites for years.
"I've been using it for maybe the last six months," Skeels says. "Before that I had no idea there was anything that could be like egg whites. From a chemistry standpoint, the properties of aquafaba and egg whites are almost identical."
And, importantly, it doesn't taste anything like beans. I promise.
Skeels sells her goods online at leeuwbakeshop.com — with both shipping and delivery options available — and you can also pick up her treats every Saturday and Sunday at Gift Horse in East Nashville. Starting in June, she'll be at Whole Foods in Green Hills every Thursday, and she'll have a table at Porter Flea (June 16-17), too.
"It's so easy to be vegan now," says Skeels. "I have so many customers that come to me, like, 'I've never had anything vegan.' You eat vegan stuff everyday! Just try it."
---
More Places to Get Great Vegan Desserts
Avo
3 City Ave.
615-329-2377
Avo's seasonally inspired selection of plant-based desserts often includes some kind of "cheesecake" (made with a creamy cashew base), in decadent flavors like chocolate-chip mint, avocado, lemon thyme and chocolate peanut butter. Slices are beautifully plated and served cold, perfect for a hot evening.
Five Daughters Bakery
Various locations
Five Daughters Bakery is known for its 100 Layer Donut, made with all the butter in the world, and a splurge at $4.50. But the bakery also offers rotating vegan flavors, including maple, Vietnamese coffee and chocolate sea salt; each one is less than $3.
The Southern V
513 Fisk St., Unit B
615-802-8236
Stop by The Southern V (open on Saturdays and Sundays only) for your soul-food fix, and don't forget dessert. Everything is vegan, including their fried peach fritters, marshmallow treats (made with carrageenan, a vegan alternative to gelatin) and ice cream cups. First come, first served, and they do sell out.
Vegan Vee
306 46th Ave. N.
You can get Vegan Vee's delectable offerings only Friday through Sunday, but it's worth making a special weekend trip to the Sylvan Park takeout bakery. Options include both the sweet (raspberry lemon doughnuts, maple almond butter sandwich cookies and blueberry chocolate mousse tarts) and savory (millet/flax baguettes and rosemary/herb breadsticks). Follow them on Instagram (@Veganvee) for the latest offerings.
The Wild Cow
1896 Eastland Ave.
615-262-2717
This East Nashville eatery is beloved for savory, comforting dishes (hail seitan!), but save room for dessert — their bakery case offers both made-in-house sweets and a selection of goods from Vegan Vee (including gorgeous cakes decorated with clouds of fluffy frosting, rivers of fudge and fresh berries). 
The Wild Muffin
998B Davidson Drive
615-353-3998
Sure, the West Nashville bakery specializes in gluten-free baking, but The Wild Muffin also has plenty of vegan options, from cookies and brownies to muffins, breads and custom cakes.