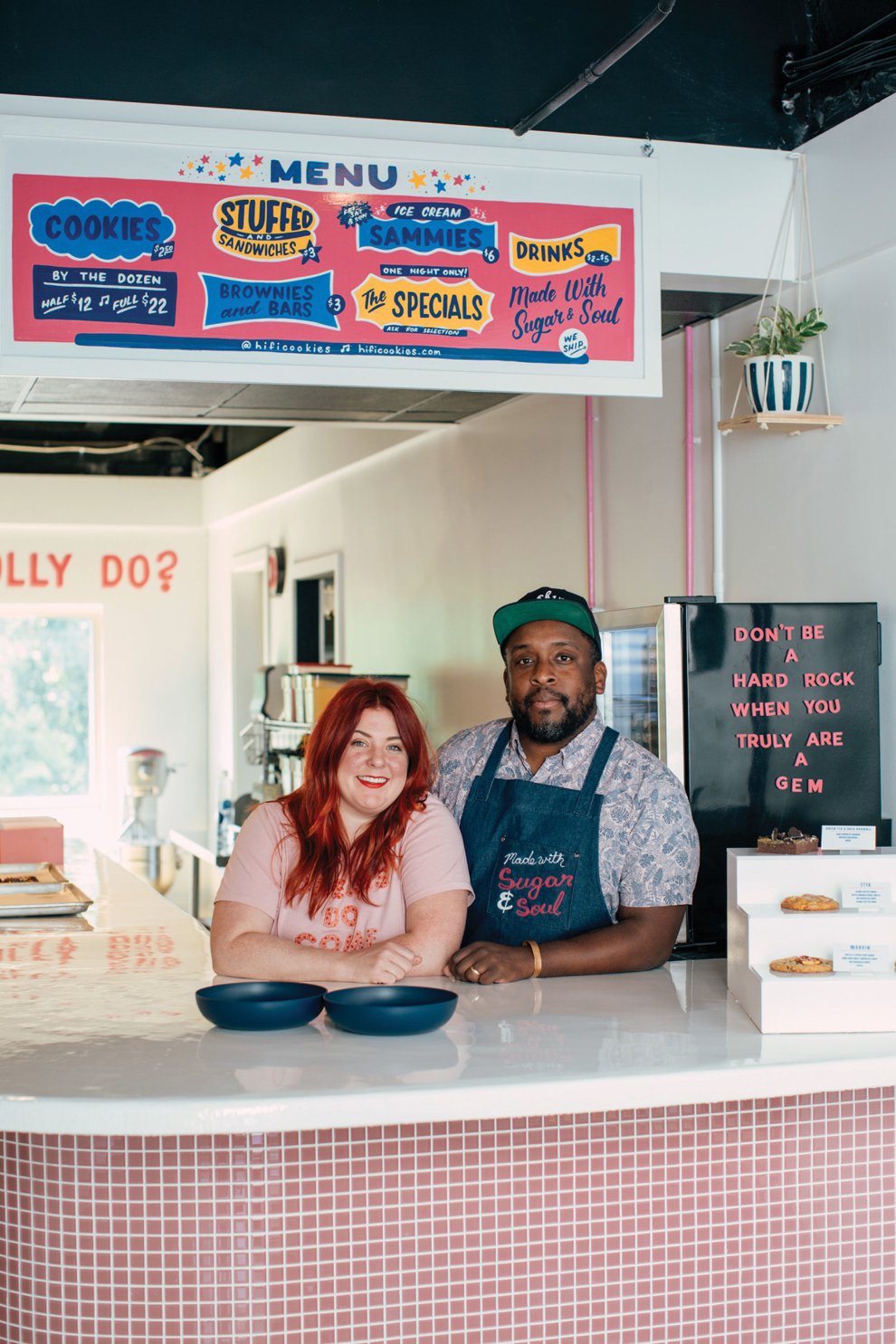 For Sean Newsome, owner and head baker of HiFi Cookies, it's always been the cookie.
"Baking and cooking have just been something I've always done," Newsome says. "My grandmother, Ida Green, was a huge baker — she baked the best red-velvet cake I ever had in my life. And my mom baked this incredible almond cake. But I was always obsessed with cookies," he explains.
"I was the kind of kid that would take my Chips Ahoy! and put them in the microwave and heat them up," he adds with a laugh.
Sean and his wife Kristin are sitting at a small table inside HiFi Cookies, their new cookie shop nestled in the Shops at Porter East complex in East Nashville. Old cassette boomboxes hang on the wall above their heads. Across the way their slogan "Baked with sugar and soul" is painted in fat and curvy orange-pink-and-blue lettering that recalls The Beatles' Rubber Soul logo.
Behind one door is a bathroom with fun, cartoonish drips of hot-pink frosting painted on the ceiling. Another door hides Sean's ingredient closet, a small room stacked floor to ceiling with well-organized plastic containers of colorful cookie toppings and mix-ins like rose meringue, Cap'n Crunch peanut brittle, salted chocolate crumbs and corn crunch. In the back corner, under the words "What Would Dolly Do?" sits the shop's most prized-possession: the 30-quart floor mixer Sean has lovingly dubbed "Doughlene."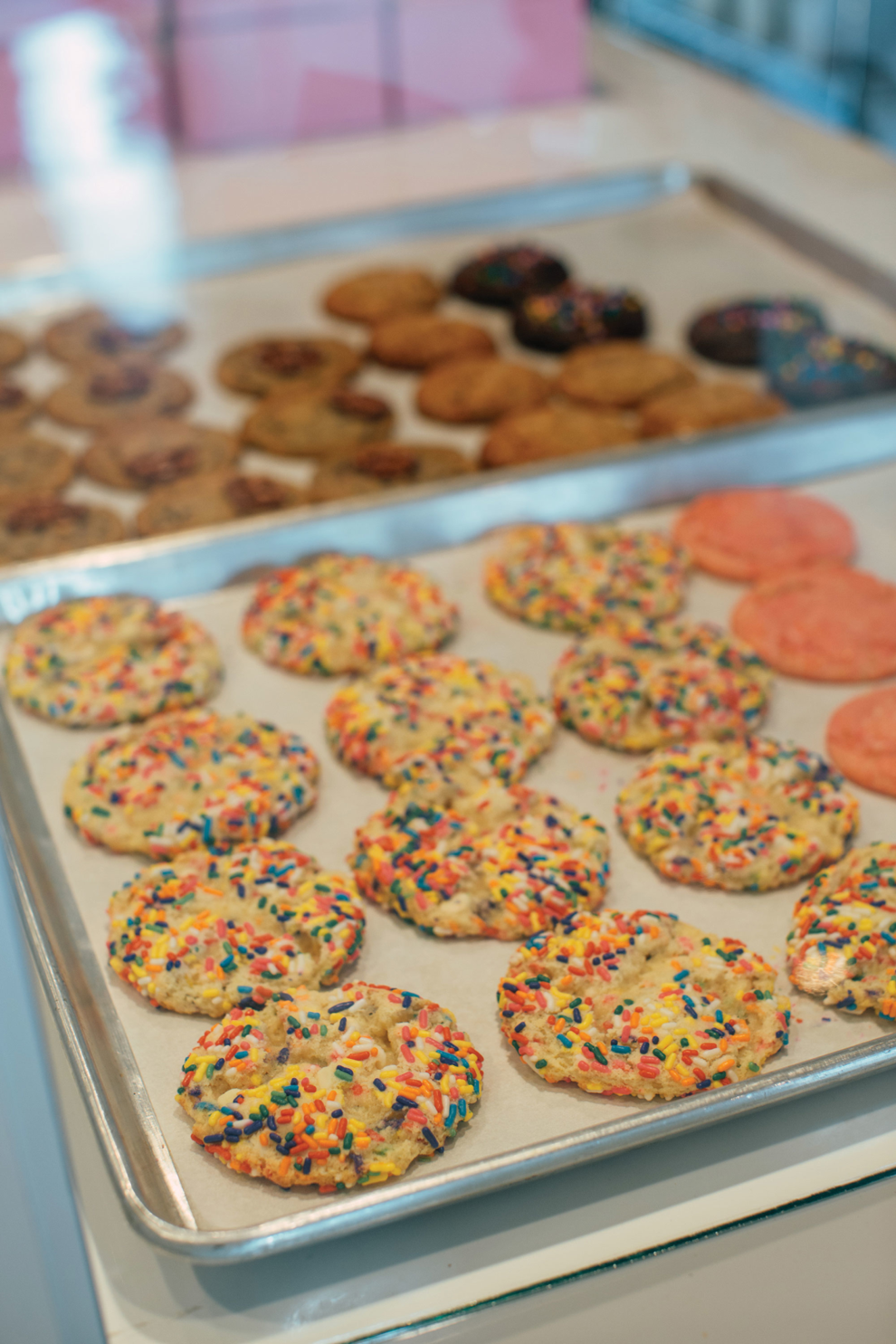 For a shop that's just 10 days out from its grand opening, the space is surprisingly pulled together — the dust has been swept up, and the paint fumes have aired out. The only thing left to do is hang a few speakers. That's because, Sean says, HiFi was actually supposed to open months ago.
"The original plan was April 4th," he says through a cloth face mask. "We were about two weeks out from that, and I had a couple of inspections I had to do, and then the pandemic hit. The inspectors canceled because they didn't know what was going on. And even prior to the pandemic we had another time in mind to open, but then a tornado hit. Because there was so much damage [throughout the neighborhood], the fire inspector had to cancel, which caused us to push back even further."
But now it's finally happening. The HiFi Cookies shop is set to officially open — with curbside pickup and social distancing measures in place — on Saturday, June 27. And surprisingly, Sean and Kristin are able to see this period of waiting (and waiting, and waiting) as something of a blessing.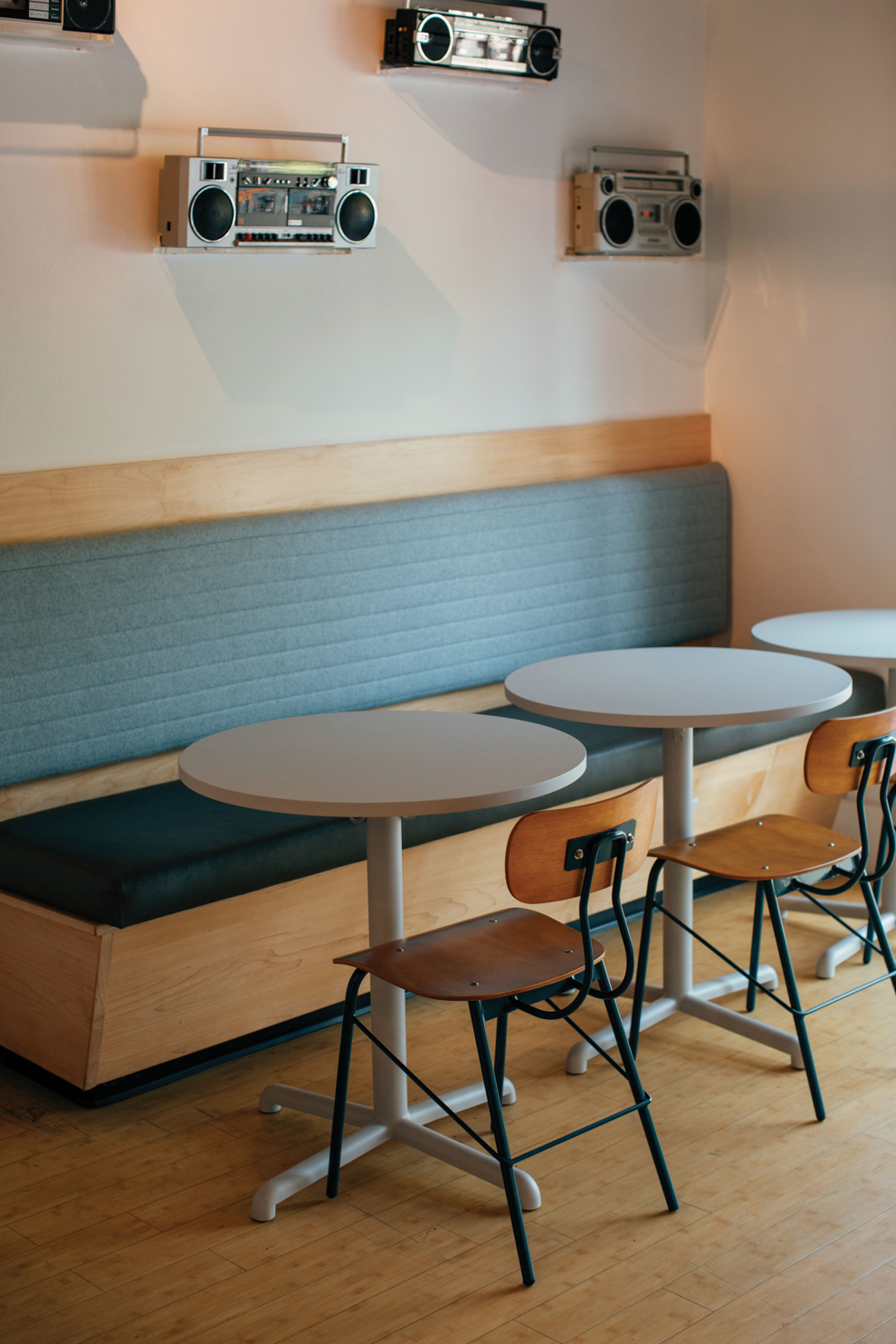 "I was actually thinking about this today," says Kristin. "I'm not super involved in HiFi Cookies — I'm a full-time hairstylist, but I help when I can. And during this I was able to get in here and be a part. I still don't bake or make dough, but I don't think I would've been able to get my hands into this place as much as I did while [the salon was closed]. I got to know this [business] a little better, I think. You've got to find the little wins in all of this."
Sean's been selling HiFi Cookies wholesale around town for years, at locations including Duke's, Barista Parlor, Mitchell Deli, Nicoletto's Pasta Co. and more. But if you've never had one, you need to know they are especially good. They're as big as the palm of a grown man's hand, and they're loaded with unexpected flavor combinations and ingredients. Sean, a self-taught baker, says he's inspired by some of the more innovative pastry chefs from his hometown, New York City — Christina Tosi, Wylie Dufresne, Dominique Ansel and Stella Parks.
"Stella Parks is a genius," he says. "She'll have a four-to-five-page article about how baking soda interacts with citric acid in something, and it's just really brainy and nerdy. I think she's like the Alton Brown of baking.
"The science is when you do fun stuff," he continues. "Once you start learning the science you can play around with flavor profiles and all kinds of crazy stuff."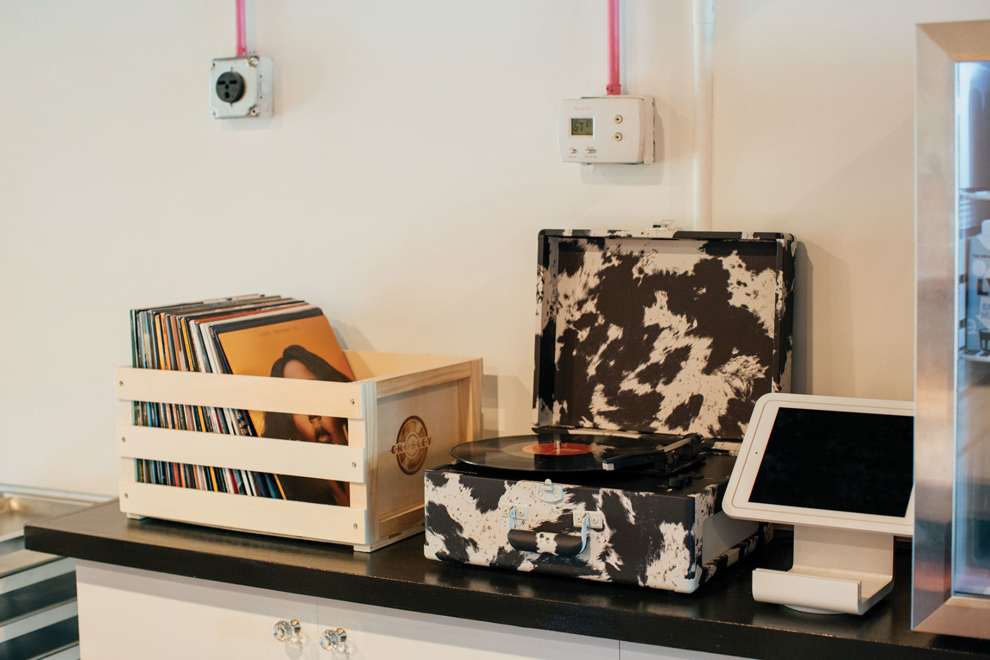 Music is the other half of what makes HiFi's creations so fun. Every treat is linked to one of Sean and Kristin's favorite artists, from Etta James and Aretha Franklin to Bob Dylan and Johnny Cash. Sean has his mom and grandma to thank for that.
"I grew up with my grandmother playing B.B. King, Aretha Franklin, lots of gospel music," Sean says. "My mom was [into] '80s and late-'70s disco and soul. She was a huge Luther Vandross fan. She loved Patti LaBelle, Whitney Houston.
"I love Marvin Gaye — like love Marvin Gaye," he adds. "So the first cookie we came up with was the Marvin — pretzel, potato chips, butterscotch chips, toffee and milk-chocolate chips. I just think he's such a well-rounded, smooth, beautiful human being and artist, so I felt like our cornerstone cookie should be my hero."
The Dolly was HiFi's second cookie creation, and it's as sweet and colorful as the Smoky Mountain Songbird herself.
"Dolly being Dolly, it's like, let's make something loud, boisterous, over-the-top," says Sean. "And that was the red-velvet with marshmallow frosting and Fruity Pebbles."
The Debbie (Harry, not Gibson) is a pretty pale-pink lemon cookie laced with rosewater meringue and white-chocolate chips; the Bonita Applebum, named after the A Tribe Called Quest song, is a chai-spiced cookie topped with apple buttercream and pie crumbs. There's a Bowie, an Etta, a Patsy and Aretha, as well as a Wu-Tang-inspired Cookies & C.R.E.A.M. (get the money) and Velvet Rope, to honor Janet Jackson.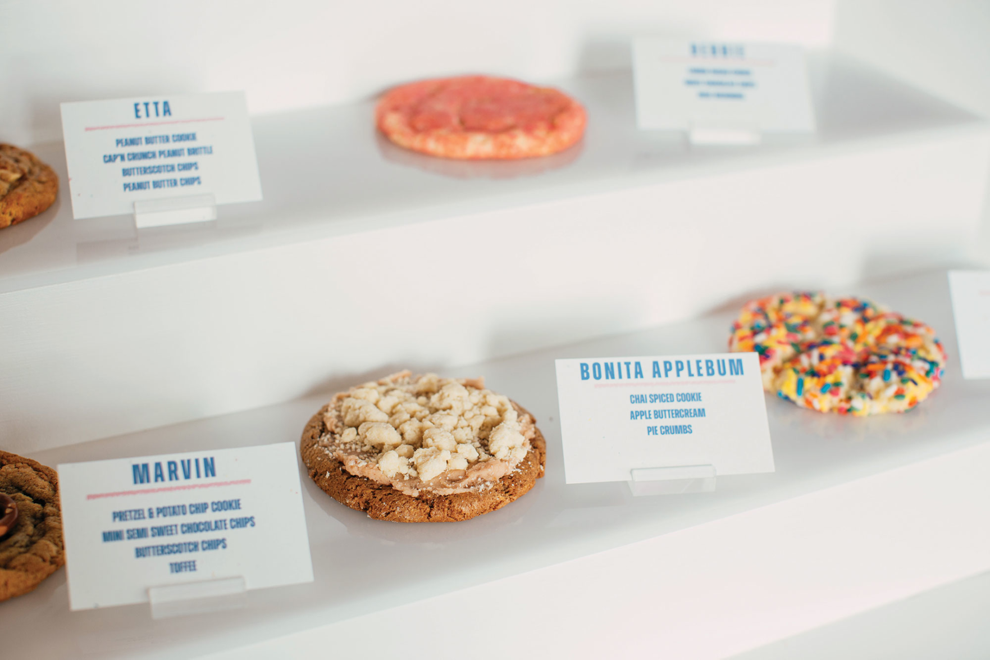 Sean says his edible discography features upward of 60 cookies — some vegan, some gluten-free and some stuffed with an extra dose of dessert like raspberry cheesecake (in the Prince-inspired Raspberry Beret) or chocolate-peanut-butter ganache (found in the Honky Tonk Queen). And now that Sean has unlimited access to his own professional kitchen, the menu is only going to grow.
"We're gonna do ice cream sandwiches on the weekends," he says. "The thing with that, that I think will be a lot of fun, is to make them change every weekend. We'll have a set of flavors that never change, but some of them will rotate. For the month of July the theme will be '90s R&B."
Think treats inspired by songs like 112's "Peaches and Cream."
There will also be brownies, blondies, cupcakes — maybe even cookie-based layer cakes … Sean gets almost giddy as he starts to rattle off all the ideas in his head.
"We're gonna probably start playing around with some cheesecake ideas that I have," he says. "The goal for the specials is to give us the room to play around with desserts that aren't cookie-based. I may roll out with cinnamon rolls one day. I've been really wanting to do this funfetti coffee cake —"
"Ever since he's been in this space he's been really able to let loose," adds Kristin.
Marvin Gaye said it best. Let's get it on.