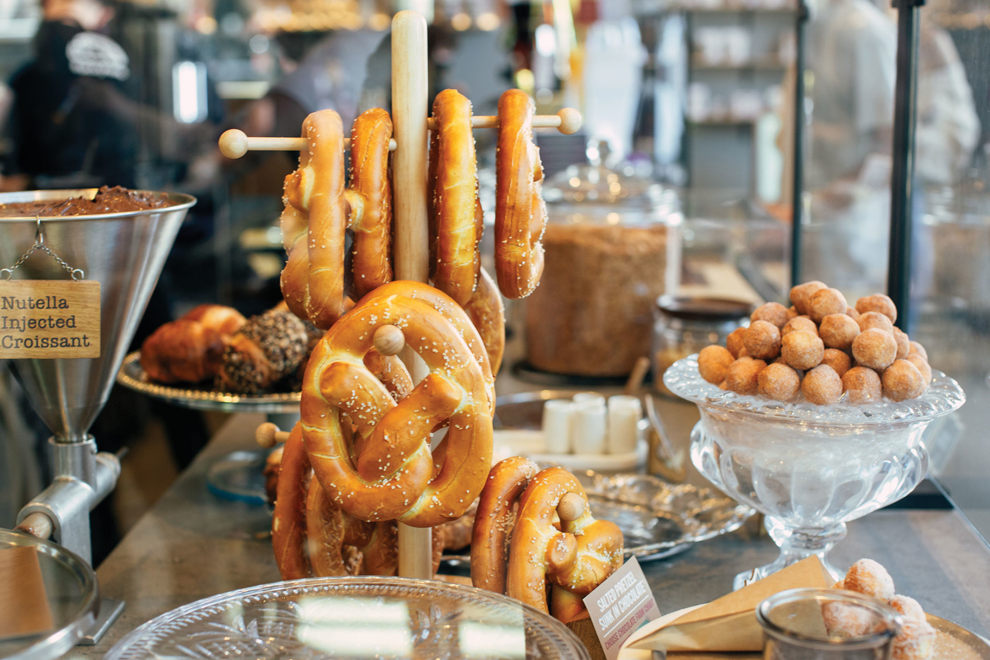 It feels like a massive tear forms in the space-time continuum the moment you walk through the glass door of Blue Stripes Urban Cacao. A devil pops up on one shoulder, an angel on the other. Suddenly you're being torn between indulgence and restraint, hunger and health, chocolate and cacao.
Blue Stripes opened in February in the Three Thirty Three building. The Gulch cafe is the latest from Oded Brenner, co-founder of the worldwide chocolate cafe chain Max Brenner. Blue Stripes, which also has a New York location in Union Square that has been closed during the pandemic, is where "wellness meets indulgence." It's also where Brenner employs the whole cacao pod — fruit, beans, shell, even its juice — to make everything from sugar-packed, luxurious desserts to keto-friendly post-workout energy snacks.
At the front of the shop sits the pastry counter, where a Willy Wonka-worthy assortment of chocolate creations awaits made-to-order finishing touches.
Above a pile of golden croissants, on a silver pastry filler, hangs a sign reading "Nutella injected croissants." The machine's hopper is filled with several cups of the thick chocolate-hazelnut spread. Inches away, plump, salt-speckled soft pretzels hang from wooden dowels, waiting to be dipped into the buckets of warm dark and milk chocolate that have been built into the counter.
There's a tray of oversized cinnamon rolls soon to be glazed with coffee icing, as well as plates of brownies and puffy chocolate chip cookies that'll get a drizzle of melted chocolate upon order. There's also a tower of what Blue Stripes calls Giant Rochers, baseball-size chocolate-covered confections that have a Rice Krispies-treat-and-hazelnut-cream center. They're wrapped in gold foil, just like the iconic candy they're modeled after, and they are phenomenal.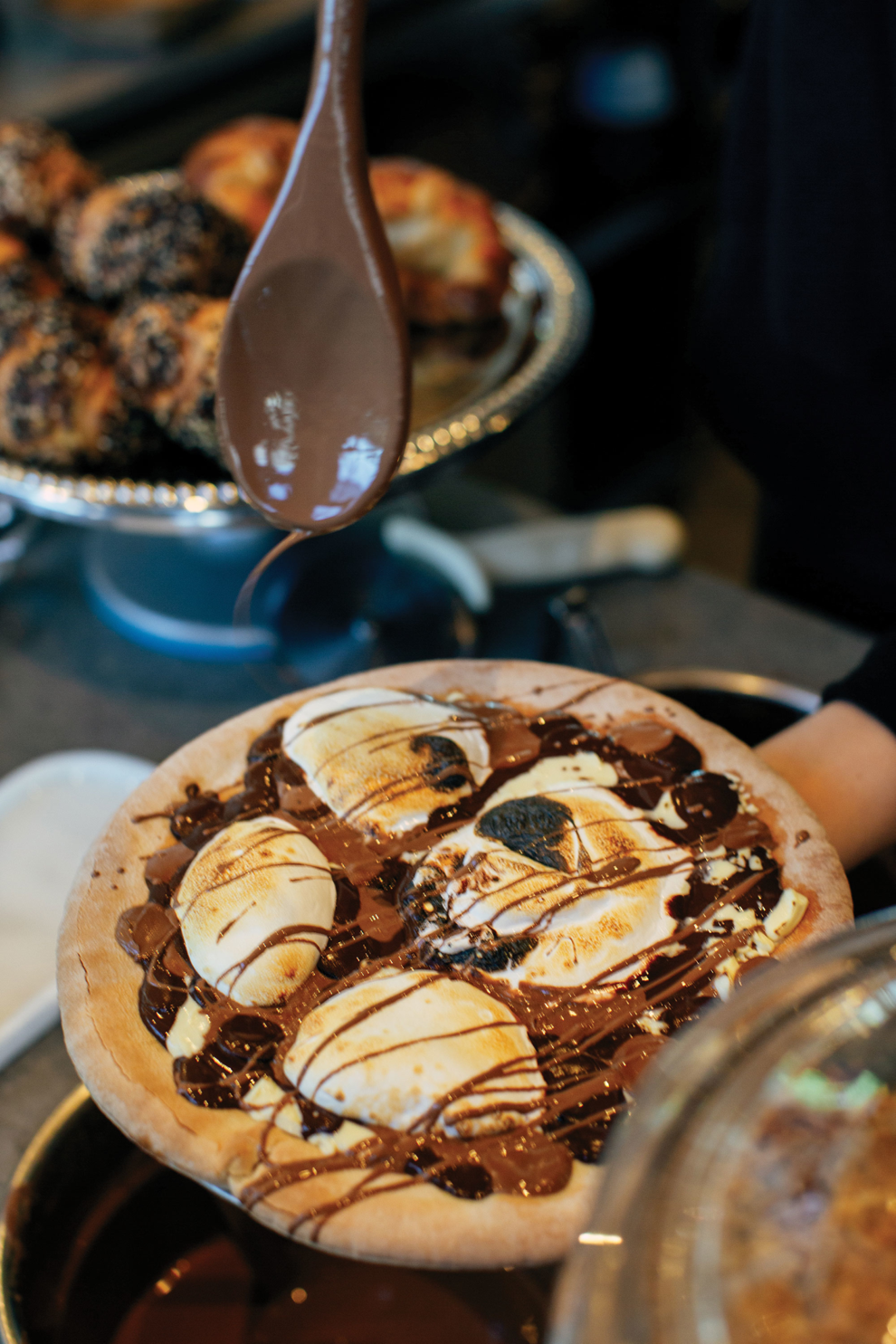 There's even more hiding behind the scenes on the plated dessert menu. The Perfect Chocolate Slice comes with toffee bananas, crunchy peanuts and vanilla-bean whip. A wedge of White Chocolate Strawberry Cheesecake is served with lemon curd, pistachios and toffee. And then there's the My Famous Chocolate Pizza, available with your choice of chocolate, and by the slice ($7) or as a whole pie ($27). 
Oh, and there's also soft-serve ice cream. Have I mentioned the soft-serve ice cream? You can have it served in a waffle cone, a churro cone or as a sundae along with a brownie or fresh berries and an array of toppings — crispy chocolate pearls, candied hazelnuts and feuilletine flakes.
It's the epitome of decadence — it's borderline hedonistic. There is no moderation.
Just a few steps beyond, though — past the espresso bar and drinkable chocolate mousse on tap (yes, you read that right) — there are shelves lined with dozens of Blue Stripes' retail items, a line of wellness products that Brenner launched last year. As he told Forbes at the time, "I was excited to learn about all the functional benefits that are hiding in the 'unknown parts' of the plant and felt that as a true cacao storyteller, this would be the second chapter of my cacao book."
The Cacao Shell Flour Bread Mix — a blend of rice and potato flour, various seeds and cacao shell flour — claims to be a "superfood boost for gluten-free bread," with the front of the packaging listing all the ways in which it benefits the blood, immune and digestive systems, as well as muscle function.
Such claims are not posted on the doughnut-hole fondue.
Cacao Fruit Sugar — not cheap at $35 for an 8-ounce bag — is freeze-dried and ground cacao fruit to be used in "energy shakes, granola bowls, baking and parfaits." Nine times more antioxidants than blueberries per serving, apparently!
Bags of cacao chocolate chips promise to improve your mood and focus, and boxes of keto-friendly cacao-and-almond-butter energy bars proudly read "0g SUGAR," all but giving the finger to the chocolate- and syrup-covered Belgian waffles displayed a few feet away.
Like the shop itself, the food menu is divided. Next to the listings for chocolate pizza and Cake & Shake (your choice of shake served with a miniature Black Forest cake) are items like the Power Bowl, a gluten-free scrambled-egg bowl loaded with feta cheese and veggies, and the Protein Bowl, a poached egg with prosciutto and barley a carb in sight. 
It's one thing to offer options, and it's another thing entirely to present conflict. But Blue Stripes balances the dichotomy well. Nowhere — save for the little scale icons on some of the retail packaging, I suppose — does it feel as though Blue Stripes is shaming one side or the other.
There's no calorie-in/calorie-out nonsense, no talk of, "You must eat this to cancel out eating that." The shop, as well as Brenner's messaging, seems to lean into the idea that human beings want' and more importantly, deserve — both. The high-calorie, the low-calorie, the high-fiber, the fiberless filled instead with fat and sugar.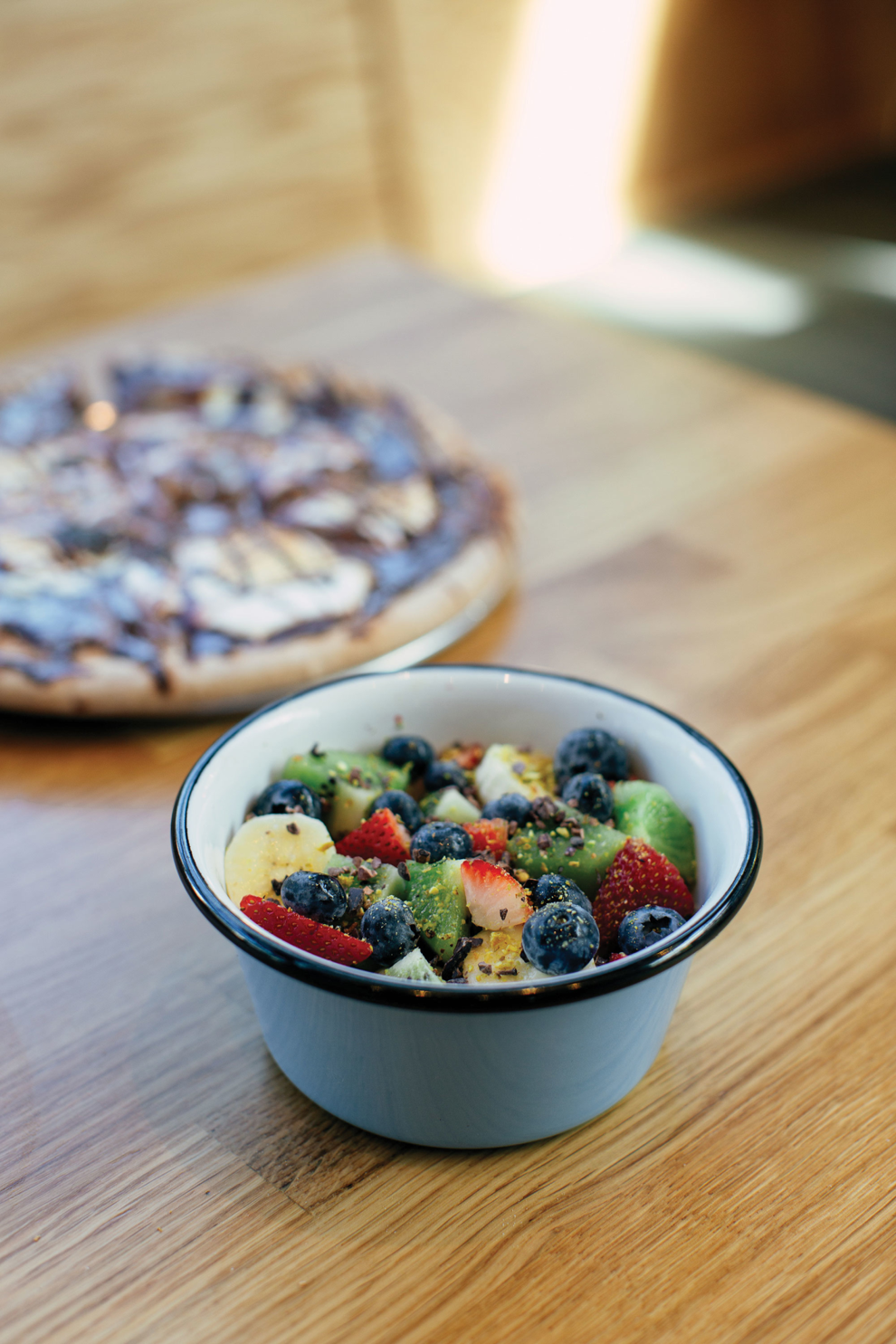 After I finished my Beautiful Fruits bowl — a hearty serving of fresh and dried fruit (kiwi, figs, strawberries, bananas, apricots and blueberries) sprinkled with cacao nibs and chopped pistachios — I shamelessly tucked into a before-noon order of Praline Fingers. They were perfectly sized, about as big as a person's ring finger, and they boasted a deep, dark chocolate flavor balanced with a good punch of saltiness and a delicate, crisp texture thanks to the addition of feuilletine flakes. No one blinked when I grabbed a chocolate chip cookie to go, too — "Do you want the cookie drizzled with milk or dark chocolate?" was the only question asked.
Eat that Nutella-stuffed croissant. Grab a Giant Rocher while you're at it. Then wash it all down with a 10.5-ounce bottle of vegan, gluten-free, paleo, no-added-sugar cacao water flavored with chili, lime and cardamom for $4. Humans are complicated creatures, and at Blue Strips Urban Cacao, there's no shame in having the best of both worlds.