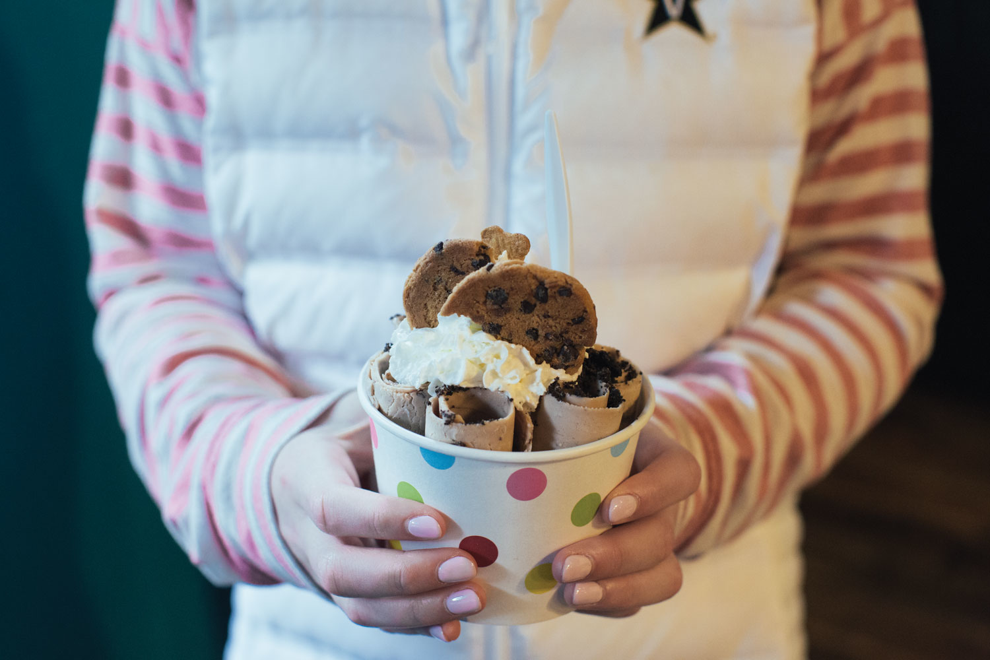 The line was only about six people deep when my husband and I arrived at Supreme Kreme on a sunny Saturday afternoon, but the man at the register still gave us a warning. "It'll be about a 15- to 20-minute wait," he said. "Is that OK?"
As a full-fledged ice cream addict, I've happily waited twice as long in a line that stretched outside the door at Jeni's Splendid Ice Creams, so I quickly agreed. But I did wonder what was causing the hold-up. After placing my order — which in itself took at least 10 minutes due to the fact that I was overwhelmed by the menu's staggering number of offerings — it became obvious.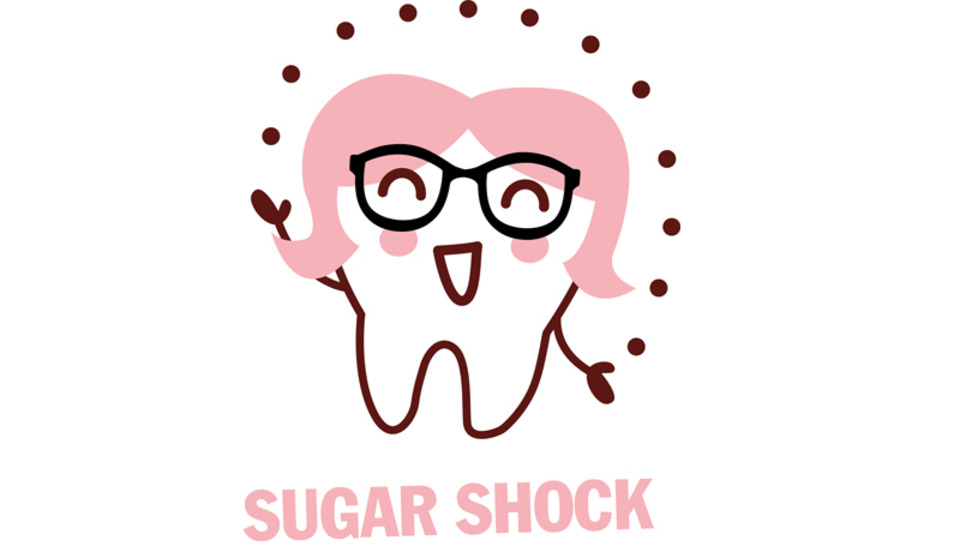 At Supreme Kreme, the colorfully decorated ice cream shop next door to Bolton's Spicy Chicken & Fish on Franklin Pike, each cup of ice cream is "rolled" to order. The style is also known as "stir-fried ice cream," as it's made on a frozen "griddle" and initially chopped and stirred much like stir-fry. Rolled ice cream began as a street food in Thailand in the late Aughts, and it's been making its way into American cities ever since. It first landed in New York in 2015, including popular shops like I-CE-NY and 10Below. Nashville-raised Kristina Douangpanya opened Supreme Kreme, Nashville's first rolled ice cream shop, in May 2017.
"My 3-year-old son, Oakland, is lactose-intolerant, and I was having trouble finding good ice cream that he can enjoy without upsetting his tummy," says Douangpanya. "So I decided to try to make my own, and it turned out to be pretty yummy. My family are big foodies, and we traveled to Atlanta one Christmas and stopped at a rolled ice cream shop and were amazed. So that's when I decided to open one in Nashville, since the food trend is slowly growing." 
Supreme Kreme's menu boasts millions of flavor combinations (seriously — I did the math). You start by picking one of eight cream bases (among them vanilla, strawberry, coffee, taro, banana and chocolate), and then customizing that with mix-ins, of which there are more than a dozen. They've got cookies including chocolate chip and Oreo (original, golden or mint) and cereals like Cap'n Crunch, Cinnamon Toast Crunch and Fruity Pebbles. If your palate isn't similar to that of an 8-year-old (like mine is, no shame), you can also go with fresh fruit or sophisticated swirls of peanut butter or Nutella.
Then you can pick two additional toppings, and that's where things get really complicated. There are more than 30 options — gummy bears, chocolate chips, marshmallows, tapioca pearls, lychee popping pearls, peanuts, wafer sticks, Reese's Pieces, Heath bits, and crushed Butterfinger bars, plus chocolate, strawberry, caramel, condensed-milk and chamoy sauces, just to name half. And while the process to make each personalized cup is mesmerizing — from the rolling of the ice cream on the frozen griddle to the meticulous topping of the rolls — it is not fast.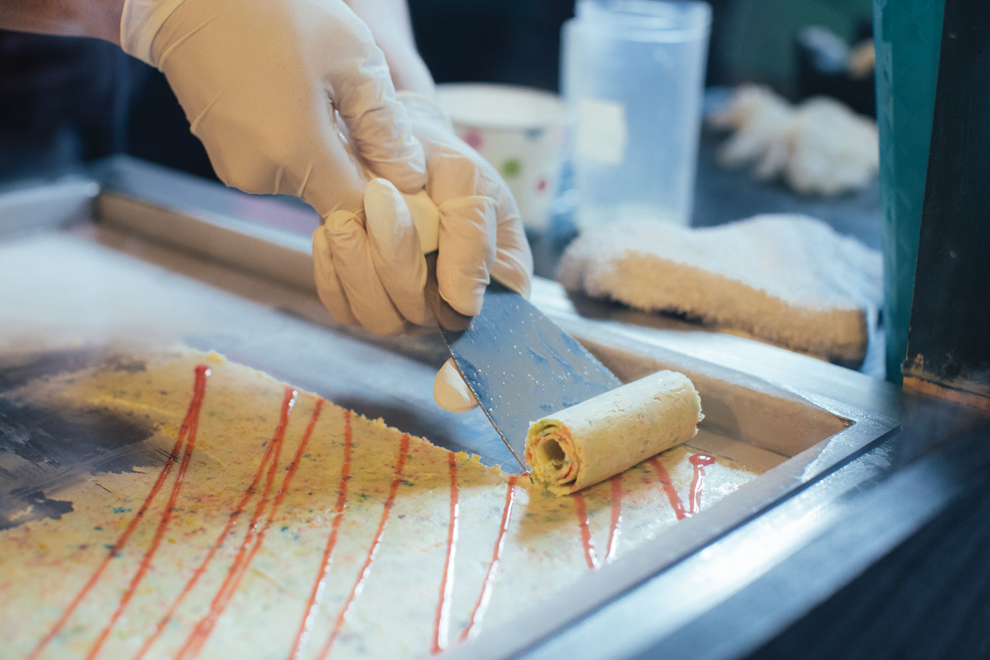 First, a liquid base and your choice of mix-in is poured onto the frozen metal surface, which Douangpanya says is about minus 26 degrees Fahrenheit. (I went with a coffee base with Cinnamon Toast Crunch as my mix-in.) Next, the ice cream roller used two metal spatulas to work the mixture into a soft, semi-frozen state. After about 90 seconds, the cream was spread out into a thin and even rectangular layer.
It's like the scene in The Day After Tomorrow when the deadly, creeping coldness — somehow visible — chases Jake Gyllenhaal through the streets of New York. From the edges inward, the ice cream grows increasingly frosty as the shop employee smooths and spreads out any lumps or puddles. Then the magic happens: At just the right moment, Supreme Kreme's "hi-rollers," as the shop calls them, methodically scrape up one row of ice cream at a time, forming perfect, long spirals. Each piece — a 12-ounce size results in about six 4-inch curls — is placed so it stands on its end in a cup. The end result is something like a bouquet of ice cream roses, and it's finished off with more toppings.
"It took us about a month to properly learn how to roll ice cream," says Douangpanya. Each employee usually has to dedicate a full day to training to get the consistency right.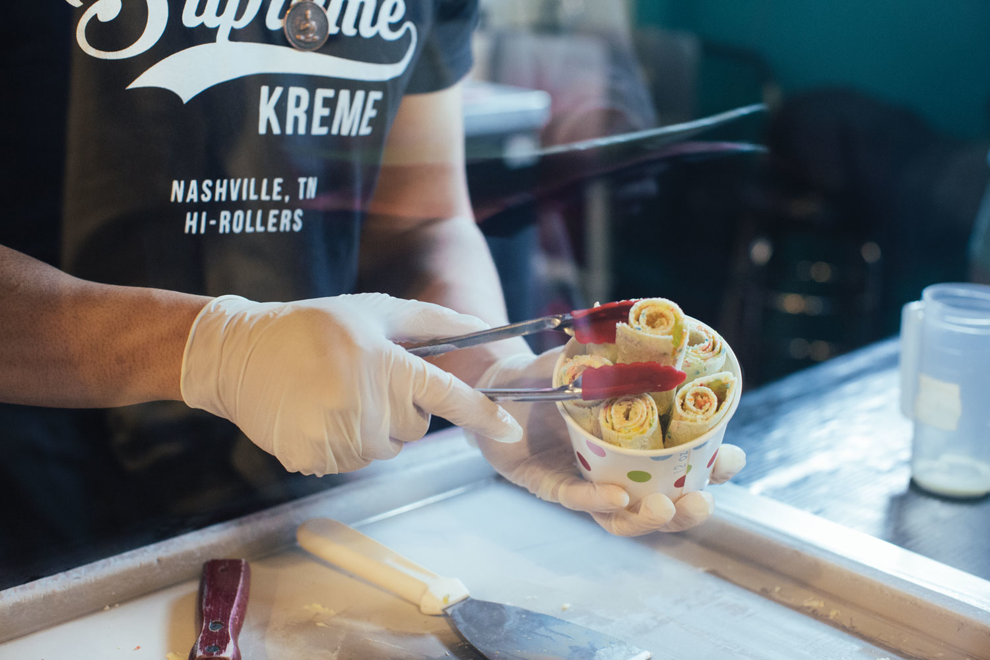 The hi-rollers make it look easy — some chat and joke with each other as they work, as well as with the dazzled onlookers — but timing and focus are critical. If the rollers wait too long to form the ice cream, the rolls will crack and crumble. If they start too soon, the curls will collapse on themselves.
From liquid state to finished rolls, each serving takes nearly four minutes to create, but the result is so much more than your average scoop of ice cream. And it tastes as good as its Instagram-worthy presentation looks — I worried the quick freeze would cause an icy or strange texture, but Supreme Kreme's desserts are just as smooth and rich as any other well-made scoop. 
I had my coffee-flavored ice cream curls laid in a freshly made taco-shaped waffle shell, topped with chocolate and caramel sauces. The only downside was how foolish I looked trying to eat the thing sans fork. The banana base with peanut butter was also superb — so creamy, with a delicate banana flavor that somehow wasn't overpowered by the peanut butter. But by the time we left, the staff was backed up with more than 20 orders waiting to be filled by one of three ice cream rollers. Some folks were being told they might have to wait as long as 30 minutes to an hour for their desserts, and Douangpanya says she's seen the wait time reach as much as 90 minutes.
Still, the time commitment didn't seem to deter most visitors. If Nashvillians are willing to stand in line for an hour or more to get some hot chicken, surely they'll give up 30 minutes for the cooling relief of a novel dessert, too.