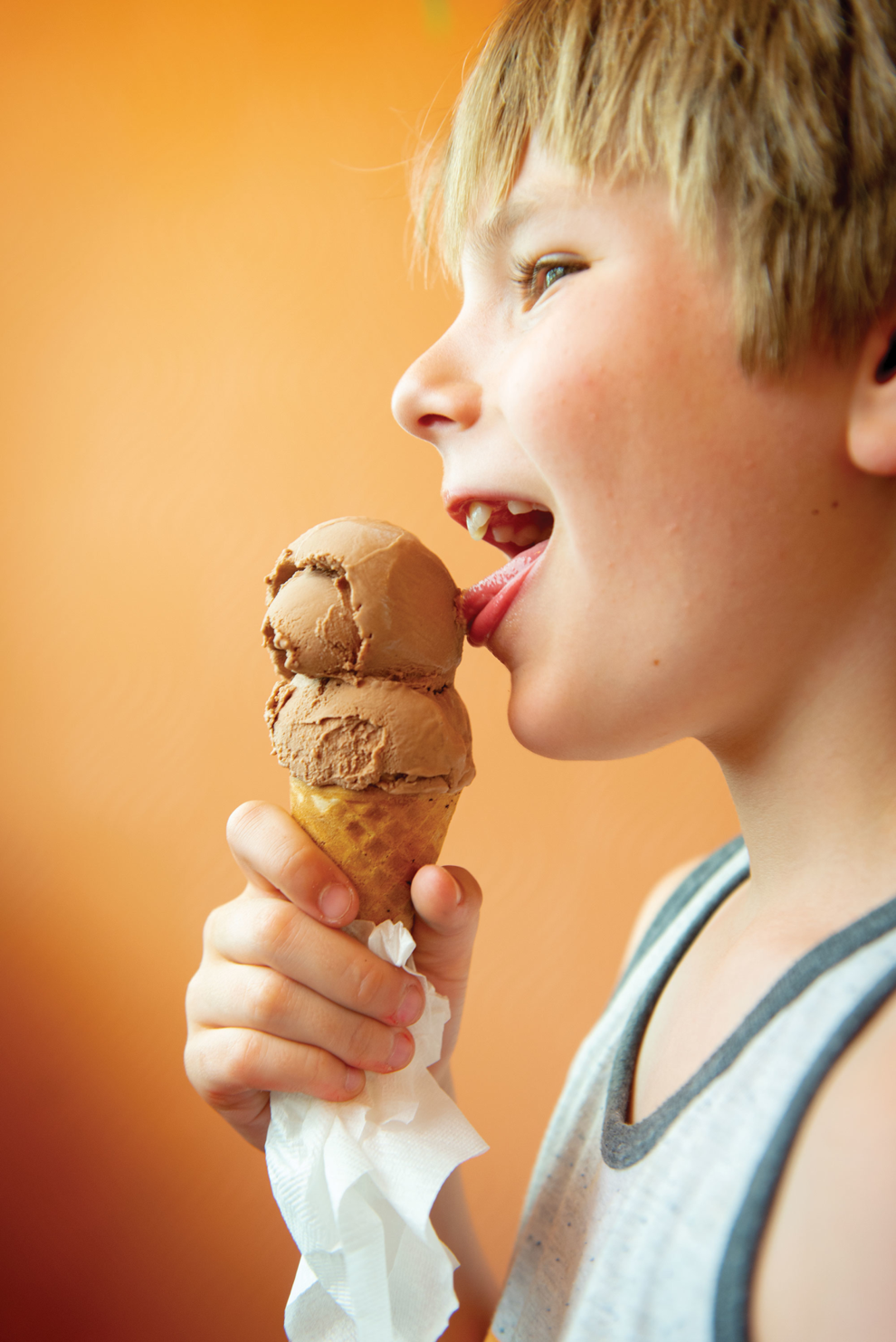 Nashville, it's hot. Have you noticed? The average high temperature in the first week of June was 86 degrees, and that doesn't take into account the humidity — the sticky, thick humidity that permeates your clothes and leaves you feeling like you're wading through a pool of not-quite-set Jell-O. Ugh. At times like this, there's only one thing to do: Eat ice cream. Eat as much ice cream as you can get your sweaty little hands on.
This summer brings great news for dairy-free lovers of ice cream — there are three new vegan options on the market. Kokos, Jeni's and Frisson Soft Serve all offer plant-based options, some of which are so good they may even fool lovers of traditional dairy-based desserts. Here's the, ahem, scoop on each. 
Kokos Plant-Based Ice Cream
3 City Ave., Suite 700, 615-730-7807
The search for impeccable vegan ice cream begins at Kokos Skoop Shop in the OneC1TY development. In the pale-pink shipping container next to vegan restaurant Avo, owners Jerusa van Lith and Sam Brooker have concocted the perfect plant-based ice cream that is every bit as creamy and refreshing as any milk-based product. And while their menu may be small — there were less than 10 flavors during both my recent visits — they still manage to have something for every palate. 
My scoop of Holy Chocolate was velvety-smooth, boasting the slightest hint of coconut flavor, which appealed to the Mounds candy-bar lover in me (Mounds over Almond Joy forever). I paired the chocolate with a scoop of SB Mylkshake, a gorgeous pink strawberry ice cream streaked with gooey ribbons of strawberry jam. Surprisingly, the coconut flavor was almost undetectable. Same with the Matcha Mint — the green ice cream's especially refreshing bold and sweet mint flavor was rounded out by a subtle, earthy hit of matcha. But the true star is Kokos' brand-new Blue Butterfly flavor, which was introduced earlier this month. The gorgeous perriwinkle ice cream is fruity and bright, with a delicate floral flavor that comes from the ice cream's namesake, blue butterfly pea flowers.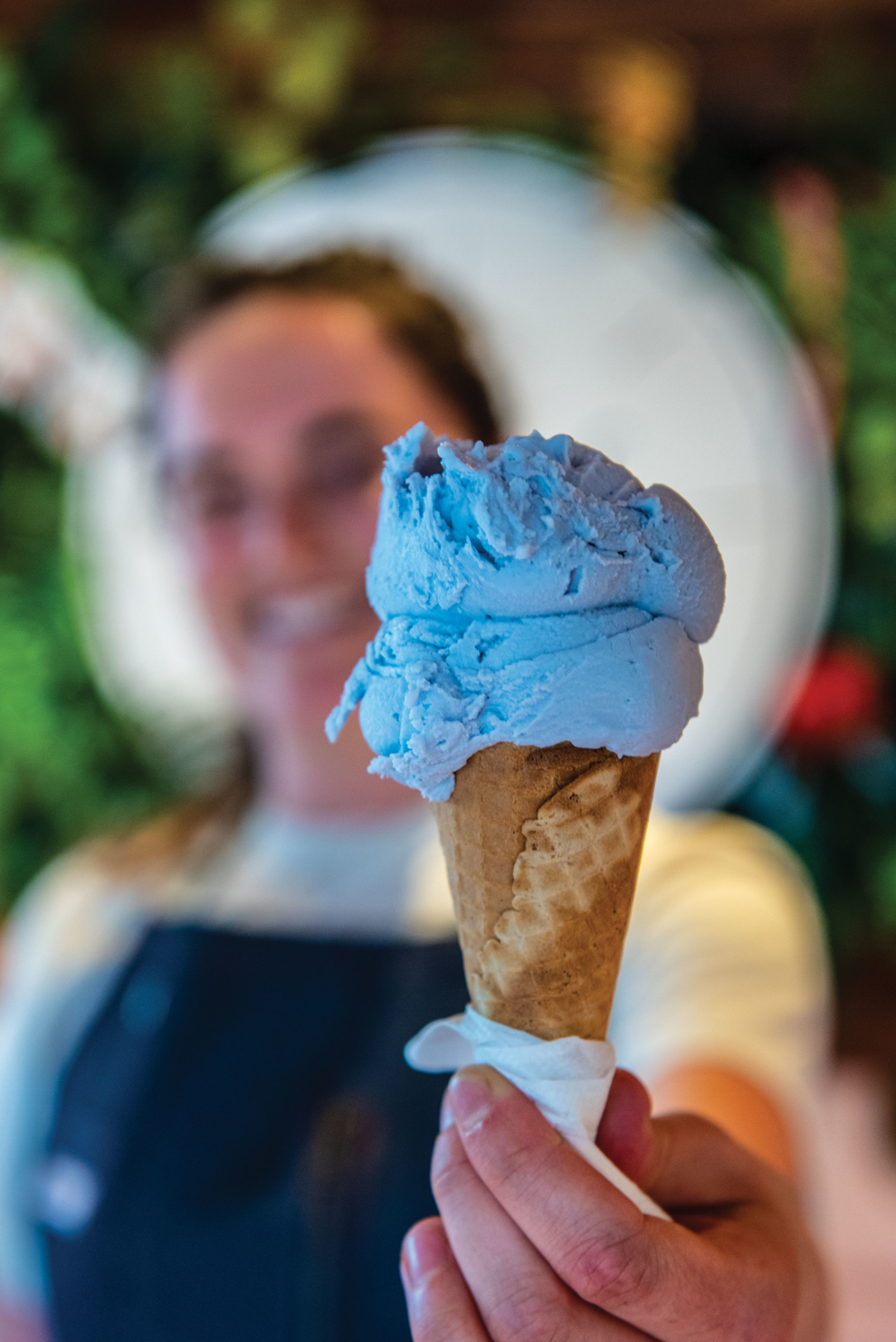 "Inspiration for our ice creams comes from so many places," van Lith tells the Scene. "This one came as we looked for superfoods that also offer a fun 'look.' Blue butterfly pea flowers are really interesting in that they can naturally change colors from indigo/violet to pink in tea!"
All of Kokos' flavors are well-balanced and enticing, but it's the not-ice-cream's creamy texture that really makes Kokos stand out. Van Lith credits their rich coconut cream base. (The shop doesn't use any soy or nut milks.)
"Nut milks just don't have the good fats and taste you need to make great ice cream, and as someone with a nut allergy, it can be limiting to customers," says van Lith. "We have a few kitchen secrets to mellow out the coconut flavor for some recipes, and on other flavors we embrace the coconut flavor."
For now, the shop only offers scoops in cones and bowls, but van Lith and Brooker are also working on a soft-serve option. "There are a few vegan options for pre-mixes anyone can get online, but our business isn't about that," says van Lith. "We tasted them and couldn't even finish a cone. So yes, soft serve is coming, but not until we are super-happy with our proprietary mix."
Follow the shop on Instagram at @kokosicecream to learn about new developments.
Jeni's Splendid Ice Cream
Various locations
Jeni's has been dabbling in vegan ice cream offerings since 2017, when the company introduced the coconut-cream-based Dark Chocolate Truffle, and they finally further expanded their vegan options in March by launching a whole line of dairy-free flavors. Dark Chocolate Truffle is now joined by Cold Brew With Coconut Cream, Roasted Peanut Butter & Strawberry Jam, and Texas Sheet Cake. (The shops generally have a few dairy-free sorbets on hand too.)
My scoop of Texas Sheet Cake was the most intense chocolate ice cream I think I have ever had. And I have a lot of chocolate ice cream. The rich chocolate base — boasting only a hint of coconut flavor — was loaded with chunks of chocolate cake and thick streaks of chocolate fudge. It was a 60-40 ice-cream-to-cake ratio — they do not skimp on the cake! — and it was glorious. A scoop of the PB&J was an ideal accompaniment — the strawberry swirls were sweet and tangy, and the peanut-butter base is just the right side of salty. The bright flavors cut through the heavy chocolate bomb that had just blown up my tongue, and the fact that both flavors were vegan never crossed my mind while I scraped up the last of the melted ice cream from the bottom of the bowl. 
If you don't have time to wait in line for 30-plus minutes on especially hot evenings, the dairy-free flavors are also available in to-go pints and online at Jenis.com/dairy-free.
Frisson Soft Serve
1100 Fatherland St., Suite 102, 615-582-6454
Frisson Soft Serve started as a mobile venture — their truck debuted in 2017, and owners Elise Schempp and Caila Singleton quickly found a following thanks to their Instagram-ready cones, which were loaded with picturesque toppings like puffs of cotton candy, large hunks of peanut-butter cups and globs of cookie dough. Now in a retail space at East Nashville's Shoppes on Fatherland, Frisson has expanded its menu to include edible cookie dough, cold-brew coffee and a soy-based vegan soft serve. The soft serve is just as creamy as the dairy-based gelato, though there is a faint soy-milk taste, so it's not likely to fool anyone in a vegan vs. non-vegan taste test. But does that really matter all that much? Part of Frisson's appeal, after all, is all the stuff you can pile onto your cone or sundae — a Frisson cone is as much a vehicle for toppings as anything, so the real magic comes when you stack it high with sprinkles and cotton candy. You can also get the vegan soft serve swirled into a cold-brew float.
More cold-as-ice dairy-free options: 
Las Paletas
2911 12th Ave. S., 615-386-2101
A large chunk of Las Paletas' rotating menu is dairy-free, and it has been that way since the shop opened in 2001 — recent fruit-based flavors include pineapple with chili, honeydew, grapefruit and tamarind — but the beloved 12South shop has also started offering some creamy dairy-free options, including a nondairy chocolate, banana cream and golden milk. 
The Pied Piper Creamery
114 S 11th St., 615-227-4114
One cannot write about ice cream in Nashville without mentioning Pied Piper Creamery, an East Nashville staple that's been scooping since 2007. While the majority of Pied Piper's offerings are packed with milk (and hunks of Goo Goo Clusters and Girl Scout cookies and baklava and, oh my God, I want it all), they do make some refreshing dairy-free sorbets and a few vegan flavors, including a Lime in the Coconut (vegan coconut ice cream with lime juice) and a coconut-based chocolate.