Fire. Mallets. Long, sharp forks fit for a Game of Thrones battle scene. These weren't the kinds of instruments I expected to need when eating my way through Nashville's dessert menus. But recently I've noticed a trend: Not only have local desserts gotten bigger and more extravagant (an effort to grab attention on social media, no doubt) — they've also gotten more interactive. There are currently several desserts in Nashville that can't be eaten without first being lit on fire or smashed with a mallet. 
But are they good, or are they just gimmicks to gain free publicity on Instagram? Maybe a little of both? I tried three of Nashville's most dangerous desserts to find out.
700 12th Ave. S.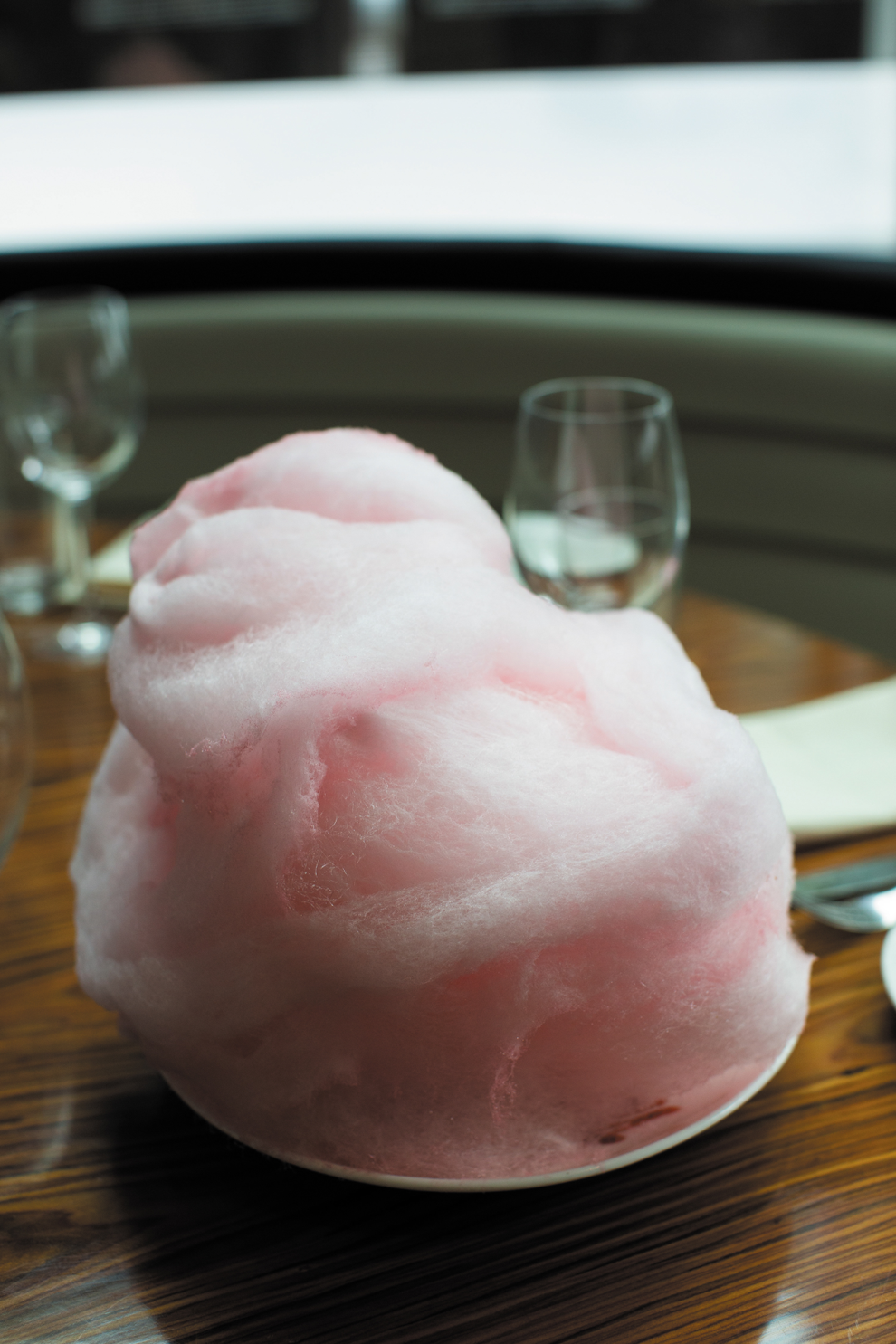 STK has at least 20 locations in cities across the globe — from Nashville and New York to Milan and Dubai. But it's not surprising to learn that the sleek steakhouse chain's signature dessert, The Cloud, was created in its kitchen at Las Vegas' trendy Cosmopolitan Hotel and Casino.
The Cloud is flashy, indulgent and a bit over the top, much like STK itself.
At STK's Nashville location in the Gulch, glitzy modern light fixtures hang en masse from the ceiling, and weird white things protrude from the wall above a row of televisions over the bar. Are they magnified whiskers? Are they claws? It's impossible to know. Above the revolving door is an eerie oversized photo of the back of a woman. She's wearing a very short red dress with heels to match. In one hand she holds a shining cleaver. In the other, a raw steak dangles from a silver hook. She's one blood-covered apron away from the perfect Sexy Butcher Halloween costume. Viva NashVegas, baby.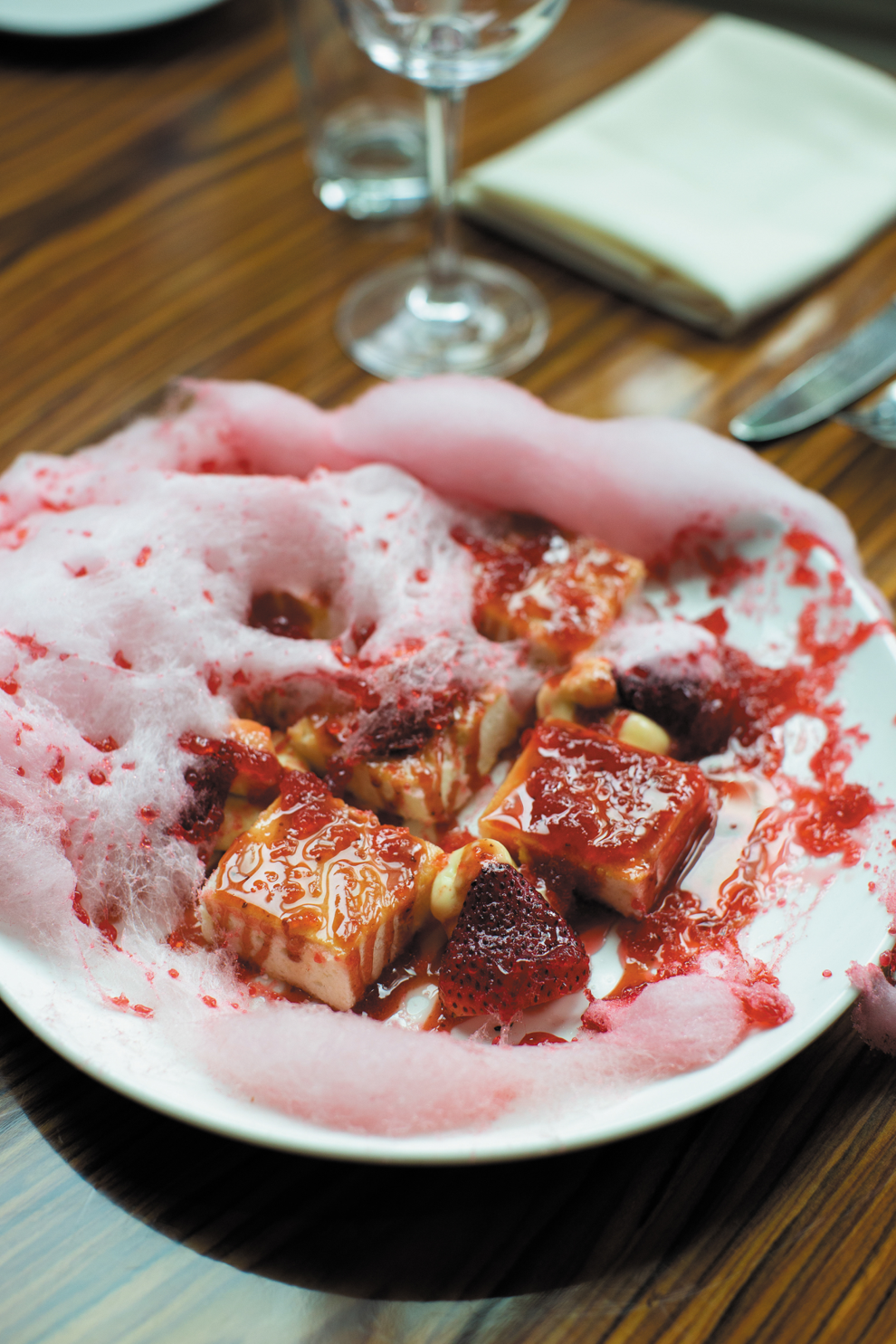 The Cloud — or #thecloud, because, yes, this dessert has its own hashtag — arrives at the table looking like nothing more than a giant mountain of pink cotton candy on a big white plate. The magic happens when the waiter swirls a few generous squirts of orange liqueur across the top and sets it on fire just inches from your face. Blue and orange flames swiftly make their way through the sweet fluff — transforming it into globs of bright-pink goo — and the spun-sugar shell melts away to reveal the main dessert: angel food cake, strawberry ice cream, white-chocolate cremeux and fresh strawberries.
Once the flames subside, the plate is a sugar-covered and bubblegum-colored mess. While it's hard to make out the flavors of each component — everything is covered with liquified cotton candy — the berries and white chocolate cremeux make for a great combination, and the cool, creamy ice cream cuts through the tongue-burning sweetness of pure concentrated sugar. But I didn't love the cake — the texture wasn't light and fluffy like I expect angel food cake to be, and it was far too sweet for an already sugar-drenched dish.
Would I order it again? Never. But it looked really good on Instagram.
5109 Harding Pike, Belle Meade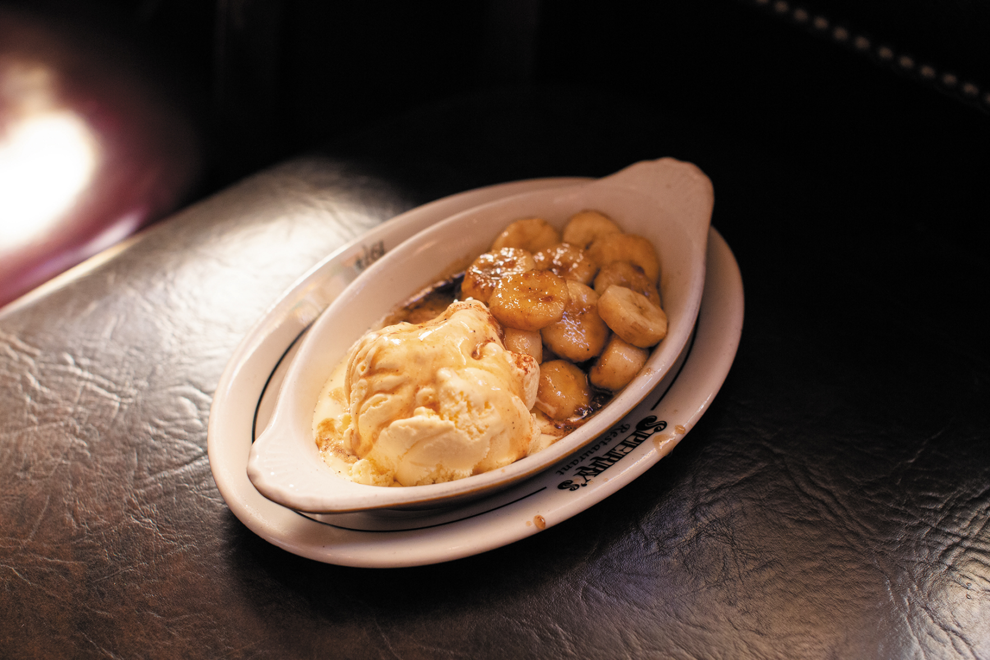 Sperry's in Belle Meade has a bit of an indulgent Vegas vibe too, but more from the classic when-mobsters-ran-Las-Vegas era. There are no creepy pictures of women holding raw beef, no club remixes of '80s hits. Sperry's is the epitome of old-school, as is their Bananas Foster for Two, famously flambéed tableside.
Unlike so many other of today's over-the-top desserts, bananas Foster has stood the test of time. The simple recipe has gone mostly unchanged since its invention in New Orleans in 1951, and for good reason. Few flavors are as comforting and decadent as made-to-order hot caramel sauce swirling together with rapidly melting vanilla ice cream.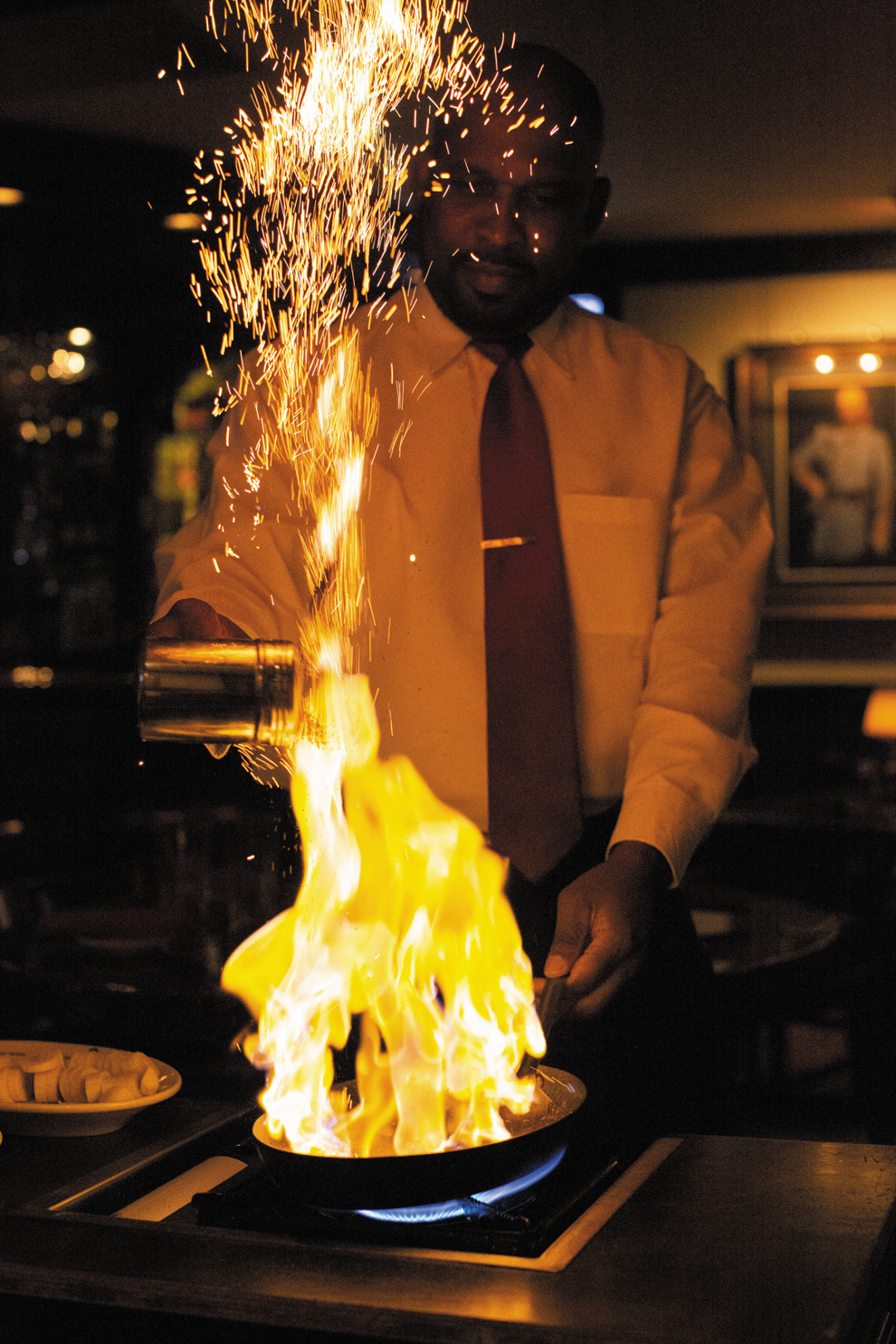 At Sperry's, the bananas Foster experience begins when an old wooden cart, outfitted with a burner and stocked with all the necessary ingredients — DeKuyper's banana liqueur, Captain Morgan rum, sliced bananas, a couple of large pats of butter, a mound of brown sugar and vanilla ice cream — is wheeled up next to the table.
Once the pan is given a few minutes to heat up, the server quickly gets to work.
The butter goes in first. It hisses and ever so slightly begins to brown. It smells amazing. Then, in goes the rum and the banana liqueur — when the booze hits the hot pan, flames shoot up toward the ceiling, and a flash of heat wafts toward your face. Next the brown sugar is added, along with a couple shakes of cinnamon that make the fire spark and pop. Finally, as the remaining alcohol burns off, the bananas are added and cooked in the bubbling mixture just long enough to soften. With the smell of flaming, caramelized sugar still hanging in the air, the warm mixture is poured over awaiting scoops of vanilla ice cream. It tastes like a dream. This is one worth returning for.
209 Franklin Road, Brentwood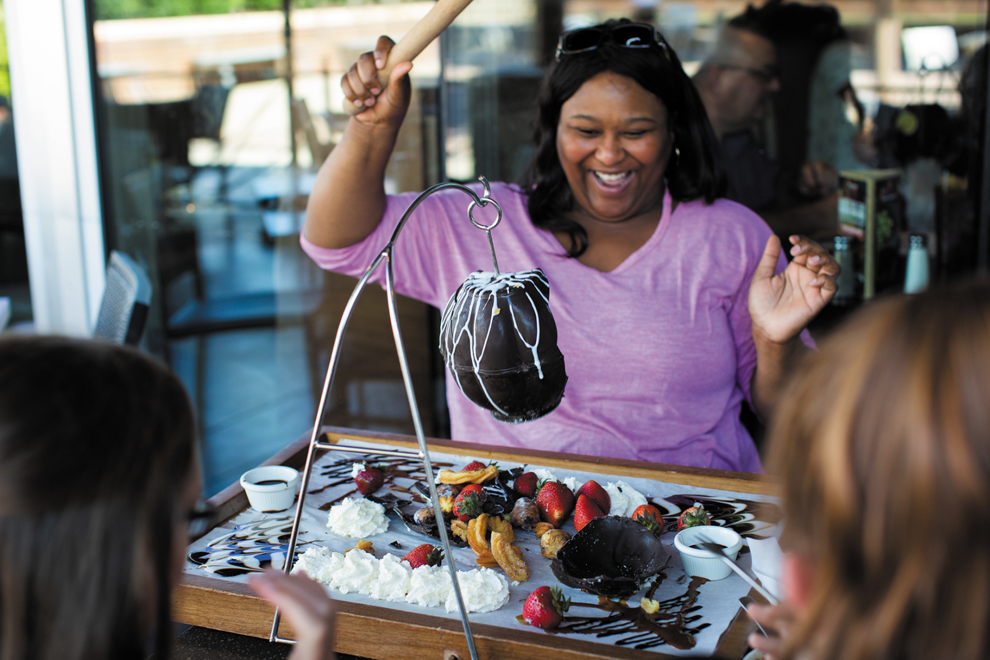 Unfortunately, I didn't get to light anything on fire at Uncle Julio's. But when my meal was over, I was handed a small wooden bat. That's because at Uncle Julio's, the pièce de résistance is a chocolate piñata, a 12-ounce dark-chocolate shell filled with strawberries, pineapple and bite-size churros (and for $5 more, chocolate empanada bites). On average, Uncle Julio's in Brentwood sends out about 250 of these beasts every week — that's nearly 200 pounds of smashable chocolate.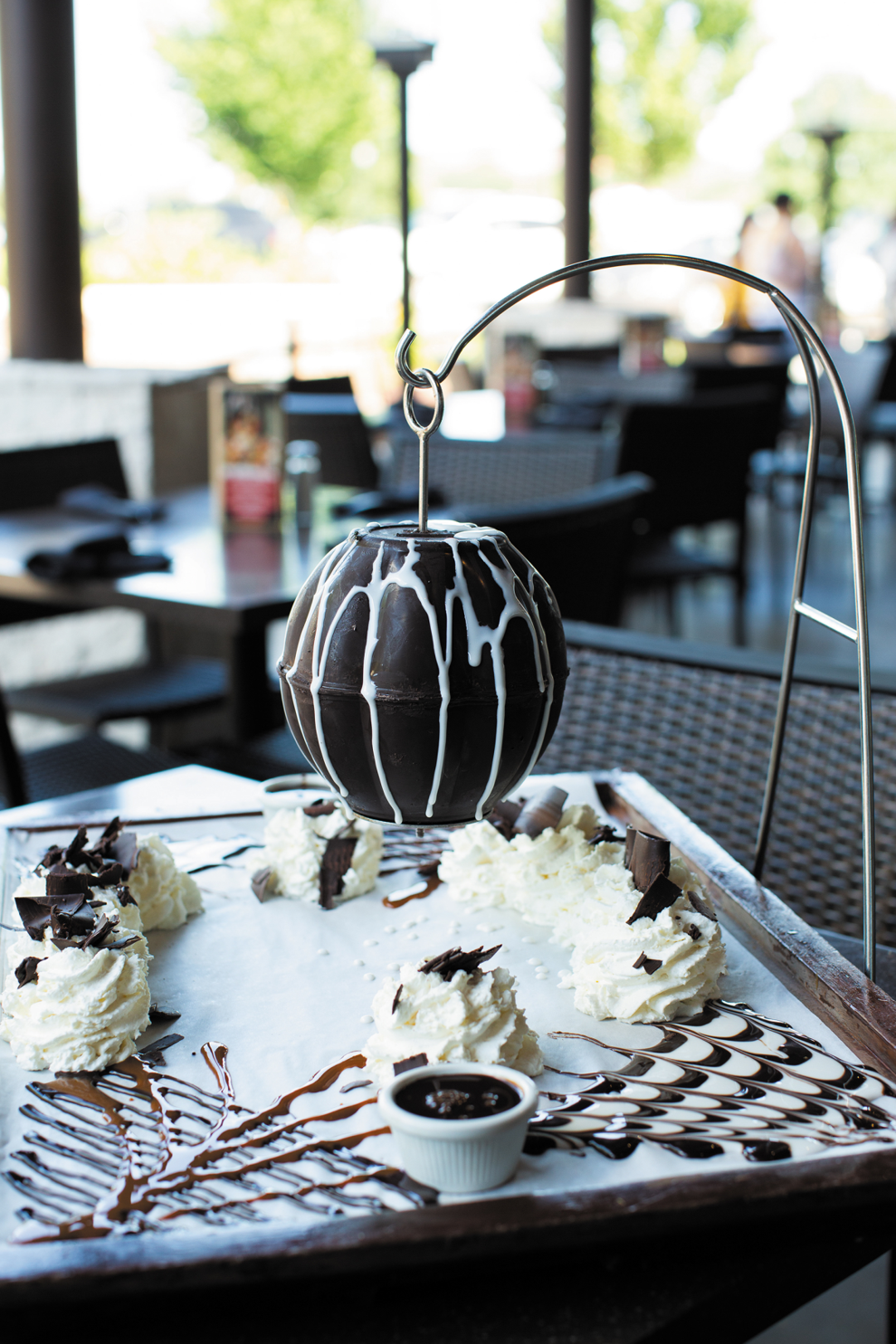 So how does it work? A metal rod is inserted through the center of the edible orb, then hung from a metal frame. The frame is placed over a large wooden butcher block that's been covered in various sauces, piles of cinnamon-topped whipped cream and more chocolate.
"It's best to hit it with a downward motion," says my server, swinging her fist fast toward the floor, demonstrating the best technique with the bat. I giddily oblige, and when the shell breaks open, the piñata's innards scatter across the awaiting landscape of whipped cream and sauces, creating a Jackson Pollock-esque display of chocolate, fruit and sugar — and the feeding-frenzy begins.
It all tasted great — Uncle Julio's uses a high-quality chocolate that has a nice snap to it. But even if you're splitting the dish with friends, it's hard not to look at the aftermath and feel at least a little overwhelmed by the mess you've made, both of the dessert and yourself. I'm not sure how it happened — maybe when I was trying to get that last churro before anyone else — but on the way home, I noticed caramel sauce stuck to my hair.