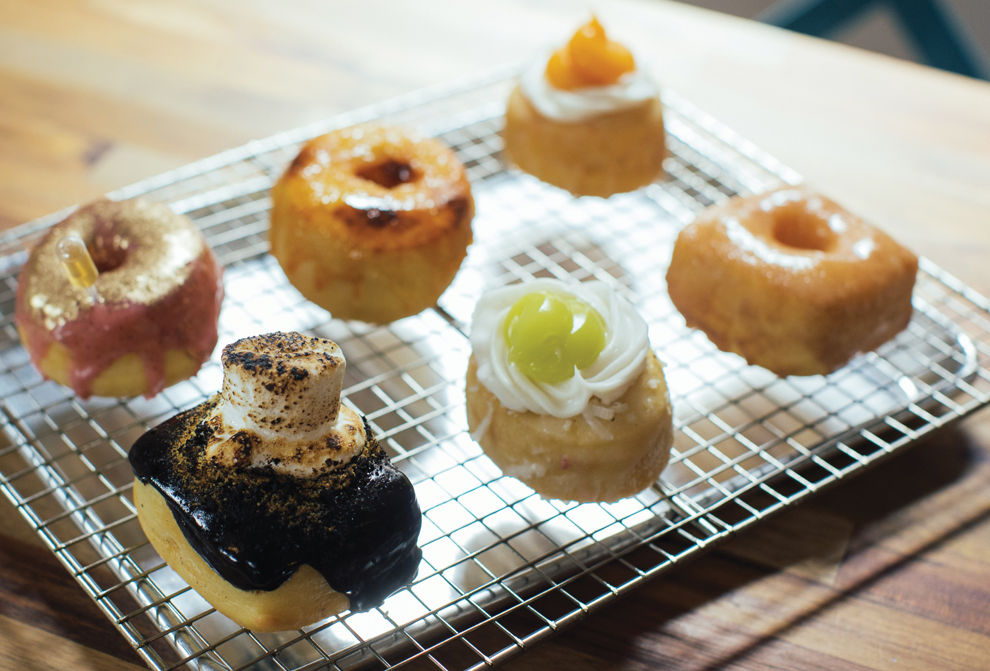 They say, "You eat with your eyes first," but I'd argue the old adage is no longer true. The next time you're out for dinner or drinks, take a look around to witness the new decree: We eat with our Instagram accounts first.
The moment the food hits the table, people's phones come out. Plates are repositioned for better lighting, and the food is styled and restyled so it will look its best when tucked between pictures of our pets, vacations and moments of daily minutia. Due largely to social media, the food world (desserts especially) has undergone a makeover. Everything must look tantalizing to our followers — to represent a carefree, fun and indulgent lifestyle.
Milkshakes now come topped with extravagant bouquets of candy. Ice cream is carefully rolled by hand — a time-consuming process — instead of quickly scooped. In 2016 the unicorn food trend filled our feeds with rainbow-colored everything, so 2017 responded with versions of the same foods defiantly dyed black with activated charcoal, coconut ash or squid ink. 
Food has practically been reinvented to be photographed and hashtagged, but for whose benefit? That striking slice of cake atop that milkshake? Sometimes a stale afterthought. Those picturesque gold flakes thoughtfully placed upon your macaron? They cling to your tongue with more annoying tenacity than a clump of dog hair after a FURminator session. And too much activated charcoal in your diet by way of on-trend black-as-your-soul ice cream cones can prevent the absorption of medicine or lead to constipation. That's the price of nihilism, baby!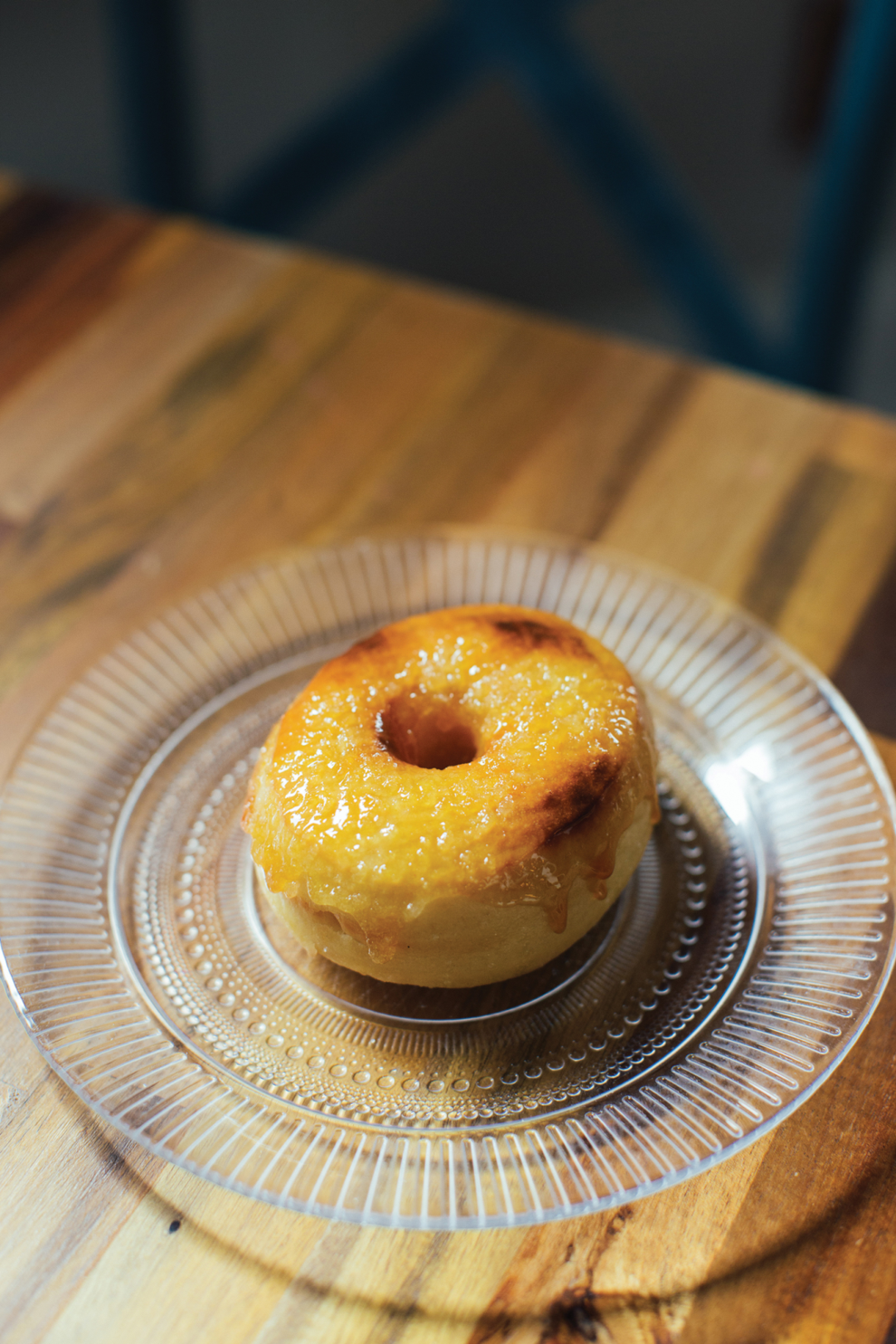 I don't mean to sound so cynical — I love a hefty dusting of edible glitter as much as anyone who grew up watching Rainbow Brite cartoons. But there is an important balance between aesthetics and actual taste, and the harder some trend-chasers push to compete visually, the further we get from food's most important feature: how good it tastes.
The husband-and-wife team of Will and Nicole Primavera, owners of The Donut + Dog in Hillsboro Village, know this delicate balance very well. They've taken great care to ensure their doughnuts (and savory hot dogs and sides) really do taste as good as they look — in some cases, even better than you'd imagine. 
Will grew up in the food industry with a father who ran hotels and restaurants. "He was old school before 'old school' was a hashtag," says Will. "I fell in love with hospitality, and my goal and dream had always been to have a hospitality group."
In Nashville, that dream has come true. In 2017, the Primaveras moved to Music City from Las Vegas, where Will was vice president of food and beverage for a large hotel chain. The couple founded the restaurant group Brick & Mortar Hospitality, and their first project was taking over the old The Dog of Nashville space, inside a renovated bungalow on Belcourt Avenue. Their plans already include two more locations — one in Greenville, S.C., and another on Lower Broadway here in Nashville.
The first thing that separates The Donut + Dog's sweet treats from other doughnuts in town is the brioche dough, a yeast-based dough made richer and more tender with the addition of eggs and fat (read: butter … lots of butter) — Will's recipe is all his own, and one batch takes about 20 hours to complete. 
While brioche is generally baked, The Donut + Dog stays true to the traditional doughnut process and fries the dough, but you wouldn't know it from the napkins the doughnuts rest on — the result is practically greaseless. It seems like a wonder not all doughnuts are made of brioche, until Will spells out all the extra effort required to make it work. 
"I grew up around my dad's chefs, who I would consider some of the best chefs in the world," he says. "I understood baking, understood brioche from a young age. His chefs would always tell me: 'One, don't do brioche unless you're crazy. And two, Don't do brioche unless you're crazy.'
"It's the most expensive, the most temperamental," he continues. "Then to put it in an environment like this, in a non-temperature-controlled 1940s house, you're crazy right?"
But here the extra effort is worth it — The Donut + Dog's doughnuts are absolutely perfect. Every bite is tender but dense. The brioche makes for a hefty bite that doesn't immediately evaporate in your mouth like with other airy yeast doughnuts. And the clean taste of barely sweetened brioche leaves plenty of space for the toppings to shine. And, oh, does The Donut + Dog have toppings.
The vanilla-custard-filled Sweet Baby Jesus (my favorite) is smothered in a freshly brûléed sugar shell that cracks when you bite into it. The Southern Belle comes with peach jam and crunchy local pecan brittle. The Ring of Fire is filled with a spicy raspberry-and-cayenne jam and finished with a triple-fudge glaze that's so flavorful it borders on ganache territory, putting all other sugary "chocolate" glazes to shame. Spring Into Summer comes with a tiny pipette full of honey-bourbon sauce, and the Dirty Churro comes with a side of espresso drizzle. All of it would make your Instagram followers swoon.
The Donut + Dog's options all look glamorous, but customers have learned looks can be deceiving. The shop's bestseller is Stairway 2 Heaven, which visually at least, doesn't hold a candle to some of the other creations. The glaze is an unassuming eggshell white, and it's easy to glance right past it when distracted by, say, the freshly torched marshmallow towering atop the Ultimate S'More. But the first bite of Stairway will surprise and delight you. The brown-butter glaze has the depth of a good long-cooked caramel, and a sprinkle of sea salt balances out the sweetness. It's a must for fans of salted caramel anything.
The khaki-colored Dirty O.G. is another Instagram-averse nightmare. Can you imagine? A khaki-colored doughnut on Instagram? But its flavor is divine — the not-too-sweet house glaze is loaded with cinnamon and finished off with a pinch of pink Himalayan sea salt. The flavor is delicate and addictive. The Sin-U-Rita, another one of the shop's bestsellers, is topped with a ring of buttercream and a plop of mango curd. But, again, the magic is in the barely seen spices. It's lightly glazed and dipped in a sweet and savory dust — sugar, salt, lime and chili flakes — that causes just the slightest tickle in the back of your throat.
"Some of our doughnuts, the best-tasting ones don't have color," Will admits. "They just don't. That's where we struggle, and I struggle a lot. Nicole is always helping me with it, 'cause maybe I'm just color blind. Like even the Spring Into Summer, which is a raspberry basil-bourbon, took a long time to get caught on with people. The funny thing that finally got that to get it going? It was two things. It was the honey-bourbon pipette and the gold dust on top. As soon as we did that, now every time we make it, it sells out."
The lesson here? Don't judge a doughnut by its decoration. Forget your Instagram followers. At The Donut + Dog the eye-candy is good, but the beige is even better.