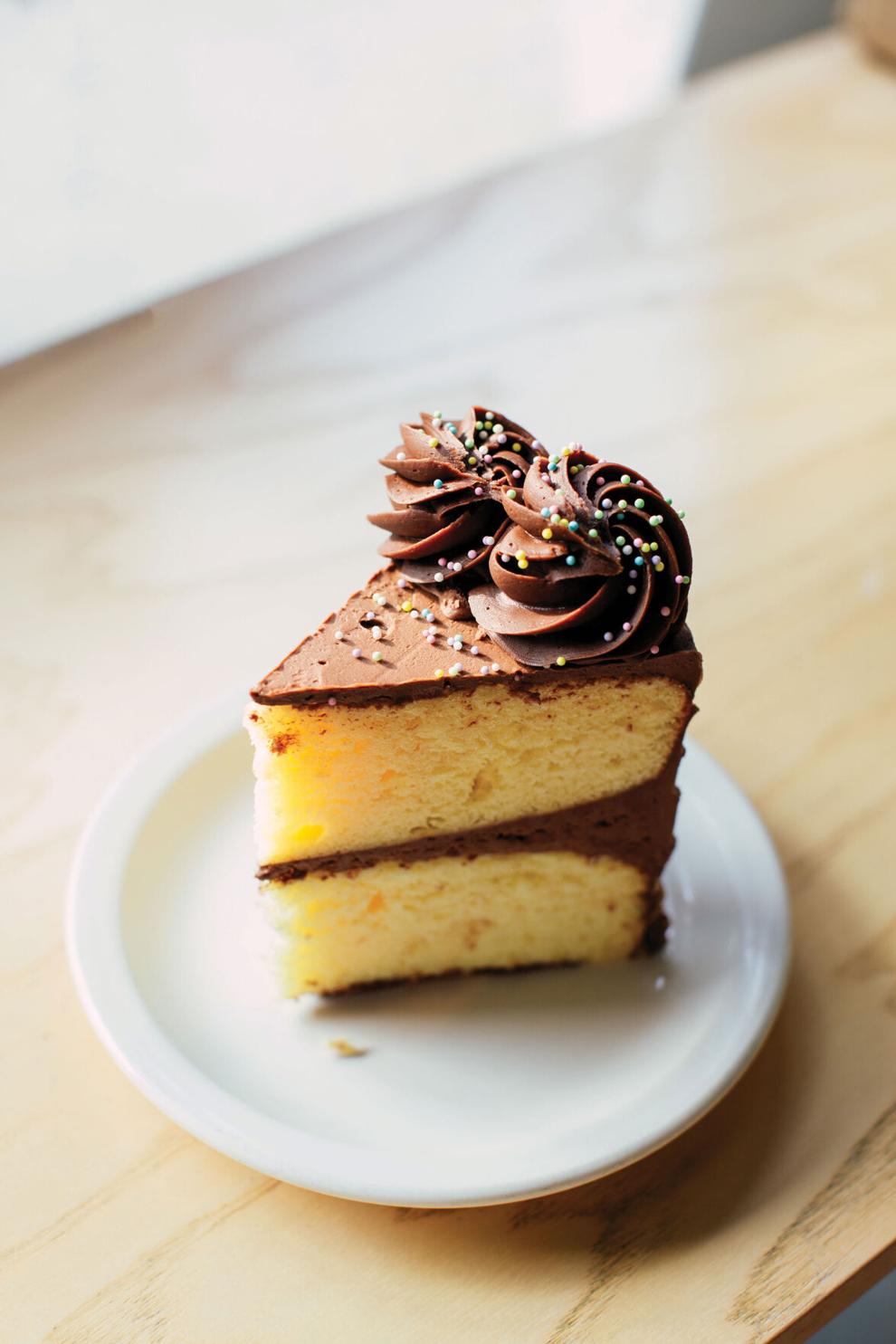 Nashville is home to some truly talented cake bakers, many of whom will happily create the dessert of your dreams — whether you want something one, two or 10 tiers tall. But sometimes, a full-size cake is more than a person needs. Sometimes a single perfect slice will do.
Cake doesn't have to be reserved for special occasions when friends and family gather en masse to celebrate birthdays, weddings, new babies or new jobs. Cake is for everyone! It's for every day! And everyone deserves a delicious, fat slice of cake, layered with frosting and topped with sprinkles. Whether you're celebrating surviving another year, or surviving another Wednesday, you deserve to have your cake and eat it too. Here's where to find an amazing slice for your next party of one.
---
Baked on 8th
1512 Eighth Ave. S., bakedon8th.com
If you're looking for the quintessential slice of cake, the kind of picture-perfect wedge an Instagram influencer would share in their stories when they've reached 100,000 followers, look no further than Baked on 8th. The bakery has perfected the art of putting a contemporary twist on classic recipes — almond-tinged iced cookies come in on-trend designs like unicorns and llamas, Rice Krispies treats and frosted brownies are finished with edible glitter and shimmering sprinkles. Their cakes are just as eye-catching, wearing crowns of fat buttercream swirls and decadent drips of ganache. The inside of Baked on 8th is currently closed to the public, but all of the bakery's goods are available for online ordering with same-day pickup — I ordered a slice of cake at 4:27 p.m. and it was ready to go just 15 minutes later. You can't go wrong with The Classic, two layers of springy, moist yellow cake enrobed in rich chocolate buttercream. And this chocolate buttercream isn't the kind that looks like chocolate buttercream but tastes like nothing — this chocolate buttercream tastes like a thick cup of drinking chocolate as it melts in your mouth, requiring a chug of ice-cold milk to wash it down. I managed with a Black Razzberry La Croix — but trust me, if you drink milk, get some milk.
Sperry's Mercantile
5107 Harding Pike, sperrys.com
Don't be fooled by Sperry's Mercantile's Instagram feed — it's filled with photos of the marbled beef filets, ribeyes and New York strip steaks that fill the shop's butcher case. It's what fans of the long-standing Belle Meade steakhouse want to see. But the tiny grocer behind the restaurant is my own little corner of cake heaven. The shelves in the store's refrigerated section are consistently stocked with slices of some of the best cakes you'll find in Nashville. Chocolate creme, strawberry creme and coconut creme from Anne's Cakes for $4.99 a slice; Firefly Cake and caramel cake from Dessert Designs by Leland for $8.95 a slice. Before you balk at that price, know that Leland Riggan's caramel cake is truly supreme. Moist, sturdy pound cake is drenched in thick, gooey caramel — not light and whipped caramel frosting, mind you, but actual caramel that Riggan makes by slowly browning the sugar "the way your grandmother did." The Firefly Cake is even more decadent. The top layer is that same buttery pound cake, but it rests on a layer of chocolate truffle cake that is more truffle than cake, with a deep cocoa flavor and smooth, ganache-like texture. It too is drenched in that same golden caramel icing. Nine bucks? Yeah, we know. But you're worth it.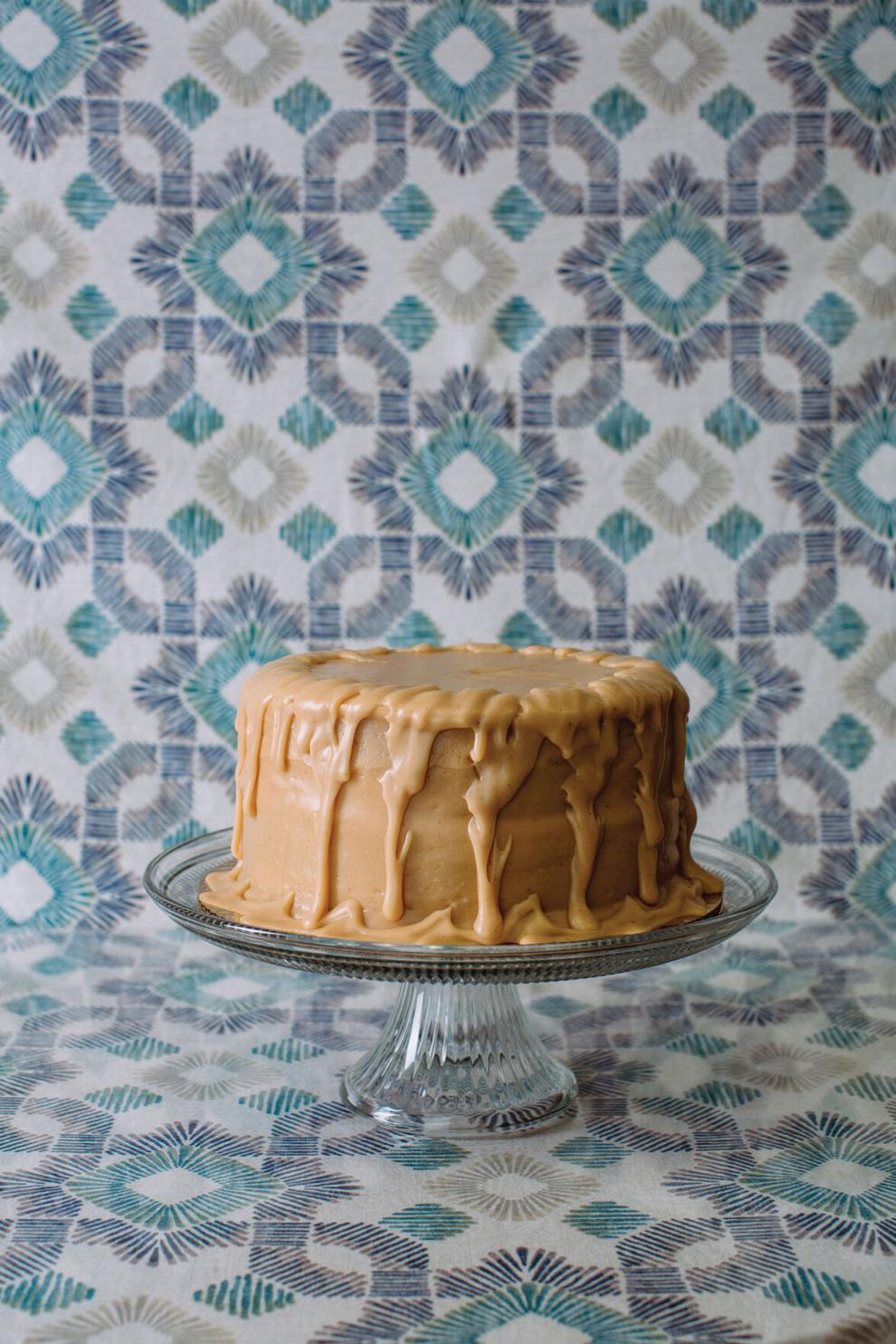 El Hornito Bakery Panaderia y Pasteleria
1053 Murfreesboro Pike, elhornitobakery.com
The enticing scents hit you the moment you walk through El Hornito's door — fresh-baked bread, coconut and caramelized sugar waft through the air and pull you toward the confections like you're Mickey Mouse floating to a pie cooling on a windowsill. Once inside, you can grab a tray and a pair of tongs and help yourself to as many as you like of the baked delights on display — white and chocolate concha for just a buck each, flaky orejitas covered with cinnamon sugar and a rainbow of oversized sugar cookies. What cake fans should know is that El Hornito also sells its heavenly tres leches cakes by the slice from the refrigerated case at the front of the store. There, tall, slender three-layered stacks of cake are dutifully lined up and displayed in flavors like caramel, mocha, chocolate and strawberry. Some slices are finished off with fresh fruit and whipped cream, some are topped with a cherry — they're all flawless. My personal favorite is the blackberry cream cheese, just $3.99 per slice. The delicate tang of the cream cheese filling and a gentle burst of berry offsets the sweetness of the milk-soaked cake and light whipped topping. It is divine.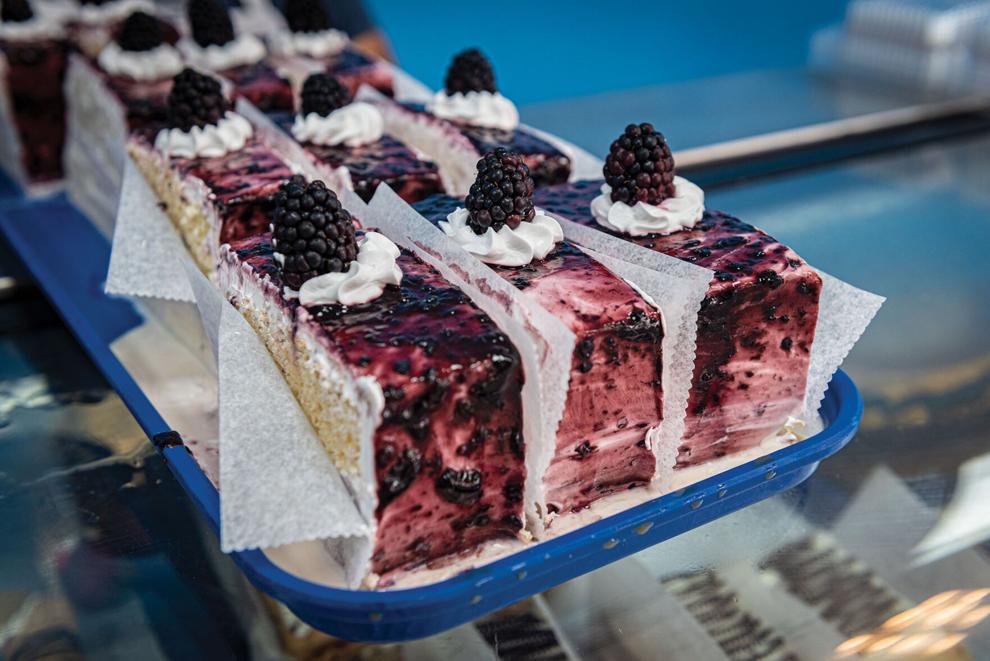 Graze Nashville
1888 Eastland Ave., grazenashville.com
Are you vegan? Gluten-free? You deserve a personal cake party too. At Graze, the dessert station almost always boasts beautiful vegan cakes baked by Allison Lahrman of Bite Club Baked Goods. Recent flavors have included orange chocolate, coconut lime and a gluten-free strawberries-and-cream cake. I recently had a slice of the citrus cinnamon cake — finished off with a ring of pretty candied slices of orange — and while the cake itself was a tad on the dense side (the way gluten-free baked goods often are), the texture was still nice, and the flavors were spot-on. The citrus cake was enrobed in a creamy cinnamon icing, an ideal flavor combination to welcome the impending fall. The price is a little high at $8 per slice, but each cake is three layers high, and Graze cuts very generous slices — they're big enough to share, but no shame if you don't — and plant-based ingredients are often more expensive than traditional cake ingredients like all-purpose flour and eggs. Lahrman uses a blend of almond, oat and rice flours in her cakes. Follow Graze on Instagram at @grazenashville to stay up to date on the rotating cake lineup.
More Destination-Worthy Slices
Shugga-Hi Bakery & Cafe is also a must-visit for cake fans, with the one hitch being that they're currently open only on weekends, Friday through Sunday. Even so, the bakery — owned by sisters Sandra Austin and Kathy Leslie — always has at least a couple of pretty cakes ready for slicing. Caramel, strawberry, German chocolate, red velvet and lemon — they're all classic flavors done exceptionally well. For extra party points, keep an eye out for their booze-infused flavors like Jack and Coke and Bailey's Cream.
The Horn on Murfreesboro Pike is known for its delicious sambusas and chai — the "BEST Chai in Nashville," they say. But the Somali cafe also occasionally carries milk cake, individual servings of milk-soaked cakes baked by Dolsha Delights. They come in flavors like Biscoff cookie, pistachio, strawberry, caramel macchiato and Oreo, and they're all drenched in a sweet combination of milk similar to tres leches and topped with frosting and sauces. Their availability is shaky — isn't everything in 2021? — so follow Dolsha Delights and The Horn on Instagram to know when they're back in stock.